December 2018 events calendar for Chicago
Find the best holiday activities in Chicago, including free things to do, and picks from theater, art and music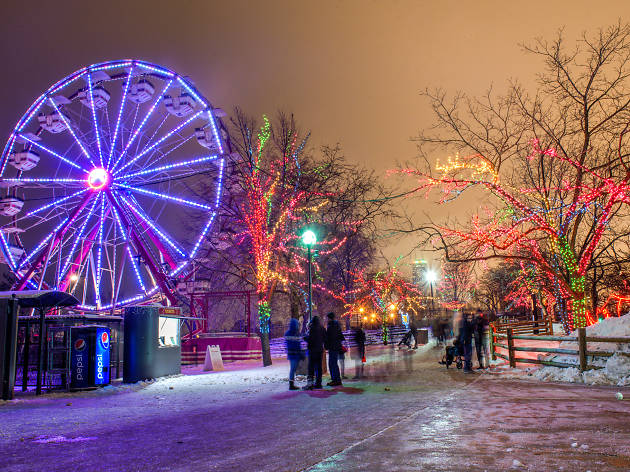 Don't let the snow and cold temperatures keep you inside as winter arrives—you'll be missing out on a long list of things to do in Chicago. Stay toasty throughout December by taking part in the cavalcade of holiday events, sliding across the ice at local skating rinks or sipping hot cocktails at a seasonal pop-up bar. There are also productions of The Nutcracker and A Christmas Carol to see, as well as a stacked lineup of New Year's Eve concerts, including Noname, Guided By Voices, Galantis and more. There's no reason to be bored during the final month of the year—load up your calendar with the best things to do in Chicago this December.
RECOMMENDED: Events calendar for Chicago in 2018
Featured events in December 2018
Things to do, Ice skating
Gallagher Way, Wrigleyville
The Cubs may be hibernating for the winter, but Gallagher Way provides some excellent reasons to hang out in Wrigleyville during baseball's off-season. The public square's Winterland event series offers an array of seasonal activities, including an ice skating rink, curling, visits from Santa Claus and free screenings of holiday movies. Guests under the age of 12 can skate on Gallagher Way's rink for free, while older skaters will have to pay $5 to slide around the ice (skate rentals are available for $10). Winterland also features a colorful art installation called "Chimes," which consists of 30 lights and eight speakers that react to the movements of a giant set of wind chimes. Check out the Winterland website for a complete schedule of activities.
Things to do, Ice skating
McCormick Tribune Plaza & Ice Rink, Downtown
Skate under the Chicago skyline and within eyeshot of the Chicago Christmas Tree at the McCormick Tribune Ice Rink in Millennium Park. Admission to the rink is free, and you can rent skates for $13–$15. The most popular time to hit the rink is in the evening, so show up earlier if you don't feel like waiting in line for your chance to slide around. Take advantage of free skating lessons on Fridays at 11am and Saturdays and Sunday at 9am. If it seems too warm to skate, call ahead—this rink is open through March 10, weather permitting.
Things to do, Ice skating
Maggie Daley Park | Chicago, IL, Millennium Park
The Maggie Daley Park ice ribbon looks like a Mario Kart track, but you won't have to worry about dodging banana peels while you glide around the quarter-mile circuit. As you skate around the park's climbing wall and admire skyline views, you'll be able to stop for a cup of hot chocolate. The ribbon stays open through March (weather permitting) and will host a Skate with Santa on Saturday, December 15 from 10am to noon.
Theater shows in December 2018
Theater
Theo Ubique Cabaret Theatre, Evanston
Looking back, it's not surprising that composer David Yazbeck was able to make Tootsie into a great stage musical. After all, he'd already done it before with The Full Monty. This intimate production from the storefront musical maestros at Theo Ubique is the first in their new cabaret-style space on the Evanston side of Howard Avenue.
Theater
Steppenwolf Theatre Company, Lincoln Park
Chicago-based playwright Isaac Gomez makes his Steppenwolf debut with this tale of the women who live, work and too often disappear from the American-owned factories in Juarez, Mexico, along the U.S. border. Sandra Marquez directs an all-female, primarily Latinx cast featuring newly minted Steppenwolf ensemble member Karen Rodriguez.