July 2017 events calendar for Chicago
Plan out your July in Chicago with our calendar of the best events and things to do, including fireworks, theater, art and music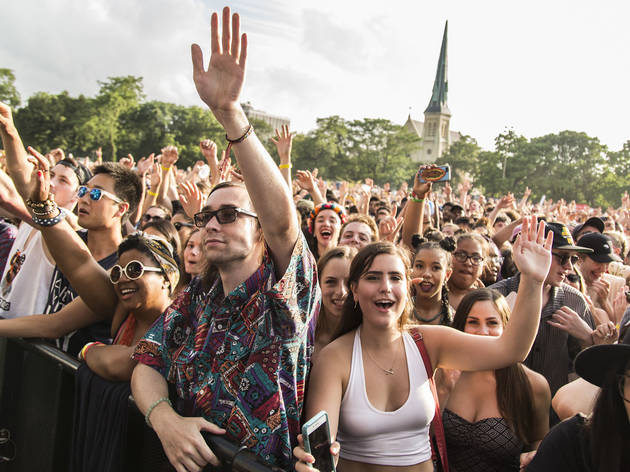 The smell of barbecue is in the air, the beaches are packed, and festivals have taken over the streets and parks. Yes, summer is in full swing in Chicago and we're trying to enjoy everything that our fine city has to offer. The month kicks off with some explosive Fourth of July fireworks, leading into the city's annual culinary celebration at Taste of Chicago. If you're looking for some musical fun in the sun, you'll want to head out to Pitchfork Music Festival. Start enjoying summer with the help of our July events calendar for Chicago.
RECOMMENDED: Events calendar for Chicago in 2017
Featured events in July 2017
Theater in July 2017
Note: Lookingglass's 2015 production returns for a summer 2017 remount after touring to other cities. We are all Jonah in David Catlin's stunning new adaptation of Moby Dick at Lookingglass Theatre. The skeletal set, by Courtney O'Neill, centers on a vast, metallic rib cage. The bones encompass the stage, the actors and nearly the audience too. This retelling of Melville's doorstop classic is one told entirely from within the belly of the whale. Produced in association with the Actors Gymnasium, the play begins quietly with Ishmael (Jamie Abelson) uttering his famous request and recounting his first encounter with Queequeg (Anthony Fleming III). But once the Pequod sets sail, the stage lights up with action. Actors scramble up the set and hang near the rafters, intestinal rigging draped around them. Melville's words haven't been forgotten, but neither has the power of brute, tribal theatricality. Christopher Donahue's shabby Ahab is sadder than the usual portrayals but, while his clothes are wrinkled and his voice is hoarse, he still has that ecstatic, maniacal charisma. When Ahab battles Kareem Bandealy's rationally-minded Starbuck, it feels elemental. Passing wraithlike through the proceedings are three Fates, played by Emma Cadd, Kasey Foster and Monica West. They're the feminine tonic that cuts through the story's macho pretensions. They are the slaughtered whales, but also the drowning sea. A moment of butchering a whale carcass for meat and oil becomes an act of sex
Book now
Read more
TimeLine Theatre Company returns to playwright Dominique Morisseau with her ensemble drama set in a faltering Detroit jazz club in 1949. Ron OJ Parson directs a production that features an original score composed by Chicago Jazz Philharmonic artistic director Orbert Davis.
Book now
Read more
This 1998 musical by Alfred Uhry and Jason Robert Brown is based on the real-life case of Leo Frank, a Jewish man convicted in 1913 of raping and killing a young girl in Atlanta in a trial marred by rampant anti-Semitism. Director Gary Griffin's revival at Writers Theatre is led by Patrick Andrews as Leo Frank and Brianna Borger as his wife, Lucille.
Book now
Read more
British playwright Tanika Gupta's adaptation brings a colonial eye to Charles Dickens's story, making Pip an Indian orphan presented with the opportunity to try out life as an English gentleman. Lavina Jadhwani and Nick Sandys direct the U.S. premiere, a co-production between Silk Road Rising and Remy Bumppo Theatre Company.
Book now
Read more
Note: At the Table will get a summer remount at the Den Theatre, June 29–July 28.  "Who is me?" is the quirkily-constructed question two relative strangers tease out in a central scene of Michael Perlman's spiky work, receiving its Chicago premiere in a sharp Broken Nose Theatre production. All of the characters in At the Table, centered on a quartet of college friends now in their early 30s, are wrestling with identity politics and identity, period. Nate (Adam Soule) hosts an annual weekend getaway at his parents' cabin for pals Stuart (Evan Linder), Elliott (David Weiss) and Lauren (Echaka Agba), with a couple of friends-of-friends invited to join; we see two such retreats a year apart, with supporting cast changes marking shifts among the core group.  The makeup of that group initially suggests a too-schematic approach to the politics that will come into play: Nate, Stuart and Elliott are white, Lauren black; Stuart, Lauren and Nate are straight, Elliott gay. Lauren's outside friend, Nicholas (Johnard Washington), is a black gay man she intends to set up with Elliott, because they're both gay and friends with her, so what more could they need? Elliott's outside friend, Chris (Elise Spoerlein), works for "one of the big women's rights organizations," so the play's opening scene has shit-stirrer Stuart goading her with a spurious argument about abortion rights. (The titular metaphor, referencing who should be allowed "at the table" for discussion of issues that don't affec
Book now
Read more
The Gift Theatre in Jefferson Park premieres a new work by playwright Claire Kiechel about a soldier and a young girl sharing a spaceship cabin on a voyage to colonize a new planet. (Shades of the recent movie Passengers, but hopefully with less ickiness.) Gift artistic director Michael Patrick Thornton and Jessica Thebus share directing duties.
Book now
Read more
Lincoln Center Theater's Tony-winning revival of the Rodgers & Hammerstein musical about schoolteacher Anna Leonowens and the King of Siam arrives on tour, starring Laura Michelle Kelly and Jose Llana.
Book now
Read more
This musical spoof about down-and-out Elizabethan playwrights inventing musical theater in the shadow of Shakespeare, written by Broadway neophytes Wayne and Karey Kirkpatrick and John O'Farrell, became a surprise hit of the 2014–15 season. It arrives at the Oriental on its first national tour.
Book now
Read more
For the second entry in its three-play season devoted to playwright Kia Corthron, Eclipse Theatre Company snagged the world premiere of this war-on-drugs commentary that depicts a single joint derailing a teenager's future. Aaron Todd Douglas directs.
Book now
Read more
The animated animals of Central Park Zoo come to life in this stage musical based on the DreamWorks film, with a book by Kevin Del Aguila (Altar Boyz) and original songs by George Noriega and Joel Someillan. Madagascar continues Chicago Shakespeare Theater's tradition of familiar, family-friendly entertainment for summer visitors to Navy Pier.
Book now
Read more