July 2017 events calendar for Chicago
Plan out your July in Chicago with our calendar of the best events and things to do, including fireworks, theater, art and music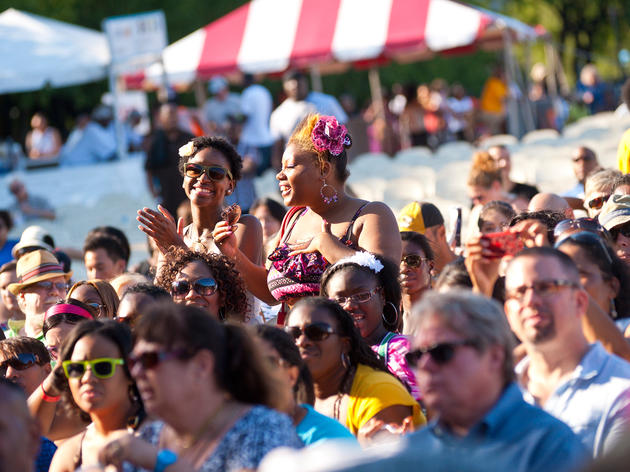 The smell of barbecue is in the air, the beaches are packed, and festivals have taken over the streets and parks. Yes, summer is in full swing in Chicago and we're trying to enjoy everything that our fine city has to offer. The month kicks off with a Grateful Dead reunion and some explosive Fourth of July fireworks, leading into the city's annual culinary celebration at Taste of Chicago. If you're looking for some musical fun in the sun, you'll want to head out to Pitchfork Music Festival, Wicker Park Fest or the Tayor Swift show at Soldier Field. Start enjoying summer with the help of our July events calendar for Chicago.
RECOMMENDED: Events calendar for Chicago in 2017
Featured events in July 2017
Free events July 2017
The city of Chicago ditched its official fireworks show a few years back, but Navy Pier picks up the slack with its explosive Independence Day celebration. Revelers can head down to the pier or Millennium Park for an up-close view, but if you're not a fan of crowds you'll want to hit the lakefront or find a friend with a rooftop by the shore.
Read more
Since 1980, Grant Park has been hosting what has become the granddaddy of food festivals. You know the drill: Trade tickets for a taste of Chicago's street fare. Hopefully what you gain in weight, you'll lose from your wallet. As always, there will be music at Petrillo for you to listen to while you devour your turkey leg, rainbow cone or deep dish pizza.
Read more
Bring your blanket and your favorite movie snacks and sprawl out on the Millennium Park lawn. This season's film offerings include some '80s classics, films made in Chicago and even some musicals you can sing along to as they're broadcast on the park's 40-foot-wide LED screen. July screeningsing include A League of Their Own, Thelma and Louise, as well as a double feature of Moonstruck and Silence of the Lambs.
Read more
New Belgium Brewery brings its signature celebration of bikes and beer to Palmer Square for another year of freaky fun. The day begins with a bike parade and continues with circus performers and live music in Palmer Square Park—this year, Dr. Dog and Mucca Pazza headline. The environmentally conscious festival benefits West Town Bikes and culminates with one lucky attendee trading his or her car in for a brand new bicycle.
Book now
Read more
After experimenting with camera-equipped kites, drones and rockets, interdisciplinary artist Paul Catanese became obsessed with the creation of Earthly drawings that could be seen from the moon. Without a lunar module to launch toward our orbiting satellite, Catanese decided to simulate these large-scale drawings with his latest solo exhibition, "Visible From Space." Using various props and mediums, Catanese will create large drawings on the floor of the Chicago Cultural Center and then use a 12-foot helium-filled blimp to capture footage from above. Stop by to see the artist at work, creating and then filming his latest additions to the Earth-bound tapestry.
Read more
The eldest son of famed Afrobeat pioneer Fela Kuti, Femi grew up in Lagos, Nigeria and joined his father's band while still a teenager. In the '80s, he started his own band, the Positive Force, drawing inspiration from big band funk and jazz. Chicago rapper ProbCause, who has collaborated with fellow native sons such as Chance the Rapper and Vic Mensa, opens up the show. This free concert is part of the 2016 Millennium Park Summer Music Series.
Read more
All ages and skill levels are welcome at this annual series of jives, twirls and jumps. The dancing breaks out Thursday through Saturday nights and Sunday afternoons. A professional instructor conducts dance lessons for the first hour before you cut a rug on the 4,900 square-foot recycled-materials dance floor.
Read more
Nigerian singer-songwriter King Sunny Adé was scheduled to perform at Pritzker Pavilion last year, but had to cancel the show due to visa problems. He'll make it up to us this year with a set of his distinctive juju music, which blends traditional African music with Western pop stylings. Local Afro-soul singer Ugochi kicks off the evening, backed by the Afro Soul Ensemble. This free concert is part of the 2016 Millennium Park Summer Music Series.
Read more
Each Tuesday, the Museum of Contemporary Art hosts a free concert in its Anne and John Kern Terrace Garden. The lineup features performers from the Chicago jazz community, including Mike Reed and Joshua Abrams. Attendees can order food à la carte from the outdoor grill or pig out at the buffet (it's $27 per person). If it's raining outside, the event moves indoors to the MCA Café.
Read more
Celebrate Chinese culture at this annual Chinatown event, featuring food, art and music from the Far East. Experience the Lion Dance Procession, take in a classical Chinese dance performance or sit in on a martial arts demonstration. Men can take part in a "hot legs" contest while young attendees can participate in the "cutest baby" competition.
Read more
More than 200,000 used books will be up for sale at this popular book bonanza. Prices are low, and the selection is vast, including cookbooks, music, fiction, art books, children's literature, collectibles and much more.
Read more
Theater in July 2017
Like The Onion eventually did, Weekly World News mined some of its best material from recurring characters. And what "Diamond" Joe Biden is for The Onion today, Bat Boy was for WWN's heyday, turning into a sort of mascot. A hybrid half-bat, half-boy—it was what it said on the tin—purportedly discovered in a cave by spelunkers, Bat Boy became the inspiration for this satirical musical, which premiered in 1997 in Los Angeles—five years after Bat Boy's first Weekly World News cover—but has somehow taken nearly 20 years to reach a Chicago premiere.
Read more
Theater divas Patti LuPone and Christine Ebersole star as cosmetics magnates and competitive rivals Helena Rubinstein and Elizabeth Arden, respectively, in War Paint, a new musical debuting at the Goodman with an eye toward Broadway. The project will reunite the Grey Gardens creative team of songwriters Scott Frankel and Michael Korie, book writer Doug Wright and director Michael Greif. The musical draws material from a book by the same name by Lindy Woodhead, as well as a documentary, The Powder & the Glory, by Ann Carol Grossman and Arnie Reisman. Tickets for the special engagement are only available to subscribers and groups.
Read more
Ding-dong! The smash hit musical comedy from South Park creators Trey Parker and Matt Stone and Avenue Q's Robert Lopez returns for its third Chicago engagement, a seven-week summer mission at the Oriental.
Read more
Taking her storytelling cue from a shot seen 'round the world, British playwright Lucy Kirkwood's 2013 work extrapolates an assessment of Chinese-American relations today from the famous photo of a Chinese man standing up to tanks in the 1989 Tiananmen Square showdown. In Kirkwood's version, American cub reporter Joe Schofield (Coburn Goss) was one of a handful of photographers to capture the image and smuggle it out of the country without having it confiscated by Chinese forces. Nearly two and a half decades later, in 2012, a rudderless Schofield gets wind that the subject of the photo might improbably be alive; Joe sets off on a transpacific wild goose chase to find his man.
Read more
This episodic biography of the early 20th century's most famous escape artist and illusionist was the House Theatre of Chicago's inaugural show back in 2001, with illusions designed by actor-magician Dennis Watkins. The show has become to the company what Lookingglass Alice is to Lookingglass—a signature piece that it revisits periodically. The 2016 edition is its first staging in three years.
Read more
Director Monty Cole stages Eugene O'Neill's 1922 expressionist take on the plight of the worker with an all African-American, all-male cast featuring Julian Parker, Tony Santiago, Bradford Stevens, Rashaad Hall, Michael Turrentine and Breon Arzell. Oracle Productions' winter hit gets a summer remount as part of Theater on the Lake.
Read more
Taking Frank Galati's sweeping adaptation of John Steinbeck's even more sweeping novel The Grapes of Wrath and cramming it into a 50-seat theatre is a choice that could have ended like the Joad family—which is to say, poorly. Luckily for Chicago audiences, director Erica Weiss has created something else entirely at the Gift Theatre in Jefferson Park: a portrait of poverty as claustrophobia. Whereas Steinbeck's story is one of wide open plains and endless roads and lush, rotting valleys, this Grapes of Wrath is one of human bodies squeezed into the back of a rusting jalopy.
Read more
The first show to be staged in Writers Theatre's new studio space delivers exactly what it says on the tin: a parody mash-up of several chestnuts of 20th-century American drama. Developed in conjunction with the Second City, the new show engineers a meeting between Blanche DuBois and Stanley Kowalski, Willy Loman and George and Martha all in the same New Orleans rooming house, together with Our Town's folksy Stage Manager. The characters' interaction allows for smart and goofy metacommentary on their original plays (with nods to several others), while also poking fun at the very nature of theater—and theatergoers.
Read more
In Lifeline's delightful new musical adaptation of the Jane Austen novel, Catherine Morland (Stephanie Stockstill), the daughter of a poor clergyman, has spent her life with her nose in a book, awaiting her own adventure. When a wealthy neighbor (Jenifer Tyler) takes her to the affluent enclave of Bath to meet an appropriate suitor, a whirlwind romance ensues. The play's whimsy and charm are largely contingent on Catherine. As her fantasies and realities intertwine on set, we're anchored by Stockstill's splendid performance. Her beautiful soprano shines throughout the entire score, and she makes Catherine's charming naiveté bewitching.
Read more
Puck up: First Folio Theatre stages Shakespeare's romantic comedy of lovers, faeries and mechanicals on the lush grounds of the Mayslake Peabody Estate.
Read more
Chicago Shakespeare in the Parks's mobile theater hits 19 parks this summer with an abridgement of the mistaken-identity comedy, adapted and directed by Kirsten Kelly.
Read more
Part of the charm of SpongeBob SquarePants, that waterlogged optimist who's been a Nickelodeon star since 1999, is his nearly unflappable positivity. SpongeBob really believes that every single day in Bikini Bottom is the best day ever. You and I know, of course, that not every show can similarly be the best show ever. But I'd venture that The SpongeBob Musical, a strikingly inventive piece born of both corporate interests and a markedly motley creative team, is at this point very darn good.
Read more
This cabaret show, which revisits The Wizard of Oz using '80s and '90s power ballads and rock anthems, was conceived by Kimberly Lawson and William S. Rogers and first performed last spring at Davenport's, followed by a brief remount at Victory Gardens. That's where WOZ will return this summer for five performances, with special guest André De Shields joining the cast as the Wizard.
Read more
This Tony n' Tina's Wedding–style interactive dinner theater experience pits dueling parishes—one Irish, one Italian—against each other in a German beer hall over bingo and lasagna.
Read more