Where to see Fourth of July fireworks around Chicago
From Navy Pier all the way out to the suburbs, Chicago's July 4th fireworks fill the sky all weekend long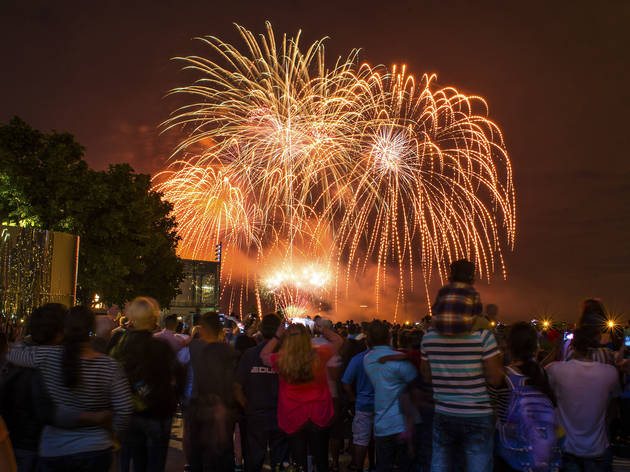 You don't have to go far to see fireworks in Chicago—your neighbors are probably planning to launch some from the alley behind your apartment. But if you crave a more "official" celebration of America's birthday, you've got options. You can find a rooftop or head to the beach to see the rockets bursting over Navy Pier, or book it to the 'burbs for an evening of Independence Day festivities. Figure out your Fourth of July plans with the help of our guide to the best fireworks display that will fill the sky in (and around) Chicago.
RECOMMENDED: Our complete guide to Chicago Fourth of July
Fourth of July fireworks around Chicago
Ever since the city canceled its official fireworks display in 2011, Navy Pier has been Independence Day central. A patriotic soundtrack blares as fireworks go boom overhead. Of course, you don't have to go to the pier to see the show—just find a nearby beach (or patio, or rooftop). Navy Pier. July 4 at 9:30pm; free.
The village of Itasca takes the Fourth of July very seriously, putting on one of the largest displays outside of Chicago. The celebration begins at 4pm with picnic dishes, beer from the Itasca Brewing Company and live music. Hamilton Lakes Office Campus (Illinois Rt 53 and Thorndale Ave, Itasca). July 4 at 9:45pm; free.
From July 4 to 8, Hoffman Estates' Northwest Fourth-Fest hosts a gigantic Independence Day celebration, complete with a parade, carnival rides, delicious food, a craft fair and concerts. The highlights of the event is the computerized fireworks display, which launches into the air on Saturday, July 7. Sears Centre Arena (5333 Prairie Stone Parkway, Hoffman Estates). July 7 at 9:30pm; free.
Add some dimension to your Fourth of July experience at Skokie's "3D fireworks" display—the first 10,000 people to arrive receive special glasses that add an extra pop to the rockets bursting in midair. The festivities begin at noon with a parade down Oakton Street. At 6:30pm, the Goo Roos and Mike & Joe perform live music before the aerial display. Niles West High School (5701 Oakton St, Skokie). July 4 at dusk; free.
Take the Purple Line to Evanston to hear the Palatine Concert Band perform patriotic and popular music from 7:30 to 9pm (or listen to the simulcast on 90.5 FM). The heart of this firework frenzy is at Clark Street Beach, but Evanston encourages attendees to park downtown and stake out a viewing spot along the lakefront. Clark Street Beach (1811 Sheridan Rd, Evanston). July 4 at 9:30 pm; free.
'80s hair metal cover band Hairball headlines the Lake Forest Festival and Fireworks, joined by local classic rock tribute act 97Nine. Once you've had your fill of songs by KISS and Def Leppard, the sky will light up beginning at 9:40pm. Deerpath Community Park (Deerpath Rd at Hastings Rd, Lake Forest). July 4, 5–10pm; $20, Lake Forest and Lake Bluff residents $15, kids 5 and under free.
Suburban Glen Ellyn begins the Fourth with a four-mile run at the Glenbard West Football Field at 8am. At noon, a parade kicks off downtown before an array of family-friendly activities open up in Lake Ellyn Park. The fireworks begin at dusk, so stake out a spot early and settle in for a show. Lake Ellyn Park (645 Lenox Rd, Glen Ellyn). July 4 at dusk; free.
Get all shook up as Rosemont's Rockin in the Park summer concert series welcomes Elvis tribute artist Jay Dupuis for an evening of classic rock 'n' roll. Once the show is over, turn your eyes to the sky and watch the sparks begin to fly. Parkway Bank Park (5501 Park Pl, Rosemont). July 3, 7–10pm; free.
You could pay to see Pitbull or Steven Tyler (of Aerosmith) play this year's Naperville Ribfest, but the fireworks display on the Fourth of July is free to attend. General admission to the south park is free after 5pm on July 4, and the fireworks should begin around 9pm, after the final band performs. Knoch Park (724 South West St, Naperville) July 4 at 5pm; free.
In honor of the League of Women Voters' 90th anniversary, the theme of Highland Park's Fourth of July celebration is "Your Vote Counts!" The day starts with a parade down St. Johns Avenue at 10am and continues with Fourth Fest in Sunset Park at 11pm. The Bitter Jester Music Festival kicks off in Wolters Field at 4pm, concluding with a fireworks display at 9:30pm. Wolters Field (1080 Park Ave, Highland Park) July 4 at 9:30pm; free.
The Aurora American Legion Band and Fox Valley Orchestra entertain crowds beginning at 6:15pm (the crowd will attempt to set the record for Most People Head Banging Simultaneously to "Bohemian Rhapsody" at 9pm). A fireworks display caps off the night at dusk and can also be viewed from McCullough Park. RiverEdge Park (360 N Broadway Ave, Aurora). July 3 at 9:35pm; free.
12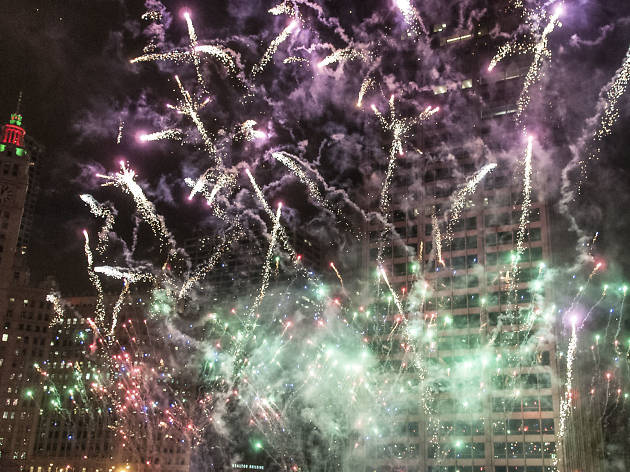 Photograph: Jose Calvo
The village of Lombard keeps things simple on America's birthday. There aren't any festivals or parades, just an evening fireworks display that should satisfy your appetite for things going boom. Madison Meadow Park (E Madison St & S Ahrens Ave, Lombard). July 4 at 9:30pm; free.
Downers Grove begins its Fourth of July celebration with a parade that steps off from Main and Grant Streets at 12:45pm. In the evening, the suburb teams up with the Village of Woodridge and the City of Darien to present a fireworks display. Downers Grove (75th St and Lemont Rd, Downers Grove). July 4 at 9:30pm; free.
Show up at 11:20am for the Independence Day Parade down Harlem Avenue or head to Gallery Park beginning at 7pm for a twilight concert featuring music from the 100-piece North Shore Concert Band, followed by fireworks synchronized to a pre-recorded score. Gallery Park (2400 Chestnut Ave, Glenview). July 4 at dusk; free.
Get a headstart on the Fourth at the Arlington Heights racetrack, which holds its celebration on the weekend before Independence Day. The day includes six horse races and a fireworks display at dusk. Arlington Park Racetrack (2200 Euclid Ave, Arlington Heights). July 1 at dusk; $22, children $5