Where to see Fourth of July fireworks around Chicago
From Navy Pier all the way out to the suburbs, Chicago's July 4th fireworks explode in the sky all weekend long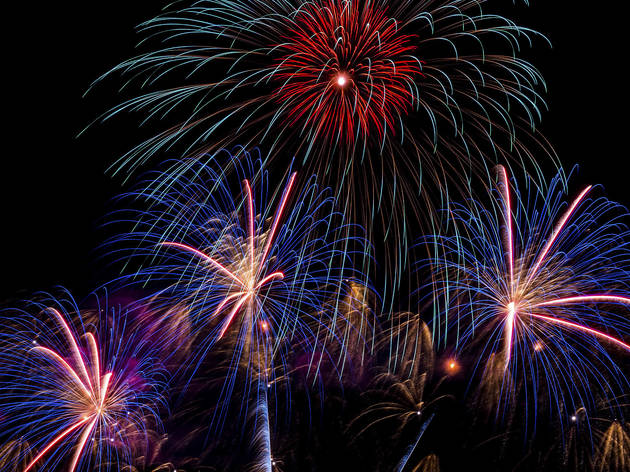 While Chicago has no shortage of DIY fireworks displays in neighborhoods across town, perhaps you'd rather not risk a bottle rocket to the eye. Thankfully, the city and surrounding suburbs put on unforgettable Fourth of July fireworks shows. Whether you're out visiting mom and dad in the 'burbs, want to hop down to Navy Pier or would rather just post up at a rooftop bar to watch, you'll definitely be able to catch some magic in the sky on America's birthday.
RECOMMENDED: Our complete guide to Chicago 4th of July events
Where to watch Chicago 4th of July fireworks
1
The city canceled its fireworks show in 2011, and Navy Pier has been Independence Day central since. A patriotic soundtrack blares as fireworks go boom overhead. Of course, you don't have to go to the pier to see the show—just find a nearby beach (or patio). Navy Pier. July 4, 9:30pm.
Read more
2
The village of Itasca takes the Fourth of July very seriously, putting on one of the largest displays outside of Chicago, after performances by Pat McKillen and Maggie Speaks. Prepare yourself for 25 minutes of midair explosions. Hamilton Lakes Office Campus (Illinois Rt 53 and Thorndale Ave, Itasca). July 4, 9:45pm. Free.
Read more
3
From June 30–July 4, Hoffman Estates' Northwest Fourth-Fest offers up family-friendly activities, including a carnival, a craft fair and concerts. A computerized fireworks display will be launched on Sunday, July 2. Sears Centre Arena (5333 Prairie Stone Parkway, Hoffman Estates). July 2 at 9:30pm. Free.
Read more
4
Skokie's celebration begins with a parade at noon, before moving to Niles West High School for food, drinks and live music. The fireworks display gets some extra spark with "3D fireworks." Guests receive special glasses that add color to the aerial display, making them really pop. Niles West High School (5701 Oakton St, Skokie). July 4 at dusk. Free.
Read more
5
The Palatine Concert Band pipes out patriotic and popular music from 7:30–9pm. Not close enough to hear the music live? It will be simulcast on 90.5 FM, so pack a portable radio. The heart of this firework frenzy is at Clark Street Beach, but Evanston encourages attendees to park downtown and stake out a viewing spot along the lakefront. Clark Street Beach (1811 Sheridan Rd, Evanston). July 4 at 9:30 pm. Free.
Read more
6
Independence Day festivities begin with a parade at noon, continue with carnival games from 1–4pm and conclude with fireworks at dusk. The fest also includes live music, food trucks and face painting. Lake Ellyn Park (645 Lenox Rd, Glen Ellyn). July 4 at dusk. Free.
Read more
7
Rock singer Lou Gramm—a.k.a. the lead singer for Foreigner—headlines this suburban fireworks festival. Once the music stops (around 9:40pm), you can watch the bombs bursting overhead. Deerpath Community Park (Deerpath Rd at Hastings Rd, Lake Forest). July 4, 5–10pm. $20, Lake Forest and Lake Bluff residents $15, kids 5 and under free.
Read more
9
A children's bike and pet parade are part of the main Independence Day procession of floats and marching bands at 9:30am. Highland Park's Fourth Fest begins at 11pm, featuring carnival rides, a petting zoo and pony rides. A battle of the bands at 4pm in Wolters Field leads into the evening's fireworks display. Wolters Field (1080 Park Ave, Highland Park) July 4 at 9:30pm. Free.
Read more
11
Head out with friends and family to the Village of Downers Grove and Village of Woodridge Independence Day parade, which kicks off at 12:45pm. After an afternoon of suburban fun, the night ends with a fireworks display. Downers Grove (75th St and Lemont Rd, Downers Grove). July 4 at 9:30pm. Free.
Read more
12
The annual Glenview Independence Day Celebration begins with a parade on Harlem Ave. This year, the evening events take place in Gallery Park and include a twlight concert by the North Shore Concert Band at 7pm, followed by fireworks. Gallery Park (2400 Chestnut Ave, Glenview). July 4 at dusk. Free.
Read more
13
The post-race fireworks display starts at dusk, but you can arrive early in the afternoon for music and family activities—and hurry, the first 5,000 people get a patriotic gift. Arlington Park Racetrack (2200 Euclid Ave, Arlington Heights). July 3 at dusk. $20, children $4
Read more
14
Before the fireworks at dusk, check out the inflatable obstacle course, face painting, crafts and games at this family-friendly fest. Plainfield Central High School (24120 W Fort Beggs Dr, Plainfield) July 3, 6–9pm. Free.
Read more