March 2017 events calendar for Chicago
Plan out your March in Chicago with our calendar of the best things to do, including picks from theater, art and music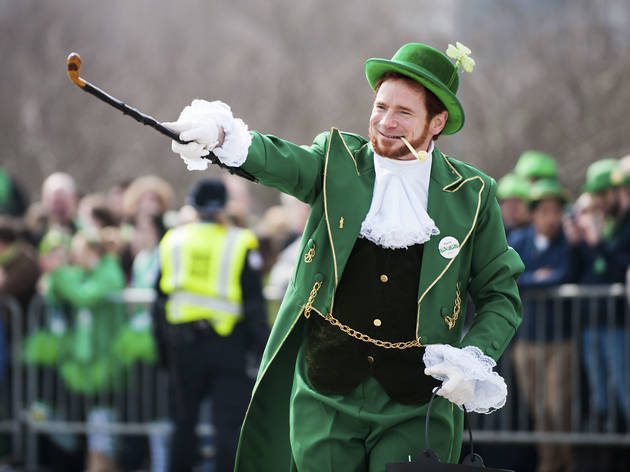 March in Chicago conjures one color: green. From the river to the drunk people to the junk at drug stores, Chicago does not skimp on the St. Patrick's Day celebrations. But March also marks the creaky beginnings of spring—little blades of grass peeking out here and there. But don't get your hopes up; it's not quite outdoor bar weather yet. Because as they say, Chicago comes in like a lion, and goes out like…well, like a drunk lion. Start planning your month with our March 2017 events calendar for Chicago.

RECOMMENDED: Events calendar for Chicago in 2017
Featured events in March 2017
Theater in March 2017
Let's not mince words, since we've already spilled so many of them: Hamilton, writer-composer-lyricist Lin-Manuel Miranda's biography of Alexander Hamilton as refracted through a hip-hop, pop and R&B lens, is a sprawling, stunning, singular achievement. By filtering the story of the American Experiment's beginning into modern, meticulously rhymed vernacular and populating the stage with performers of color to play the likes of Hamilton, Washington, Jefferson and Madison, Miranda and his regular collaborators (director Thomas Kail, music supervisor Alex Lacamoire and choreographer Andy Blankenbuehler) make the founding fathers feel fresh and, miraculously, human.
Book now
Read more
Robert O'Hara's collection of interconnected sketches, loosely organized around a character standing in for the playwright's experiences growing up black and gay in the South, evokes George C. Wolfe's similarly structured The Colored Museum from two decades earlier. One of Bootycandy's individually titled scenes, "The Last Gay Play," even seems to directly reference Museum's "The Last Momma-on-the-Couch Play." When the final scene of the first act is styled as a playwrights' panel with a white male moderator asking writers of color to explain everything we've seen up to that point, it's clear O'Hara is here to interrogate the relationship between institutional theater and individual identity. But while Bootycandy isn't a traditional theatrical narrative, it's also far from academic exercise. In Windy City Playhouse's Chicago premiere, directed by O'Hara, it's bitingly funny, provocative, uncomfortable and engrossing. From Osiris Khepera's fiery sermon about alleged homosexuals in the church choir and Krystel McNeil and Debrah Neal's jokey, multicharacter telephone sketch, O'Hara quickly establishes we're in for an evening as uproarious as it is interrogative. Rob Fenton shows off his range with an array of characters often set up in opposition to the indispensable Travis Turner, in the role representing a version of O'Hara himself; Turner's innate intelligence and charm are necessary leavening for some of O'Hara's more abrasive moves. With an intersectional, unpredictable vi
Book now
Read more
Nick Bowling helms the Chicago premiere of this 2007 work devised by the British theater company Complicité, exploring mathematics and human connection in a series of vignettes set both in the present and a century earlier.
Book now
Read more
Two journalists clash when they're both summoned across the globe to meet a mysterious leaker who promises to divulge U.S. government secrets in this timely new drama by Gabe McKinley. Kristina Valada-Viars and Cody Proctor star in Route 66 Theatre Company's world premiere, directed by Jason Gerace.
Book now
Read more
Want to look cool to your favorite pipsqueak (and adult friends, too)? Introduce them to Barrel of Monkeys' joyously long-running public show. The troupe conducts writing workshops with CPS grade school students by day, then transforms the kids' stories into hilarious or heartfelt skits and songs, performed with abandon by a spirited ensemble.
Book now
Read more
This parody of the musical Hamilton, from Forbidden Broadway mastermind Gerard Allesandrini, follows its source material from New York to Chicago. The satire replaces central character Alexander Hamilton with creator Lin-Manuel Miranda himself, as he grapples with ubiquitous fame and Disney dollars.
Book now
Read more
With a concept by Dani Bryant, direction by Erica Vannon and a 10-person, all-female cast, Collaboraction's new production uses stories culled from women across the Chicago theater community to examine gender inequity in the arts and beyond.
Book now
Read more
The House Theatre of Chicago revisits one of its earliest hits, Phillip Klapperich's deconstructive 2005 take on Dorothy's journey over the rainbow. This version's suitable for teens and tweens, but might be too dark for younger kids.
Book now
Read more
For those who love theater about theater, Theater Wit takes it to extremes with the Chicago premiere of Anne Washburn's play, which takes the form of a technical rehearsal for a play—audience members get headsets to listen to all the backstage crosstalk.
Book now
Read more
Show more