March 2020 events calendar for Chicago
Plan out your March in Chicago with our calendar of the best things to do, including picks from theater, art and music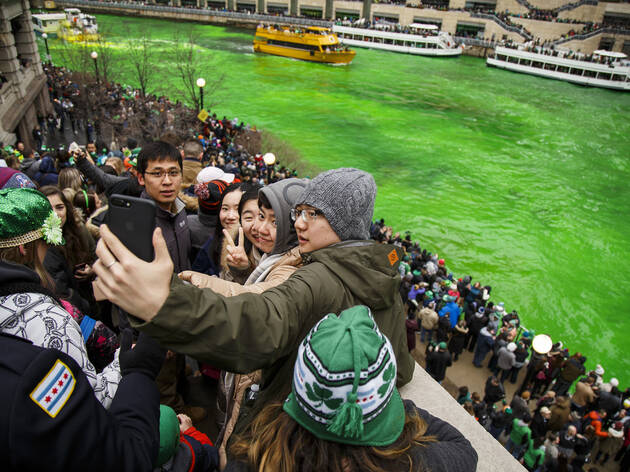 March is finally here, which means that spring is in the air. Soon enough, the snow will melt away and the Chicago River will turn green in honor of St. Patrick's Day. Though warm weather is just around the corner, real Chicagoans know that winter isn't over just yet. While we wait on patio season, there's plenty to look forward to this month, including flower shows, parades, beer festivals and great concerts from the likes of Robyn, Bad Bunny and Kacey Musgraves. Say goodbye to winter with some of the best things to do in Chicago this March.
RECOMMENDED: Events calendar for Chicago in 2019
Featured events in March
Art, Contemporary art
Richard H. Driehaus Museum, River North
Contemporary art comes to the Driehaus Museum for the very first time, when the Gilded Age mansion hosts Shonibare's sculptures dressed in colorful high-Victorian costumes and two collections of photographs. The British-Nigerian artist's work is spread throughout the house, contrasting the humor and irony of his creations with the beautiful, antiquated spaces in which they reside.
After taking two months off, Art on theMART is back. For five nights each week the 25-story-tall video installation takes over the side of the Merchandise Mart, filling the building's historic facade with vibrant colors and moving images. Harnessing 34 digital projectors, the show features work by a rotating lineup of artists and is best viewed from Wacker Drive or the Riverwalk, between Wells and Orleans Streets. Art on theMART lights up the night Wednesday through Sunday, with projections beginning approximately 15 minutes after sunset.
Art, Photography
Museum of Contemporary Art, Streeterville
Best known for her photos of dolls and miniature objects (as well as for being the mother of Girls creator and star Lena Dunham), New York artist Laurie Simmons creates work that views reality through a surreal lense. The MCA's career retrospective, entitled "Big Camera/Little Camera," includes works that explore scale, female gender roles and the artificiality of social media. In addition to photographs, guests can view a collection of the miniature props that Simmons used in her imagery, sculptures that comment on society's obsession with the female body and a trio of short films, including one in which actress Meryl Streep interacts with vintage puppets. In acknowledgement of Simmons' activism in the realm on gender inequality, the MCA will offer $12 tickets (81 percent of the regular $15 admission price) to those affected by the gender pay gap through the duration of the show's run.