Amazing Airbnb cabins for the perfect Midwest getaway
Escape the city at one of these incredible Airbnb cabins near Chicago, including fishing havens and chic retreats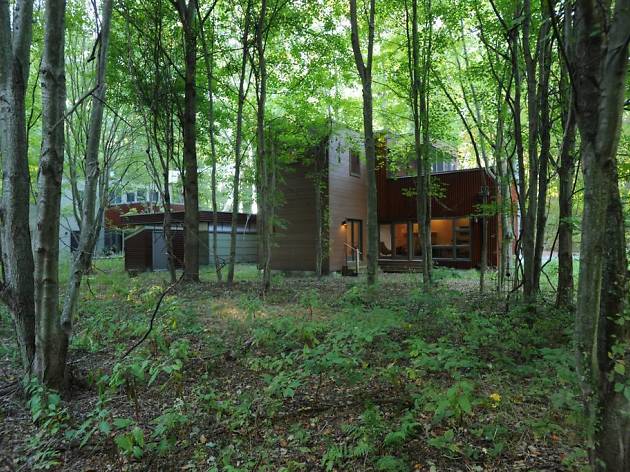 We absolutely adore Chicago, but sometime we just need to skip town and unwind. And where better to decompress than a cabin in the middle of nowhere? Whether you're planning a weekend getaway with pals, a romantic retreat with your partner, or an outdoor adventure, Airbnb offers a variety of cozy places to rest your head. We've selected 10 excellent cabins available for rent, all just a short drive from Cook County.
10 best Airbnb cabin rentals near Chicago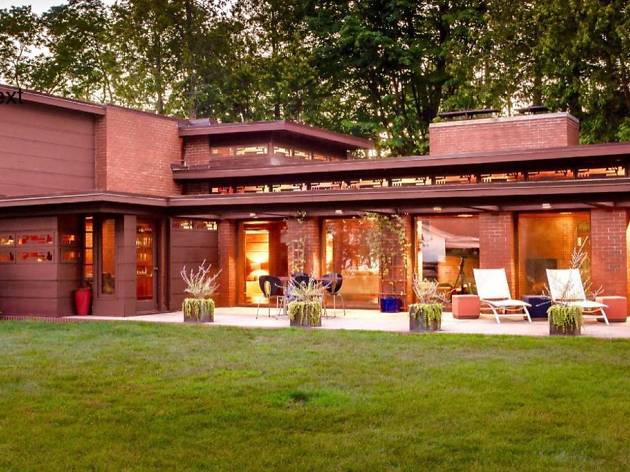 Courtesy Airbnb
Historic Frank Lloyd Wright home
A getaway to the Bernard Schwartz House isn't exactly a low-key escape, but it's certainly a unique one. Initially designed as a "Dream House" for LIFE Magazine, this residence was built for a private family in 1938. Complete with a 63-foot-long living room, Wright-designed furniture, a classic Usonian design and its own Wikipedia page, you'll get a chance to experience a Frank Lloyd Wright house the way it was intended: as a place where you can live. The house sleeps eight (maximum), and guests must be 25 or older to rent. Sleep inside of a bonafide work of art, just three hours north of Chicago.
Courtesy Airbnb
Secluded fishing cabin in the forest
Sequester yourself in the depths of the Huron-Manistee National Forest in this cozy, craftsman-style home. With large windows overlooking the Pere Marquette River, the cabin features dreamy sunrise views and immediate outdoor access. The house does have central heat and air conditioning, but no Wi-Fi or TV. Instead, guests have access to a two-person kayak, a canoe and fishing poles. The Pere Marquette Rail Trail, a popular hiking and biking destination, is about 3.5 miles away from the house, too.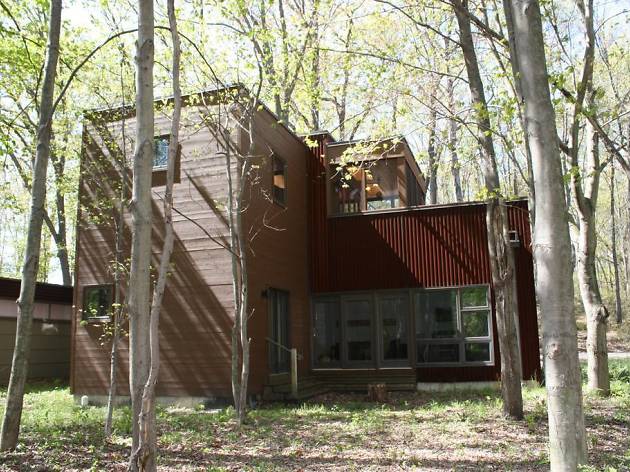 Courtesy Airbnb
Chic Michigan City hideaway
Less than 90-minutes outside Chicago, this stylish home is a perfect pied-à-terre for city folk who want just a little bit of nature. The modern home attracts architecture and design enthusiasts, but is an ideal spot for anyone who just needs to relax. The two-bedroom, two-bathroom, two-story house includes a fireplace, a screened-in porch and an open deck, evoking a traditional log cabin vibe with rugged wooden tables and decor. It's just a short drive from the Lake Michigan shore and other Harbor Country attractions.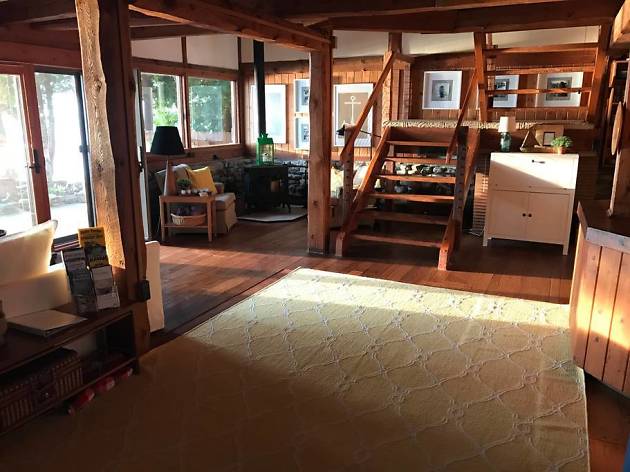 Courtesy Airbnb
Waterfront getaway in Door County
Escape with friends or family to this cozy lakefront cabin in Door County. With a classic Midwest lake retreat vibe, this house sleeps 10 guests total. (Though there are only two bedrooms and two bathrooms, so prepare to get to know each other really well, if you don't already.) The cabin is situated directly on Green Bay and includes its own private beach and boat launch. Facing west, the house's location should give you some outstanding sunset photo opportunities.
Forest retreat by Bear Lake
Venture up to Bear Lake to vacation in this adorable, compact cottage. There may be only one bedroom but the place sleeps three and it's the perfect location if you're into sports such as biking, hiking, skiing, because there are XC trails that begin from the door. Plus you're only a short drive from the crystal mountain resort and the glittering Lake Michigan coast, so consider this a perfect home base for your Northern Michigan exploration.
Courtesy Airbnb
Delightful A-Frame outside Madison
If you're not averse to slanty ceilings, you'll love this cozy triangular home outside of Wisconsin's capital city. The rental shares 20 acres of property with the hosts' home, which comes with some perks: In addition to a private lake, guests have access to the hosts' swimming pool, tennis court, hot tub, sauna, bonfire area and more. Outdoorsy types, in particular, will love its location adjacent to Volo Bog State Park, which is home to a variety of plants and animals.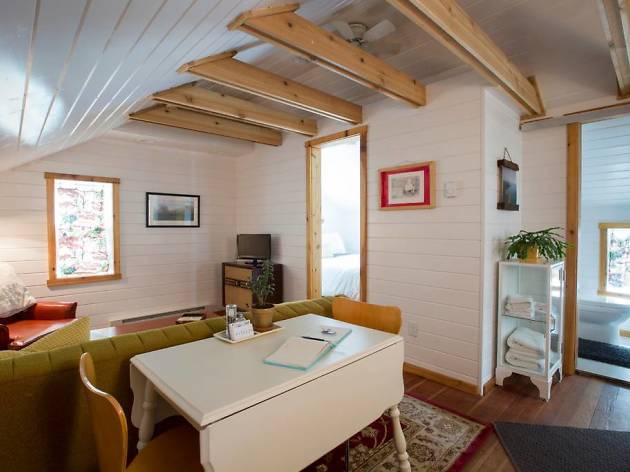 Courtesy Airbnb
Urban cabin in Door County
Into the "cabin" thing but not a fan of the "being in the middle of nowhere" thing? This adorable apartment in the heart of Sturgeon Bay gives you the best of both worlds. The pad sleeps two people—it's a one-bedroom, one-bathroom, just 400 square feet. Guests have access to a shared courtyard and a barbecue area. This impeccably decorated flat with make you feel like you're living inside a Pinterest board.
Courtesy Airbnb
Family gathering destination in Saugatuck
Pile the whole family into this homey, wooden lodge outside of Saugatuck, Michigan. Just under two-and-a-half hours outside Chicago, this sturdy wooden structure has four bedrooms and can sleep up to 10 guests. It's got all the necessities for a perfect summertime barbecue: a screened-in porch, a gas grill, an eight-person outdoor table and a community pool just across the driveway. Other amenities include two bicycles, two kayaks, Wi-Fi and an accessible community dock.
Courtesy Airbnb
Fisherman's dream home in Wisconsin
If you fantasise about waking up to the sounds of the ocean, then this home will have you hooked. That's right, this chalet on the shore is inspired by the beauty of the deep blue, incorporating nautical aesthetics and built with wood from ships dating back to World War II. In fact, the home was built to resemble a boat – so you can enjoy all of the atmospheres with none of the seasickness. Bring your rods, bait and all other fishing supplies and you'll be willing away the time waiting for the perfect catch. Plus you'll also get access to a pier, a rowboat, two kayaks, and fishing gear, bikes, lawn games, a grill, snowshoes and sleds.