Amazing Airbnb Chicago homes you can rent
Looking for a staycation spot? Visiting Chicago for the first time? Book one of these Airbnb rentals for a unique alternative to a hotel.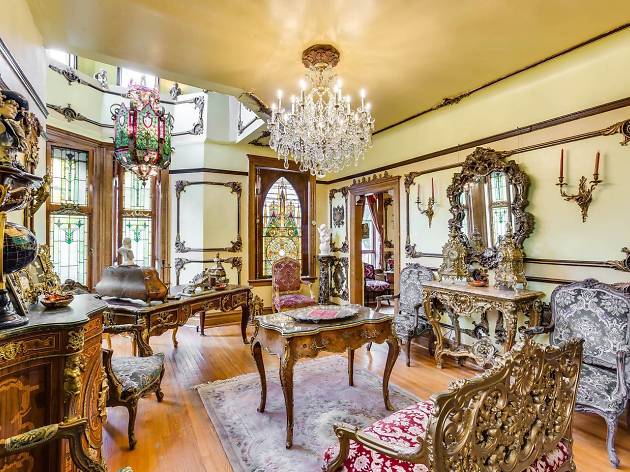 Around the world, Airbnb hosts open their homes to travelers looking for out-of-the-box overnight stays. It's no different in Chicago, where city dwellers offer up their quirky condos, extravagant homes and rooftop-equipped apartments to visiting strangers. And these rentals make it possible to enjoy a comfortable stay in neighborhoods far away from the usual hotel districts, or find a more lived-in charm with all the amenities of tourist-friendly 'hoods. Whether you're planning a relaxing staycation or visiting our fair city for the weekend, check out these amazing Airbnb rentals that will make you feel right at home.
RECOMMENDED: Our guide to weekend getaways from Chicago
Best Airbnb Chicago Rentals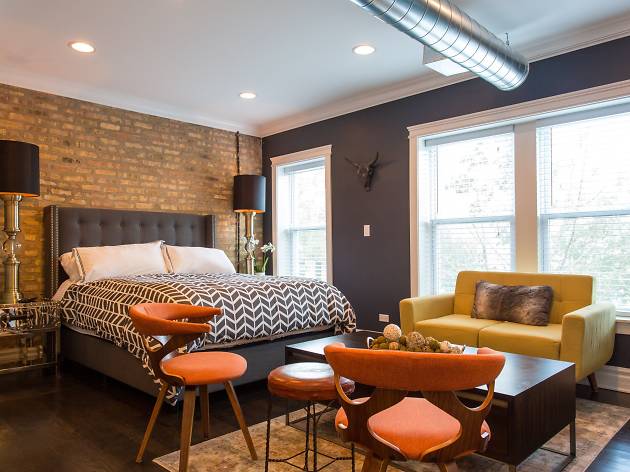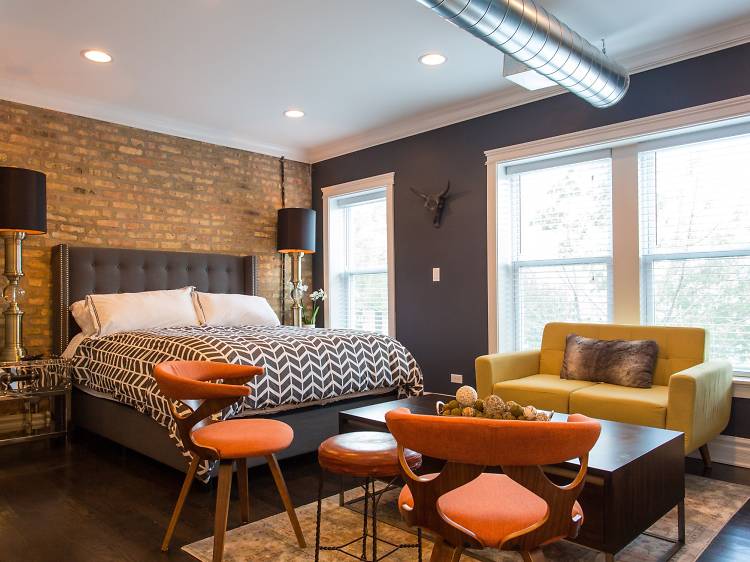 Photograph: courtesy Airbnb
This beautifully appointed studio loft near the border of Avondale and Irving Park features tons of exposed brick, a modern kitchen and a rooftop patio space. If you're driving in the city, this rental conveniently offers free parking and easy access to O'Hare or downtown via the Kennedy Expressway.
Courtesy Airbnb
Calling all fairytale fanatics. The Castle on Berwyn, one of Andersonville's most famous properties, is filled with enough ornate art and antiques to make you feel like total royalty. Architectural buffs will appreciate the fact that massive carved stones from old, demolished Chicago buildings dot the backyard garden and patio. Don't be surprised if a historic home tour passes by during your stay.
Courtesy Airbnb
Rent a piece of history in the Gold Coast when you book the famous Florsheim Mansion for the Arts, which sleeps 12 people in its five well-appointed bedrooms. Given the nature of the space, a hefty security deposit is required up front, but there are plenty of perks that make it worthwhile: You'll rest your head where a shoe heiress once slept, relax near a koi and turtle pond and, of course, be able to say you stayed in the Florsheim Mansion.
Courtesy Airbnb
When it's not being rented on Airbnb, this Wrigleyville coach house is home to four kids—and the playful decor and toy supply prove it. Rent the entire rustic four-bedroom pad for the weekend and enjoy recent renovations, including a playspace for kids that's only accessible by ladder. Equipped with a crib, tons of toys and an expansive library filled with bedtime reads, it's no wonder this rental boasts a great rating.
Courtesy Airbnb
Appropriately dubbed the "Outdoor Oasis," this home's 1,000-square-foot deck and patio overshadow any of its indoor amenities (and those are pretty spectacular, too). Save this rental for summer months, when you can put the cabana and bar space to good use with an outdoor celebration.
Courtesy Airbnb
Hello, gorgeous! This light-filled minimalistic apartment features polished wood floors, indoor plants and all-white decor. The back door opens to a lush yard with a hammock, firepit and grill. And since it's located in the heart of Pilsen, concerts, restaurants and art galleries await just blocks away.
Photograph: courtesy Airbnb
This high-ceilinged two-bedroom condo sleeps up to six guests. The South Loop high-rise location offers easy access to Columbia College, the Museum Campus and Grant Park—and with laundry in-unit, it might be the ideal perch for an inevitably muddy Lollapalooza weekend.
Courtesy Airbnb
Situated between Wicker Park and Ukrainian Village, this gorgeous home is made for artists looking for a healing hiatus. Make the vintage art your muse and detox in the underground in-home sauna at this photographer-owned abode. Bonus points: The well-equipped kitchen makes the perfect backdrop for a relaxing night in or post-dinner drinking.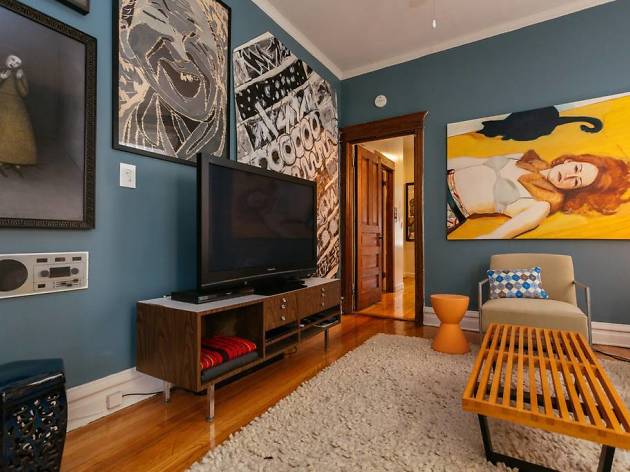 Courtesy Airbnb
If you spend your free time visiting galleries, you'll love this century-old Chicago greystone owned by an artist and Airbnb award recipient. Situated in the heart of Uptown's entertainment district, the space is filled with contemporary art, complex interior design and other curated works. Stay here and you can skip the Art Institute to browse the bedroom decor.
Photo: courtesy Airbnb
Sleeping up to eight guests, this loft in River West makes for the perfect party pad during your visit to Chicago. Within its vast, but warmly decorated industrial walls, lies a cinema room, jacuzzi and a pool table, as well as the usual amenities, like wifi, washer/dryer and bathroom bits. With all that at hand, you'd be tempted to stay in, but venturing out even a few minutes' walk will lead you to Wicker Park, Bucktown and a welath of shops, cafes, bars and restaurants.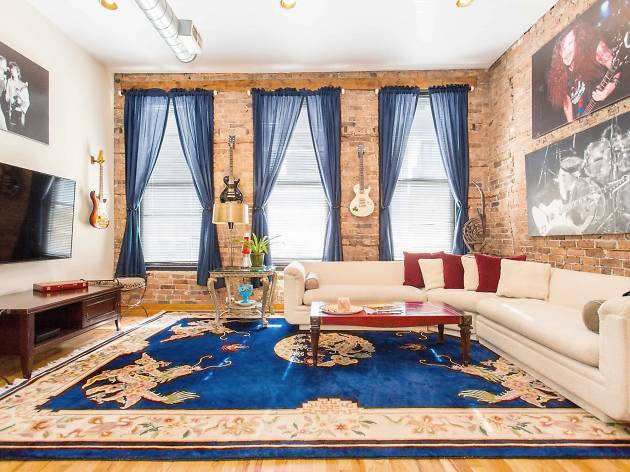 Photograph: courtesy Airbnb
Indulge your inner rock star at this rococo River North music lover's abode. Decked out in rock & roll memorabilia and featuring an antique hi-fi to play your own tunes, this two-bedroom apartment features other fun touches like a carved wooden canopy bed. Proximity to the CTA Brown and Red lines makes getting anywhere a breeze.
Courtesy Airbnb
Celebrating a special bride or groom with a group trip to Chicago? Stay in this massive Uptown mansion decked out with hardwood floors, eight bedrooms, three living rooms and plenty of parking spots. With three and a half bathrooms, everyone will have space to get ready, and the kitchen is perfect for a pregame.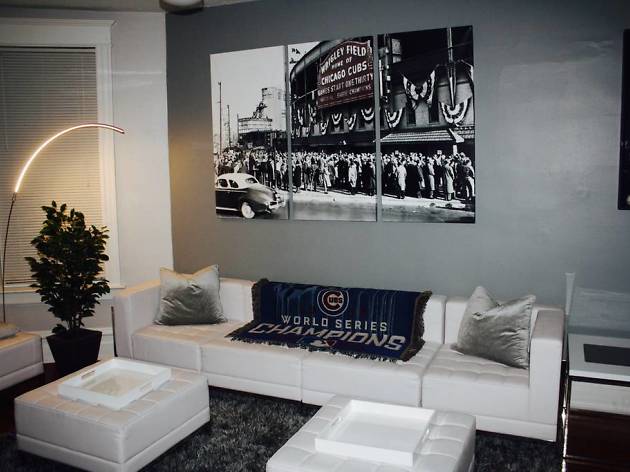 Courtesy Airbnb
If you loved the Cubs before everyone bandwagoned in 2016, this Airbnb is for you. Ideal for a sports-filled weekend away, the two-bedroom condo in the heart of Wrigleyville is decked out in crazy Cubbies memorabilia. Seriously—the space features autographed equipment and actual stadium seats. The host's only request: keep your hot dogs and beer cans far away from the white leather sofa.
Courtesy Airbnb
Treat yourself to this gorgeous Uptown home equipped with a spacious sauna and soaker tub, heated floors, a beautiful kitchen, three bedrooms and plenty of added amenities. The house is located within walking distance of restaurants, bars and shopping, making it easy to venture out for anything you may have forgotten.
Photo: courtesy Airbnb
Live like a high-flyer for a weekend or longer with a stay in this uber modern and ultra luxurious penthouse suite. Located in the Loop, you get jawdropping views of both the city skyline and Lake Michigan – completely unhindered views through floor-to-ceiling windows, might we add, which run around the entire apartment. You can sleep up to ten people here, and enjoy free use of the building's pool, gym and rooftop deck.