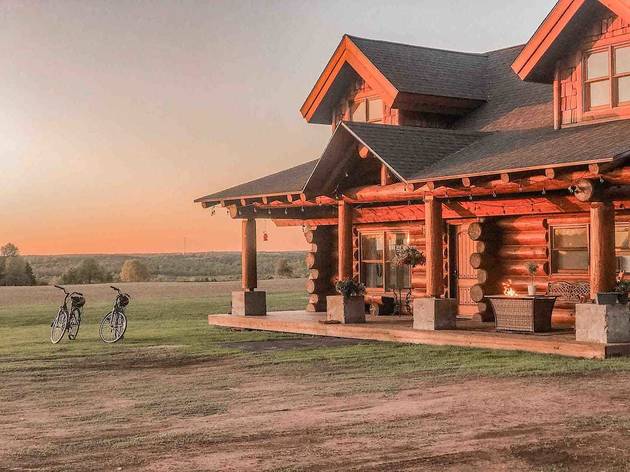 16 Airbnb cabins for the perfect Midwest getaway
Hike, fish, bike and unwind at these quaint cabins located within a few hours' drive of downtown Chicago
There's a lot to love about summer in Chicago, but let's be honest: sometimes we all need a bit of an escape from everyday life in the city. When that feeling strikes, these gorgeous Airbnb cabins are here for the cottagecore-inspired weekend getaway from Chicago of your dreams. Spend the weekend hiking among wooded trails, fishing for trout on private lake beaches or gathering armfuls of wildflowers to decorate your temporary digs; at the end of the day, there's oftentimes a fire pit or hot tub waiting for you to unwind among the peace and quiet of the country. Not a fan of secluded rural environs? Check out some of our picks located near bustling towns and small cities for breweries, coffee shops and other new spots to explore from your cabin base. Pack some reading materials and prepare to relax at these stunning cabin rentals near Chicago.
Note: please check the latest travel guidance before booking your trip
This article includes affiliate links. These links have no influence on our editorial content. For more information, click here.
RECOMMENDED: The most secluded getaways from Chicago
Best Airbnb cabin rentals near Chicago
Photograph: Courtesy Airbnb
Old-fashioned getaway across the Mississippi
All it takes is a three-and-a-half-hour drive from Chicago and you'll feel like you've been transported to a different century in this 1850s-era cabin in Bellevue, Iowa, which offers an extraordinary (and historical) escape from the bustle of city life. The cabin itself was constructed with reclaimed lumber from an 1800s cabin, and the 20-acre property—swathed with native grasses, blooming prairie flowers and fish-filled ponds—looks like something straight out of a Laura Ingalls Wilder book. Whether you prefer to fish, pick wildflowers or even take a guided pizza-making class using the wood-fired oven onsite, you're sure to find something to love about this gorgeous rental.
Photograph: Courtesy Airbnb
The Triangle House on Fine Lake
When the weather gets hot and Chicago beaches are suddenly packed to the gills, steal away to this lovely A-frame cottage for a weekend on the quiet shores of Fine Lake. Located outside of Battle Creek, Michigan, the retro-looking cottage comes outfitted with kayaks and floaties perfect for splashing around in the lake's sparkling water—and for an added fee, you can even rent a pontoon boat for cruising. Spend some time poking around the backyard during berry season, too—you might just find a handful of blackberries or raspberries among the bramble.
Photograph: Courtesy Airbnb
No car? An Amtrak train will deliver you straight from Chicago to Normal, Illinois, where you can catch a 10-minute Uber ride to this stunning cabin on a farm. The setting here is decidedly rural—you'll have to walk to a private guest bathroom on the property to use the shower, for instance, since the cabin was built in 1865—but it's tough to beat the pastoral views of the surrounding views from the farm. Bring a couple books and prepare to spend long afternoons sipping a cold beverage on the porch.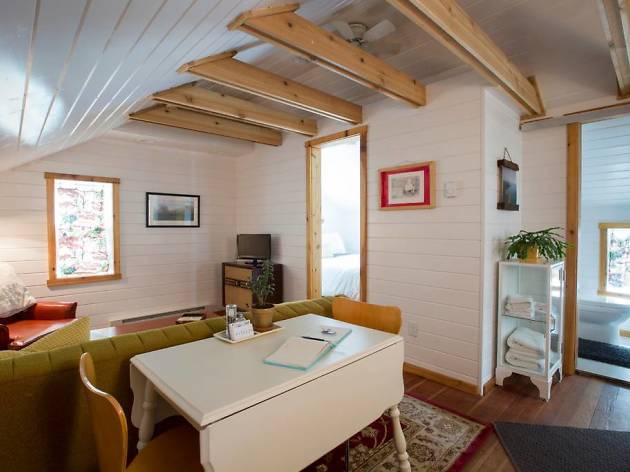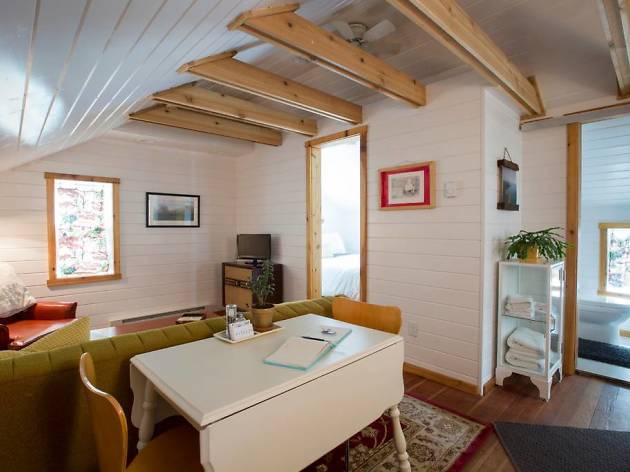 Photograph: Courtesy Airbnb
Urban cabin in Door County
Into the "cabin" thing but not a fan of the "being in the middle of nowhere" thing? This lovable apartment in the heart of Sturgeon Bay gives you the best of both worlds. The pad sleeps two people—it's a one-bedroom, one-bathroom with just 400 square feet of space. Guests have access to a shared courtyard and a barbecue area. This flawlessly decorated spot will make you feel like you're living inside a Pinterest board.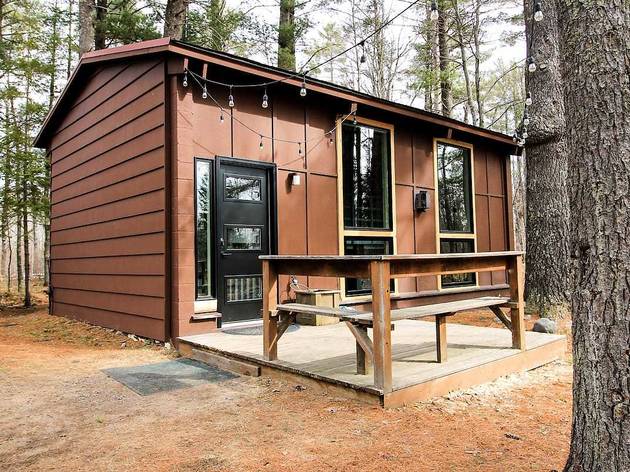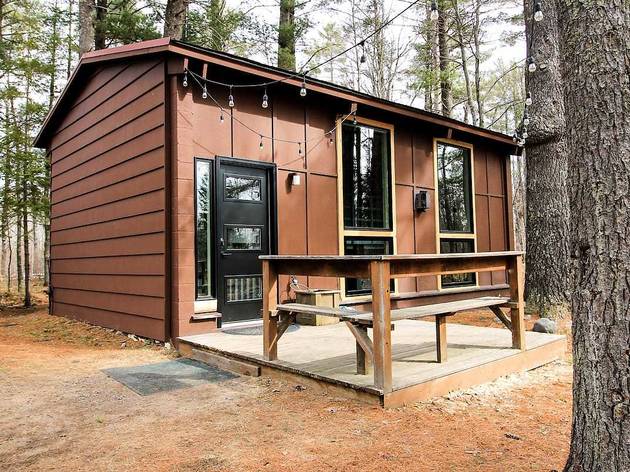 Photograph: Courtesy Airbnb
You may or may not be familiar with the Danish concept of hygge, which describes a certain kind of cozy lifestyle that the Danes (and their Scandinavian brethren) embody. This petite cabin—with its warm wood floors, narrow hallways and glittering string lights—brings that cozy spirit to northern Wisconsin, making for a perfect weekend escape from the city. Brew yourself a cup of pour-over coffee in the cabin's pristine white kitchen, hit the wooded trails during the day and come back in the evening to relax in front of the outdoor firepit.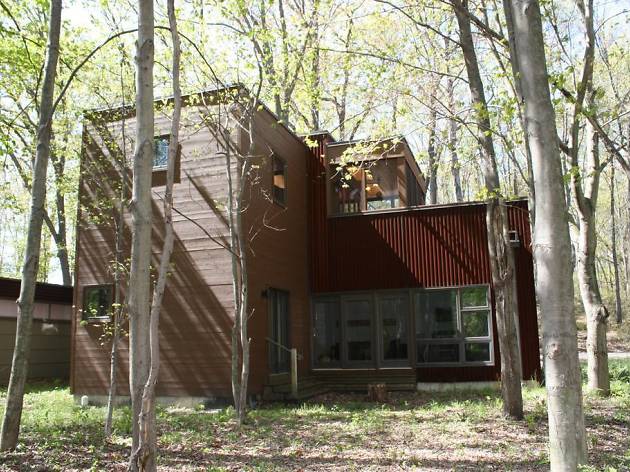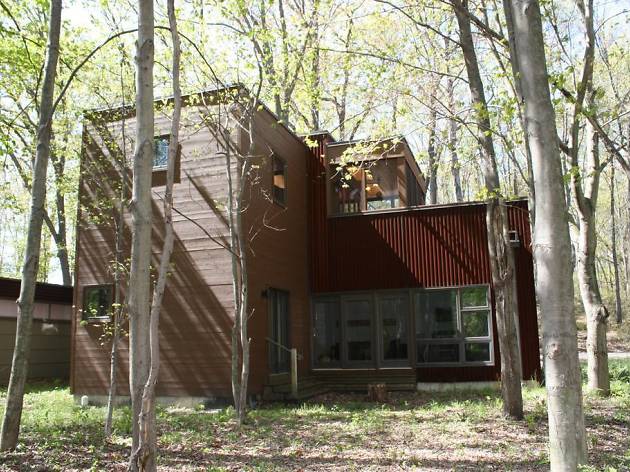 Photograph: Courtesy Airbnb
Chic Michigan City hideaway
Located less than 90 minutes outside Chicago, this stylish home is a perfect pied-à-terre for city folk who want just a little bit of nature. The modern home attracts architecture and design enthusiasts, but it's an ideal spot for anyone who just needs to relax. The two-bedroom, two-bathroom, two-story house includes a fireplace, a screened-in porch and an open deck, evoking a traditional log cabin vibe with rugged wooden tables and decor. It's just a short drive from the Lake Michigan shore and other Harbor Country attractions.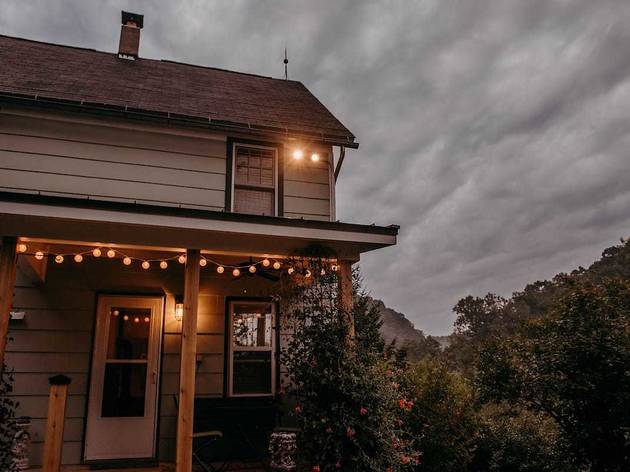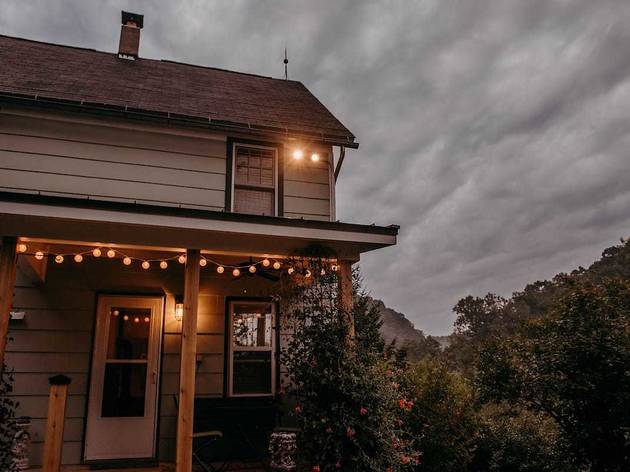 Photograph: Courtesy Airbnb
Cozy wooded farmhouse in the Driftless Area
Settle into this pristine farmhouse nestled within six acres of rolling, forested hills in the Driftless Region of southwest Wisconsin, complete with a babbling stream and trails perfect for a stroll. Start your day with a cup of coffee and the newspaper (wifi is optional) on the front porch. After you've tuckered yourself out on a long walk or bike ride, trek back to the cottage for a pint from the nearby Driftless Brewery and a warm fire—you can build one in an indoor or outdoor fireplace.
Photograph: Courtesy Airbnb
We know what you're thinking, and no, this isn't the same Goose Island that the Chicago brewing company is named for. Instead, this rustic, wifi-free cabin is nestled within 100 acres of private land about an hour and 45 minutes west of the city, near Oregon, Illinois—a much more relaxing setting, if we say so ourselves. Hang out in hammocks along the wooded banks of the Rock River or simply spend the day wandering through the surrounding forest. If you think 100 acres of woods is a lot, by the way, you should also know that the property is enveloped by an additional 2,300 acres of state forest. Plenty of room and trails to explore!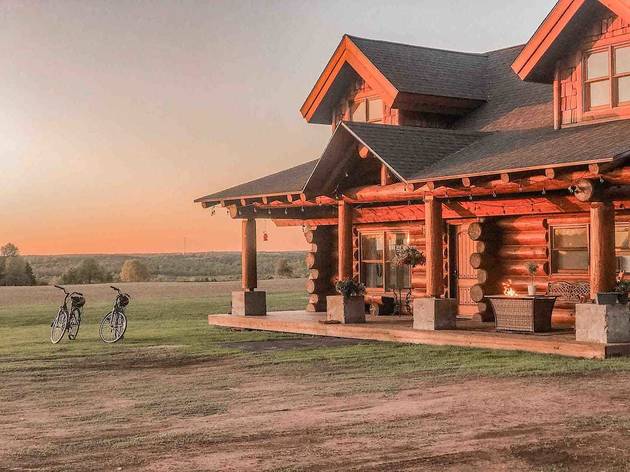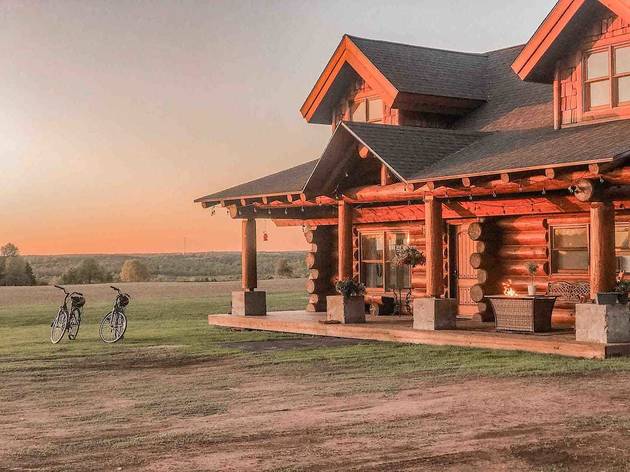 Photograph: Courtesy Airbnb
Log cabin near a gorgeous waterfall
Potato River Falls is known as one of the most beautiful waterfalls in Wisconsin—and there's no better way to make a weekend of exploring it than by staying at this authentic log cabin, located just a mile away. If seclusion and full nature immersion is what you're after, you'll find it here: this log home is situated on 136 private acres. After your hike to Potato River Falls, sink into the hot tub or relax by the fire with a cold beer.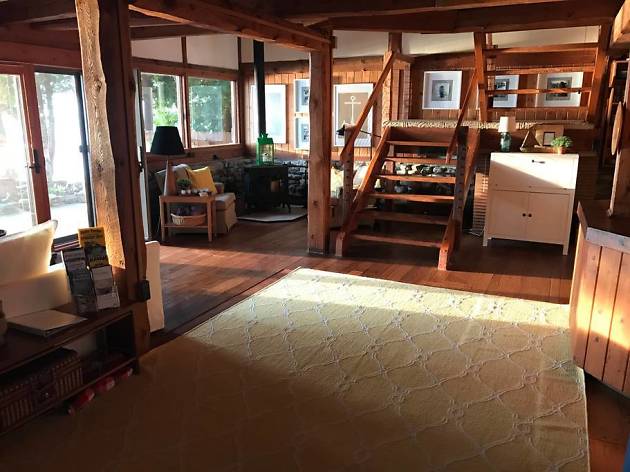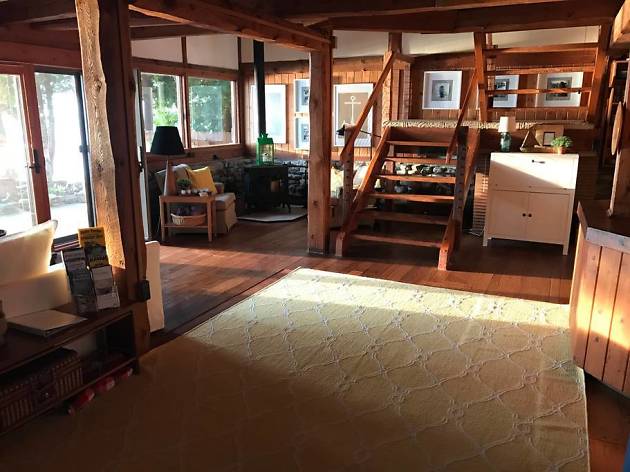 Photograph: Courtesy Airbnb
Waterfront getaway in Door County
Abandon the city with friends or family and head to this intimate lakefront cabin in Door County. With a classic Midwest lake retreat vibe, this house sleeps 10 guests total. (Though there are only two bedrooms and two bathrooms, so prepare to get to know each other really well, if you don't already.) The cabin is situated directly on Green Bay and includes its own private beach and boat launch. Facing west, the house's position should give you some breathtaking sunset photo opportunities.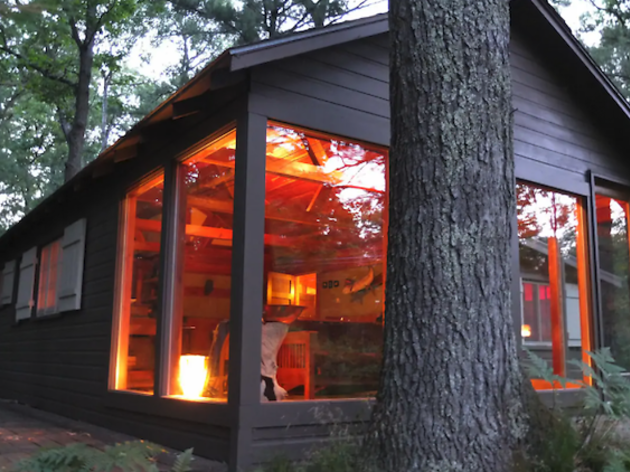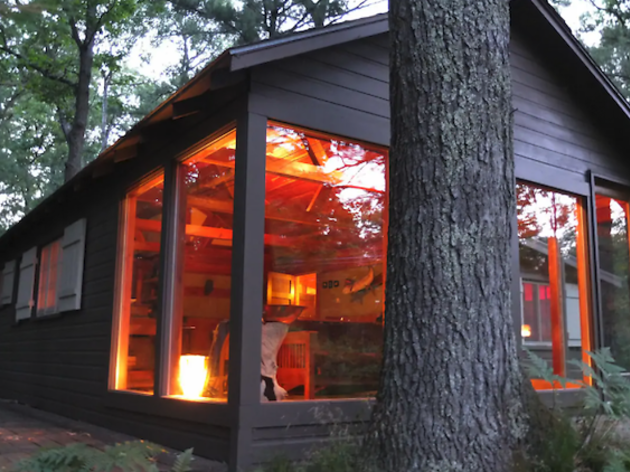 Photograph: Courtesy Airbnb
Secluded fishing cabin in the forest
For an immersive-yet-comfortable forest getaway, head to this cozy, craftsman-style home. Located in the woods overlooking the Pere Marquette River, the cabin is your launching-off point for walking, kayaking, fishing and relaxing. There's no TV or wifi (which is part of its charm), but your hosts Russ and Jade will also provide fishing poles and a two-person kayak. The great outdoors awaits!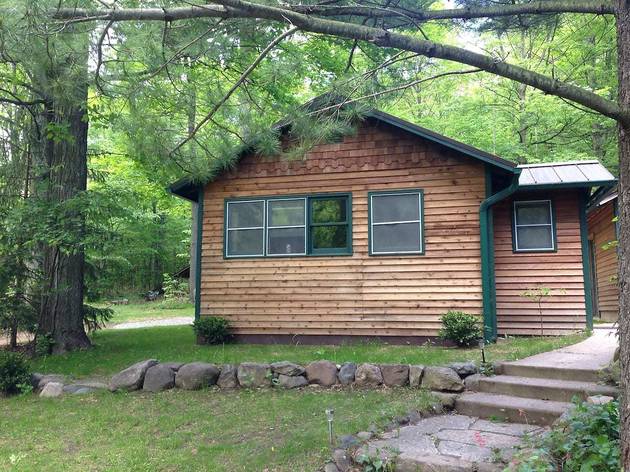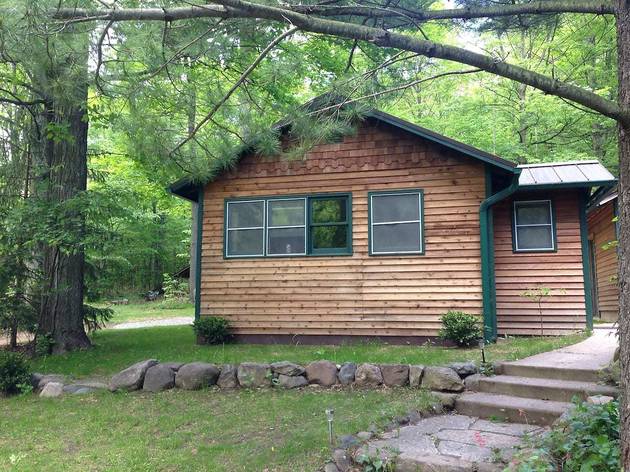 Photograph: Courtesy Airbnb
Forest retreat by Bear Lake
This cozy little spot in Michigan is as cute as its name—Bakery Lane Cottage—with vintage touches, quilt-covered beds, clay plaster walls and a wood fireplace. It's located near Crystal Mountain and the Lake Michigan coast, which means that you're in the perfect position to hike and bike your way around Northern Michigan.
Looking to go off the grid for the weekend?
Whether you're a bonafide misanthrope or you're just looking to keep your distance for the time being, these remote locales make for a perfectly isolated holiday.