Baby stores in Chicago for gifts and gear
Shop the best baby stores in Chicago for baby shower gift ideas, or buy your own custom onesies, unique toys and more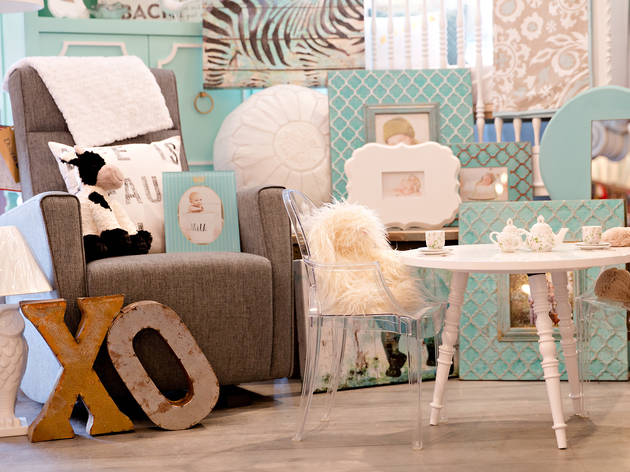 The best baby stores in Chicago are staffed with experts who can help you decide what you really need, from kids' clothing to the latest must-haves from toy stores. You'll never go home emptyhanded when you shop these great and new shops.
The best baby stores in Chicago
Building Blocks is a Chicago staple, and it has been for more than 19 years. The charming toy shop with two Chicago locations is known for its meticulously curated variety of educational and developmental children's toys for boys and girls ages 0-3, plus puzzles, books, games, crafts and more. Plus, there's free gift wrapping. You can also check out the Wicker Park store.
This Roscoe Village baby shop has a focus on the artistic. Owner Rachel Glasson and her team are experts in nursery design, and the showroom displays just a fraction of the creativity they have. Great artwork, unique furniture and fun baby gifts are just some of what you'll find at this cute baby shop.
The staff here are experts in all things stroller and car seat, and the store has certified technicians on hand to help answer questions or do car installations. It's also a great store for gifts, with an array of toys and games from baby on up.
Books, cute baby clothes and personalized gifts fill this Bucktown store. This is a great place to pop in for a gift for a new baby or to dress your newest addition in Chicago-style gear.
Shopping, Gifts and stationery
Since 2007, BabyDolls Boutique has been catering to the cutest babies. Find everything from trendy jewelry and custom onesies to teething toys and bottles at this store for little ones, moms and more.
This San Francisco native, as the name suggests, focuses on everything baby that is also all-natural and organic. You'll find everything from furniture and artwork to baby clothes, sippy cups and plates. The store also holds a variety of baby-oriented classes like music with Mr. Dave and Jitterbugs movement.
This small shop focuses on custom creations churning out everything from onesies to flip flops, pillow cases to hoodies. A favorite amongst celebs and locals alike, you'll find some of the most unique children's wear ever created.
Shopping, Gifts and stationery
Anniversaries, weddings, birthdays, the holidays or "just because," you can find a lot of reasons to buy something special from one of Chicago's best gift shops