The best toy stores in Chicago
We've found the best toy stores in Chicago and the suburbs to reward a little one or just geek out on your own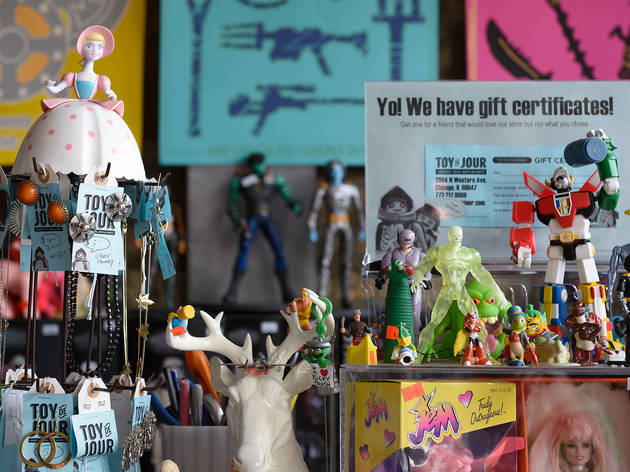 Christmas is the obvious time to check out these local toy stores, but we all know kids are happy to go shopping for toys on any day: birthdays, after a trip to the dentist, after a good report card, really anytime. Instead of perusing the goods online, check out these well curated shops, often with fun displays for hands-on playing, making the stores something like an indoor playground. And if you're an adult who happens to love toys (no shame), toy stores are the best places to nerd out with likeminded people.
Best toy stores in Chicago
2
Building Blocks is a Chicago staple, and it has been for more than 19 years. The charming toy shop with two Chicago locations is known for its meticulously curated variety of educational and developmental children's toys for boys and girls ages 0-3, plus puzzles, books, games, crafts and more. Plus, there's free gift wrapping.
Read more
3
Don't go looking for any Barbie Dolls in this classic, European-inspired toy shop. Head to Geppetto's for its collection of wooden toys from responsible manufacturers. The shop stocks puzzles, building toys, craft sets, books and more to please parents and kids of all ages.
Read more
4
This Lincoln Square haven has educational, fun and classic wooden toys, books and a charming array of puppets.
Read more
5
Nothing may be better than 4,000 square feet of toys. This well-curated shop has it all—the latest and greatest "it" toys, retro toys, European toys, puzzles, magic kits, baby products and more. (Parents of Thomas the Tank Engine–crazed kiddos will also be highly impressed with the train selection.) Better still, you won't pay more than the big-box stores.
Read more
6
With three Chicagoland locations and a robust e-commerce website, Toys et Cetera puts more than 10,000 toys at your fingertips. Shopping local has never been more convenient—we're talking complimentary gift wrapping, free shipping when you spend more than $199 and pickup at any store location.
Read more
7
This veritable palace of playtime locomotives lures regular customers to suburban Berwyn not just from Cook County but from northern Indiana and southern Wisconsin, too. (Toy-train enthusiasts from around the world have also been known to visit this family-owned shop, which has been operating for two decades.) The colorful displays of train sets you can play with will entertain your kid (and you) for hours. From Brio and Thomas the Tank Engine to Playmobil toys, Legos, Carrera, Breyer horses, puzzles and crafts, you can easily spend the day in this store.
Read more
8
Heading to a baby shower? GALT Toys & Baby is your new best friend. You'll find a range of infant and toddler toys like plush books and rattles. Moms and moms-to-be can find specialty strollers and nursery furniture. The store has certified technicians on-hand to help answer questions or do car installations.
Read more
9
You might bring your kid along to Quake Collectibles, but you're secretly going to relive your childhood. While the shop also carries modern toys, its real bread and butter is the best of the glory days: old-school Transformers, GI Joe, throwback Star Wars action figures, Strawberry Shortcake, Pez dispensers, vintage lunch boxes and so much more. You can't not find something you want here.
Read more
10
Toy de Jour is a trip back to the 1980s, with vintage toys, clothing, knickknacks and art from the era. Pick up your nostalgia here with figurines from classic franchises like Teenage Mutant Ninja Turtles, He-Man, Star Wars and My Little Pony, or get your fill of it from the selection of equally nostalgic home decor and apparel.
Read more
11
What ever happened to good, clean, fun? It took up residence in Oak Park, at this funky shop. Expect to find an eclectic selection of favorites like retro robot toys, 1980s postcards and vintage-inspired tchotchkes. From Betty Boop to Dr. Who, the gang's all here—at affordable prices.
Read more
12
After six years of business in Bucktown, the toy store has expanded to a bigger, second West Loop location. To stock the shop, owner Linda Schmidt did her research, filling it with familiar childhood favorites to puzzles galore and new games imported from Europe. There's plenty of options for every age group, and the store even hosts family game nights and tournaments.
Read more