The best indoor activities for kids
Ditch the snowsuits and mittens wit the best indoor activities for kids, from art classes to playing dress up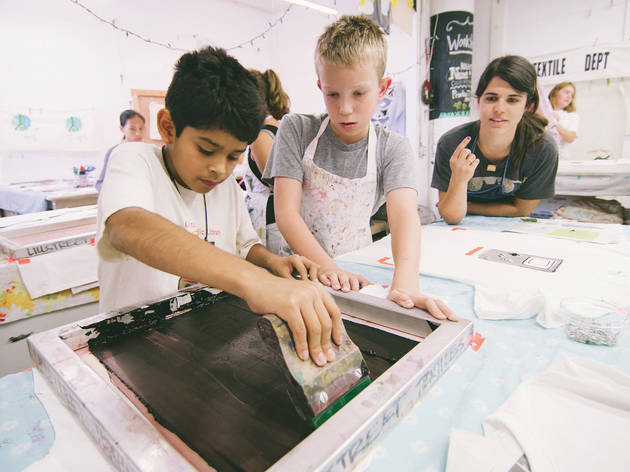 We're entering peak cabin fever season here in Chicago, and the kids are already getting restless. And unfortunately, Chistmas activities only last so long and you can't take a quick winter getaway every weekend. Instead of settling down on the couch for another Netflix marathon or spending half the morning bundling up to brave the elements, hit up these indoor activities. Whether your tot's an artist, an adventurer or an aspiring scientist, these mercifully sheltered hubs of activity are at your service.
Indoor activities for kids
Any kid with a big imagination will fall head over flippers for AquaMermaid classes. In 60 minutes, little ones learn the basics of synchronized swimming while decked out in a synthetic mermaid tail. Aspiring mermaids must be older than six and know how to swim.
Book now
Read more
Hit up educational classes with decidedly arty twists at this mom-and-tot studio. The new space (scheduled to open in January) is a whimsical mélange of bright colors; sensory stimulants and activities—including baby sign language and toddler yoga—are aimed at everyone from expectant moms to preschoolers.
Read more
Here, Budding Picassos ages 9 months to 14 years can dabble in eight-week or drop-in sessions ranging from jewelry making to themed courses that incorporate painting, sculpting and drawing. Birthday parties and summer and winter art camps are a big hit, too.
Book now
Read more
Your kids will find plenty of hands-on diversions with this eco-friendly spot's roster of educational courses (offered in recurring weekly or single-day sessions). All classes are taught by educators, scientists, artists and engineers and are tailored to curious minds from tots to preteens. There are also locations in the South Loop, Northbrook and Naperville.
Read more
This always-hopping play space houses a mini fire station and grocery store, pint-size vehicles and tons more to occupy active little ones. What's more, there's Intelligentsia Coffee, plenty of tables and free Wi-Fi for parents. Come lunchtime, check out the on-site café's kid- and adult-friendly sandwiches and snacks. A larger Evanston location (430 Asbury Ave; 847-807-3731) features themed rooms and separate spaces for older and younger kids.
Read more
At this tribute to Chicago's natural history, it's all about the domed Judy Istock Butterfly Haven, where more than 200 species from around the globe flutter freely. The museum also has play spaces and exhibits to explore, climb around and splash in. Daily kidcentric events include various animal feedings at 1pm and new butterfly releases at 2pm.
Book now
Read more