Chicago's best gay parties in Boystown and beyond
The best gay party won't necessarily be found at a gay bar. These queer-friendly nights are among the city's best LGBTQ nightlife.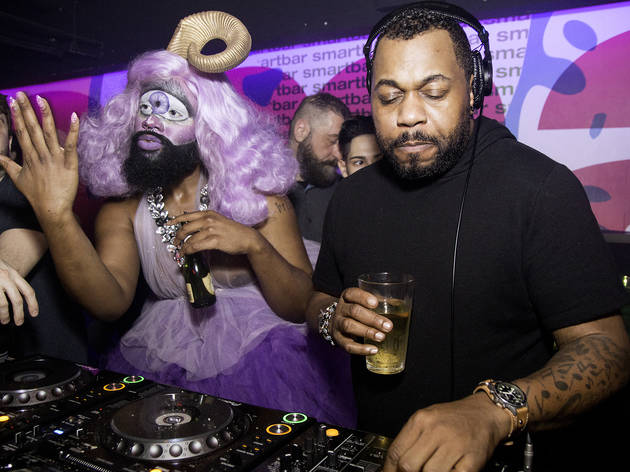 Sure, the Boystown strip is nearly always bustling, and Andersonville has its share of worthy LGBTQ attractions. But those hotspots hardly reflect the full diversity of Chicago's gay party scene. Many of the city's best LGBTQ good times can be found not just at Chicago's best gay bars but at queer-leaning weekly or monthly parties at bars far removed from Halsted Street. We've rounded up some of our favorite regularly recurring nights including a polysexual dance-off, a queer night at an arcade bar and yes, even a few options in Boystown.
Best LGBT nights in Chicago
If you like your gays in skinny jeans, queer heaven awaits at this offshoot of Chances Dances (the original is currently on hiatus), with the same inclusive spirit as its sib but a more conversational vibe.
We don't know if they're painting smiles on people's faces at the door or if they're mixing something into the booze, but everyone seems to be in a good mood at this energetic and inclusive queer party that's been going strong since 2008. It's worth getting there early, or else risk getting stuck in a line running down the block.
Nightlife, Alternative nightlife
The greatest house institution in town, Queen! is the electronic musical equivalent of "the Bean." If you are in Chicago and you consider yourself a dance-music fan, you owe it to yourself to witness Derrick Carter, Michael Serafini and Garrett David spin grooves deeper than our stupid pizza.
Nightlife, Alternative nightlife
Set a new high score at this arcade bar's quarterly queer night. Guests can take advantage of free pinball (make sure you take a turn on the classic Star Wars and PIN·BOT tables), enjoy bar specials or bust a move in the back room with resident DJ Essential Logic.
Nightlife, Alternative nightlife
Berlin has Thursday nights on lock like NBC in the '90s. This fab long-running weekly brings many flavors, many styles, from disco to house to new-wave. Check the calendar to find out what's happening this week, with parties ranging from the the women- and nonbinary-focused party Rosebud to queer-fashion showcase IT Presents.
Get down to the sounds of disco, house, funk and soul at this monthly "queer friendly and dance positive" party at Danny's Tavern, where resident DJs Ross Kelly and Jesse Sandwich spin vinyl gems from the '70s and '80s.
It's a huge lovefest set to the music and videos of Madonna that somehow manages the hysteria of a live show. And if you think there's a gayer night on the town somewhere else, newsflash: There isn't. Get into the groove every first Sunday of the month.
It may not be a dance party, but it's a hell of a sing-along. Sidetrack's thrice-weekly sessions of videos from Broadway and Hollywood musicals—Sundays from 4 to 9pm, Mondays from 8pm to close and Fridays from 5 to 9pm—are among the longest running attractions in Boystown. At Musical Mondays, you can often find cast members from visiting touring musicals and local productions present to perform previews of their shows.