Concerts in Chicago in December 2018
The winter concert season heats up with Travis Scott, Thom Yorke, Kurt Vile and more great December concerts.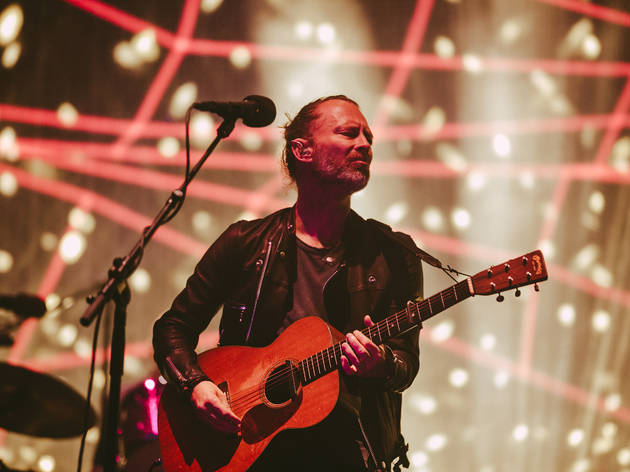 Winter has arrived, the temperatures are dropping and some of the coziest places you'll find are Chicago's best music venues. The end of the year means that another crop of exciting New Year's Eve concerts is just around the corner—not to mention a grab bag of fun holiday shows. Plus, December brings anticipated appearances from the likes of rapper Travis Scott, rocker Kurt Vile and a special solo set from Radiohead frontman Thom Yorke. Take a look at all of the shows we're looking forward to with our guide to the best concerts in Chicago in December.
RECOMMENDED: Our complete calendar of concerts in Chicago
Concerts in Chicago in December
Music, Dance and electronic
After bringing Radiohead to the United Center for a pair of shows earlier this year, Thom Yorke will return to Chicago in December for a special concert in support of his 2014 solo album, Tomorrow's Modern Boxes. Joined by longtime Radiohead producer Nigel Godrich and backed by live visuals created by Tarik Barri, Yorke will dig into the glitchy, electronic sounds he's created as a solo artists, as well as with Atoms For Peace. Don't expect to hear any Radiohead songs—Yorke's recent performances have served as deep dives into his own catalog, complete with renditions that expand upon his work in interesting ways. Experimental cellist Oliver Coates supports.
Music, Rap, hip-hop and R&B
After celebrating the release of his latest album, ASTROWORLD, at Lollapalooza this summer, Travis Scott returns to Chicago on his WISH YOU WERE HERE tour. The Houston rapper and Kayne West protege presides over a cavalcade of famous friends on his recent record, trading verses with Drake, harnessing the psychedelic production of Tame Impala's Kevin Parker and making way for guitar riffs provided by John Mayer. While you probably won't see an of ASTROWORLD's most prominent guests at the United Center, Scott is bringing New York emcee Sheck Wes, SoundCloud rapper Trippie Redd and "Phase" rapper Gunna along for the ride.