The best concerts in Chicago this week
We've combed through our music listings to find the very best concerts in Chicago this week, from rock to hip-hop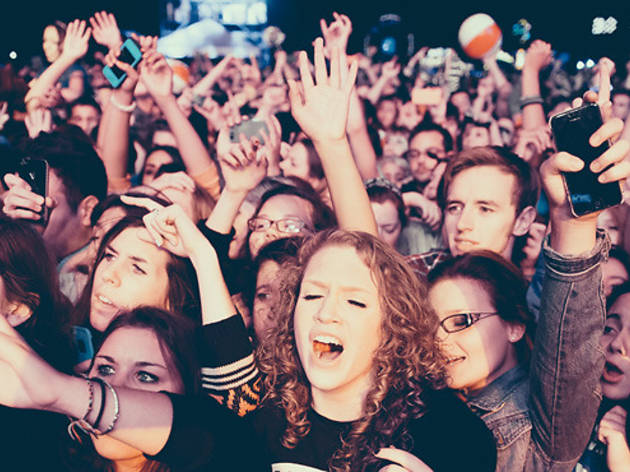 In the mood for a concert? Whether you want to mosh, sit or gently sway back and forth while standing at a summer music festival, we have the event for you. Dig through our picks of the top rock & roll, electronic, pop, soul, jazz and blues shows taking place over the next seven days. Soak up some of the city's best live music, explore rock music venues or blues music clubs and discover the best concerts in Chicago this week.
RECOMMENDED: Find more concerts in Chicago
Concerts in Chicago this week
Music, Rock and indie
Thalia Hall | Chicago, IL, Lower West Side
Earlier this year, young singer-songwriters Julien Baker, Phoebe Bridgers and Lucy Dacus teamed up to record a collection of songs under the moniker of boygenius, in an effort to confront the reductive label of "female indie rocker" that's frequently applied to their respective output. The result is a six-song EP that showcases each member's individual talents, including Dacus' frank lyricism, Bridgers' sweet and airy vocals and Baker's crescendoing arrangements. You'd be lucky to see a show featuring any one of these artists, but seeing all three of them collaborating onstage should feel like hitting the jackpot.
Music, Rock and indie
Rockefeller Memorial Chapel, University of Chicago, Hyde Park
Putting the band's pristine vocal harmonies and sparse arrangements through a digital blender, Low's latest album Double Negative is a daring permutation of its signature sound. The beautiful song-craft of Alan Sparhawk and Mimi Parker is still recognizable, but producer BJ Burton finds interesting ways to deconstruct it, obscuring melodies with bursts of noise and turning rhythms into a serious of distorted thumps. It's the band's boldest reinvention since its 2007 album, Drums and Guns, and it's just as affecting as anything else in the Duluth, Minnesota act's catalog over the past 25 years. Minneapolis synth artist IN/VIA opens the show.
If you caught Jack White headlining Lollapalooza or his intimate aftershow at Metro earlier this year, you know that the former White Stripes frontman is in a nostalgic mood as of late. While he acknowledges the funk, hip-hop and jazz experimentation of his recent album Boarding House Reach in concert, White's live show is built around the bluesy riffs of his previous bands, including the White Stripes, the Dead Weather and his recently-revived side-project the Raconteurs. Yes, that includes an end-of-the-evening rendition of "Seven Nation Army." Don't expect to get any killer Instagram shot during White's appearance at the Aragon—the Third Man Records owner has always expressed a preference for analog technology, so attendees at the show won't be allowed to use their digital gizmos and gadgets. All guests will be issued a Yondr pouch to keep their phone in upon entering the venue—the pouches lock themselves during the concert and can only be unlocked at the end of the show or in a designated Yondr Phone Zone.