The best concerts in Chicago this week
We've combed through our music listings to find the very best concerts in Chicago this week, from rock to hip-hop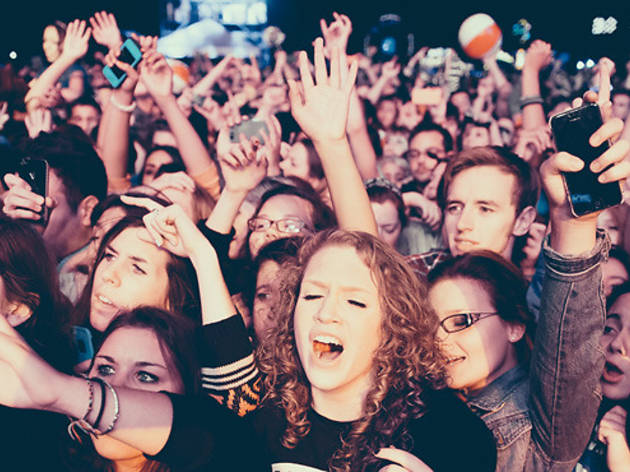 In the mood for a concert? Whether you want to mosh, sit or gently sway back and forth while standing at a summer music festival, we have the event for you. Dig through our picks of the top rock & roll, electronic, pop, soul, jazz and blues shows taking place over the next seven days. Soak up some of the city's best live music, explore rock music venues or blues music clubs and discover the best concerts in Chicago this week.
RECOMMENDED: Find more concerts in Chicago
Concerts in Chicago this week
Music, Rock and indie
Hideout, River West/West Town
Local weirdo marching band Mucca Pazza brings its mismatched uniforms, horns, cellists, guitarists, drummers and enthusiastic cheerleaders to the Hideout during the month of October for a weekly residency. Every show promises to be a bit different than the last, with dancers, puppeteers and singers joining the expansive collective as it explores everything from Balkan music to big band arrangements. Frankly, we're just curious to see how Mucca Pazza manages to squeeze its 30-odd members and an audience into the Hideout's cozy confines.
Music, Rap, hip-hop and R&B
Credit Union 1 Arena at UIC, Little Italy, UIC
Though Young Thug may be best known for his Auto-Tuned verses on tracks by the likes of Camila Cabello and Post Malone, it's his unpredictable marble-mouthed delivery and improvised lyrics that make him one of hip-hop's most interesting and frequently imitated personalities. His debut album (he classifies everything he's released up to now as a "mixtape") So Much Fun plays to Thugger's strengths, letting him string stream-of-conscious rhymes together atop inoffensive trap beats while trading verses with collaborators like Future, Gunna and Lil Baby. During his stop at the Credit Union 1 Arena, Young Thug is joined by rap-rocker Machine Gun Kelly.
Music, Pop
Chicago Theatre | Chicago, IL, Loop
Madame X, the 14th studio album from Madonna, casts the 60-year-old Queen of Pop as a secret agent, taking on different guises and identities as she travels across the world—a concept that will undoubtably serve as an excuse for a cavalcade of costume changes during live performances. Crafted in the wake of Madge's recent move to Lisbon, Portugal, her latest record oozes with the trendy sounds of Latin pop, including the sultry lead single "Medellín" featuring Columbian singer Maluma. Collaborations with rappers Quavo and Swae Lee suggest that Madonna will also be dabbling in some trap-tinged tunes, which seem destined to rank among her most desperate attempts at cultural relevancy (remember the EDM bangers from her last few records?). Thank goodness that she has multiple decades worth of classic pop songs to fall back on.