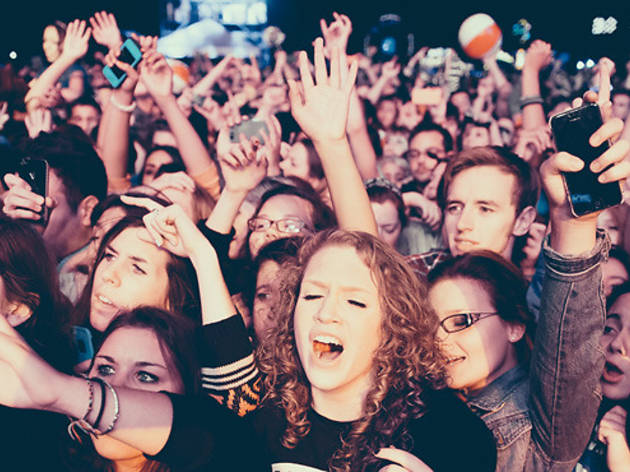 The best concerts in Chicago this week
We've combed through our music listings to find the very best concerts in Chicago this week, from rock to hip-hop
In the mood for a concert? Whether you want to mosh, sit or gently sway back and forth while standing at a summer music festival, we have the event for you. Dig through our picks of the top rock & roll, electronic, pop, soul, jazz and blues shows taking place over the next seven days. Soak up some of the city's best live music, explore rock music venues or blues music clubs and discover the best concerts in Chicago this week.
RECOMMENDED: Find more concerts in Chicago
Concerts in Chicago this week
Mouse-eared EDM mascot Joel Zimmerman (a.k.a. Deadmau5) celebrates Halloween with an outdoor, contactless version of his annual Day of the Deadmau5 shows. Taking up residence at the Chicago Drive-in at SeatGeek Stadium for two consecutive nights at the end of October, Zimmerman will perform "unhooked," ditching his 21-foot-tall cubic DJ booth, but retaining the retina-searing visuals and booming sound production that characterize his live sets. While you can expect plenty of bass-dropping tunes at this socially-distanced event, Deadmau5's latest single, "Pomegranate," finds the producer embracing disco-tinged electro-pop with the help of the Neptunes (Pharrell Williams and Chad Hugo). It's the first taste of a yet-to-be-announced new record, so don't be surprised if Zimmerman debuts a few more tracks during his set. Each ticket for the Day of the Deadmau5 concerts admits a car with four passengers—and don't forget your masks, because you'll be required to wear one outside of your vehicle.
The Hideout's Cosmic Country Showcase celebrates twangy tunes delivered with psychedelic trappings, dressing up the venue's stage to present a wonderfully strange variety show. The streaming Halloween edition of the show features a headlining set from Evil, a banjo-picking singer-songwriter from Virginia who has performed with masked country musician Orville Peck. Other headliners includes Los Espookys writer, performer and star Ana Fabrega, bodily fluid-obsessed comedian Sarah Squirm, local drag artist Nico and yodelin' country singer Nick Shoulders. Stick around to see if Cosmic Country regulars like Andrew Sa, Tenci and Ben LaMar Gay can cast out the evil spirits with the aid of dreamy music and big laughs.