The best concerts in Chicago this week
We've combed through our music listings to find the very best concerts in Chicago this week, from rock to hip-hop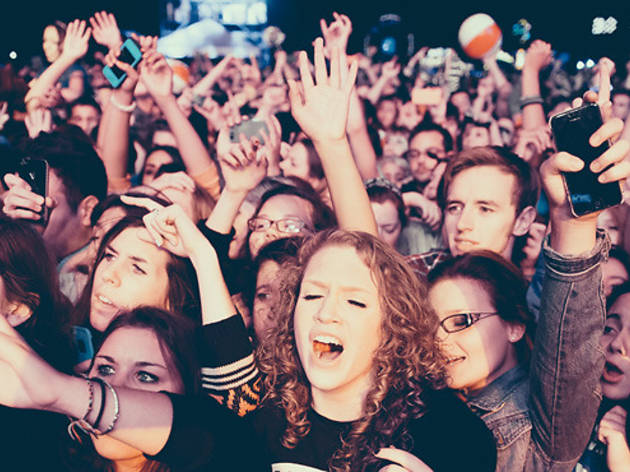 In the mood for a concert? Whether you want to mosh, sit or gently sway back and forth while standing at a summer music festival, we have the event for you. Dig through our picks of the top rock & roll, electronic, pop, soul, jazz and blues shows taking place over the next seven days. Soak up some of the city's best live music, explore rock music venues or blues music clubs and discover the best concerts in Chicago this week.
RECOMMENDED: Find more concerts in Chicago
Concerts in Chicago this week
Each Tuesday, the Museum of Contemporary Art hosts a free concert in its Anne and John Kern Terrace Garden—admission to the museum is also free for Illinois residents. The lineup is stacked with notable performers from the Chicago jazz community, including Katie Ernst, Greg Ward and Tomeka Reid. Attendees can order food à la carte from the outdoor grill, which features tacos, beef tenderloin, lobster rolls and BBQ chicken. Take a look at the complete lineup: Jun 5: Edwin DaughertyJun 12: George FreemanJun 19: Bethany Pickens Tribute to Willie PickensJun 26: Alexis LombreJul 3: Dee AlexanderJul 10: Juli Wood & Caroline DavisJul 17: Thaddeus Tukes's ViibezJul 24: Fred Anderson Legacy Band featuring Tatsu AokiJul 31: Katie Ernst with Twin TalkAug 7: Mwata BowdenAug 14: Charles Heath QuartetAug 21: Ernest DawkinsAug 28: Ari Brown Tribute to Muhal Richard AbramsSep 4: Victor Jesus GarciaSep 11: Greg WardSep 18: Maggie BrownSep 25: Artifacts with Nicole Mitchell, Tomeka Reid and Mike Reed
The Shedd Aquarium's weekly summer concert series presents a rotating lineup of jazz bands on its scenic lakeside terrace, where attendees can dance, have a drink and get a great view of the Navy Pier fireworks. Guests also get access to the Shedd's newest exhibit, "Underwater Beauty," which features 100 different species of sea jellies, eels and fish.
Music, Rap, hip-hop and R&B
After collaborating on "Walk It Talk It," Canadian R&B superstar Drake joins forces with hip-hop trio Migos on the Aubrey and the Three Migos Tour. While you shouldn't expect Drake to address the "The Story Of Adidon" diss track that Pusha-T released, you'll probably hear plenty of ubiquitous new tracks from his latest album Scorpion. Here's hoping that Drake and Migos play at least part of the show in their Soul Train-themed attire. A previously-scheduled August 20 performance at the United Center has been canceled.