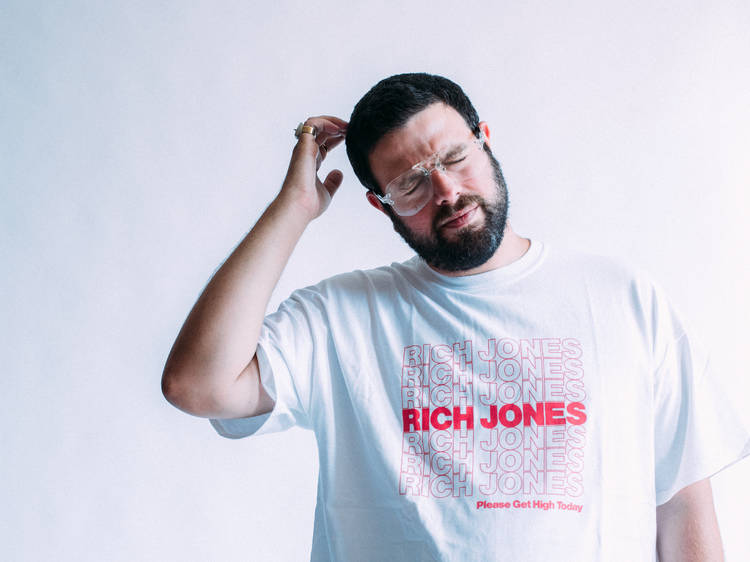 Photograph: Katie Levine
Rich Jones
Like a lot of great hip-hop records, How do you sleep at night?—the latest project from rapper and singer Rich Jones—began with a collection of beats, supplied by Jones's childhood friend, producer Montana Macks. Initially, Jones intended to comb through the 14 hours of tracks to help Macks assemble an instrumental record inspired by the "beats to study and chill to" playlists he'd been listening to during the first few months of quarantine. It was only when he became immersed in the music that Jones started setting aside tracks he had ideas for, eventually getting the go-ahead from Macks to start writing lyrics for them.
Working on a new project wasn't how Jones expected to spend his summer. Just before the U.S. started shutting down in March, Jones had spent a week in Los Angeles putting the finishing touches on an album that he'd planned to release in 2020. "That's an album that I'm excited to see performed live and it needs to be performed live, and that's why it's on the shelf right now," Jones explained, noting that the small independent venues where he usually performs aren't likely to reopen anytime soon.
With his plans on hold, Jones hunkered down with some borrowed equipment and began writing about his current state of mind and the turmoil that engulfed Chicago at various points over the past seven months, including demonstrations where Jones's friends say they were pepper sprayed and beaten by officers in riot gear. Lyrical references to helicopters flying overhead and police on the streets throughout How do you sleep at night? respond to the Chicago-based protests against the murders of individuals like George Floyd and Breonna Taylor by law enforcement. "I wanted to make sure I was properly addressing this moment in a manner that allowed it to have the necessary weight that comes with it," Jones said.
Jones was also intentional about how listeners experience How do you sleep at night?, which isn't available to stream on Spotify—mostly due to the streaming giant's CEO's recent suggestion that artists should increase their output to make more money, which Jones deemed "insulting to craftspeople." The project is only available to purchase through Bandcamp because Jones wants listeners to experience the work in its entirety. "I would hate for you to find a song on a playlist and have that be your whole concept of what this is," he explained.
Produced by his lifelong friend and featuring verses from local hip-hop legends like Psalm One as well as relative newcomers like Matt Muse, How do you sleep at night? is an appropriately community-oriented way for Jones to cap off a decade of making music in his hometown. And despite being conceived during a global pandemic surrounded by tragic events, it's a project that has allowed Jones to continue honing his craft. "Having the time to not be distracted and really have to focus on what's in front of me everyday, that's done nothing but help me and make what I do better," Jones said.
Purchase How do you sleep at night? via Bandcamp