The best Chicago albums of 2017
We name the best hip-hop, rock, jazz and experimental albums that were crafted by Chicago artists in 2017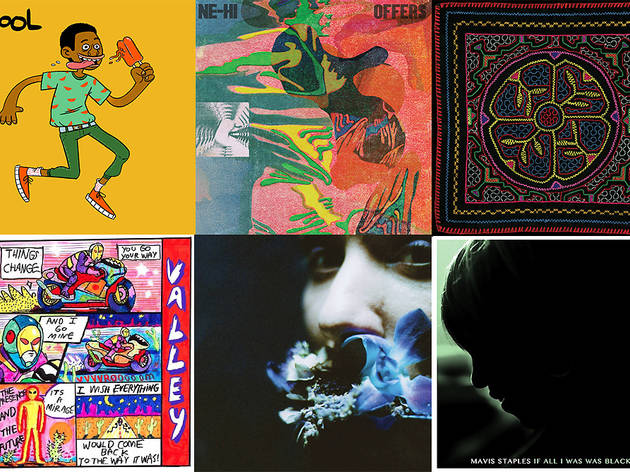 As much as we all love Chance the Rapper, there's more to Chicago's music scene than it's biggest star—the past year proved that there are plenty of other local acts deserving of the national spotlight. The city continues to be a fertile place for musicians of all stripes to ply their craft, thanks to an abundance of music venues and record stores as well as a strong community of fellow artists. That community jumped into action once again in 2017, with fresh new talent and longtime local acts delivering more records than a single person could listen to in a year. If you still need to catch up, take a listen to the 15 best Chicago albums of 2017.
Best local albums of 2017
1
There's seemingly no instrument that Nnamdi Ogbonnaya can't play, no genre that he's afraid to tackle and no limit to his prolific musical output (the guy plays in no less than four bands). Drool is a tidy encapsulation of his countless talents, capturing his unpredictable energy, lyrical wit and general virtuosity across a collection of tracks that straddle the line between rock and hip-hop. Whether he's getting intensely introspective or engaging in some surreal rapid-fire word association, Ogbonnaya always follows the (highly technical) beat of his own drum and never shies away from an infectious hook.
2
Circuit des Yeux, Reaching for Indigo
Written in the aftermath of an unspecified life-changing event, Reaching for Indigo is a record concerned with rebuilding that starts from some remarkably strong foundations. Haley Fohr's resolute baritone oversees a diverse collection of songs, ranging from operatic piano ballads ("Philo") to propulsive folk-rock songs outfitted with strings ("Black Fly"). Working with collaborators like Cooper Crain (Bitchin Bajas) and Whitney Johnson (Verma), Fohr finds catharsis in the shifting circumstances of her life by creating music that plots a path forward.
3
Sun Cop, When You Hear the Drum You May Speak
R. Andrew Humphrey (a.k.a. Sun Cop) has had a hand in the production of the past two albums from local rockers Twin Peaks, so it should come as no surprise that his debut record bears a similar reverence for bygone musical eras. But whereas Peaks channeled the raw melodies of the Stones, Humphrey is clearly more of a Pink Floyd guy, filling his expansive psych-rock compositions with warbling Mellotron, cascading synths and all manner of trippy effects. Bringing some modern perspective to its heady trappings, Sun Cop's debut nails the ambiance of its '70s forbearers—right down to the surreal cover art.
4
An Evanston native who celebrates his status as an outsider, but who is frequently lumped into the nebulous Chicago hip-hop scene, Kweku Collins is accustomed to existing in a grey area. The music on Grey reflects his embrace of the ambiguous, mashing up hip-hop and indie-rock tropes throughout a hazy collection of soul-searching, synth-backed anthems. A reinterpretation of the Yeah Yeah Yeahs' "Maps" (retitled "Oasis2: Maps") demonstrates the range of Collins's distinctive voice and production, taking a breakup anthem and somehow turning it into something even more melancholy.
5
Mavis Staples, If All I Was Was Black
Mavis Staples has been singing about civil rights since the birth of the American movement in the '50s, so it's telling that her latest collection of songs wouldn't sound out of place in any previous decade. With producer Jeff Tweedy providing R&B and funk-inflected arrangements, Staples strikes an unflinchingly resilient tone, singing about unity and peace in the face of a nation often characterized by division and unrest. On If All I Was Was Black, there's an urgency to her message that is most prominent in the mid-album track "No Time For Crying" which find Staples intoning the simple but impactful refrain of, "We've got work to do."
6
Melkbelly, Nothing Valley
The long-awaited debut from Chicago DIY stalwarts Melkbelly mostly functions as a primer—to truly appreciate the ferocity and sheer volume of this group, you really need to see them live. Nevertheless, Nothing Valley is an excellent representation of the band's strengths, namely the quartet's taut interplay, the noisy breakdowns and the explosive rhythms of drummer James Wetzel. If there's one record on this list that you should listen to at maximum volume, it's this one.
7
Brokeback, Illinois River Valley Blues
The cinematic, Ennio Morricone-influenced melodies return on Brokeback's Illinois River Valley Blues, but that doesn't mean you should refer to it "desert rock." Tortoise multi-instrumentalist Doug McCombs wrote songs about the waterway along which he's spent most of his life in reaction to descriptions of his long-running side-projects 2013 release (Brokeback and the Black Rock), making a conscious effort to ground the band's twangy guitar interplay in the vistas of the Midwest. The subjective sense of place that Brokeback's intricate compositions impart is a testament to their transportive quality—whether you're envisioning dusty canyons or (more appropriately) the sweeping plains of downstate Illinois.
8
Makaya McCraven, Highly Rare
Crafted from a recording of an improvised performance at Danny's Tavern, Highly Rare finds drummer and bandleader Makaya McCraven chopping up grooves and reassembling them into hypnotizing new arrangements. The process echoes the creation of his 2015 debut, In the Moment, though McCraven seems more willing to experiment and stretch out on this impromptu release (which was initially issued as a limited-edition cassette tape), including an 11-minute track underpinned by chanting vocals. Highly Rare captures the spontaneity of its source material, allowing McCraven's free-jazz chops to shine through the deftly-edited sonic collage.
9
Jon Langford, Four Lost Souls
In the '90s, Jon Langford moved to Chicago from his native Wales, embedding himself in the local music scene and quickly becoming a figurehead of the city's alt-country movement. Four Lost Souls is the latest step on his Americana journey, taking him to a studio in Muscle Shoals, Alabama, the sleepy southern town that's birthed records from the likes of Aretha Franklin and Bob Dylan. The resulting record contains some of Langford's most accessible tunes to date, steeped in his reliably clever wordplay and an obvious reverence for the musical traditions of the country he calls home.
10
There's no sophomore slump in sight on NE-HI's second album, which takes everything that was promising about the group's self-titled debut and delivers more of it. The rapid-fire guitar riffs last longer, the band's youthful energy is more sustained and the lyrical content (much of which deals with the pressure of creating a great album) gets deeper and more reflective. The garage-rock trappings remain, but Offers sounds like an album that had some considerable thought put into—and it's all the better for it.
11
Blkswn might be St. Louis transplant Smino's first proper album, but he couldn't have chosen a more distinctive selection of tracks to make his debut. The sparse, funk-influenced production of collaborator Monte Booker forms the backbone of the record, but it's Smino's half-rapped, half-sung, R&B-style flow that makes his work instantly recognizable. By the time he gets to the record's 8-minute closing track "Amphetamine," it's clear that Smino has ambition to spare and the kind of confidence that makes an 18-track record fly by.
12
Bitchin Bajas, Bajas Fresh
The members of experimental trio Bitchin Bajas have spread their talents far and wide throughout Chicago's music scene, but on their first actual album in three years they manage to recapture the magic of their original configuration. Bajas Fresh unfolds like intricate musical clockwork throughout a collection of expansive yet minimalistic electronic dirges that patiently take shape as repeating melodies intersect. A 23-minute track like "2303" isn't meant for casual listeners, but if you have the time (and willingness) to unpack the layers of sound, it's one of the more fascinating things put to tape this year.
13
Packed with rapid-fire chords that bristle with angst and are haunted by references to the titular, unnamed looming presence, The Incessant has all the makings of a mosh pit-inducing classic. And while Meat Wave will certainly cause bodies to crash together with these tracks, it's the album's message of perseverance that should hit home hardest. Written after the dissolution of a 12-year relationship, The Incessant takes survival seriously, remedying feelings of self-doubt and despair with an ample dose of thrashing riffs and punk rock snarl.
14
As its name suggests, Date Stuff was formed while members Karla Bernasconi and Abby Black were falling in love, and those warm, fuzzy, early-relationship feelings are palpable on the duo's debut EP. The pair's guitar and drum interplay feel intimately in-sync, packed with syncopated rhythms and finger-tapped riffs that underscore Bernasconi's dreamy vocals. Relationships between bandmates don't have a great track record (just ask any member of Fleetwood Mac), but we're keeping our fingers crossed that these two can continue making beautiful music together.
15
Joshua Abrams & Natural Information Society, Simultonality
Chicago jazz scene veteran Joshua Abrams has developed his own musical language at the head of his shifting Natural Information Society ensemble, making hypnotic improvised music centered around an African lute called the guembri. Simultory is an exercise in the unhurried, trance-like sound that Abrams favors, consisting of five expansive tracks that gradually expand upon a simple, repeated melodies, usually accompanied by several drummers trading beats. The cast of musicians Abrams assembles (including Ben Boye Emmett Kelly and Frank Rosaly) seem excited to experiment within this distinct musical system, yielding a record that slowly reveals its depth and ingenuity.
Find more new music to listen to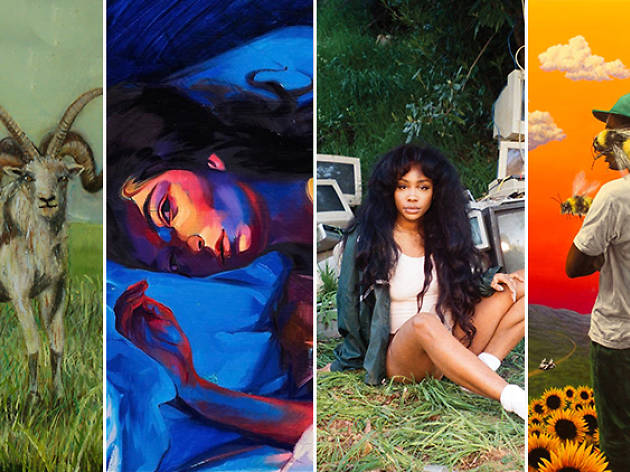 This year saw the release of exciting records in every weird corner of the music world. There's a lot of new records to wade through, but we've culled them down into our top picks for the best albums of 2017.