Where to watch the final Grateful Dead shows in Chicago
Didn't snag tickets to Soldier Field? We've tracked down the best places to watch the final Grateful Dead show in Chicago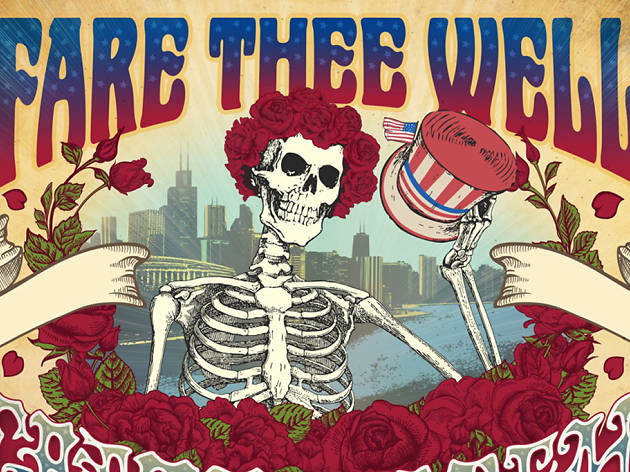 Just because you can't get a ticket to Soldier Field doesn't mean you have to miss out on seeing the final Grateful Dead shows in Chicago. Even if you don't feel like paying $30 to stream each show on YouTube, you've got some options. Some of Chicago's best museums, bars and music venues are organizing live stream viewing parties, allowing you to experience the concerts in the company of fellow Deadheads. Skip the secondary ticket market, spend the money you save on an aftershow and find a place to watch the last Grateful Dead performances.
RECOMMENDED: Our complete guide to the Grateful Dead at Solider Field
Where to watch the final Grateful Dead shows
AMC River East is the only movie theater in town that is simulcasting all three nights of the Grateful Dead's Soldier Field stand on the big screen. Grab some popcorn and settle in for the five-hour show with a room full of like-minded Deadheads. $18, 7pm.
Along with its packed slate of aftershows and pre-parties, City Winery will host three nights of Grateful Dead live stream viewing parties. Speak to your server if you want to find the perfect wine to pair with an extended rendition of "Ripple." $18, 6:30pm.
The Field Museum's "Everything is Dead" bash goes down on the building's southeast terrace, within view of Soldier Field. There won't be a video stream of the Grateful Dead performances, but you'll be able to listen to each night's SiriusXM broadcast while staring wistfully at the stadium. $49, 2pm.
The original Jerry's Sandwiches in Andersonville describes its namesake dish as "cosmic," which is Deadhead code for premium munchies. The bar and restaurant will screen classic Dead shows all weekend long, leading up to the stream from Soldier Field each night. Free, 7pm.
Jerry's Wicker Park location follows suit, screening the Grateful Dead live stream and serving up tasty sandwiches. They'll also be tapping Dogfish Head's American Beauty, a Dead-themed imperial pale ale. Free, 7pm.
The Redmoon venue in Pilsen presents Front Left A-Fare, a three-day celebration featuring music, food and a live stream of the Grateful Dead's final shows at Soldier Field. Each night, Dead cover band Stu Allen & Mars Hotel performs, accompanied by a trippy light show. $55, advance $50, Fri 3pm, Sat & Sun 1pm.