There's no getting around the fact that 2020 was an incredibly rough year for Chicagoans, not to mention the rest of the world. Between a global pandemic, constantly changing local regulations, a contentious presidential election and countless other tribulations, we're looking forward to better days ahead—hopefully sooner rather than later.
It's a testament to our city's resilience that, even in the midst of tumultuous developments and tremendous hardship, there were still some amazing things that happened in Chicago over the past year. Local business owners realized lifelong dreams, young people enacted change and a group of penguins became a global sensation. As we hope for a gradual return to relative normalcy in the coming year, we've gathered some of the bright spots in an otherwise dark year in Chicago.
The Tamale Guy opened his own restaurant
When bars closed in March, Claudio Velez (better known as the Tamale Guy) lost the ability to roam from bar to bar each night, selling homemade tamales out of his signature red cooler. With some help from a business partner, Velez realized his dream of opening a brick-and-mortar restaurant this summer, launching Tamale Guy Chicago in the former home of Whisk in Ukrainian Village. Sadly, Velez was diagnosed COVID-19 shortly after his restaurant opened, but he's on the mend after a lengthy hospital stay, and his staff is still busy slinging his famous tamales.
A group of young activists renamed a West Side park

Since 2017, students at Village Leadership Academy have been leading a grassroots campaign to change the name of Douglas Park, which was named for Illinois senator Stephen A. Douglas, who championed a states' rights approach to slavery in pre-Civil War America (effectively endorsing the practice). In November, the Chicago Park District officially added an extra "S" to the park's name, honoring abolitionists Anna and Frederick Douglass. The change could spur future modifications to Chicago parks, streets and monuments dedicated to figures whose controversial histories are undergoing a moment of reckoning.
Chicagoans helped their neighbors
Many Chicagoans have helped their neighbors and fellow city residents in the past, but as the pandemic wreaked havoc on local businesses and communities, that willingness to lend a helping hand became more important than ever before. The past nine months have demonstrated just how much some Chicagoans care about their city, with groups taking it upon themselves to collect and distribute food for those in need, raise money for Black-owned restaurants and direct funds to local musicians without stages to perform on. We're grateful to everyone who continues to help make Chicago a better place.
Drive-in movies experienced an unexpected resurgence
With many movie theaters closed or operating at severely reduced capacities due to COVID-19 regulations, anyone who wanted to see a movie on the big screen this summer had to hop in their car (or bribe a friend with a set of wheels). Drive-in theaters popped up throughout Chicago in 2020, turning parking lots into outdoor venues where you could catch a screening of a classic movie—the Music Box Theatre even hosted its annual horror movie marathon as an outdoor screening series. Even when indoor theaters are able to welcome guests again, we hope a few of these drive-in theaters stick around, because there's something special about seeing a movie under the stars.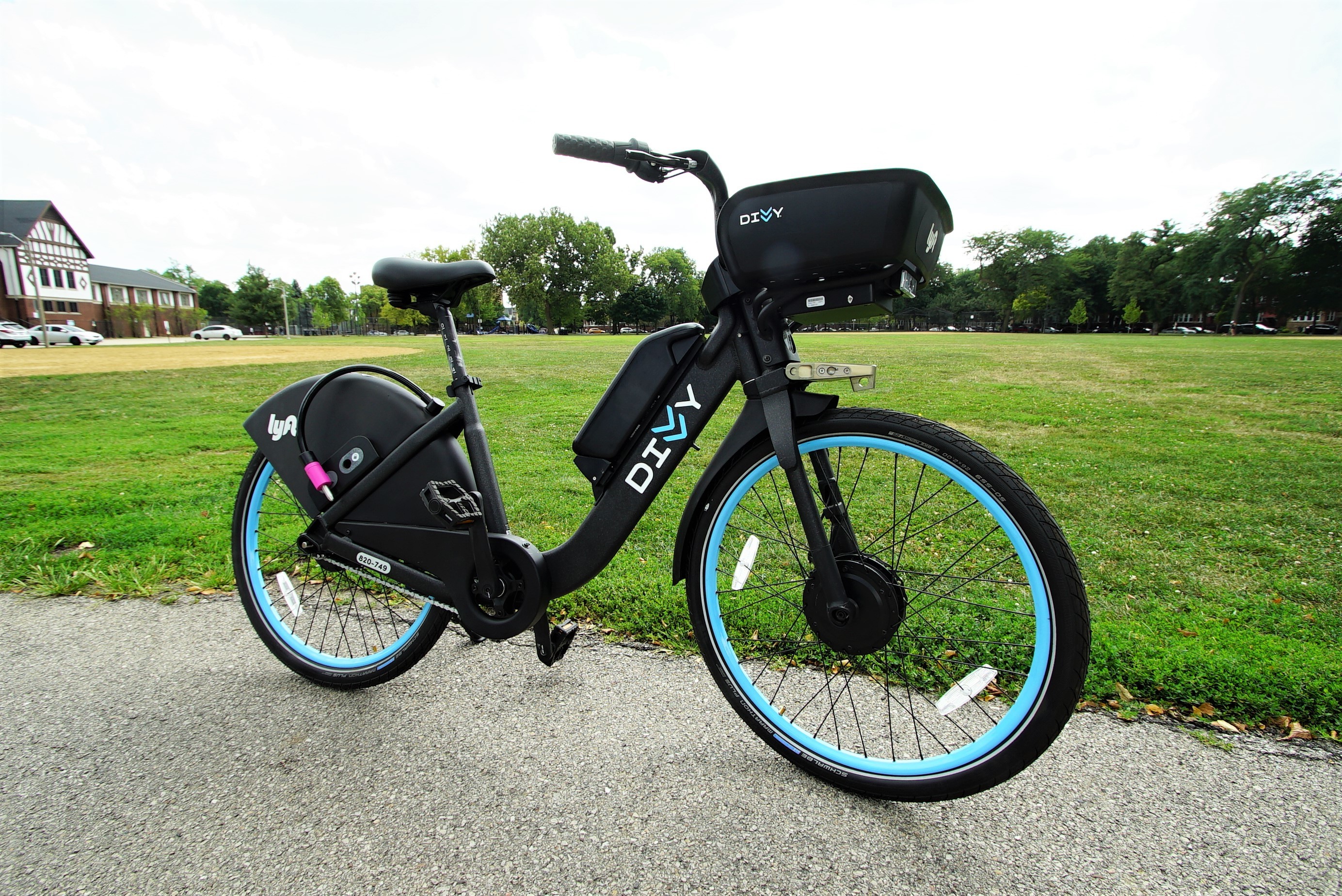 E-bikes joined the Divvy fleet
Following in the tread marks of other bike share programs operated by Lyft, e-bikes finally joined the Divvy fleet in July. The black bikes use a small motor to boost the rider's pedaling power and move faster than a conventional Divvy bike, though the e-bikes are accompanied by a complex pricing structure that tacks on additional fees based on where you begin and end your ride. Unfortunately, Streetsblog Chicago recently confirmed that the top speed of the Divvy e-bikes have been capped at 15 miles per hour (initially they reached up to 18 miles per hour), but that's still probably faster than you can reliably pedal without the help of a motor.
The Riot Fest lineup dropped 14 months early
The bad news earlier this summer was that—just like every other musical festival—Riot Fest's 2020 edition had been canceled. The good news? Organizers went ahead and released the lineup for Riot Fest 2021, which will feature from the Smashing Pumpkins, My Chemical Romance, Run the Jewels and the Pixies. Of course, we can't be sure that large music festivals will actually be able to return next summer, but we're keeping our fingers crossed. At the very least, there will be fewer folks on Twitter complaining that the Riot Fest lineup hasn't been released in the coming months.
Southwest announced that it will offer flights from O'Hare
For years, boarding a Southwest flight has meant making the trek to Midway, which has long served as the airline's primary Midwest operating base. But 2020 brought that announcement that Southwest will soon begin offering flights from Chicago's other airport, with nonstop flights from O'Hare to Nashville, Baltimore, Dallas, Denver and Phoenix beginning service on February 14, 2021. You might not feel comfortable getting on a plane right now, but it's nice to know that Southwest devotees will have options when it's safe to traverse the country again.
Batman's stunt double returned to the Loop
The first two films in Christopher Nolan's Dark Knight trilogy transformed Chicago locales into Gotham City landmarks, and it seems that the latest film about the World's Greatest Detective (simply titled The Batman) will follow suit. Film crews took over portions of the Loop during a couple of weekends in October to shoot some exterior scenes and a couple of motorcycle chases around the Thompson Center and LaSalle Street. Stars like Robert Pattinson and Zoë Kravitz weren't spotted during the shoot (the bulk of The Batman is being filmed in London), but their stunt doubles put on a late-night show from some dedicated onlookers.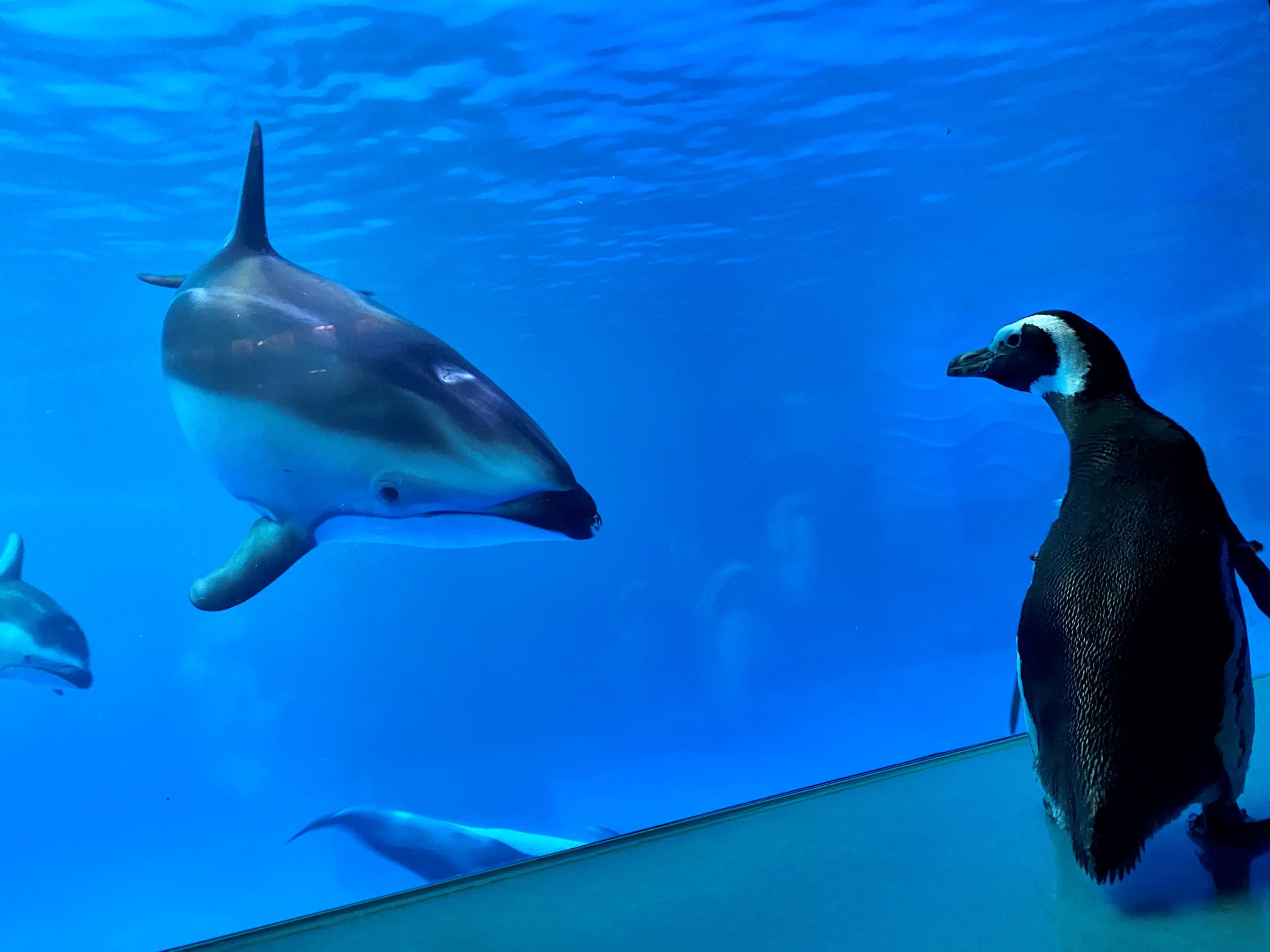 The Shedd Aquarium's penguins became internet stars
When the Shedd Aquarium closed to visitors in March, it decided to give its rockhopper penguins a bit of freedom and allow the flightless birds to get out of their enclosure and explore the building. Video footage of the penguins' day out spread across the internet, turning Wellington, Annie and Edward into feathered stars. Since then, the Shedd Aquarium has taken penguins to waddle through various locations in the city, including visits to the Field Museum and Soldier Field. During a time when so many of us are stuck at home, it's nice to see some cute birds enjoying places that we long to return to.
Chicago voters cast ballots in near-record numbers
The 2020 general election wasn't a record-breaking year for overall voter turnout in Chicago, but it came awfully close—according to Chicago Board of Elections data, 73.28% of register voters cast ballots this year. That's eclipsed by a 75.41% turnout in 2012 when President Barack Obama was reelected, but the number of ballots cast by Chicagoans in 2020 (1,160,993) is still impressive. More importantly, many Chicagoans decided to vote safely, with a record number of registered voters requesting and returning mail-in ballots due to the ongoing pandemic. Good job Chicago, let's keep it up!
North Lawndale got community bike library
With fewer people taking public transit, bikes were a hot commodity this summer as local shops sold out of their inventory. Thanks to the Young Men's Educational Network, even more Chicagoans will have access to two-wheeled rides via the organization's bike library, located at 13th Street and Pulaski Road. Based out of a shipping container in a vacant lot, the library lends bikes to members of the North Lawndale community free of charge and helps bike owners tune up their rides. They'll also be hiring local youth to learn about bike repair, which will hopefully result in even more people exploring Chicago's best bike trails.
The city settled into its first year with legal weed
Remember the long lines and shortages that greeted hopeful customers when recreational cannabis was officially legalized in Illinois on January 1, 2020? Those are (mostly) a thing of the past now, as dispensaries throughout the city and the surrounding suburbs have adjusted to doing business during a pandemic. With online ordering, it's become increasingly easy to snag flower, joints and other cannabis products to enjoy in your home—though, in most cases, you still need to make sure that you're paying with cash. Speaking of money, it's also been a banner year for Illinois' young legal weed industry. According to the Sun-Times, sales in the state are on track to top $1 billion this year.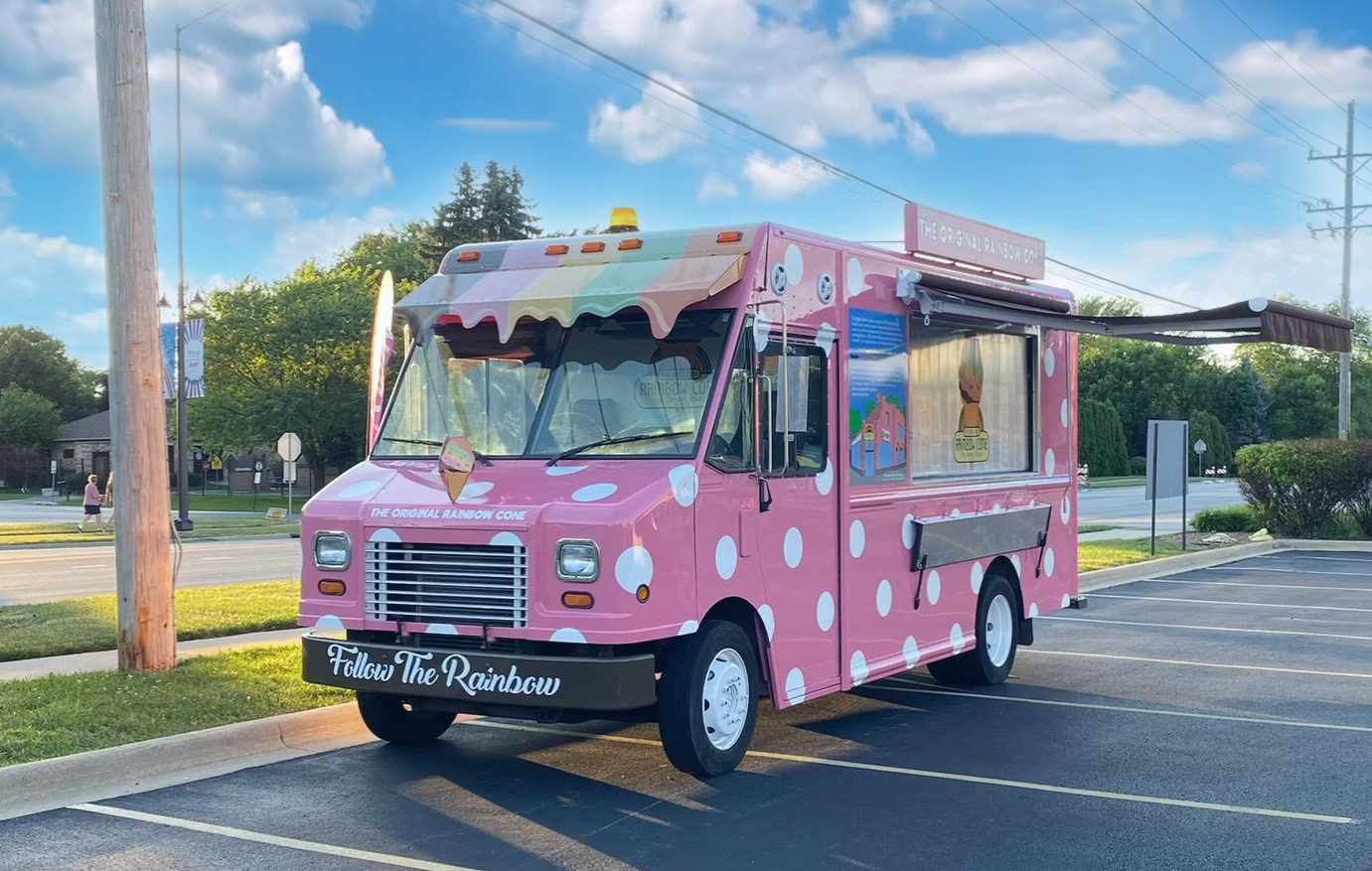 The Original Rainbow Cone launched an ice cream truck
Recognizing that not every Chicagoan can make the trip to its home base in Beverly, the Original Rainbow Cone took its five-flavor delicacy on the road this summer. The Chicago institution's bright pink truck set up shop around the city and suburbs, serving stacked cones, pints and swag. Unfortunately, you'll need to wait until next summer to get your mobile Rainbow Cone fix—the truck is hibernating until the weather warms up again, but the Beverly shop is still serving scoops!
The NBA All-Star Game came to town
Long before the NBA Bubble was formed, some of the league's biggest stars came to Chicago back in February for three days of exhibition games, parties and events during NBA All-Star Game weekend. There was a fan celebration at Navy Pier, Chance the Rapper and Common faced off during the Celebrity Game and Team LeBron ultimately triumphed over Team Giannis in the marquee Sunday night match-up. Basketball seems poised to return to the United Center later this year when the Bulls kick off an abbreviated NBA season, but with no fans allowed in the stands, you'll have to settle for watching from home.
Bars and restaurants got the green light to offer cocktails to go
After months of lobbying, Chicago bars and restaurants were permitted to begin selling pre-mixed cocktails to go in June, capping off a months-long campaign which argues that takeout booze sales were vital to the survival of local bars. The grassroots effort was led by bar vet Julia Momose, the creative director at Kumiko in the West Loop, who was searching for ways to keep her business afloat during the "stay-at-home" order. Now you can pick up bottled cocktails at your favorite watering hole and do your part to make sure that Chicago's best bars are able to reopen at some point in the future.
Portillo's opened its third Chicago location in Avondale
For as long as we can remember, getting a hot dog or chocolate cake shake from Portillo's has required a trip to River North or the suburbs. But the Illinois-based chain has expanded within Chicago as of late, adding a location on Taylor Street and—more recently—at the corner of Kimball Avenue and Addison Street in Avondale. The new North Side location officially opened in November and its drive-thru has seemingly been packed with cars ever since (the dining room remains closed to the public, in accordance with current guidelines). Portillo's is just one of those things that Chicagoans don't mind lining up for.
Most popular on Time Out
- The best things to do during the holidays in Chicago
- Where to see dazzling Christmas lights in Chicago
- Here's where you can see drive-through Christmas lights in Chicago
- Things that only make sense to Chicagoans
- Amazing Airbnb cabins for the perfect Midwest getaway