To outside observers, this year's edition of Pitchfork Music Festival may be remembered for its extreme heat and Saturday's evacuation. For those who spent at least part of the weekend in Union Park, the things that were happening on the event's three stages will probably take precedence when looking back on the fest. As we wrap up our coverage (and begin looking forward to Lollapalooza), we recalled some of the most exciting and memorable moments at Pitchfork Music Festival 2019.
RECOMMENDED: Our complete guide to Pitchfork Music Festival
1. Robyn's end-of-the-weekend dance party
A late-afternoon set from pop singer Charli XCX warmed up the crowd for a night of dancing, but Swedish electro-pop star Robyn still had to show up and knock it out of the park. Performing on a stage draped with translucent fabrics and bathed in a surreal glow, the singer took a dramatic approach to the majority of her set before ending the evening with a trio of hits, beginning with a rendition of "Dancing On My Own" that let the crowd take the lead on the song's first chorus. Not even a field that was riddled with mud and puddles from an earlier string of storms could stop some seriously enthusiastic dancing to "Missing U" and "Call Your Girlfriend" (there was even a flash mob near the back of the crowd showing off a synchronized routine). You couldn't ask for a more cathartic end to the long festival weekend.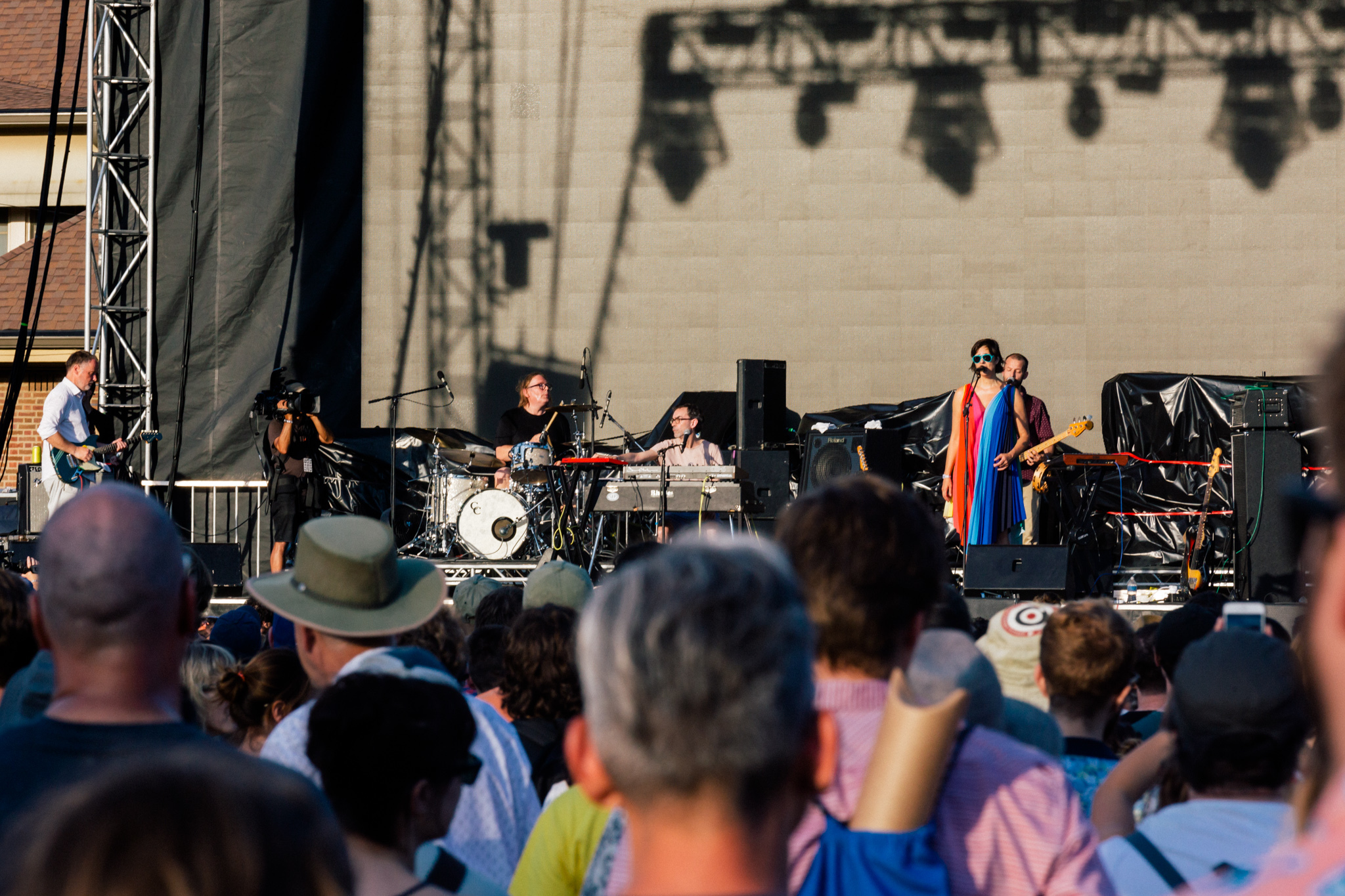 2. Stereolab's brief but triumphant return
In a perfect world, Stereolab's second U.S. performance (the band played a sold-out warmup gig at Thalia Hall on Friday) in more than a decade would have been an extended affair, but thunderstorms and an eventual evacuation threw a wrench into the proceedings. Laetitia Sadier, Tim Gane and the band took the stage as attendees were still filtering back into the park, launching into an abbreviated seven-song set that placed bouncy tracks like "Miss Modular" and "Infinity Girl" alongside the motorik sprawl of "Lo Boob Oscillator." We wish it could have lasted longer, but a little Stereolab was certainly better than no Stereolab at all.


3. Whitney's star-studded sing-along
A Sunday afternoon set from local folk-rockers Whitney was a celebration, marking the band's first time onstage in its hometown in more than a year and the debut of some new tunes from its forthcoming record, Forever Turned Around. In honor of the occasion, Whitney brought along some friends to help out with the backing vocals during a rendition of "Golden Days"—we spotted Lindsey Jordan (Snail Mail), Sophie Allison (Soccer Mommy), Tasha, Ric Wilson, Lillie West (Lala Lala), Vivian McConnell (Lala Lala) and all four members of Japanese punk outfit CHAI (still dressed in matching outfits).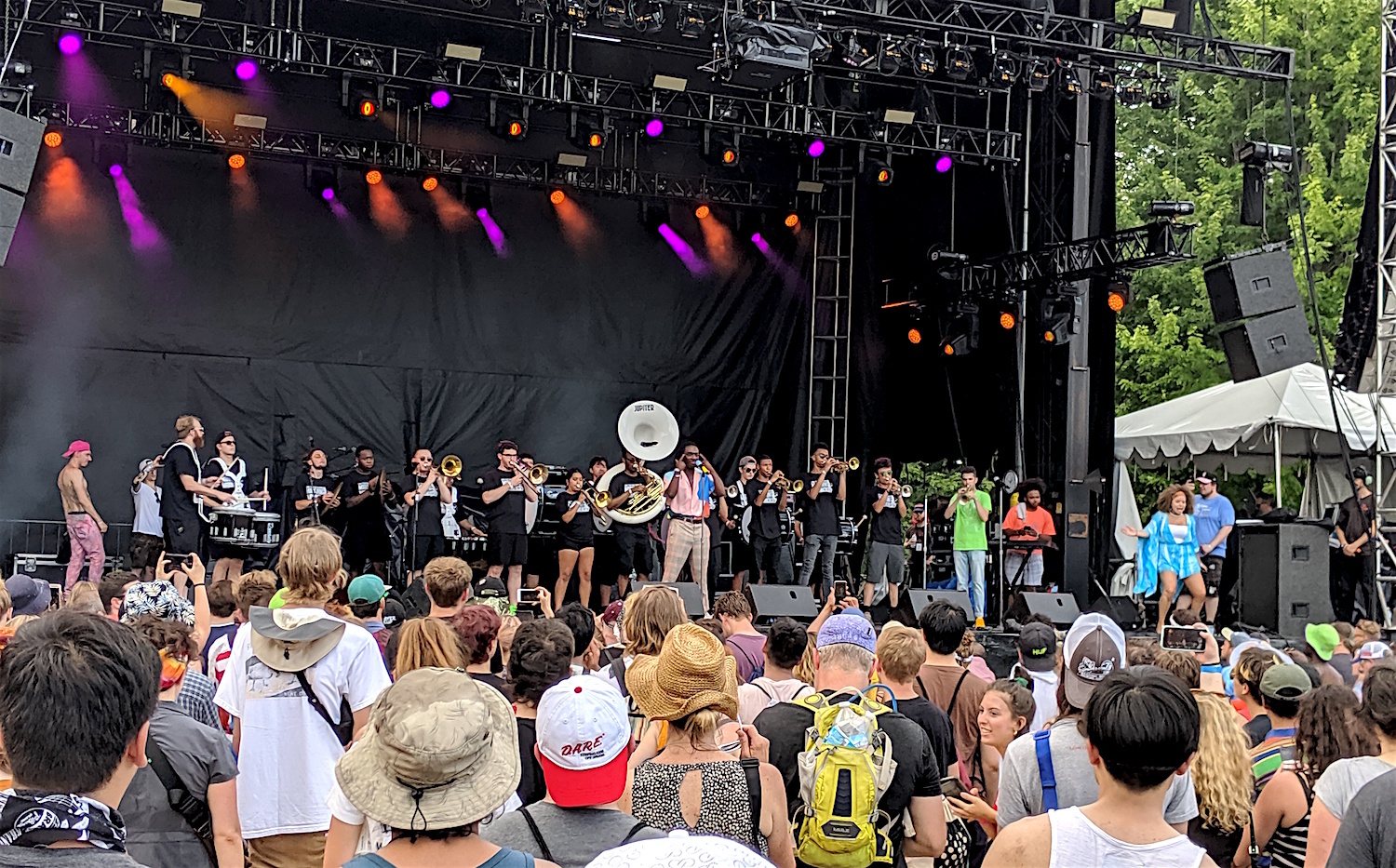 4. Ric Wilson's Beyoncé-at-Coachella moment
Ric Wilson's Pitchfork debut was filled with surprises, from a guest verse from Evanston emcee Kweku Collins to a gigantic Soul Train dance line that supposedly broke a world record (sadly, Guinness representatives were not on hand to certify the results). But the most exhilarating part of the buoyant set was a visit from the Lane Tech High School marching band's recently graduated seniors, who performed the backing track for one of Wilson's new songs. Just like Beyoncé demonstrated at last year's Coachella, there's nothing more epic than blaring horns and a thundering drumline.
5. The Isley Brothers' Ice Cube impersonator
With recordings dating back to the '50s, the Isley Brothers have a catalog that has been ripe for reinterpretation, with plenty of producers sampling the act's taut rhythms and riffs. Several moments during the group's headlining Saturday night set acknowledged the reason why some younger attendees might be familiar with the band's music by simply integrating performances of derivative hip-hop tracks into the arrangements. The most blatant example of this phenomenon occurred during the Isley Brothers' rendition of its classic '70s track "Footsteps in the Dark," when another performer appeared onstage to rap a few verses of Ice Cube's early '90s hip-hop anthem "It Was A Good Day" atop the unmistakable melody—we're still not sure who it was, but it definitely wasn't Ice Cube himself.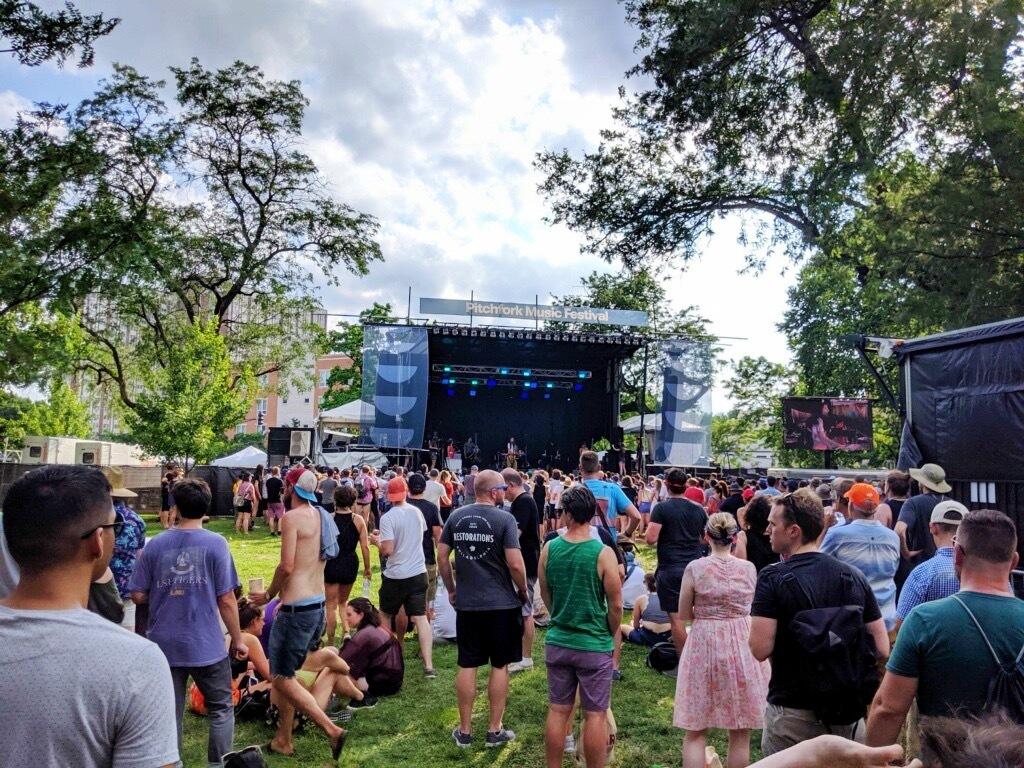 6. Louder Than a Bomb's Blue Stage interludes
Instead of keeping the Blue Stage dormant during set changeovers this year, organizers recruited 15 young poets from Young Chicago Authors' Louder Than a Bomb festival to perform their work and keep audiences engaged. Over the course of the weekend, we heard poetry readings that dealt with deadbeat dads, Tinder dates and the realities of being a young black woman living in Chicago. Sometimes the poems were jarring, sometimes they were funny, but they always provided some food for thought.
7. Mavis Staples' adorable stage banter
Mavis Staples turned 80 years old last week, but she's got the wit, energy and joviality of someone at least half her age. In between covers of Talking Heads' "Slippery People" and Buffalo Springfield's "For What It's Worth" on Friday afternoon, the gospel singer was usually chatting with the crowd, at one point inviting everyone in the audience to get on her bus and go on tour with her after a particularly rousing sing-along. "Y'all gotta bring your own lunch," she said before launching into some classic Staples Singers tunes. We know that she was joking, but we're ready to put in our two weeks' notice, pack a bunch of sandwiches and hit the road with Mavis if she decides she's serious.
8. Lala Lala's local super jam
It was a great year for local musicians at Pitchfork, mostly because the Chicago-based acts on the lineup decided to augment their lineups with some of the city's most talented musicians. On Saturday morning, Lillie West (who performs as Lala Lala) fleshed out her band with Sen Morimoto on keys and sax, Kaina Castillo on back-up vocals, Nnamdi Ogbonnaya on bass and Vivian McConnell (a.k.a. V.V. Lightbody) on guitar—a murderers' row of folks who will likely take the stage in Union Park with their own respective projects for years to come.