While we're still anxiously awaiting hip-hop duo Run the Jewels' return to the stage in Chicago when live music resumes (they're included in the 2021 Riot Fest lineup), Killer Mike and El-P have kept themselves busy releasing new tracks and collaborating on tasty liquids over the past year. Last November, the pair enlisted 13 breweries around the world (including Chicago's own Pipeworks Brewing Co.) to create the No Save Point IPA, celebrating the release of a new single included in the soundtrack of the Cyberpunk 2077 video game.
Run the Jewels' latest foray into the world of adult beverages comes via a new collaboration with City Water, the hard seltzer brand produced by Naperville's Solemn Oath Brewery. The duo and their team helped develop and taste test Ooh La La Pink Lemonade hard seltzer, a sugar-free and gluten-free alcoholic seltzer with notes of fresh squeezed lemon, strawberry and pink grapefruit.
Named after the track "Ooh La La" that appeared on Run the Jewels' 2020 album RTJ4, the 16-ounce cans of hard seltzer sport artwork from illustrator Jourdon Gullett, including a rendition of the group's signature pistol and fist logo. The collaboration came about thanks in part to Solemn Oath marketing director Jared Saul's pre-existing relationship with the group—Saul helped organize the Run the Jewels pop-up bar that took over the now-defunct Emporiums Pop-ups space during Lollapalooza 2017.
Want to get your hands on some cans of City Water Ooh La La Pink Lemonade? The collaborative hard seltzer will be available for purchase in four-packs beginning on April 20 (the timing of the release is definitely not a coincidence) via retailers throughout Chicagoland and from Solemn Oath's Naperville location.
And as for the long-in-the-works Solemn Oath taproom on Armitage Avenue in Logan Square? There's still no firm opening date, but according to Saul, "We are through most of our licensing and are thrilled to join the Logan Square community."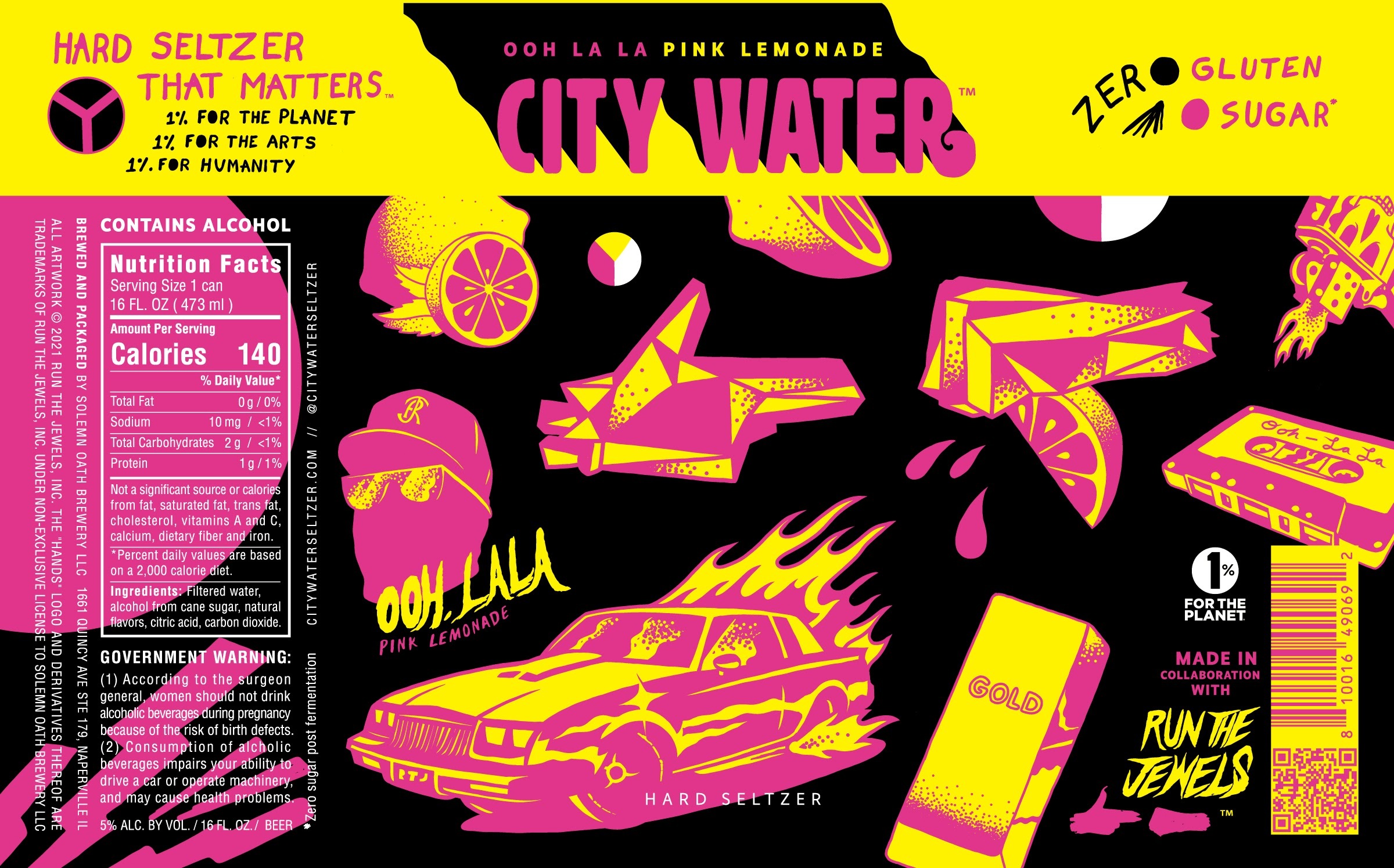 Have a few minutes to share how much you love Chicago? Take the
Time Out Index survey

here!