Nearly eight months after they were forced to shut down, Chicago music venues are still closed to the public and waiting on government assistance that has yet to materialize. With no realistic timeline for live music to safely resume, the Chicago Independent Venue League—which formed to fight for the survival of independent concert halls—is taking matters into its own hands once again, launching a new fund for venues, their staff and artists. It's accompanied by a streaming concert series (dubbed CIVLization) that will help raise awareness of the fund.
Formed in associations with the Giving Back Fund, the CIVL SAVE Emergency Relief Fund will provide grants to all music industry professionals who work in Chicago venues. The fund will begin accepting applications in January, awarding money on a rolling basis via the Giving Back Fund. If you're interested in contributing and helping out the people who keep Chicago's live music scene rolling, you can make a donation to the CIVL SAVE Emergency Relief Fund.
To help spread the word, the CIVLization streaming concert series will present a lineup of free performances via CIVL's Twitter, Instagram and Facebook, kicking off on Friday, November 27 at 8pm with music from Beats y Bateria, ESSO, Dos Santos and Half Gringa. Filmed by the team at Audiotree and shot at Chicago venues like Lincoln Hall, Empty Bottle, Hideout, Martyr's, Dorian's and Subterranean, the series will continue in the coming weeks, with sets from the likes of Mucca Pazza, Quin Kirchner, Xoe Wise and Wild Earp.
"Live music fans have shown overwhelming support during the shutdown and have expressed a desire to do more," Hideout owner and founding CIVL member Tim Tuten said in a statement. "The CIVL SAVE Emergency Relief Fund allows them to support Chicago's entire music community."
Take a look at the initial lineup of artists performing in the CIVLization streaming series below and consider making a donation (if you're able) so that the show can go on in-person once it's safe to gather again.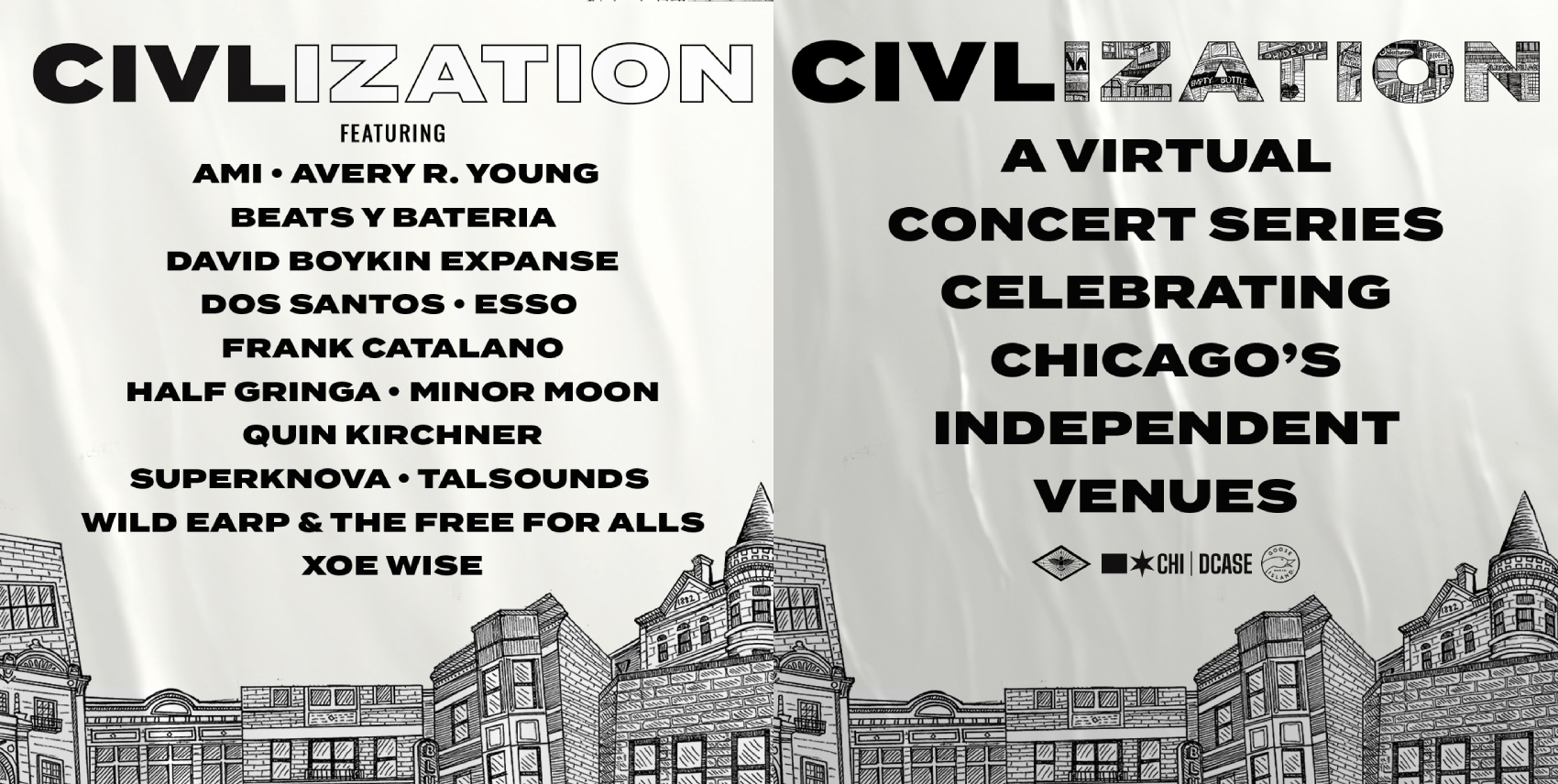 Most popular on Time Out
- The high-tech 'Immersive Van Gogh' exhibition is coming to Chicago
- As many as one in 15 Chicagoans has active COVID-19 right now
- Can I travel right now? Chicago's emergency travel restrictions explained
- You can buy plants from Lincoln Park Conservatory's canceled holiday flower show
- 11 dumb questions people from Chicago get asked all the time