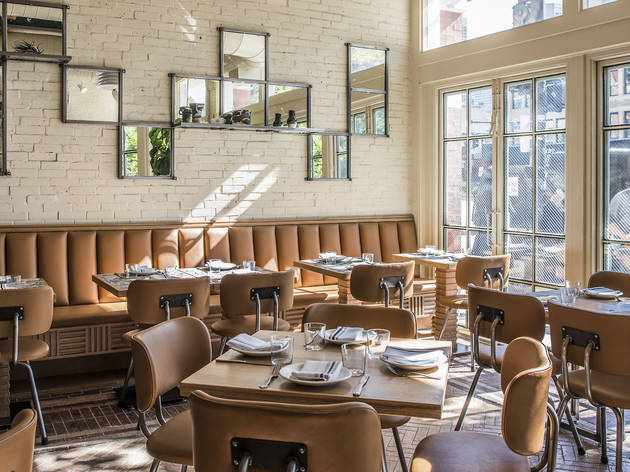 Beloved veggie-focused restaurant Bad Hunter closes permanently
As this West Loop favorite shutters, Heisler Hospitality expands Pizza Lobo to Logan Square.
Posted: Tuesday June 30 2020, 1:38pm
Heisler Hospitality's veg-forward West Loop restaurant Bad Hunter quietly shuttered last week, citing safety and financial concerns directly tied to the COVID-19 pandemic as culprits for the decision.
"The juxtaposition of operations costs and limited capacities paired with health and safety concerns for guests and staff is what has ultimately led us to make this incredibly difficult decision," says Heisler Hospitality co-owner Matt Eisler in a press release. "Financially the model that we are trying to execute at Bad Hunter isn't feasible until we're at 100 percent capacity, and it's obvious that we're still very far off from entering Phase 5."
According to the release, the Bad Hunter staff was notified of the closure last week, with Heisler Hospitality hoping to "rehome" as many employees as possible at their other Chicago properties. Additionally, the company will continue to provide health insurance to laid-off workers through the end of July.
Though Bad Hunter opened in 2016, it was temporarily shuttered for more than seven months due to a kitchen fire that broke out in late 2018. When it reopened last summer, executive chef Dan Snowden's menu was stronger and more inspired than ever before.
While the kitchen was closed down last year, Snowden and his team kept busy by launching pop-up slice shop Pizza Lobo at next-door bar Lone Wolf. Heisler Hospitality had already planned to give the fan-favorite pizza concept its own dedicated storefront at 3000 W Fullerton Avenue in Logan Square this year, and plans haven't slowed. Pizza Lobo is expected to open a carryout- and delivery-only concept in late July, with Snowden slinging New York-style 'za and duck fat confit wings. At a later date, the Logan Square restaurant is expected to open a 4,000-square-foot patio to dine-in guests.
"Having such a large shift happen at once is extremely bittersweet," Eisler says. "It's devastating to say goodbye to a place like Bad Hunter, especially when it's not fully on our terms. But it's also the beginning of a new, really exciting chapter with Pizza Lobo."
Most popular on Time Out
- These notable Chicago restaurants and bars have now permanently closed
- Here's what will reopen when Chicago moves into Phase 4
- Where to find drive-in movie theaters near Chicago
- Millennium Park's Great Lawn has reopened with social distancing circles
- Kanye put up a huge banner at the Michigan Avenue Gap store to celebrate his Yeezy partnership
Share the story