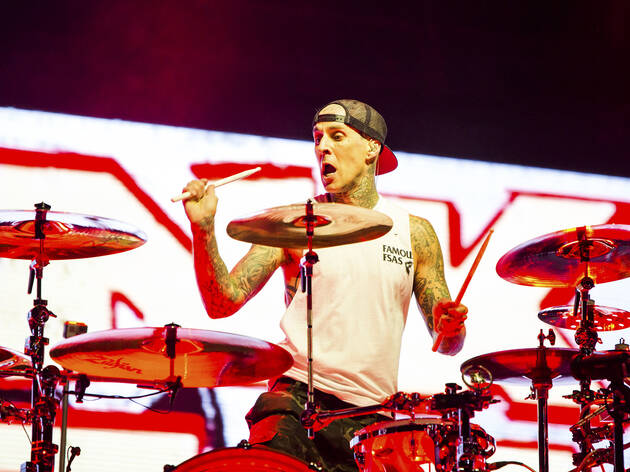 Blink-182, Slayer and Bikini Kill headline the Riot Fest 2019 lineup
Posted: Wednesday May 29 2019, 10:11am
It's been 15 years since Riot Fest began as a two-day concert at the Congress Theater, headlined by the Misfits, Dead Kennedys and Bouncing Souls. Over the past decade and a half, the event has become one of the biggest punk-rock celebrations in the country, moving outdoors to scenic Douglas Park to present three days of nostalgic music, unexpected reunions and requisite annual performances from Andrew W.K. and GWAR.
RECOMMENDED: Everything you need to know about Riot Fest Chicago
This year's Riot Fest lineup is both a celebration of the event's history and a testament to vaunted position it holds amid Chicago's increasingly crowded calendar of summer festivals. After being forced to cancel its appearance at last year's fest, pop-punk icons Blink-182 are back atop the bill, joined by metal heavyweights Slayer (playing the band's last Chicago- and Milwaukee-area show), newly reunited riot grrrls Bikini Kill, local punks Rise Against and Jack White's reinvigorated Raconteurs side project (the group's first Chicago show in 11 years).
The rest of the lineup is filled with familiar faces, many of whom will be performing seminal albums in celebration of Riot Fest's 15th birthday. The September fest will feature the return of Jawbreaker (who first reunited at Riot Fest 2017), the Flaming Lips (performing Yoshimi Battles the Pink Robots), Ween (performing The Mollusk), Die Antwoord and "godmother of punk" Patti Smith. Plus, new wave legends the B-52s will play their final Chicago show, dance-rockers Bloc Party will perform Silent Alarm and Guided by Voices will likely blow through about 30 songs over the course of a 45 minute set.
Three-day tickets to Riot Fest are on sale now, and single-day tickets (and lineups) will likely follow in the coming months. Take a look at the complete Riot Fest 2019 lineup below and begin planning your trips to the mosh pit accordingly.
Want more? Sign up here to stay in the know.
Share the story