Thanksgiving is almost here, which also means it's time to start planning your Friendsgiving gathering. This year, don't worry about making a dish everyone will enjoy and head to Time Out Market Chicago for tons of delicious options. From smoked meats to pillowy dumplings, the Market's various vendors offer shareable bites that should please the whole group. We're thankful for these favorites, and think you will be, too.
County BBQ - Smoked meat sampler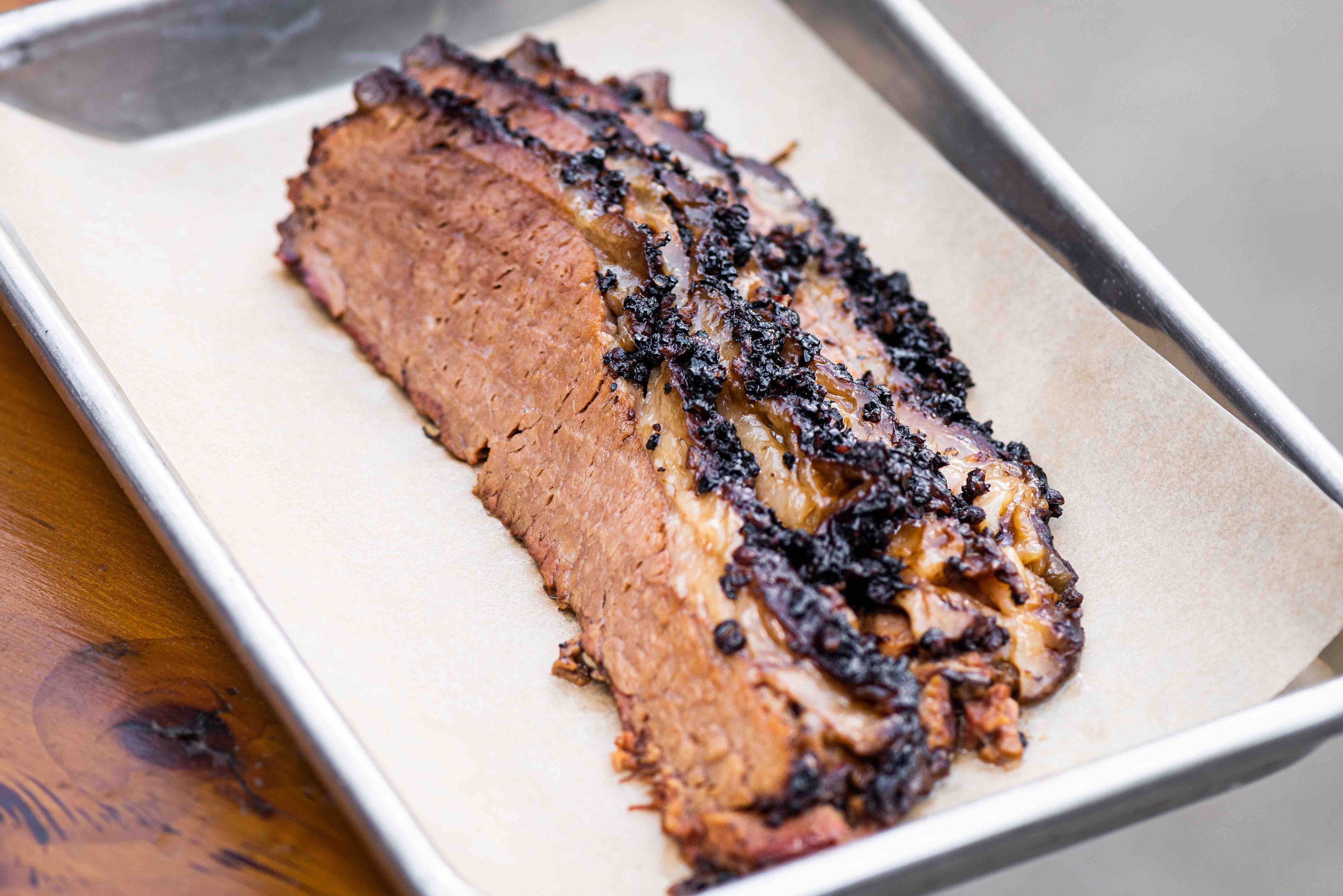 You'll probably get your fill of turkey on Thanksgiving, so why not switch things up and feast on some barbecue with friends? County BBQ offers a host of mouthwatering smoked meats and you can try up to four of them with the sampler plate. Choose from Texas-style brisket, Chicago rib tips, pulled pork, smoked wings and smoked salmon. They're complemented by three house-made barbecue sauces.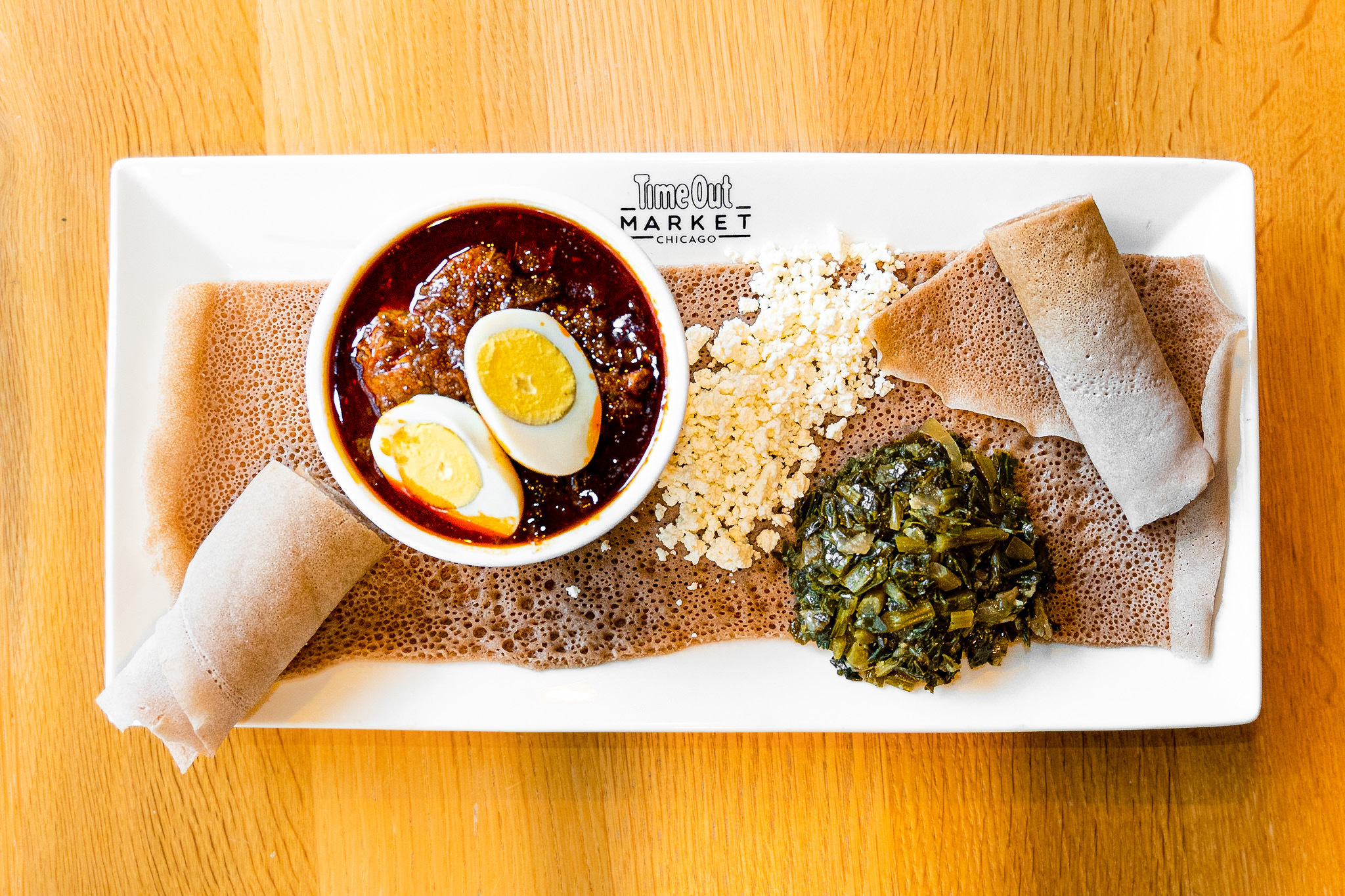 Chef Tigist Reda showcases the flavors of her home country of Ethiopia at Demera. Get ready for a hands-on experience as the dishes are meant to be scooped up and eaten with sour flatbread (injera). Order the Demera Messob platter for your choice of two entrees and one veggie side. Options include a spicy chicken stew known as doro wot, shrimp tibs, siga alicha and more.
Sua - Truffle fritters and Basque cheesecake
Sua brings a taste of Basque Country to Fulton Market and you can elevate your Friendsgiving with chef Aitor Garate Berasaluze's truffle fritters. There are six to an order so you don't have to worry about not having enough for the table. For a rich and indulgent finale to your meal, grab a whole Basque-style cheesecake. You'll be glad to have a slice to yourself after just one bite.
Avli - Dips and feta saganaki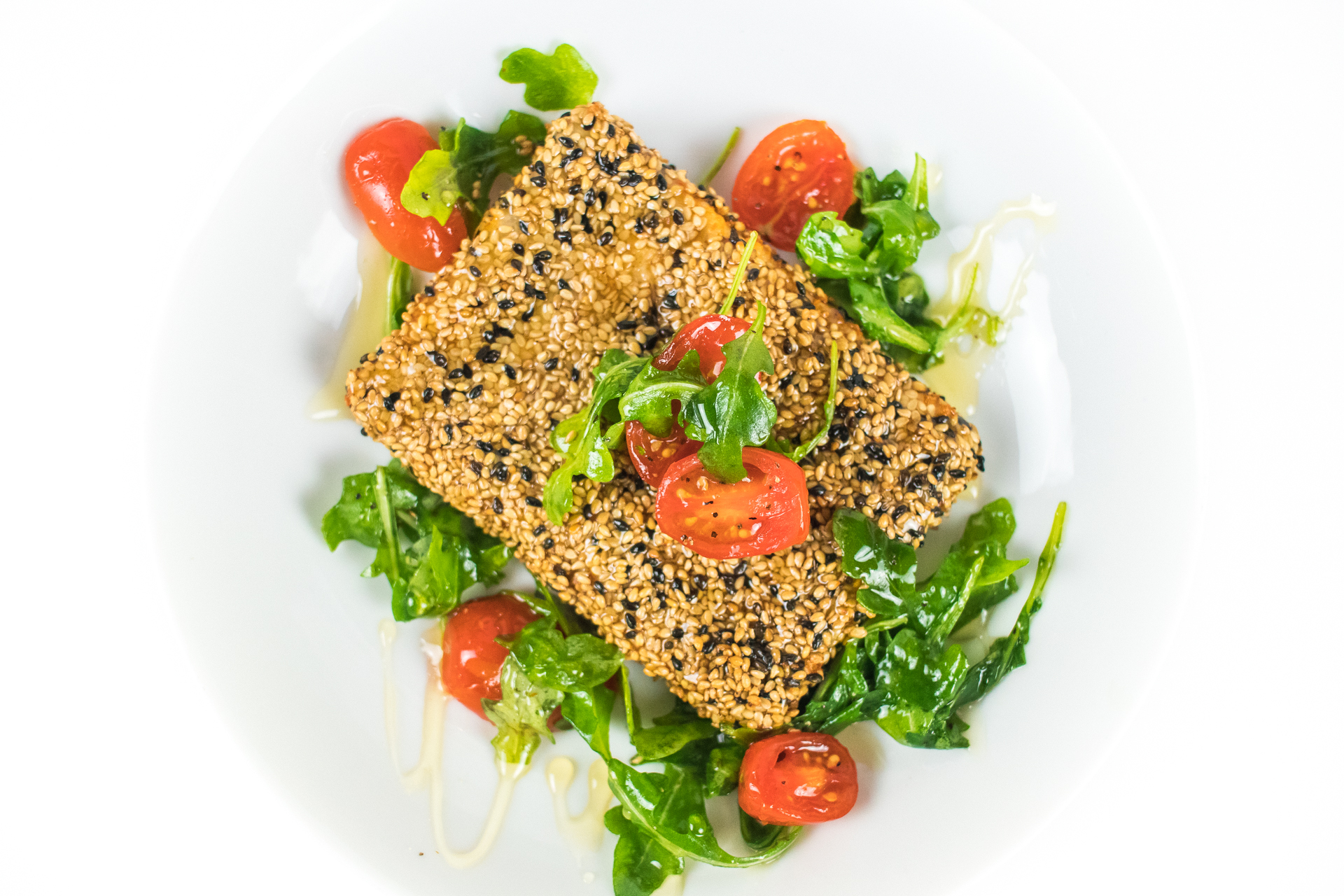 Dips are always a good idea when hosting a gathering, and Greek-inspired Avli offers several. Start your meal off with spicy feta, tzatziki or eggplant dip (or get all three for some variety. They're served with the restaurant's house-made pita. For a riff on a Chicago classic, try the feta saganaki encrusted in honey and sesame seeds.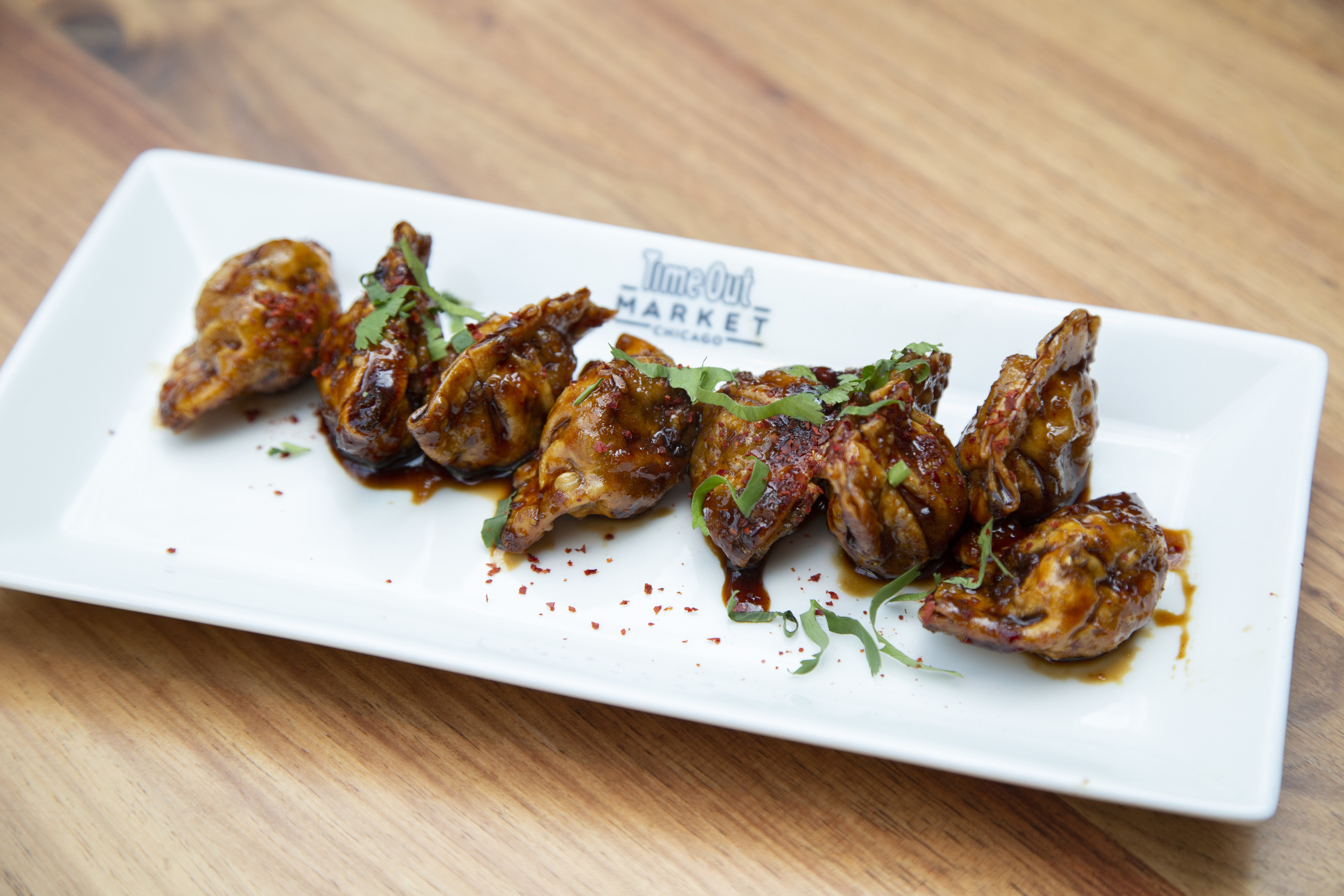 Urbanbelly's menu is practically made for sharing, but we find ourselves coming back to the pillowy caramelized chicken dumplings time and time again. It's sure to satisfy everyone in your group; if you're looking for a meat-free alternative, go with the steamed edamame dumplings.
Bar Goa - Makhani loaded fries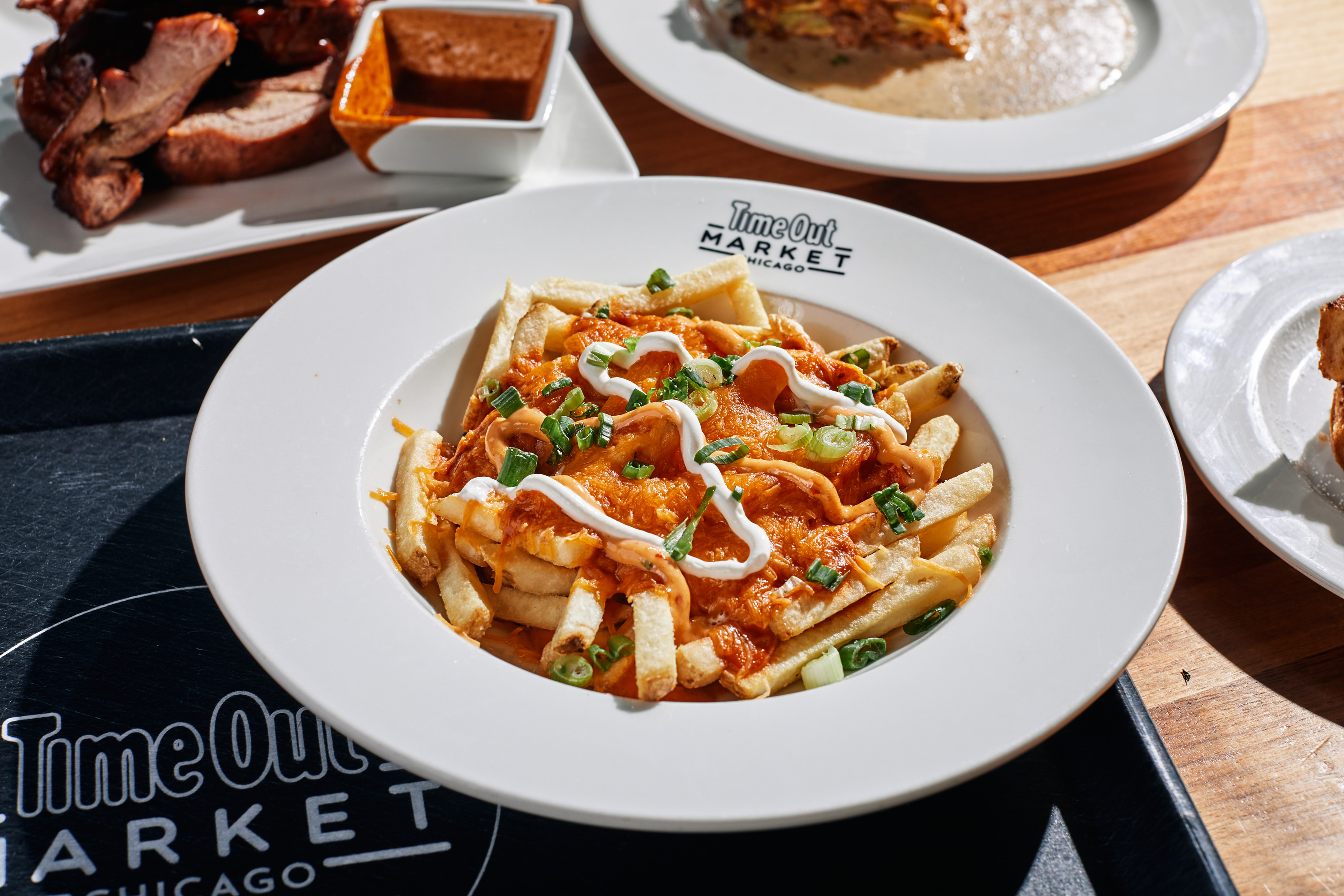 It's not a holiday feast without potatoes, and the Market is home to several options. There's no wrong choice, but fries are the ultimate crowd pleaser and Bar Goa's version features an Indian twist. Crispy fries are dressed with makhani sauce—the same sauce used in butter chicken—as well as sour cream, cheddar and green onions.