Ambiance has always an important part of the experience of dining at a restaurant, but it's no longer enough to simply hang some art on the walls and light a few candles in the evening. Thanks to the rise of social media and experiential pop-ups, decor and theming has become just as important as what's coming out of the kitchen—just look at the dazzling curtains and greenery at Alla Vita or the cozy Euro-style café character of GoodFunk.
The recently-opened 2d Restaurant in Lakeview is centered around a unique, comic book-inspired aesthetic, lined with black and white drawings as well as chairs and tables that have been covered in white paint and outlined with bold black accents. Former Kizuki Ramen operator Kevin Yu and his wife Vanessa Yu (an interior designer) were inspired by cafés decorated with intricate drawings that originated in Malaysia a few years ago, eventually spreading to places like Tokyo, Hong Kong and Dubai. In the midst of the pandemic, the pair began thinking about the kinds of experiences that could entice people to sit down in a restaurant.
"I was looking at the future of the hospitality world and realized it's got to be different," Kevin Yu said. "We wanted to create a space where people can forget about all the hardship that's out there."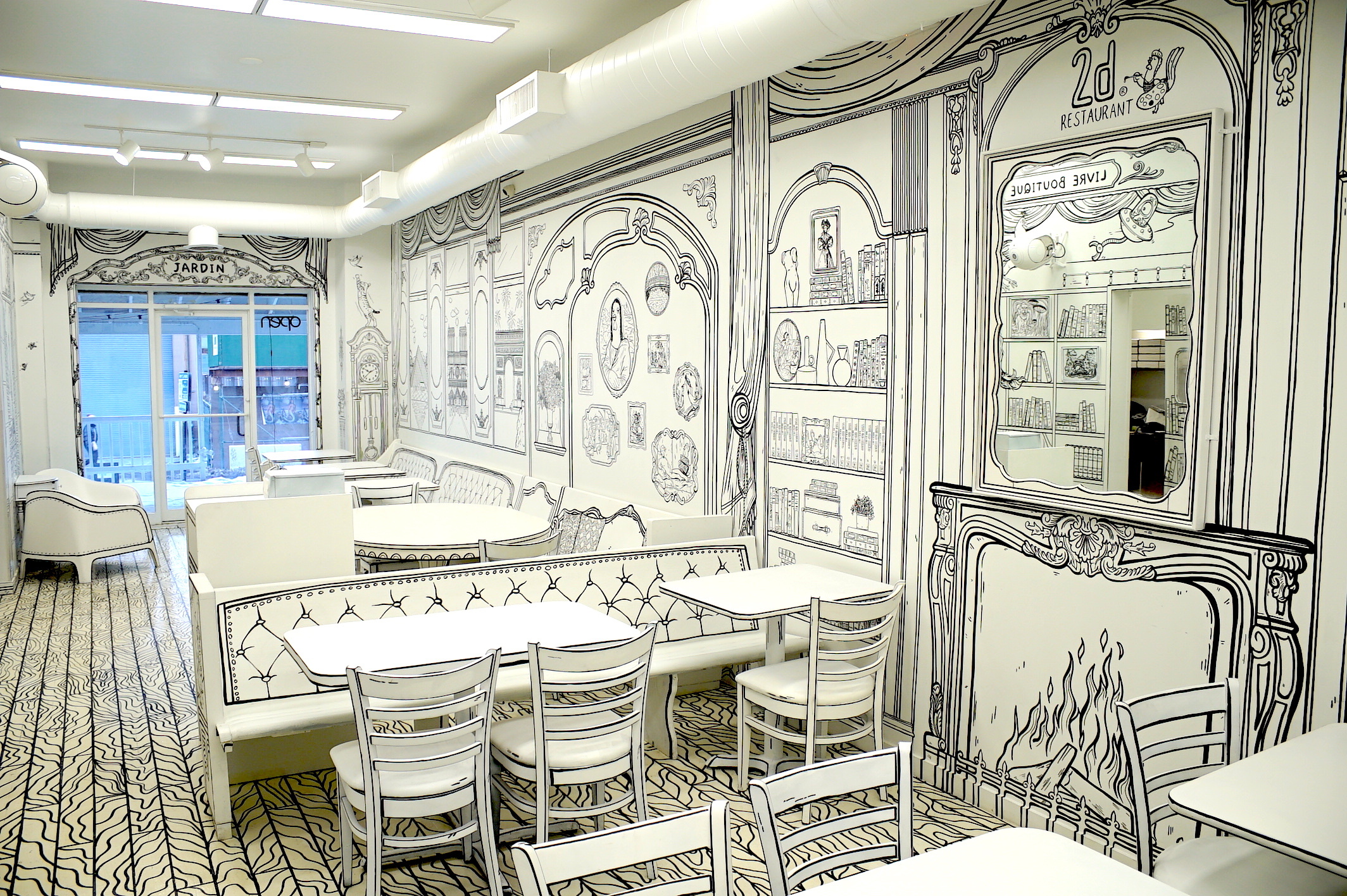 Painstakingly designed by Vanessa, the drawings on the walls of 2d Restaurant are the product of four months of work, hand-drawn by local artist Mia Larson. According to Vanessa, the inspiration for depictions of the Eiffel Tower, the Lourve and da Vinci's "Mona Lisa" was the Netflix series Emily in Paris, which informed the "romantic and bold" theme of the space. Vanessa says that she has already designed six additional decorative themes for 2d Restaurant, inspired by cities like Tokyo and Rome, though the couple is still trying to determine how to eventually redecorate the space without closing it to customers. When warmer weather arrives, the pair hopes to park an imported Japanese microvan on its front patio, along with additional tables and chairs that take the two-dimensional theme outdoors.
When visitors aren't posing in an old tub filled with white balls or reading the names written on the spines of the books that line a two-dimensional shelf, they can enjoy some of the pan-Asian delicacies on the the café's menu. At the moment, 2d Restaurant's speciality is pon de ring doughnuts, a variation on mochi doughnuts popularized in Japan that use mochi flour to create a more chewy texture. Kevin uses three different tapioca powders in his pon de ring doughnuts to create a fluffy and airy texture that compliments creative toppings like a honey and peanut butter glaze (the Pooh) and a matcha frosting.
The café also serve coffee brewed with a Vietnamese phin filter, which Kevin describes as a "combination of French press and pour-over" preparations. Using a bold blend of coffee provided by local roasters Metropolis, 2d Restaurant brews each of its coffee to order, serving it black or blended with milk in a latte. "To my knowledge we're the only café [in Chicago] that uses 100% phin drippings," Kevin says, noting that it's a more time-consuming brewing process that produces a distinctive flavor.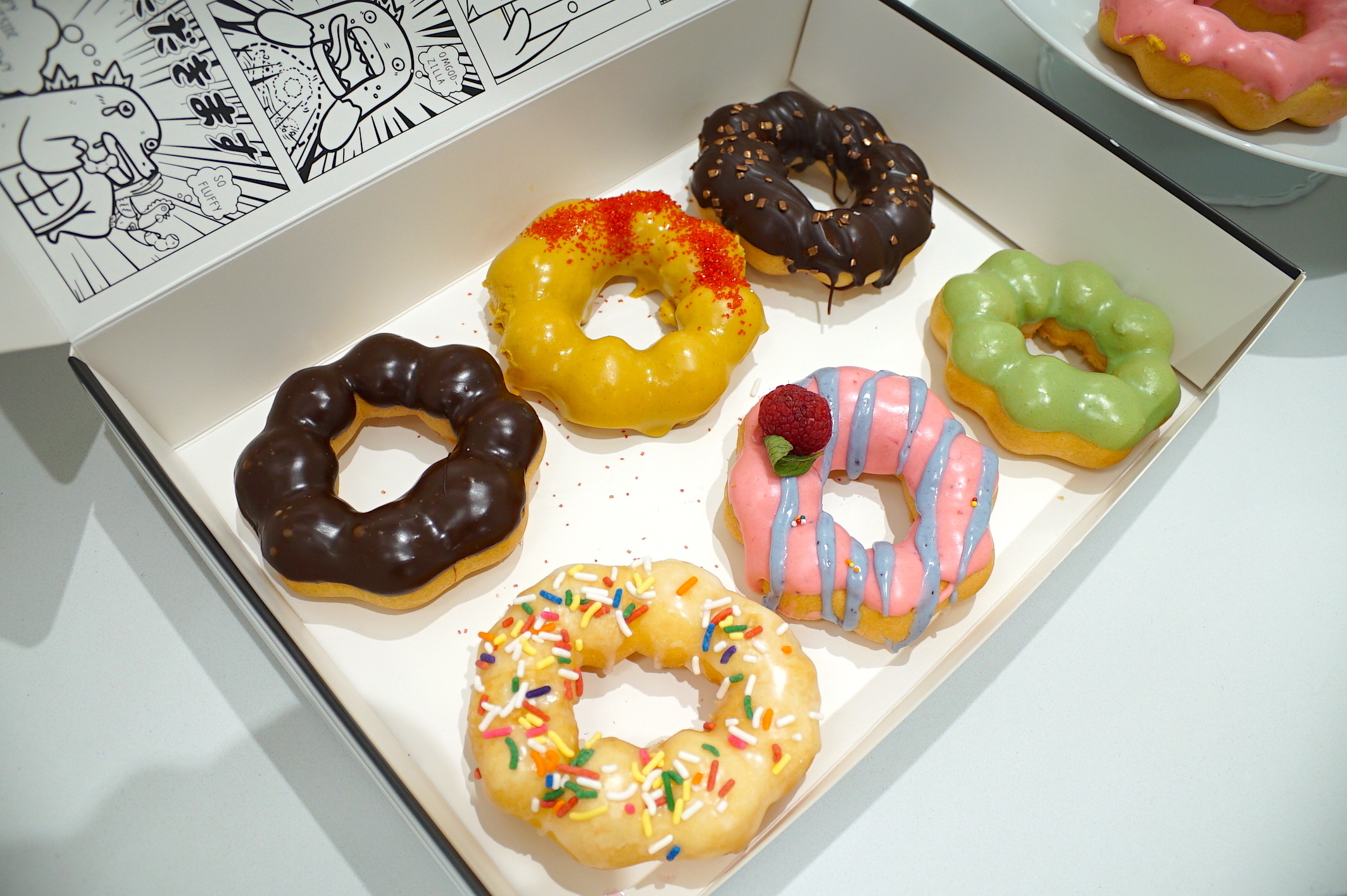 In the coming weeks, more savory options will join the 2d Restaurant menu in the form of Asian-fusion fried chicken. According to Kevin, the chicken he plans to serve resembles Japanese karaage, made with a crisp Korean-style batter and topped with Taiwanese seasoning and sauces. You'll be able to order the chicken by the pound or eat it on a pair of chicken sandwiches, which feature topping like yuzu coleslaw and tonkatsu sauce.
While 2d Restaurant celebrated its soft opening a few weeks ago, the café's grand opening will take place on the auspicious date of February 22, 2022. Beginning at 2:22pm, 2d Restaurant will give away free rainbow pon de ring doughnuts to the first 222 customers, while accepting donations to South Side LGBTQ+ center Brave Space Alliance (proceeds from the restaurant's grand opening day will also be donated to the center).
You can stop by 2d Restaurant to snap photos in front of the illustrations and enjoy a pon de ring doughnut Sunday through Thursday from 10am–8pm and Friday and Saturday from 10am–9pm. Check out some photos of the surreal space below.