It only took a few days for the live music industry to grind to a halt in March, as venues throughout the world closed their doors and summer festivals were canceled in response to a virus that spreads when people are in close contact with one another. Nearly nine months later, instead of packing in shoulder to shoulder at the Empty Bottle or Metro, we're still logging on to YouTube, Facebook, Twitch and other streaming platforms to watch bands perform. For the foreseeable future, streaming shows are here to stay—and even when in-person audiences are able to return, it's likely that venues and artists will still cling to the ability to allow remote access to live music.
Streaming concerts aren't a new phenomenon—festivals like Lollapalooza and Coachella have presented online broadcasts for years. But the collapse of traditional live music quickly made digital gigs a necessity, thanks largely to the fact that venues "were among the first to close, [and] will likely be the last to reopen," as Sleeping Village and Whistler co-owner Billy Helmkamp told Time Out back in April.
Not every venue has had the luxury of being able to embrace streaming, and those that have made the jump online in recent months haven't done so exclusively out of a desire to replace revenue—streaming has largely been a way to make a few bucks for artists and stay connected to a community of fans. In an interview earlier this year, outgoing Hideout programming director Sully Davis told Time Out that the venue's quick pivot to virtual events came out of a need to maintain some sense of control. "We don't have to wait for Congress to say something, we don't have to wait for someone to tell us we can reopen, we can do this right now," Davis said.
At Roscoe Village jazz and experimental music venue Constellation, the pandemic provided an opportunity to do something that owner Mike Reed has been pondering since 2013. When the venue was closed in compliance with the Illinois "stay-at-home" order, Reed installed a robotic camera system in the space, allowing Constellation to present high-quality streams of performances on its stage. Since resuming shows in July (some with small audiences that were allowed under then-current guidelines), viewers have been able to experience Constellation's eclectic programming without leaving the house.
"Venues around the world that are comparable to Constellation were already streaming shows," Reed said, citing places like Roulette in Brooklyn and Bimhuis in Amsterdam. "Our venue tends to offer music that sits outside the mainstream and we cater to a global audience of music that can be hard to export."
With recent Constellation streams drawing international viewers, Reed plans to continue offering virtual access to one or two shows a week when the venue is able to welcome back in-person audiences again. In addition to an expanded audience, the camera system also provides another important perk for the bands performing: high-quality recordings of their sets. "We present a lot of risk-taking performers and emerging talent, and usually there would be a large barrier to entry to the quality of video and audio we're able to capture," Reed said.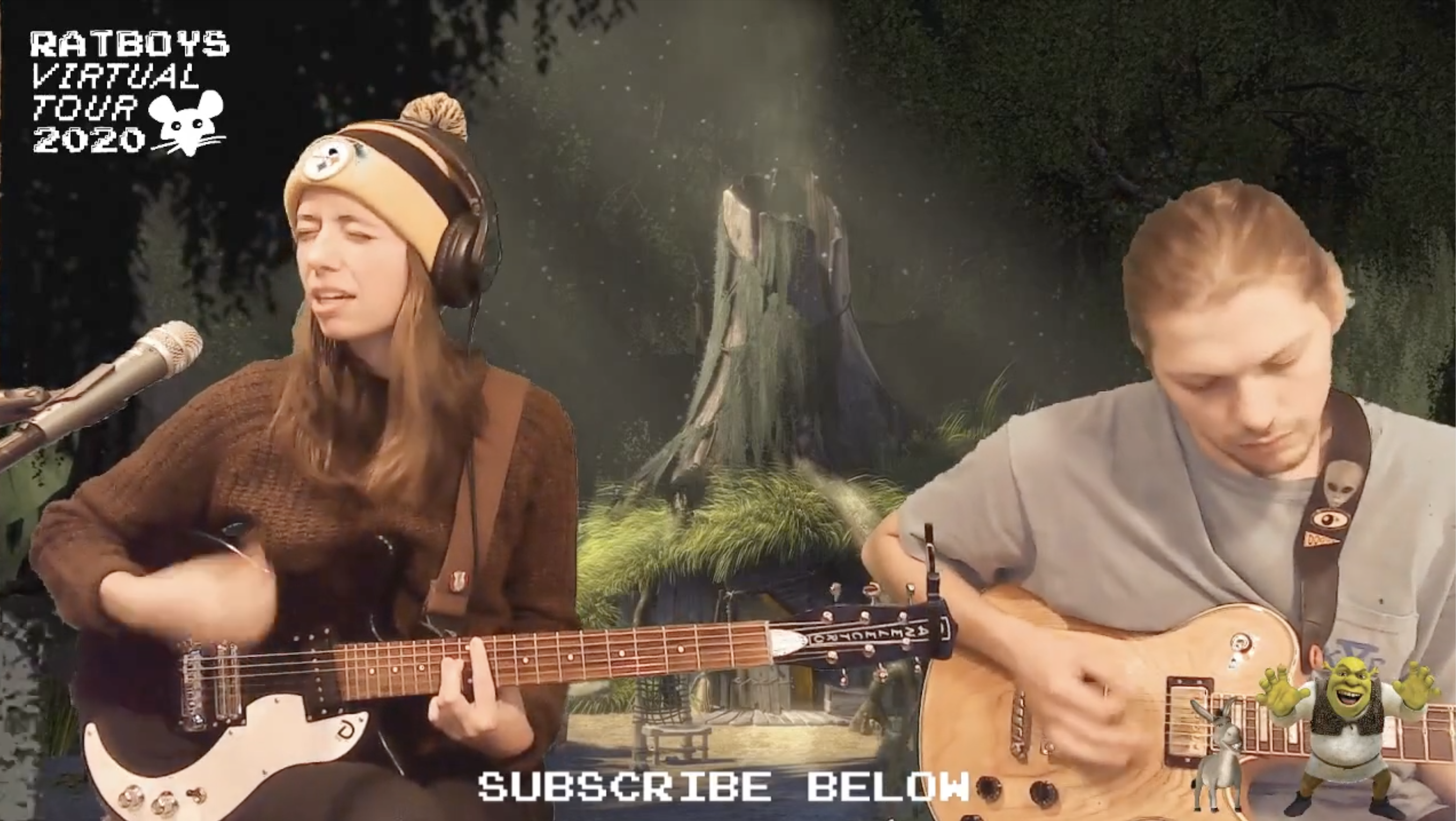 While many bands are content to allow venues to deal with the challenges of putting on a live show online, some artists have taken streaming into their own hands. Local rockers Ratboys were just two days away from embarking on the band's first headlining tour when COVID hit, forcing them to cancel two months of concerts. "We were left with all this stored-up energy that we wanted to put to some sort of use," singer and guitarist Julia Steiner said.
After performing as part of a concert streamed via Twitch in March, Steiner and the rest of the band decided to embark on self-organized a virtual tour, using a cheap webcam and a small green screen to broadcast from the basement where the band practices. Since their first stream in March, the band has presented 34 concerts on Twitch as well as a 25-hour Halloween marathon stream that raised more than $13,000 for the Equal Justice Initiative and Girls Rock! Chicago.
Virtual shows are

definitely not a replacement for the real thing, but it feels like something so different that it could exist when regular shows come back, too.
"It's a totally different experience than any live show we've done in the past because it's so intimate," Steiner said. "We were able to really be our authentic selves without any pretension or any barriers up. It was very much us connecting on a personal level with the people who enjoy what we do."
That connection has become increasingly apparent and important to Ratboys as weeks off the road have turned into months, spurring the group to launch a Patreon subscription that allows fans to pay a monthly fee to gain access to exclusive songs, behind-the-scenes footage and movie nights with the band. The money the group earns from the Patreon doesn't come close to matching what the band would make on tour, but Steiner makes it clear that—while the financial support is appreciated—the interactions with fans are more important. "If COVID had never happened, I don't know if we would have felt the community around us in as big of a way," Steiner said.
Ratboys' virtual tour will continue next year for as long as the band remains unable to traverse the country—and it's likely to carry on in some form even after venues are able to welcome back crowds. By Steiner's estimation, touring will initially be very different for independent acts like Ratboys, based around shorter regional tours (as opposed to weeks-long national tours) that will give the band more downtime to work on other projects. "Virtual shows are definitely not a replacement for the real thing, but it feels like something so different that it could exist when regular shows come back, too," Steiner said.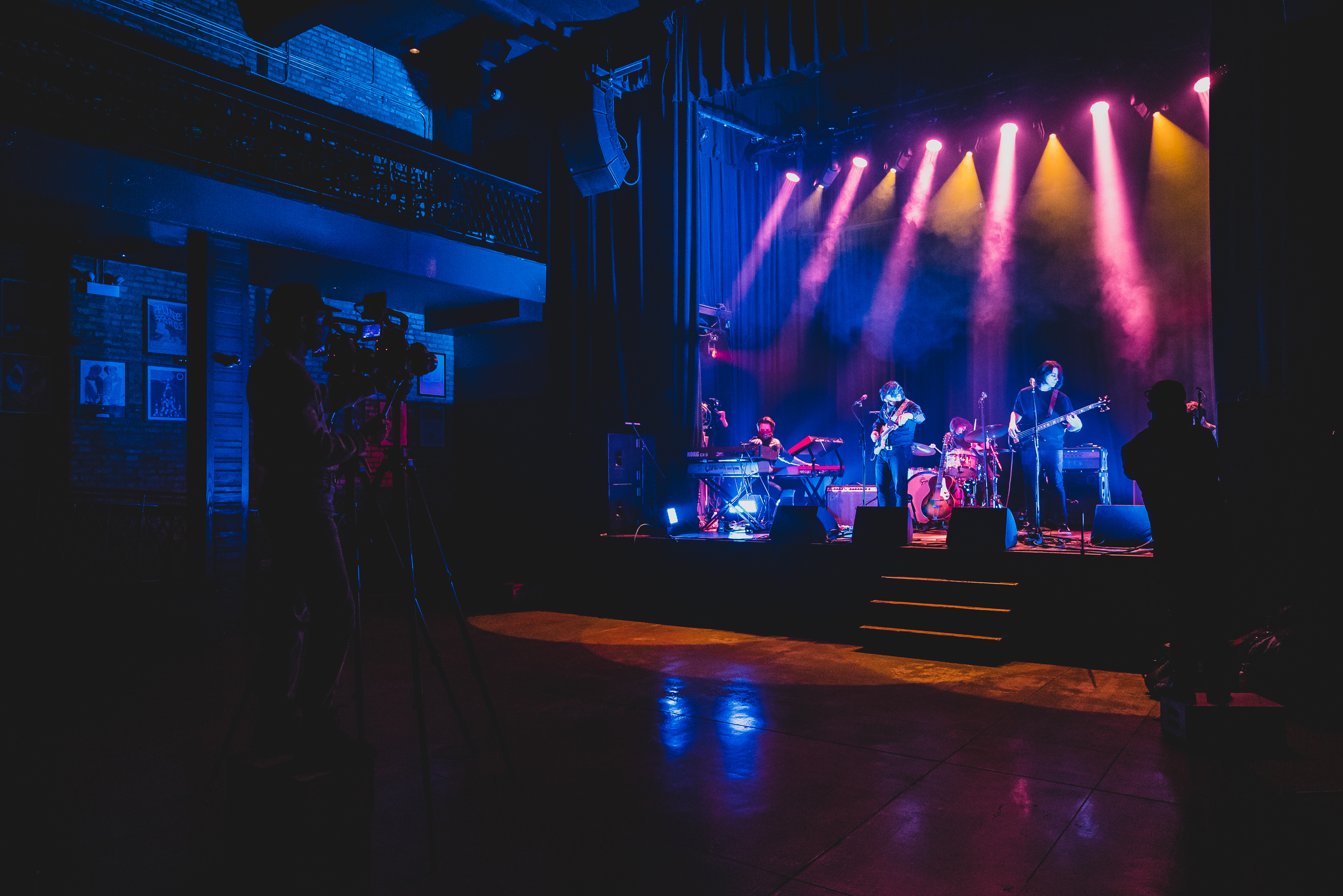 Chicago-based business Audiotree has been banking on the coexistence of streaming performances and live music ever since it purchased local venues Lincoln Hall and Schubas Tavern in 2015. The company has been producing its live Audiotree sessions for nearly a decade, inviting bands to its Chicago studio where a camera crew records them performing a selection of songs and talking about their work. When the pandemic hit, Audiotree was uniquely equipped to share the music of bands that had lost the ability to tour.
Audiotree co-founder and COO Adam Thurston explained that management for larger acts have traditionally resisted streaming live shows, out of a concern that access to a stream of a concert would cannibalize ticket sales. But when touring resumes, reduced capacity at venues and a focus on larger cities as opposed to smaller markets will likely increase the demand for digital access to gigs. "What we've been saying for a long time is that perhaps there's a hybrid model: Shows still go on, tours still happen, but one or two shows of any given band's tour could be live streamed," Thurston said.
Audiotree's STAGED series—which has presented 24 ticketed performances streamed live from a (mostly) empty Lincoln Hall since it launched in June—serves as a demonstration of what the company can bring to online shows. Lincoln Hall has long been outfitted with the wiring and internet capacity needed to present streaming concerts, but it's the experience of the team behind the camera that separates it from live-streaming neophytes. "We've been honing our craft for 10 years," Thurston said. "There's been a lot of work and a lot of perfecting to make it sound and look as good as it does when we put on a production."
...there's a hybrid model: Shows still go on, tours still happen, but one or two shows of any given band's tour could be live streamed.
The STAGED series has thus far focused on Chicago-based acts, but a forthcoming national expansion will bring Audiotree's streaming expertise to venues throughout the country. Thurston says that the company has been in talks with venues in Los Angeles, Nashville, Washington D.C. and New York that want to produce STAGED shows featuring local acts beginning in 2021. The venues will stand to benefit financially from ticket sales for the digital shows, though Thurston is adamant that the purpose of STAGED is to give artists an opportunity to make some money via pay-per-view performances.
Whether it's connecting artists with far-flung fans or providing an additional source of revenue to cash-strapped venues and bands, the benefits of streaming concerts have become increasingly clear over the past nine months. But it's also plain to see that online shows remain a convenient facsimile of having your eardrum bombarded with sound in a room packed with fans—band's can't wait to get back inside concert halls, and venues are eager to host them.
"As a live streaming company, we still believe firmly that nothing can compare to live music," Thurston said. "Nothing is going to replace the experience of standing in the first five rows of a show."
Most popular on Time Out
- The high-tech 'Immersive Van Gogh' exhibition is coming to Chicago
- Where to see dazzling Christmas lights in Chicago
- The best things to do during the holidays in Chicago
- Here's where you can see drive-through Christmas lights in Chicago
- The best things to do in Chicago this week