We talk a lot about new cocktail bars and breweries popping up in Chicago, but what if you're more of a coffee person? Over the past few months, Chicago's already-thriving coffee scene has opened up a host of new and innovative coffee shops that offer more than just, say, a quality latte or killer cold brew. From authentic Vietnamese iced coffee in the West Loop to a horror geek's paradise in Logan Square to community-building in Roseland, put these new coffee shops and pop-ups in your rotation this summer.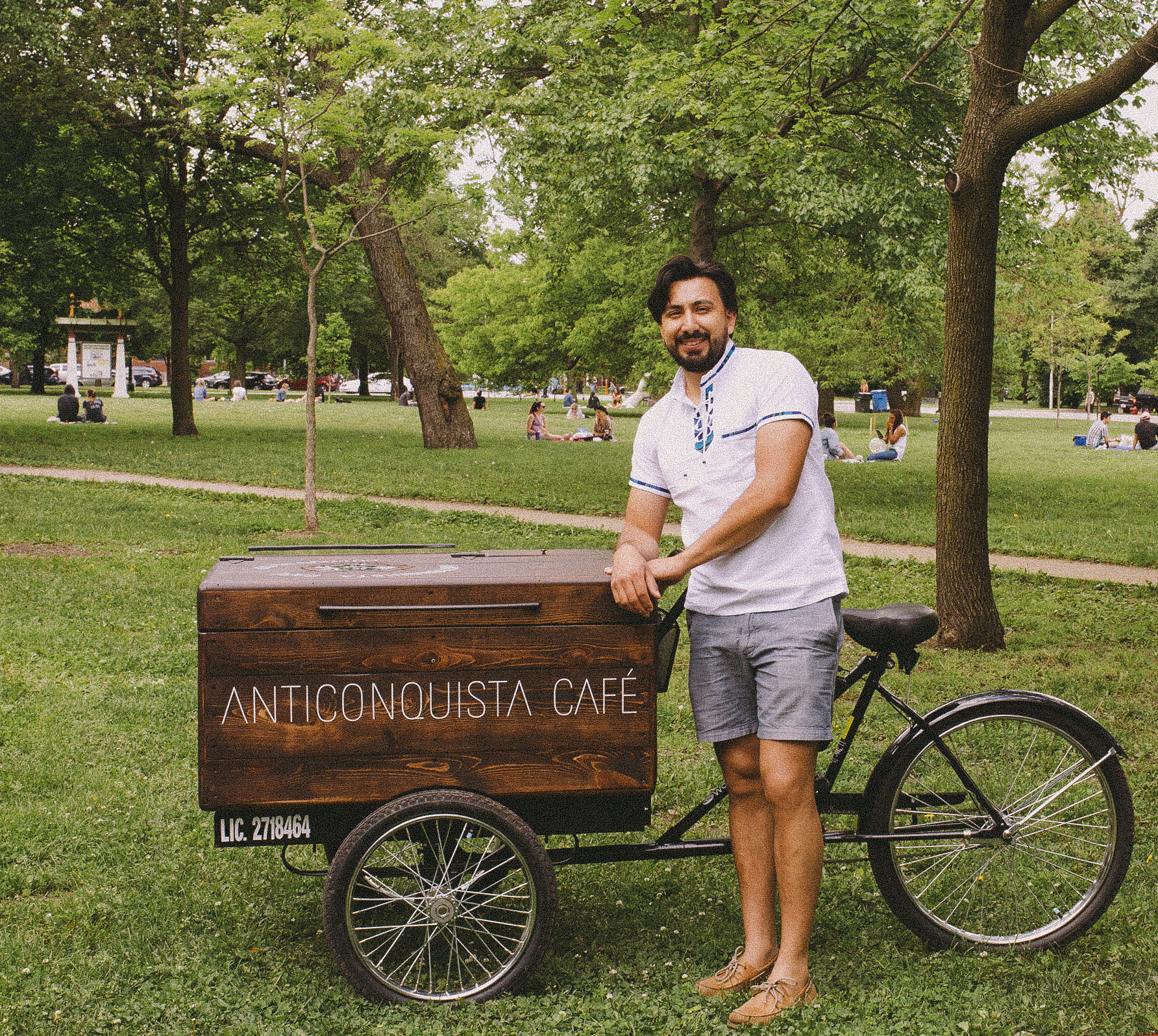 Anticonquista Café: Cultivation to cup in Logan Square
The concept: As Chicago's first family farm-owned and operated coffee roaster, the Anticonquista Café team seeks to close the gap between coffee farmers in Central America and U.S. consumers, putting coffee production back in the hands of small working farmers.
Elmer Fajardo has been working with coffee since he was seven years old, helping his father on the family coffee farm in southeastern Guatemala and learning every step of the process, from growing to harvesting to pulping. In fall 2020, alongside his wife and business partner, Lauren Reese, Fajardo began bringing coffee from his family's farms in Guatemala and Honduras to the people at farmers markets via Anticonquista Café's coffee bike.
"I don't just want to end our business with our family," Fajardo says. "I really want to help campesinos in my town and for them to get better pay for their products. When people buy and support our cafe, they're helping a lot of campesinos in Guatemala, too."
Accessibility is a cornerstone of Anticonquista's practices, and using a coffee bike allows the team to share their coffee across the city. Education is equally important to the mission—Anticonquista has collaborated with Patchwork Farms to host hands-on educational workshops, where guests take part in sorting green coffee beans and learning about the growing process.
"For me, the point is to give our customers the information and show how much labor is required to provide really quality coffee," Fajardo says.
What's next: Anticonquista Café plans to open La Montañita, a collaborative space between the Hermosa and Logan Square neighborhoods, later this summer. Once open, La Montañita will serve coffee and continue the hands-on educational workshops, and also be a space for fellow food businesses, makers and artists in the community to enjoy Anticonquista's specialty coffee and showcase their goods. Interested vendors can choose between one-off pop-ups or month-long weekly Vendor in Residence programs.
How to visit: Until the brick-and-mortar space opens, you can pick up Anticonquista Café's coffee by visiting their coffee bike at the Logan Square Farmers Market on Sundays from 9am–3pm and the Lincoln Park Farmers Market on Tuesdays from 7am–noon. You can also catch the coffee bike vending around the city—or even book the bike for your own events. Visit their website to keep up with their schedule and for updates about La Montañita.
The Brewed: A horror fan's dream in Avondale
The concept: As a kid, Jason Deuchler recalls falling in love with horror thanks to two Chicago standbys—creepy-kooky longtime local TV host Svengoolie and horror-themed family fun park Haunted Trails.
Now, that same spooky-fun-nostalgic energy can be found at The Brewed, a horror-themed coffee shop in Avondale he opened in March with Bric-A-Brac Records owners Nick Mayor and Jen Lemasters. The name is a pun on David Cronenberg's cult classic The Brood, and yes, Cronenberg himself even expressed appreciation for the pun in a New York Times interview.
Deuchler says when people first enter The Brewed, they have to take a lap just to take it all in before placing their orders. From the vintage posters on the wall (honoring masters of the genre like Dario Argento and Sam Raimi) to the display cases of ephemera (ranging from action figures and lunch boxes to a Freddy Krueger piñata sitting in the corner) to the case of horror Blu-Rays for sale, there's a lot for both horror diehards and casuals to geek out on.
"We've always been collectors of things, so the majority of this impetus was to show off all our cool stuff," Mayor says.
While there's plenty of horror ephemera to excite the diehards, the team behind The Brewed want the space to be approachable to everyone: "Even if we have some bloody knives on the wall, I really want people to feel comfortable here," Lemasters says.
Not a horror buff? Come for the locally-produced drinks and snacks. The shop offers coffee from Halfwit Coffee Roasters, sandwiches from Ørkenoy and pastries from Sugar Moon, in addition to pop tarts from Hardbitten and even locally-made kombucha.
"Some of our most dedicated regulars are not really into this stuff, which feels good, because it means we're a decent coffee shop," Mayor says.
What's next: For horror diehards or newcomers curious about the genre, The Brewed is beginning to collaborate on some programming, including film screenings at The Logan Theatre and Pride Month events. Keep track of upcoming programming using the shop's online events calendar.
How to visit: The Brewed, located in Logan Square at 2843 N Milwaukee Ave, is open Monday through Friday 7am–7pm and Saturday through Sunday 8am–7pm.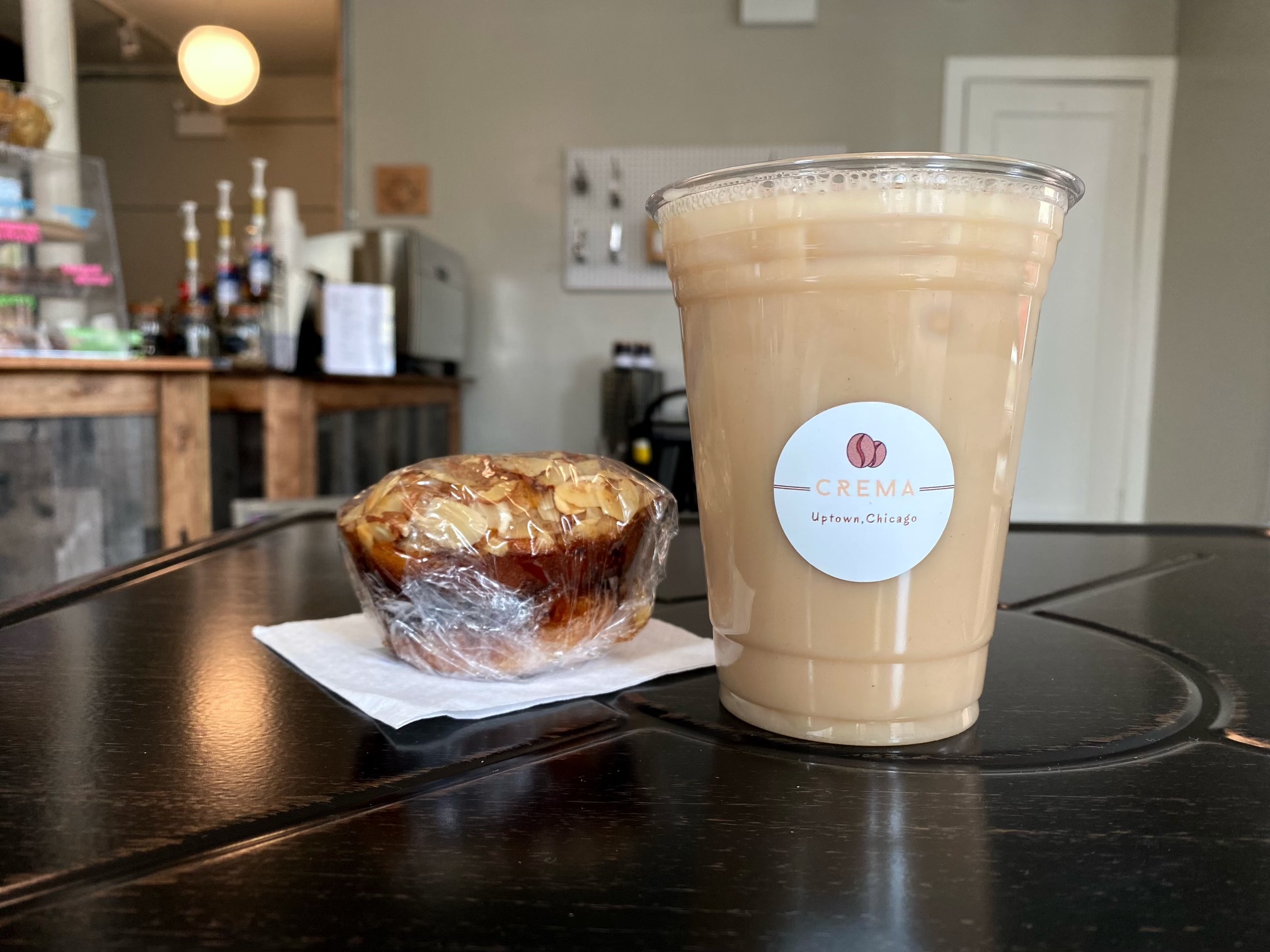 Crema: Community-focused in Uptown
The concept: Growing up in Puerto Rico, Frances Matos's home was always open to uncles, friends and family members stopping by for coffee any time of the day—not just to enjoy a cup, but to have a conversation and check in on one another. It's that ethos of community that Matos brings to Crema, her coffee shop on Wilson Avenue in Uptown that opened earlier this year.
Matos, who was working in the hotel industry before launching Crema, began as a retail roaster, partnering with Roselle-based Maple Leaf Coffee Roasters and selling her blends from her kitchen. She spotted the space on Wilson Avenue right before the start of the pandemic, and initially used it as a pickup spot for her retail business, getting to know the neighbors who bought her beans. Following a renovation, the shop opened for coffee service in March 2022.
"After Covid, everything was getting so impersonal and we weren't spending as much time with other people," Matos says. "It's been nice to see the neighbors coming out here, and we're all from close by, so we always find common things to talk about. It's really nice to see neighbors who maybe don't know each other jump into conversation."
Affordability and accessibility are important to Matos—her 12-ounce bags retail for $12.50, and she offers four unique blends to keep the flavors balanced and the prices more affordable for her customers. Crema also has a grinder on-site and will grind beans for customers upon request.
In addition to the signature blends, including a sweet, citrusy offering named after their neighborhood of Uptown, Crema offers cookies, muffins, tea and space to gather, read a book or—in the case of one group—trade baby plants. "People wanted a spot where they could just come and hang out and not feel intimidated," Matos says.
What's next: Taking the intimidation out of coffee is important to Matos and the Crema team—they offer a variety of syrups so people can choose what they like and be comfortable with it, and if there's a drink they don't have that a customer wants, they try to figure out a way to do it. And now, Matos is getting customers who ask her to make coffee the way she would enjoy it in Puerto Rico.
"They're taking the time to get to know someone's culture," she says.
How to visit: Crema, located at 1401 W Wilson Ave, is open Monday through Friday 6:30am–3pm and Saturday–Sunday 7am–3pm.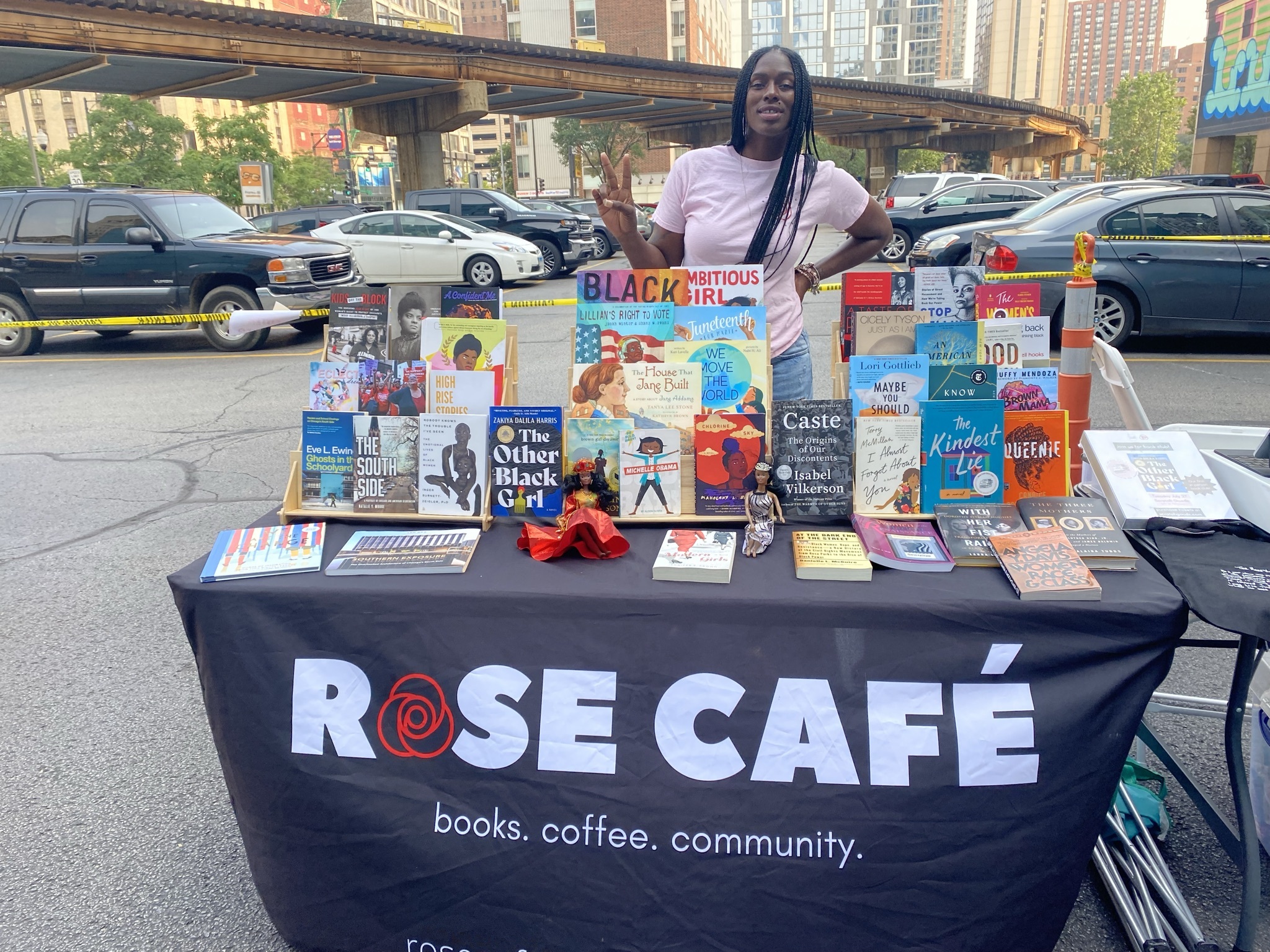 Rose Café: Coffee, books and conversation in Roseland
The concept: Rose Café emerged from the community uprisings across the country following the murders of George Floyd and Breonna Taylor by police in 2020. When Roseland resident Iesha Malone saw some people damaging local businesses and asked her neighbors about it, she heard an illuminating refrain: "Nothing in the community was ours."
"While cleaning together, I noticed that this area, my home for 26 years, was missing something," Malone writes on the store's website. "A place to read. A place for healthy conversation. A place to empower local voices. A place to highlight the beauty of our community, and not the negativity. This place was missing from our community. Until now."
A teacher and a voracious reader with a desire to see community-driven Black-owned businesses in her neighborhood, Malone developed the idea to bring a bookstore and café to the Roseland and Rosemore communities—a place where people could gather, read and engage in healthy conversations. After some research, Malone linked up with business partner Rebecca Silverman and established an LLC.
Through pop-up and virtual events and an online business, Rose Café has already hosted significant programming in the community with a focus on access to literacy, including book giveaways (at time of writing, Rose Café has given away more than 8,000 books to community members), book clubs, conversations with local authors like Natalie Moore and Alex Kotlowitz, yoga in the park, a double-dutch contest, a peace march and a "Put Down the Guns" walk. (You can see a list of upcoming programming on the café's website.)
As a native of Roseland and an alumna of Corliss High School, Rose Café is far more than a business venture for Malone.
"When you want the community involved, you have to be of the community," she says.
What's next: A brick and mortar space for Roseland the community can enjoy. Malone's vision for Rose Café is a place where neighbors can "feel luxurious," as she puts it, with comfortable furniture, quality coffee and healthy, delicious food items like snack wraps and smoothies. The space will offer book clubs, mentorship and space for local creatives to showcase their art and poetry. "I want them to feel inspired," Malone says. "I want them to feel seen, that I see you, I see your worth, I see that you can write."
How to visit: For now, you can also visit Rose Café weekly at their pop-up at the South Loop Farmers Market on Saturday mornings, and at the Black Women's Expo in August. If you're interested in contributing to the creation and launch of their brick and mortar space, you can donate here or purchase books online through their Bookshop store.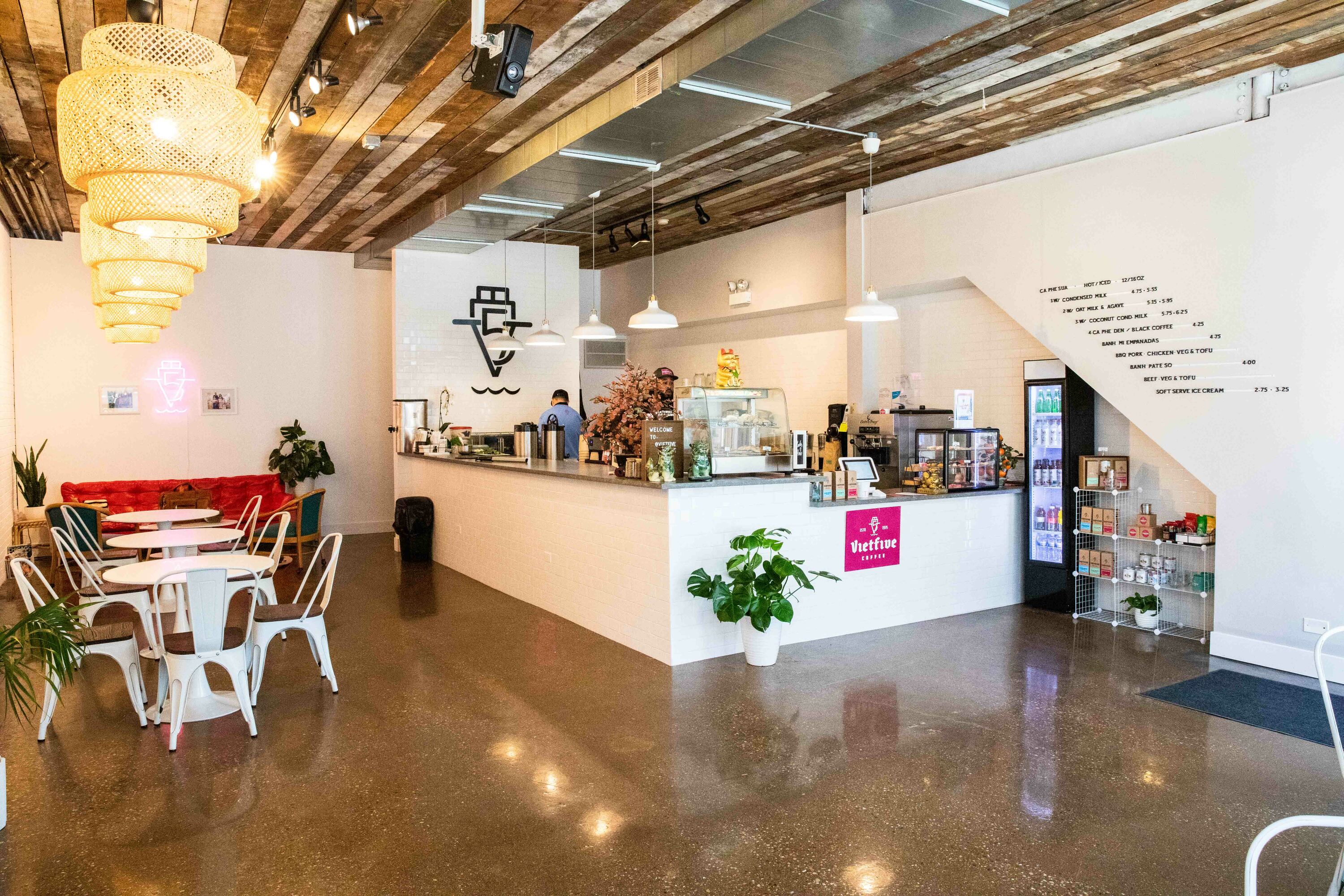 VietFive: A celebration of Robusta in the West Loop
The concept: Tuan Huynh's love of coffee is deeply and generationally rooted—after being displaced after the fall of Saigon in 1975, his family began growing robusta coffee in the volcanic red soil of the central highlands of Vietnam. With a desire to bring authentic Vietnamese coffee to the world, Huynh quit his advertising job to open the airy VietFive coffee shop in the West Loop in March.
"I wanted to tell the story, our refugee story and coming to America, but also to highlight Vietnamese coffee," Huynh says.
VietFive uses 100 percent robusta coffee, which is still grown and harvested on his family's farm in Buon Ma Thuot, Vietnam. The coffee itself has a lower acidity and less sugar compared to the more popular arabica beans, and is high in antioxidants. VietFive doesn't have an espresso machine. Instead, they brew through a Phin filter slow-drip process (like Huynh's mom taught him), creating a rich, smooth brew with twice the caffeine of a normal arabica brew.
"You don't just taste the coffee, but you feel it," Huynh says.
VietFive's signature drink is Cà Phê Sữa Đá, where the slow-drip robusta is served in the popular style of Vietnam, over ice with condensed milk.
Visitors can pair their coffee with a series of signature menu items inspired by Vietnam and Chicago's multicultural food scene (like Bánh Mì empanadas) and their take on a Viet French pastry, the Bánh Patê Sô. Sweets, including a soft-serve coffee ice cream with coconut, round out the options.
What's next: Huynh says he wants to continue building community and culture through events at VietFive, like an upcoming brunch for Asian American and Pacific Islander Heritage Month. He's also planning to offer after-hours events, including "Coffee and Convo" talks and a series of educational programs around Web3 and the Metaverse.
How to visit: VietFive, located at 116 W Madison St, is open daily 8am–2pm.