Popular Hyde Park restaurant the Promontory is getting a makeover this week. Acclaimed chef Jonathan Zaragoza (Birrieria Zaragoza) is moving in, bringing with him a menu of traditional Mexican eats cooked over a wood-burning stove. The extended pop-up is called El Oso, which translates to "the bear" in Spanish—a nod to Zaragoza's childhood nickname.
The collaboration is a partnership with Bruce Finkelman of hospitality group 16" on Center; you may recognize his name as a key player in Chicago's new favorite slice shop, Pizza Friendly Pizza. Finkelman is strategically flipping his existing portfolio into timely concepts that feed the public's new needs. He admits that he's wanted to work with Zaragoza since he opened Revival Food Hall in the Loop in 2016.
"This period of time that we're in has been an amazing bummer to say the least," Finkelman says. "But to have the opportunity to work with someone like Jonathan... it's given us something to look forward to."
El Oso will occupy the Promontory for at least three months, though both men agree that they'd like to extend the residency if things go well. One look at the menu suggests that the food won't be an issue. Zaragoza is flexing his culinary prowess and having fun with the Promontory's coolest piece of equipment: a sprawling brick hearth that allows him to cook over open flames.
"Once you light that fire, it's hard to look away," Zaragoza says. "It reminds me of when I was starting Birrieria Zaragoza with my dad. The smell of the wood and the fire brings me back to when I was a kid in our backyard. It's a nice reminder as to why I cook the food that I do."
The dishes on offer reflect the chef's extensive travels throughout Mexico as well as engrained culinary traditions he's picked up from his parents. The tetela de cangrejo stuffs triangular-shaped masa pockets with crab and queso crema, while the ceviche verde is rife with plump shrimp, spicy serrano and cooling avocado. The chivo tatemado—a bone-in roasted goat shank served with mole negro and homemade tortillas—is hard to overlook in the entree section. For dessert, hoja santa-flavored ice cream is served inside a concha from Loaf Lounge.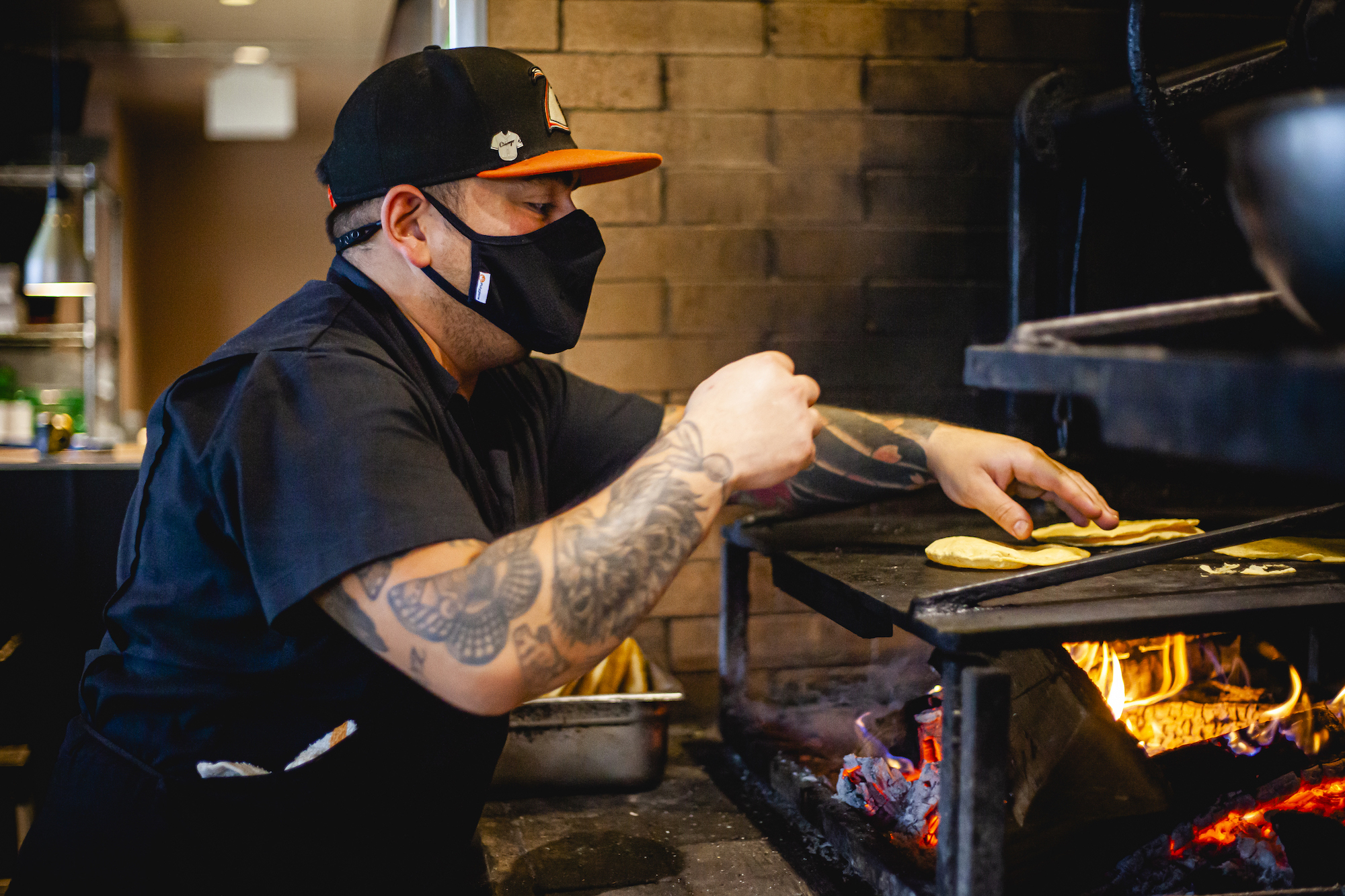 But both Zaragoza and Finkelman agree that the menu's sleeper hit is the frijoles charros, deeply savory baked pinto beans that are studded with bacon and chorizo. The side dish stews over the open flame all day—just like Zaragoza's mother taught him.
"There's no more honest way to cook than over a fire," Finkelman says. "It's the oldest form of cooking that there is. Jonathan's food—there's such a comfort to it."
Located at 5311 S Lake Park Ave W, El Oso is now open for dine-in service Wednesday and Saturday from 4:30 to 11pm and Sunday from 2:30 to 9pm. Guests will be able to order takeout and delivery or find a seat on the patio or inside the dining room—both of which have been reconfigured for ample social distancing.
Most popular on Time Out
- A glittering tunnel of lights will illuminate the Chicago Botanic Garden this winter
- Here's where to find apple picking near Chicago
- Lou Malnati's is not at all amused by a deep dish jab in 'Emily In Paris'
- The 13 best breakfast restaurants in Chicago
- A three-step guide to voting by mail in Chicago