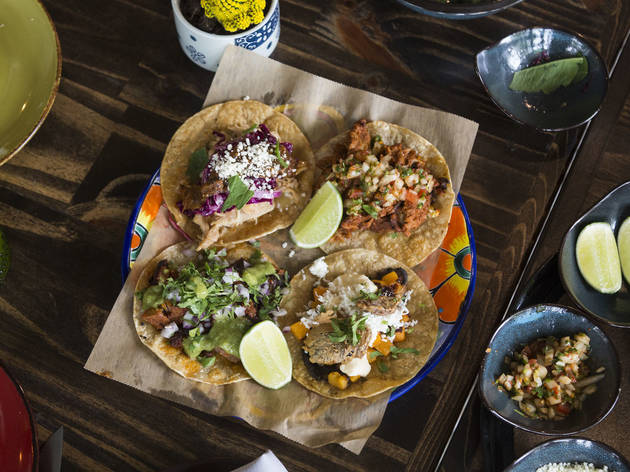 Here's where you can get a free meal in Chicago today
With CPS lunch pickup cancelled, here's where to find food if you're in need.
Posted: Monday June 1 2020, 2:40pm
In the wake of citywide protests calling for justice in the killing of George Floyd by Minneapolis police, Chicago Public Schools halted its lunch pickup program today. As these meals continue to be an essential resource for families throughout Chicago, the community is stepping in to offer free food to go today.
Susan Hurley, the executive director of Chicago Jobs with Justice, has organized this spreadsheet that points CPS students and their families to free meals throughout the city. The list includes local businesses, restaurants, food pantries and places of worship. Paulie Gee's in Logan Square, Urban Grill in Uptown and B&B's Ice Cream and Candy in Auburn Gresham are among the participating restaurants on the roster. There are plenty of other grassroots efforts taking hold, too, including the folks at Mi Tocaya Antojería handing out 350 meals at Kelvyn Park High School.
When using Hurley's spreadsheet to find food today, keep in mind that only the items highlighted in yellow have been confirmed. Keep scrolling to find hours, contact information and details about what's available when.
CPS officials say they hope to resume its lunch pickup program tomorrow, but families experiencing a food emergency can call 773-553-KIDS for assistance.
Most popular on Time Out
- These local resources connect Chicagoans to black-owned businesses
- Access to downtown Chicago is being limited, following a day of protests
- Chicago will move into Phase 3 of its reopening plan on June 3
- Goose Island collaborated with a 'RuPaul's Drag Race' star on a beer for Pride month
- One of Chicago's top chefs launches a delivery-only chicken shop this weekend
Share the story