Western Avenue is one of Chicago's longest streets, a 24-mile conduit that takes you all the way from Beverly on the far South Side to Rogers Park on the far North Side, passing through neighborhoods like Marquette Park, Little Village, Logan Square and Lincoln Square along the way. Head north on Western and just before you hit Chicago's northern city limits at Howard Street, you'll spot a large sign sporting an arrow covered in flashing bulb that's pointed at the nondescript building its attached to. There's a marquee on the sign—likely bearing a congratulatory message for someone who has recent celebrated a birthday, gotten married or graduated—accompanied by a twinkling neon martini glass and a glowing set of letters that announce the building's tenant for the past 70 years: Candlelite.
Established in 1950, the history of Candlelite is shrouded in a lot of mystery and hearsay, thanks to a succession of owners throughout the decades (the business has changed hands at least six times). According to current owner Pat Fowler, Candlelite was founded by an Italian immigrant who moved to Chicago and wanted to start serving pizza in Rogers Park—a neighborhood where there weren't many restaurants at the time.
"It was more of a date night spot originally," Fowler says, explaining Candlelite's romantic name. "At the time, there weren't many places to go out and eat, so it was a big deal to go out to dinner in the '50s."
At some point between its opening and the dawn of the 21st century, Candlelite transitioned from a dimly lit spot where couples shared a pie to a dingy bar that served tavern-style pizza. With a cracker-thin crust that's cut into squares for easier snacking, this type of pizza was ostensibly designed to keep patrons sitting at a bar for longer periods of time, where they'd inevitably order more drinks (and maybe another pizza). And while Candlelite has evolved from a neighborhood dive bar to a family restaurant, it's still eschewing the often-controversial deep dish pizza in favor of serving tavern-style pizza.
It's the same type of pizza that Fowler fondly recalls eating with his family at Candlelite, while growing up in Rogers Park and nearby Evanston in the '80s and '90s. Fowler remembers the Candlelite of his childhood as "a family place where the kids could get pizza and the parents could get beer at this dark, dingy bar that just happened to have good pizza." Under his ownership, he's adapted to the changing Rogers Park neighborhood, positioning the restaurant as a family-friendly pizzeria that just happens to have good beer.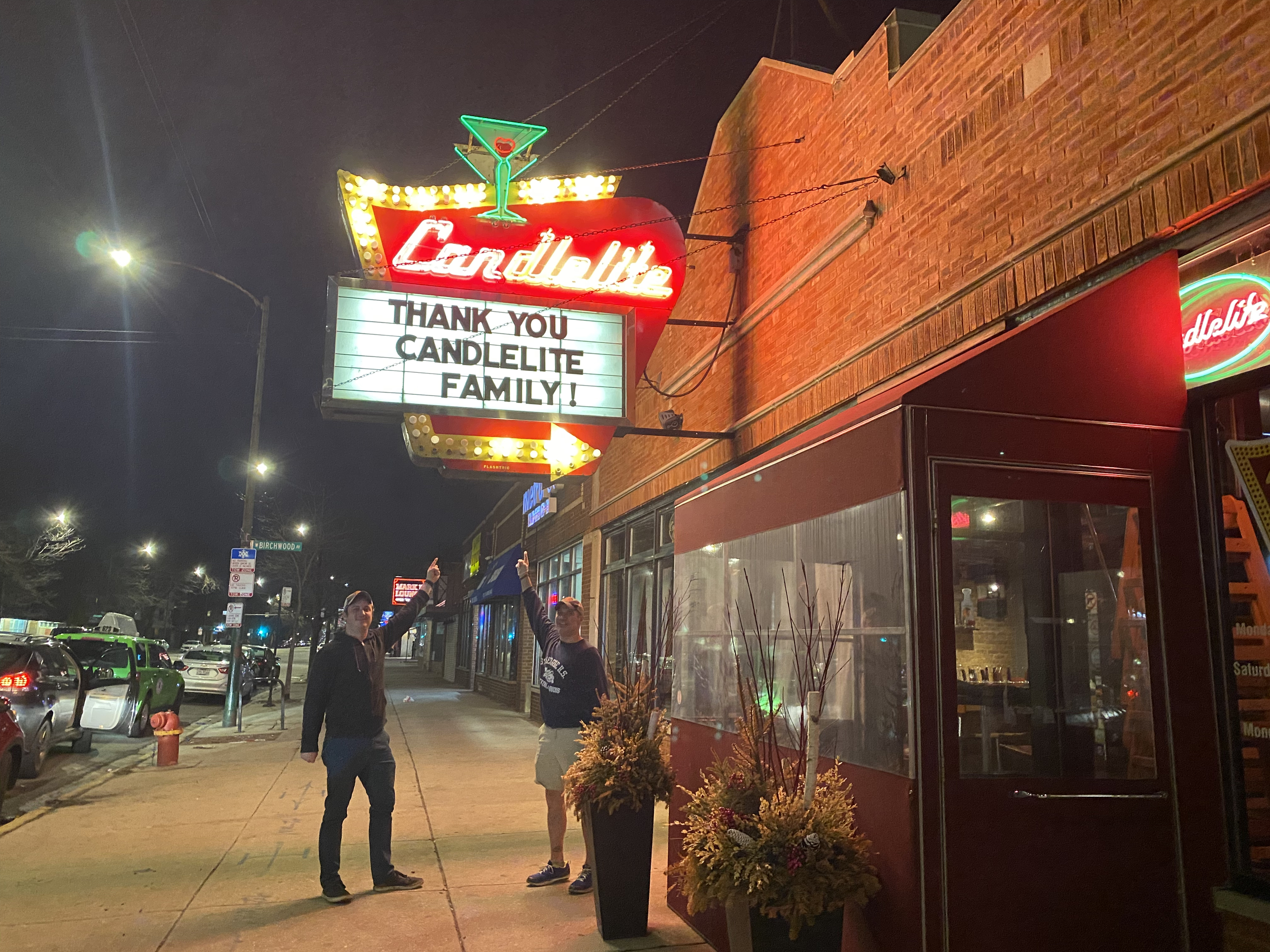 Fowler was working in the financial industry up until the collapse of 2007 and 2008, subsequently taking a job at Candlelite "to figure out whatever I was going to do next." But Fowler fell in love with the hospitality business, working as delivery guy, server, bartender and general manager of the Rogers Park spot before eventually purchasing the business in 2012 with his partner Pete Vernon. The pair have expanded the restaurant's dining room and added some items to the menu, but they haven't felt the need to make any major changes to Candlelite.
"I'm a believer in your customers dictating who you are," Fowler says. "You can try to be one thing all day long, but they dictated that we're a family restaurant."
Candlelite's focus on families and the surrounding Rogers Park community extends to its iconic sign, bearing a marquee on which Fowler and Vernon frequently place messages that celebrate all sorts of achievements. From anniversaries to the MVP at baseball games in nearby Warren Park, the messages (all posted at no charge) commemorate individuals in the neighborhood that have sprung up around the restaurant, as well as the folks who have been coming back to Candlelite for decades.
"For a lot of people, Candlelite is in their heart. Sure, they enjoy the food, but there's some emotion attached to the place," Fowler says. "We do a lot of post-funeral events because Candlelite is where [the deceased] loved to go."
Customers' love of Candlelite has allowed Fowler to expand his business in unexpected ways, including launching a line of frozen pizzas—a project that kept all 20 of the restaurant's workers employed throughout the pandemic. Made with the same ingredients as the pies you'll find on the menu at Candlelite, the frozen pizzas can be ordered online and shipped across the country. More recently, Candlelite has taken up residence in Time Out Market Chicago, serving its tavern-style pizzas—including its signature white pizza, piled with four types of cheese, caramelized onions and roasted garlic—alongside salads and garlic knots.
"Tavern-style pizza is what people that live in Chicago go for," Fowler says. "And now people coming from out of town and visiting [Time Out Market Chicago] will get a real taste of what Chicago's all about."
Candlelite is open seven days a week at its longtime home at 7452 N Western Ave. You'll also find Candlelite's signature tavern-style pizzas at Time Out Market Chicago.