Heads up! We're working hard to be accurate – but these are unusual times, so please always check before heading out.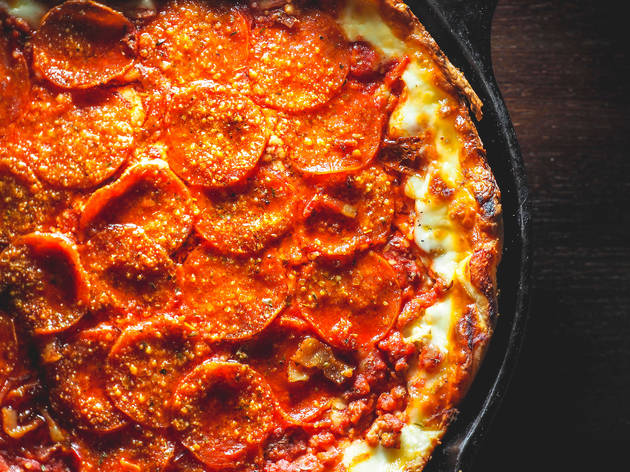 The best deep dish pizza in Chicago
Love it or hate it, you can't separate Chicago from its deep dish pies. These are our favorite versions of the iconic dish.
Deep dish pizza in Chicago is shrouded in debate: Is it a tourist trap or a local delicacy? Who serves the best version? Who the heck invented it? Let's start with the facts. Built more like a casserole than a typical pizza, Chicago's deep dish is anchored by a sturdy, buttery crust that's moulded into a high-sided pan. The dough is then layered with gooey mozzarella and whatever toppings you choose (we like sausage, green peppers and mushrooms) before the whole thing is blanketed in chunky, bright tomato sauce and baked to bubbly perfection. Though most locals will turn their noses up at the city's most notorious 'za, we all secretly crave it every once in a while. It's one of those local staples you just have to experience for yourself, alongside Malört and the best Italian beef in Chicago. But of course, not all pies are created equal—the best deep dish pizza in Chicago is worth venturing outside of downtown for. Whether you're hankering for a gut-busting slice or you're showing your out-of-town visitors the best things to do in Chicago, consult our guide to the best deep dish pizza in Chicago. If you've still got room after that (doubtful), wash it down with a cold one from one of our favorite Chicago breweries.
RECOMMENDED: Find more of the best pizza in Chicago
Best deep dish pizza in Chicago
The unofficial reigning champ among locals, Pequod's has two locations (Morton Grove and Lincoln Park), making it easy to get your fix of its popular pan pizza. With a substantial crust and generous selection of toppings, you really can't go wrong with any combination of ingredients. The pizza here is known for its caramelized "halo" crust, created by sprinkling cheese edge to edge and baking it until it's crisp and brown. But our favorite part of this pie is the sauce—refreshingly bright and undoctored, it tastes like fresh tomatoes.
This Lakeview institution offers a stand-out pie, and whether you order an entire 14-inch pizza to go or stop in for a stacked slice, you're bound to get the authentic Chicago experience. Though there's nothing wrong with specialty pies like the Hawaiian or Southwestern, Art's Special is arguably the best option on the menu, stuffed with sausage, onions, mushrooms and green pepper. The golden brown crust—a product of the restaurant's well-seasoned pans—is a signature touch that diners will find on every slice.
After temporarily closing in 2015, this iconic pizza parlor reopened in 2017, much to the delight of its longtime fans. Burt's still takes phone orders ahead of time (highly recommended), but the building's interior has undergone a gut rehab, adding a bar with several draft taps. Fill your pie with a hodge-podge of ingredients including sausage, onions, mushrooms, banana peppers and fresh spinach. From the city, a relatively quick Metra ride will get you there in a jiffy, making Burt's a must on any pizza lover's deep dish checklist.
Boasting more than 50 locations across the city and suburbs, it's not hard to see why Lou Malnati's stands out among its competitors. The trademark buttery crust (literally trademarked, they call it Buttercrust™) is reminiscent of crispy Italian breadsticks and holds in the cheese and toppings. We recommend adding sausage, a thin patty of seasoned meat that covers the entire pizza, ensuring that every bite contains the perfect balance of crust, cheese and toppings. Pro tip: The namesake Malnati salad—with tomatoes, black olives, 'shrooms, salami and gorgonzola—is positively unmissable and pairs perfectly with a slice.
Boasting a crazy number of outposts throughout the city and 'burbs, Giordano's traces its roots back to Torino, Italy, where Mama Giordano's famous "Italian Easter Pie" was born. These days, it's one of the easiest spots to grab deep dish in the city. And it works—it's been around since 1974 serving deep dish pies you really don't need more than one slice or two of.
What started as an artisan bread company back in 1996 has grown into one of the city's finest pizza spots, which makes total sense when you taste the deep dish pie. The focaccia-style dough is double-proofed and lined with fresh mozzarella, creating a fluffy interior that's backed by a caramelized cheese crust with extra crunch. The La Barra Supreme is our go-to order—with 'shrooms, onion, green pepper, pepperoni and olives—but the ricotta-stuffed meatball pie is also delectable.
Photograph: Jason Bennett
7. Milly's Pizza In The Pan
Every pizza has a defining feature—whether it's the zingy red sauce, the buttery crust or the imaginative toppings. At Milly's, it's not hard to tell what sets owner Robert Maleski's pies apart. A halo of caramelized mozzarella wraps around each creation, lending a deeply satisfying crunch to each slice. Crafted in seriously small quantities, these pan pies are almost always sold out, but if you can get your hands on one, go for the Que Suerte, with pineapple, cherry tomatoes, jalapeño and brown sugar bacon.
Pizza sauce must run in Rudy Malnati Jr.'s blood. His father, Rudy Malnati Sr., opened Pizzeria Uno in 1943, putting the deep dish style on the map. In 1991, Rudy Jr. opened Pizano's, which now boasts six locations across the Chicagoland area. Diners are treated to a roster of traditional ingredients and a few funky options, like the Uncle John's Hawaiian with Canadian bacon and tender, caramelized hunks of pineapple.
Founder Dan Bacin owned a radio station and a magazine before putting both businesses up for sale to go all in on a pizza shop. The resulting endeavor showcases fresh ingredients and a from-scratch sauce that's downright bellissimo. We're particularly fond of the spinach supreme pie, which is filled to the brim with leafy greens, cheese, herbs and optional mushrooms (get 'em). This spot's claim to fame is "America's 1st Heart Healthy Pizza," though we're not sure anyone could survive a deep dish diet.
Tucked in a cozy basement space in Lincoln Park, this pizzeria has only a handful of tables and a tourist draw, so you may want to avoid the wait at peak hours. Instead of the traditional deep dish or pan, these pizzas are actually pot pies, built bottom-up in a ramekin and baked with the crust on top. Served tableside, the pie is flipped upside-down and the fillings slide into the resulting bread bowl crust. Overflowing with a sausage-laced bolognese sauce and lava-like cheese filling, this is pizza to the extreme. You can't provide a better spectacle for out-of-town guests requesting a Chicago pizza.
This Chicago institution pizzeria/brewery serves up cornmeal crust, making it a tad less greasy, but the tangy tomato sauce makes up for what you'd be missing in the crust. We're fans of the margherita, but the spicy "Chi-talian Stallion," with Italian beef, roasted sweet peppers and giardiniera is a solid pick, too. Throw it back with one of the spot's house-brewed beers.
The folks behind Roots Handmade Pizza are trying their hand at deep dish by transforming their Wells Street location into a pizzeria fit for a Supreme Court justice. Named for the late Ruth Bader Ginsburg, Ruth's donates 10 percent of all proceeds to the Roger Baldwin Foundation of the ACLU of Illinois in an effort to support the Women's and Reproductive Rights Project. The pies boast a butter-rubbed crust, pools of mozzarella and tons of toppings. The namesake RBG Supreme is loaded up with taco-seasoned ground beef, jalapeños, black olives, tortilla strips, cheddar cheese curds and chihuahua cheese.
Uno's pizzeria is one of the quintessential choices for deep dish and a contender for the originator of the style (no one can pin down the exact creator of the ubiquitous pie). The original location has been at the corner of Ohio Street and Wabash Avenue since it was founded in 1943. The crust at Uno's is curiously different, with a dense and crumbly texture that lacks the crunch found at other pizzerias. Otherwise, these pies are textbook Chicago deep dish, from the thick piles of sliced mozzarella to the crushed tomato sauce on top.
This by-the-slice spot melded with a deli makes for a great speedy stop when you just want a single slice. It's thinner than many of the pies on this list, but the two rotating daily specials are always a good pick and they're filling nonetheless. Seating is limited, but if you're just looking for a quick slice, this is an excellent place to go.
Busy families flock to this North Side pizza joint for its no-frills, BYOB-friendly, TV-equipped atmosphere. Pies take about 30 minutes to prepare and bake, but an order of Badger-style fried cheeseballs should hold you over. What's their secret? The flaky crust is rolled with a bit of the cheese inside for an extra bite of mozzarella after you've gotten through the bulk of the pie.
Still hungry?
When out-of-towners start talking about Chicago pizza, they tend to get hung up on deep dish. The supremely gooey, decadently thick style certainly has its moments, but real Chicagoans know that the city is rife with options from near and far, like tavern, New Haven, Detroit and Neapolitan. And though we may not lay claim to all of these styles, we know some Chicago chefs who do them justice.
Best pizza in America
Who bakes the best pizza in America? For top wafer-thin pies and deep-dish slices, we say it's these pizza restaurants.