The best deep dish pizza in Chicago
Love it or hate it, you can't separate Chicago from its deep dish pies. These are our favorite versions.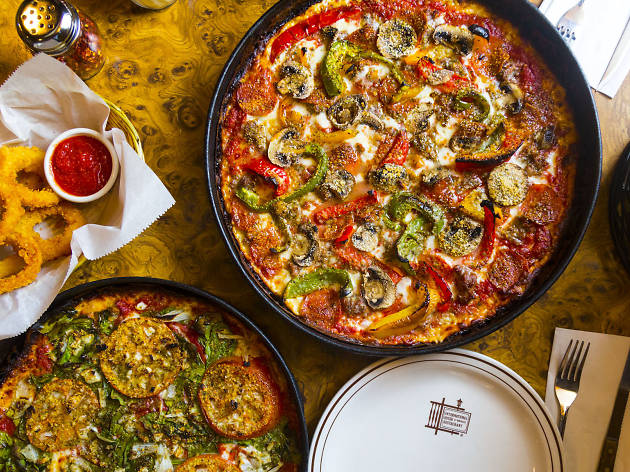 Chicago's signature approach to pizza is unapologetically excessive: We like our crust buttery, our sauce chunky and our thick pies oozing with ribbons of fresh mozzarella. And throw some sausage in there while you're at it, will ya? There's no denying that the best deep dish pizza in Chicago is a truly unique dining experience. Though most locals will turn their noses up at the city's most notorious 'za, we all secretly crave it every once in a while. It's one of those local staples you just have to experience for yourself, alongside Malört and the best Italian beef in Chicago. Not all pies are created equal—the best deep dish pizza in Chicago is worth venturing outside of downtown for. Whether you're hankering for a gut-busting slice or you're showing your out-of-town visitors the best things to do in Chicago, consult our guide to the best deep dish pizza in Chicago. If you've still got room after that, wash it down with a cold one from one of our favorite Chicago breweries.
RECOMMENDED: Find more of the best pizza in Chicago
Best deep dish pizza in Chicago
Best pizza in America
Who bakes the best pizza in America? For top wafer-thin pies and deep-dish slices, we say it's these pizza restaurants.