When it debuted back in 2016, the @ChiPartyAunt Twitter account offered something that Chicagoans rarely encounter outside of local improv theaters: comedy that regularly name drops Jewel Osco, Peter Francis Geraci and folks who work at Motorola Solutions in Schaumburg. Former Time Out Chicago writer Grace Perry eloquently broke down the appeal of Chicago Party Aunt character's viral musings, writing "Chicago Party Aunt doesn't really give a fuck if you don't get her—and that's the most Chicago thing of all."
But some of the people who did get the Twitter account's jokes happened to be pretty famous—soon enough, The Late Show host Stephen Colbert and MSNBC host Chris Hayes (both former Chicagoans) were responding to @ChiPartyAunt tweets. And while the account may only have about 54,000 followers, those who do follow @ChiPartyAunt seem to have a deep appreciation of the hyper-specific references to local celebrities she's allegedly slept with and the defunct Chicago businesses where she's allegedly consumed drugs. If you've lived in Cook County over the past few decades, the ribald observations of a fictional aunt with an '80s hairstyle can trigger the twin dopamine hits of familiarity and nostalgia (and maybe a chuckle or two).
When creator Chris Witaske—a former Second City performer who, until recently, has been the anonymous writer behind @ChiPartyAunt—realized that his tweets had struck a chord, he began thinking of ways to expand upon the character, eventually pitching an animated series to Netflix with the help of Chicagoans Katie Rich and Jon Barinholtz. "We wanted to make this a love letter to Chicago," Witaske said, describing how he approached writing a show steeped in Windy City lore. "But we also wanted it to be universal so that everyone could enjoy it."
According to its creators, the universal aspect of Netflix's Chicago Party Aunt is the titular character. With her retro hairdo and devil-may-care attitude intact, Diane isn't quite as vulgar or sexually aggressive as her Twitter counterpart (though she does drop plenty of F-bombs), but she does enjoy eating ribs, tailgating at Bears games and drinking Old Style. The show bestows Diane with a foil in the form of her nephew Daniel, a recent high school grad who comes to live with his aunt during a gap year and begins to break out of his shell as he explores Chicago.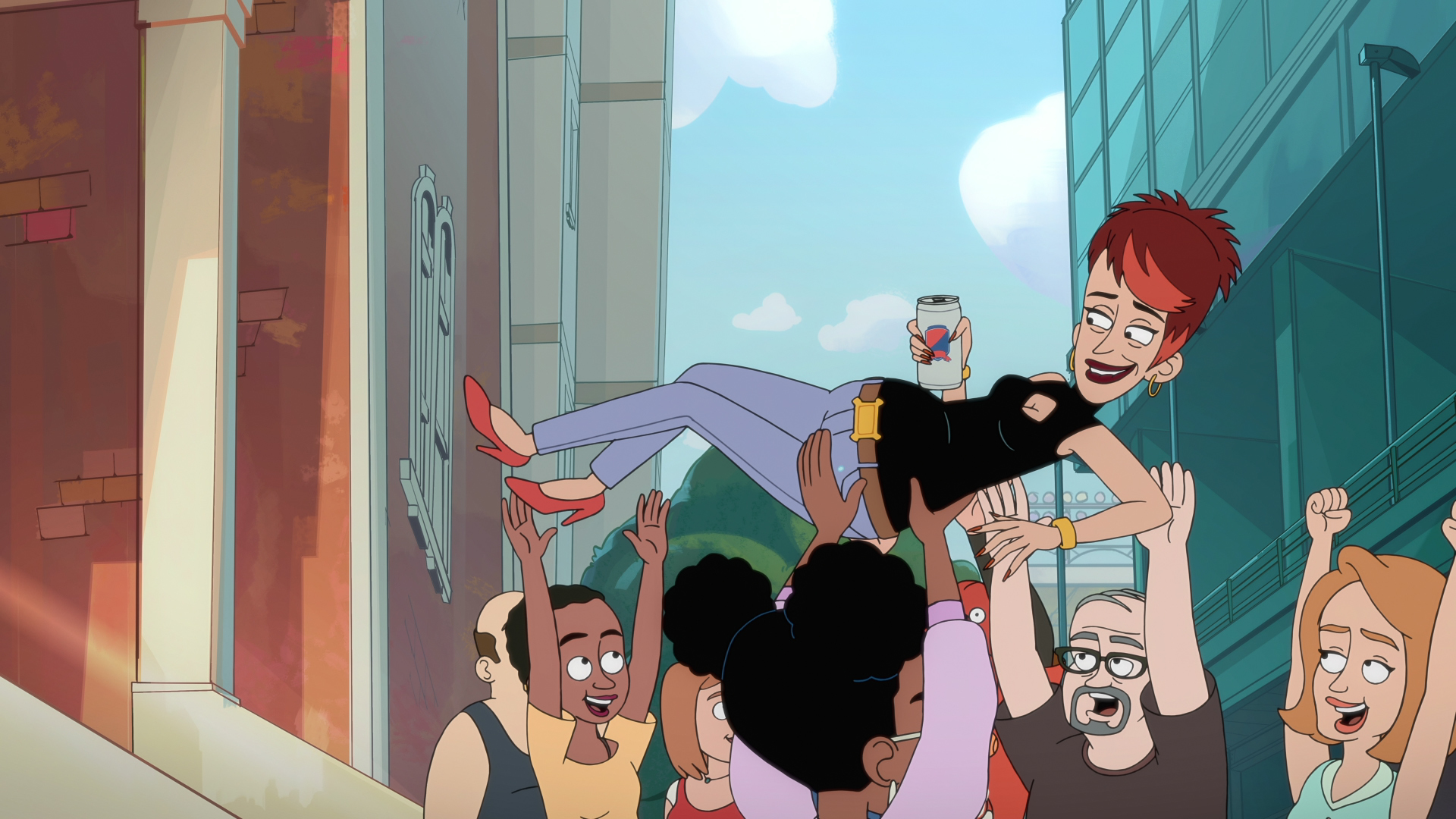 "To me, the best way to create a show is through character, because if you have a rich character you have an infinite amount of stories to tell," series co-creator Katie Rich said. "Everyone has a party aunt, [whether you're in] Boston, Kansas, Istanbul. And if you don't have one, it might be you."
Even if you don't identify as a "party aunt," you've probably been in some of Chicago-specific situations and locales that Diane encounters throughout the series. Within the first eight episodes of the show, Diane attends RibFest, gets stuck in Chicago Marathon traffic and visits her neighborhood watering hole Guthrie's Tavern—apparently, in the Chicago Party Aunt universe, the board game bar has already reopened its doors. Echoing the madcap stream of references that populate @ChiPartyAunt's tweets, Diane's adventures take her throughout the city, embracing the character's up-for-anything spirit.
"One of my personal life mantras is 'eat the brie,' meaning that life is too short—you gotta eat some brie and just not worry about it," said actor Lauren Ash, who voices Diane with a slightly exaggerated Chicago accent. "I think Diane lives by a much more exaggerated version of that mantra. Hers would probably be 'eat the brie off a male stripper's abs'."
The show's creators and writers embraced the possibilities of an animated series set in Chicago with a similar level of enthusiasm, pitching jokes that only someone who regularly traverses the Dan Ryan while listening to WGN on the radio would conceive. While references to local figures like Toni Kukoč, Mark Giangreco and Ron Karkovice didn't make the cut, you'll spot animated tributes to folks like weatherman Tom Skilling and the '85 Chicago Bears as well as familiar institutions like a Binny's liquor store and a Gibson's restaurant. "A good zone to be in was you could have a reference, but it had to be funny on its own and make sense on its own to warrant actual depth going into it," series co-creator Jon Barinholtz said.
"All the other brains behind the show are either from Chicago or spent a lot of time there, and the one thing that everyone had in common is that we love that city very, very much," executive producer Ike Barinholtz said. "We really looked at [the city] as a play land for us. If I'm doing a live action show it's going to be very hard to fly a cast and crew to Chicago to shoot at the Wieners Circle on a Saturday night."
The creators' enthusiasm for Chicago meant that those who worked on the show and had only visited the city in the past received a crash course in the finer points of the Midwest metropolis. "Somebody had to explain to me that Upper Wacker and Lower Wacker are the same street, they're just on top of each other," said Cleveland-born Broadway actor Rory O'Malley, who voices Diane's nephew Daniel.
Of course, the animated version of Chicago that the characters of Chicago Party Aunt inhabit isn't a one-to-one recreation of the real-world city. Nitpickers may point out that Diane's Wrigley Field adjacent apartment doesn't exist, there are inexplicable New York-style health department grades affixed to restaurants and the CTA train is missing the voice behind its distinctive announcements ("At the end of the day we had to give up a little tiny sliver of authenticity, otherwise we would have no money for anything else," Ike said). But the spirit of Chicago is very much on display, from its multicultural neighborhoods to its gorgeous architecture—it is the second most beautiful city in the world, after all.
Whether or not audiences that don't live in Chicago will embrace the city-specific narratives of Chicago Party Aunt is up for debate—the appeal of the @ChiPartyAunt Twitter account was always a feeling that you're in on the extremely niche references, which is something that's difficult to translate to a half-hour animated show. Still, the antics of Diane, Daniel and the ensemble of characters may be enough to hook Netflix subscribers outside of Cook County, even if they ultimately have to look up Al's Beef on Wikipedia. The story of a middle-aged aunt who still hasn't given up her hard-partying ways and her relationship with her nephew could have easily been set in New York or Los Angeles, but the comparatively unfamiliar culture of Chicago makes it more intriguing backdrop for the average viewer—and as Ike notes, "Just like food and alcohol, Chicagoans will enjoy it just a little bit more."
The first eight episodes of Chicago Party Aunt premiere on Netflix on Friday, September 17.