Take one look at the liner notes of Lala Lala's latest album, I Want the Door to Open, and you're bombarded with the names of Chicago musicians, from multi-instrumentalist Nnamdi Ogbonnaya and saxophonist Sen Morimoto to Macie Stewart and Sima Cunningham of Ohmme.
"Chicago is filled with legends, it's insane," Lillie West says, sitting on a bench in Humboldt Park during the waning days of summer. The creative force behind Lala Lala recently returned from a trip to New Mexico, where she's planning to move in the coming months. She seems to be feeling a little wistful about—but ultimately grateful for—her time in, what she calls, "the best city in America."
Like many young people with creative ambitions, West came to Chicago as a student, enrolled at the School of the Art Institute, where she studied printmaking and sculpture. West quickly fell in love with Chicago's DIY music scene, attending house shows and befriending Emily Kempf—the singer and guitarist now best-known for fronting local rock trio Dehd.
West fondly recalls a show at defunct Logan Square bar the Mutiny during her sophomore year of college where Kempf (then playing with a group called Super Magical) invited West to join her on tour. West jumped at the chance, dropped out of school and soon began writing her own songs on a Dan Electro guitar she purchased from a seller on Craigslist.
A few years (and two records) later, Lala Lala was coming off a string of dates supporting Death Cab For Cutie, performing at the 2019 edition of Pitchfork Music Music Festival with an all-star band of Chicago musicians that included Nnamdi Ogbonnaya and Sen Morimoto, as well as singer-songwriters Kaina Castillo and Vivian McConnell. For West, it was a taste of the possibilities lying ahead as she began to conceptualize her next record.
"I toured The Lamb for so long, and by the end of it I felt so far away. From the person who wrote it, from the way the music sounded," West says. "I wanted to do something totally different that I really, really loved and not be limited by my own ability."
Formed from a collection of old songs and tracks that West wrote while touring, I Want the Door to Open shakes off the minimalist instrumentation of previous Lala Lala records, embracing an expanded palette of sounds and production techniques, including soaring synth lines and modulated vocals. West had produced the previous two Lala Lala albums herself, but she turned to Yoni Wolf—the frontman of indie rock outfit Why?—to help flesh out her latest batch of songs.
I wanted to do something totally different that I really, really loved and not be limited by my own ability.
A self-described "super fan" of Why? since she was 14 years old, West first met Wolf while she was on tour with Frankie Cosmos in 2018. The two musicians hit it off, Wolf asked West to appear on his The Wandering Wolf podcast and the pair eventually collaborated on a song. Their friendship made the prospect of working together on an album appealing, but the process wasn't without its tribulations.
"It ended up being more intense making the record with him than I thought it would be. We fought. There were days when I was sobbing," West says. "Both of us are band leaders and we're used to being in charge—compromising was hard."
West and Wolf began recording I Want the Door to Open in February of 2020, with plans to move between Chicago and Wolf's studio in Cincinnati to complete the record. But when the pandemic hit in March and borders began closing, West jumped on a plane to England so that she could be with her family.
Four months of downtime in England gave West time to ponder the album's themes, which confront the everyday struggle of existence and difficulty of finding your true self in a world where it's increasingly easy to take on new identities. It's also where she wrote the pensive song "Lava" and the otherworldly synth ballad "Utopia Planet," which bookend I Want the Door to Open.
"I was thinking about the way that we exist online, the avatars that we create and the obsession with being witnessed," West says. "I want to be free of ego and myself—so how do I do that?"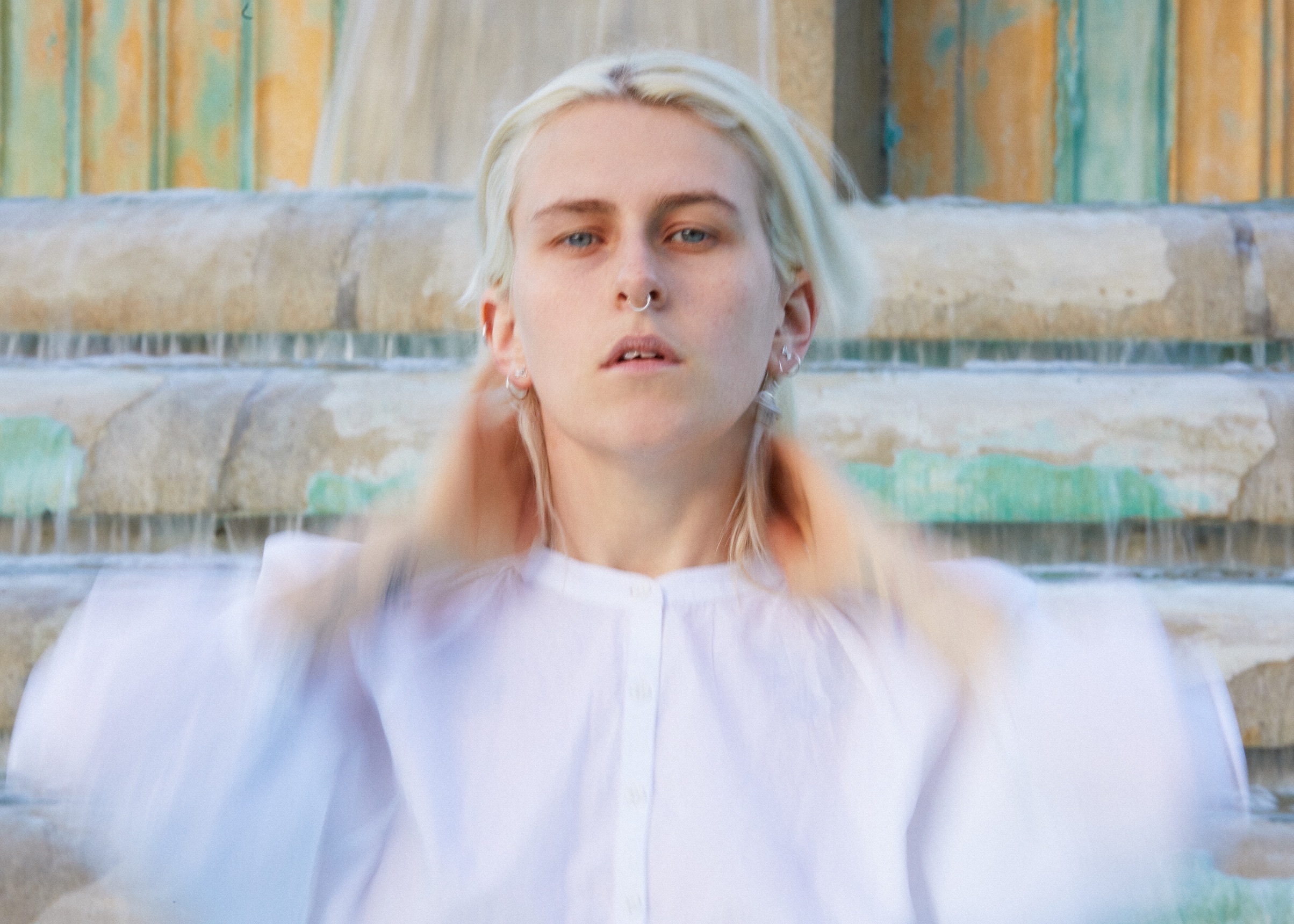 I Want the Door to Open doesn't exactly offer answers to the questions that West poses, but it does give plenty of clues. Packed with surreal imagery as well as allusions to the boulder-pushing mythological king Sisyphus and the nature of reality itself, West's lyrics function as vague signposts on a journey through the soul.
"The older stuff feels very confessional, I'm just telling people things," West says. "[For I Want the Door to Open] I was listening to the song and what I thought it needed. I was more conscious of conveying an emotion."
To imbue her songs with additional feeling, West turned to her musician friends in Chicago (and beyond), often simply handing over a track and giving them free rein to improvise. Macie Stewart and Sima Cunningham added their voices to the sparse a capella track "Photo Photo," inspired by medieval rounds and an Alt-J song. Sen Morimoto supplied cosmic saxophone melodies on a pair of songs. Nnamdi Ogbonnaya provided the thundering drums on the dense single "DIVER." And Gia Margaret lent a tender piano melody to "Plates," which also features vocals from West's former tourmate Ben Gibbard.
"I think the record being so collaborative also speaks to how generous people are with their talent," West says. "And for some reason it gets to be under my name—there are 30 musicians on it and it's a Lala Lala record."
Since completing the record earlier this year, West has split her time between preparing to tour in support of I Want the Door to Open and learning how to build Earthships—sustainable homes made from recycled materials that capture water and solar energy. In the coming months, West will move into an Earthship of her own in New Mexico, which will become her new home base (she admits that she'll likely make regular trips back to Chicago).
Out in the desert, West will presumably have more time to continue mulling over the questions that I Want to Open the Door poses, though she already seems to have cracked its titular metaphor.

"In the end, I think the door doesn't open, the door never opens," West says. "You keep looking for clues and get closer to the door opening, but it doesn't, but that's ok. As long as you're still trying to open the door."
Lala Lala celebrates the release of I Want The Door To Open at Thalia Hall on Friday, October 8.