The original Pac-Man arcade game was programmed in Japan, but it wasn't until Chicago-based Midway Games became the North American distributor for the title that guiding a hungry yellow circle through a maze of dots became an international phenomenon. Since its release in 1980, the game has spawned various sequels and tons of licensed merchandise, making it one of the highest grossing media franchises of all time. There's even a restaurant and arcade dedicated to the brand located in the Woodfield Mall in suburban Schaumburg.
"Pac-Man is one of the most known properties, it doesn't matter what generation you belong to," says Tim Lapetino, a geek-culture historian who is the co-author of the upcoming book Pac-Man: Birth of an Icon.
Lapetino teamed up with Chicago Gamespace founder Jonathan Kinkley to put together "Nom Nom: 40 Years of Pac-Man Design and History," an exhibition at the Bloomingdale Trail-adjacent space that was originally set to debut last May to coincide with the franchise's 40th anniversary, before the onset of the pandemic spurred a delay. Displayed alongside Chicago Gamespace's permanent collection of video game artifacts, the exhibit collects artifacts that chart the character's rise from a simple block of pixels to a pop-culture icon.
Pac-Man's story begins in Japan in 1979, where designer Toru Iwatani was attempting to create a non-violent game that would appeal to women and children. When Midway Games brought the title to the U.S. (modifying the original Japanese name "Puck Man" out of profane vandalism concerns), it quickly became an arcade blockbuster that was ported to early home video game consoles, sparking interest in licensing opportunities for the simple, recognizable character.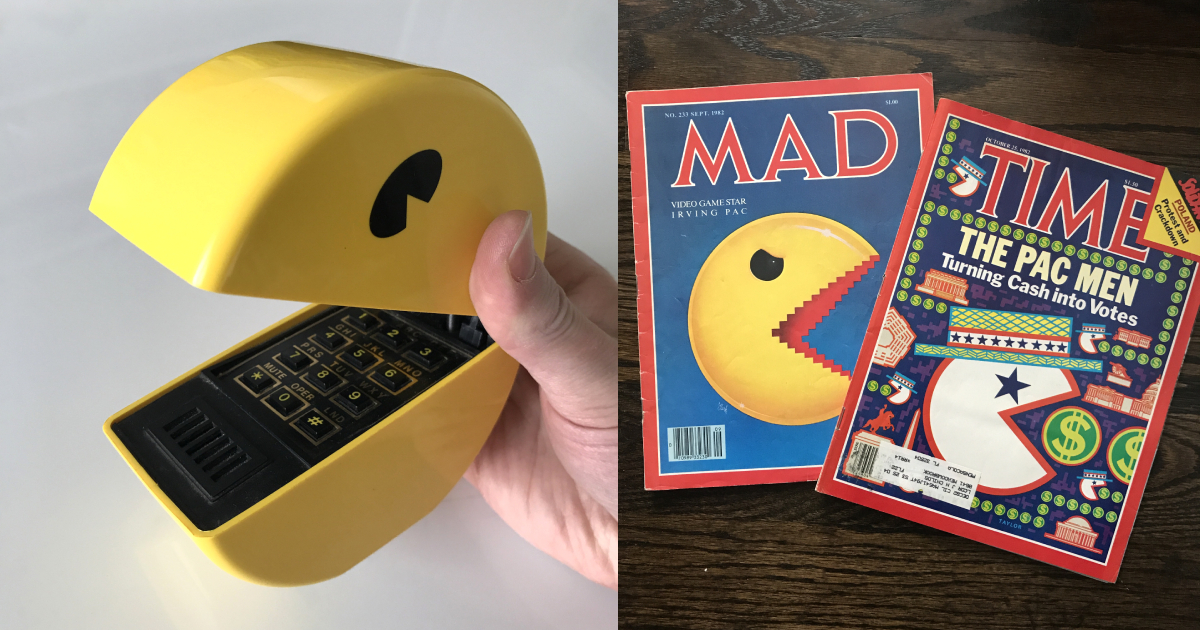 "Midway wanted to put [Pac-Man] on as many different products as possible, and their filter for what they were putting him on was pretty light," says Lapetino. "They were given a huge amount of freedom to license the character in ways that they saw fit in the U.S., and that's something that's not done today."
"Nom Nom: 40 Years of Pac-Man Design and History" displays an array of Pac-Man merch, including soap, lunch boxes, clothing and artwork (a rumored prototype of a Pac-Man toilet seat couldn't be tracked down) alongside playable Pac-Man and Ms. Pac-Man arcade cabinets and a rare Mr. & Mrs. Pac-Man pinball machine. But the exhibit isn't just a shrine made up of tchotchkes emblazoned with the pop culture juggernaut—it's also interested in the individuals who helped turn the game into a phenomena, from Japanese programmers to Midway Games employees in Chicago.
"We hope to illuminate the story of how these people were able to make Pac-Man what it has become today," says Kinkley. "There is surprisingly little scholarship and research done on before Pac-Man came to the U.S., so we're hoping to yield some original research and new discoveries."
You'll be able to learn about and play your way through the history of Pac-Man when "Nom Nom: 40 Years of Pac-Man Design and History" opens at Chicago Gamespace on February 7. The exhibition is only open to the public on Sundays from 1–5pm and you'll need to reserve a $5 ticket to secure a time slot for your visit. Face masks are required and free disposable gloves will be available on-site for anyone who wants to (safely) grab a joystick and chomp some ghost.
Most popular on Time Out
- Check out beautiful photos of Chicago covered in snow
- 13 romantic Airbnb homes you can rent near Chicago
- February 2021 events calendar for Chicago
- Amazing Airbnb cabins for the perfect Midwest getaway
- The 50 best gangster movies of all time