The holiday season is officially underway now that Christkindlmarket has commenced. The outdoor German market has once again set up shop in Daley Plaza in the Loop, bringing with it a seemingly endless supply of Glühwein, schnitzel and festive cheer. We took a lap around Christkindlmarket on opening day to scope out all of the best things to eat, drink and buy. Take a look at what caught our attention along the way and be sure to check out this top winter attraction before it packs up after its final day on December 24.
Psst: Consult this handy-dandy Christkindlmarket vendor map for exactly where to find each goody listed.
RECOMMENDED: Our complete guide to Christkindlmarket
1. Glühwein ($8 with mug, $7 refill) from Beer & Wine Vendors (booths #1, #55 and #28)
No trip to Christkindlmarket is complete without a mug of warm Glühwein, a traditional mulled wine that tastes like holiday spirit and baking spices. This year, guests will sip the boozy beverage from adorable heart-shaped vessels that are adorned with the Chicago skyline.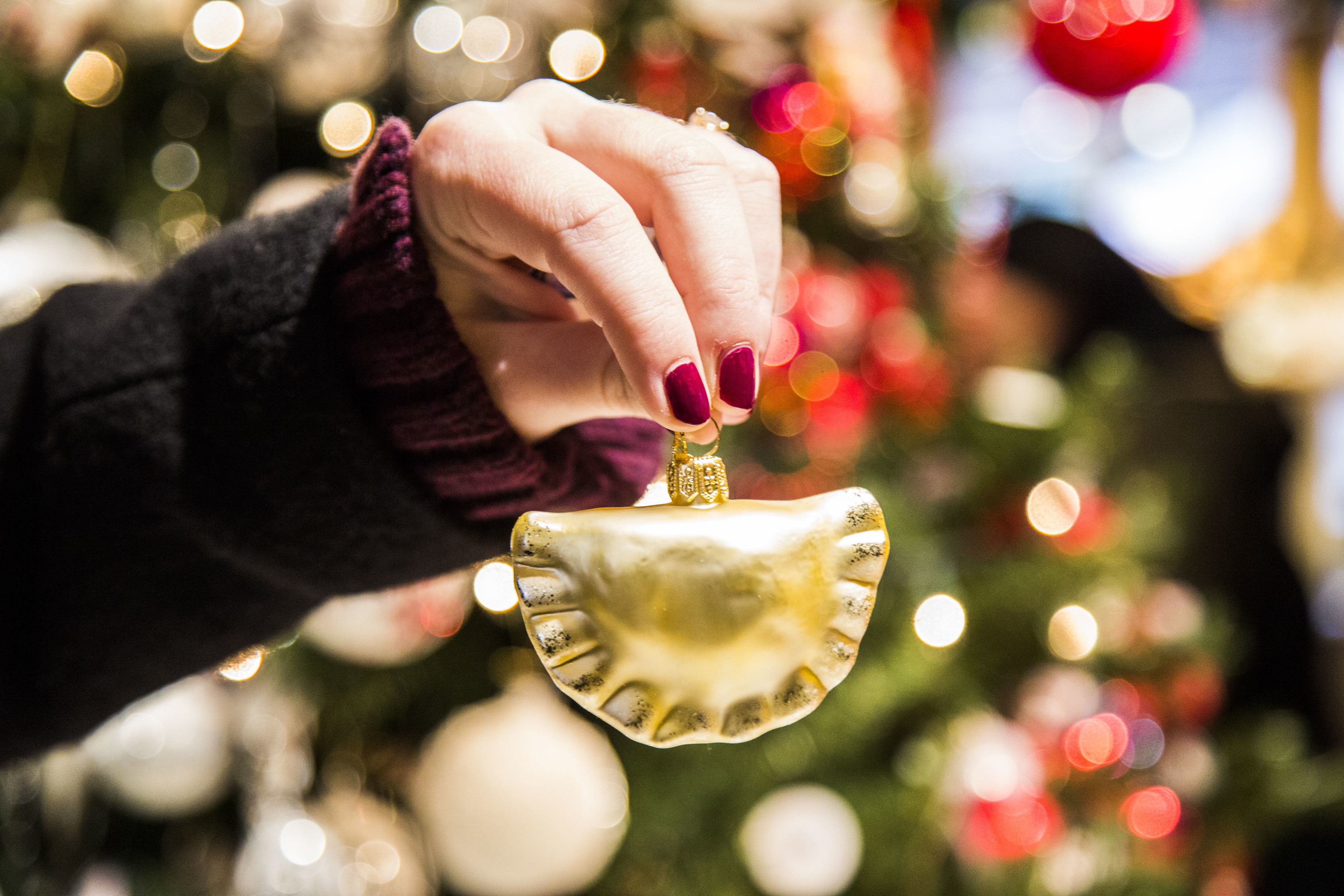 2. Pierogi ornament ($10.95) from from Wildlife Ornaments (booth #18)
There are plenty of ornaments to choose from at Christkindlmarket, but we were immediately drawn to this shimmery gold pierogi, which is perfect for dumpling fans and Chicago foodies alike.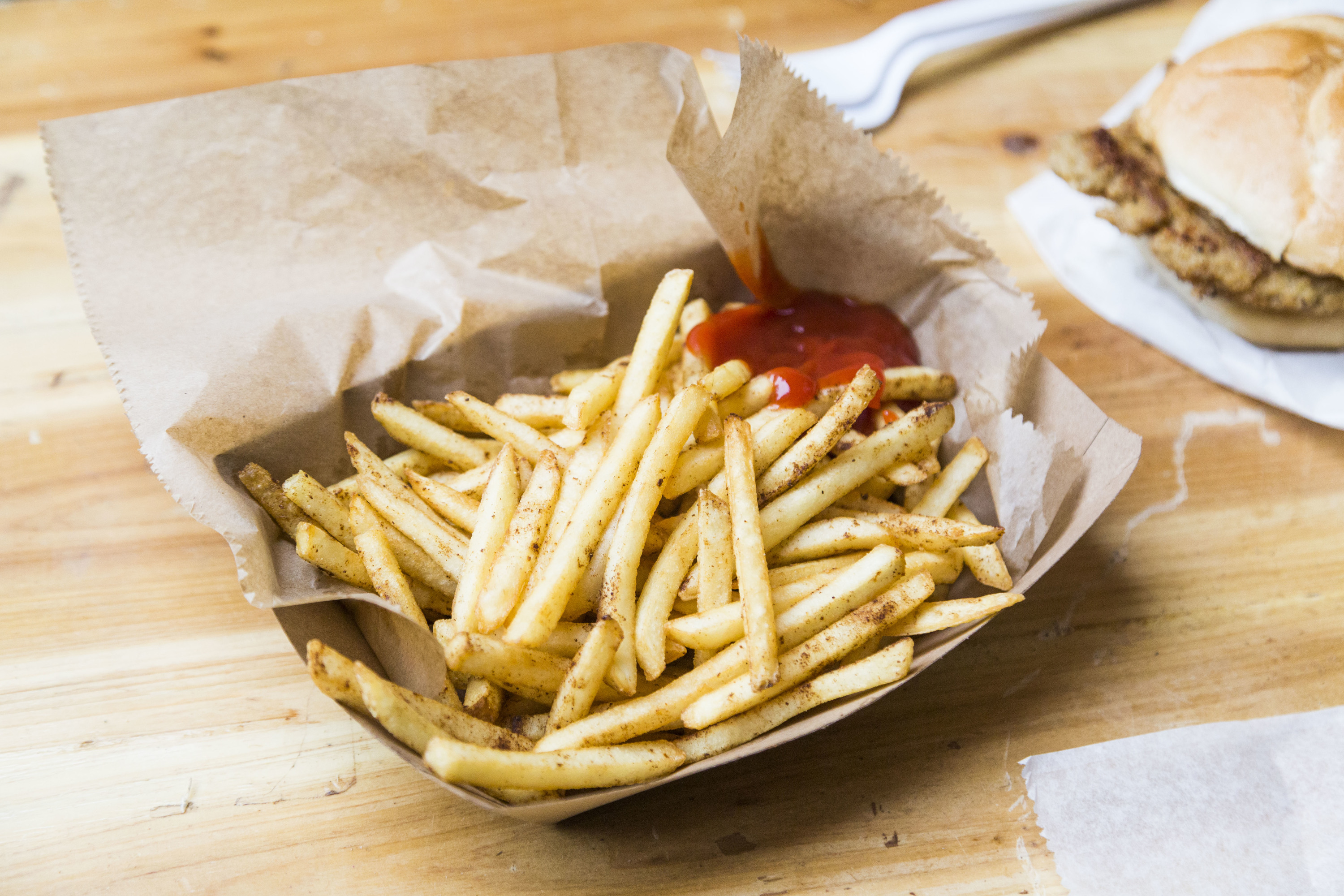 3. Masala curry fries ($5) from Chiya Chai (booth #14)
New to this year's vendor lineup, Logan Square restaurant Chiya Chai offers mini-doughnuts, sweet and savory pies, spicy potatoes and steamy chai tea. But we couldn't get enough of the masala curry fries, which are dusted with a complex curry powder that's downright addictive.
4. Stollen ($3) from Dinkel's Bakery (booth #10)
This is not your grandmother's stale and crusty stollen. Dinkel's Bakery in Lakeview makes a self-proclaimed "world-famous" version that's based on a recipe from the 1800s. Buttery dough is packed with rum- and brandy-soaked almonds, cashews and fruit before it's baked and glazed in melted butter.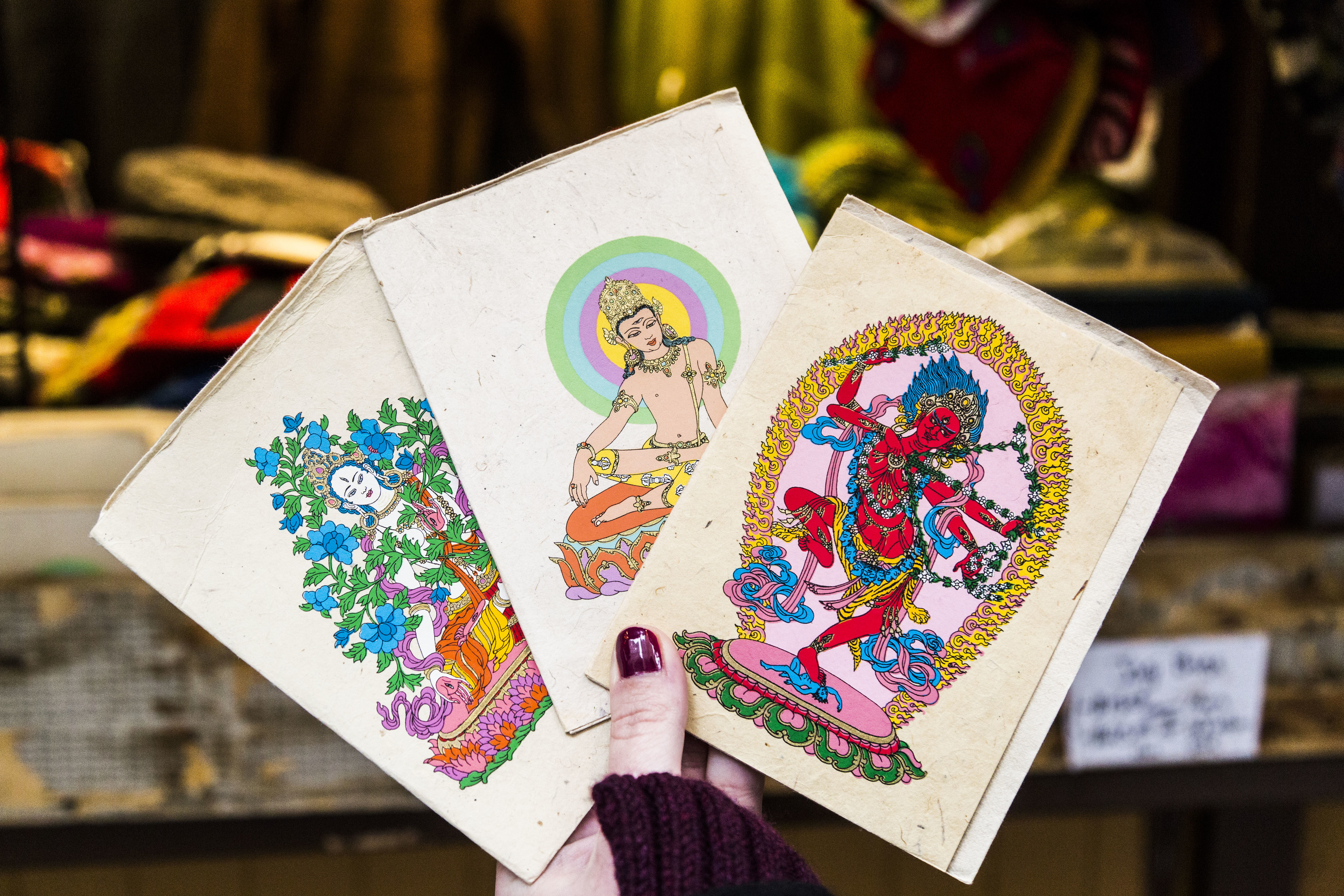 5. Goddess cards ($2 each) from Himalayan Chai (booth #44)
Ditch traditional holiday cards this year and pick up a stack of hand-printed stationery from Nepal. Each card highlights a different Buddhist goddess, like the one in the middle: Tara, who is known as the "Mother of Liberation."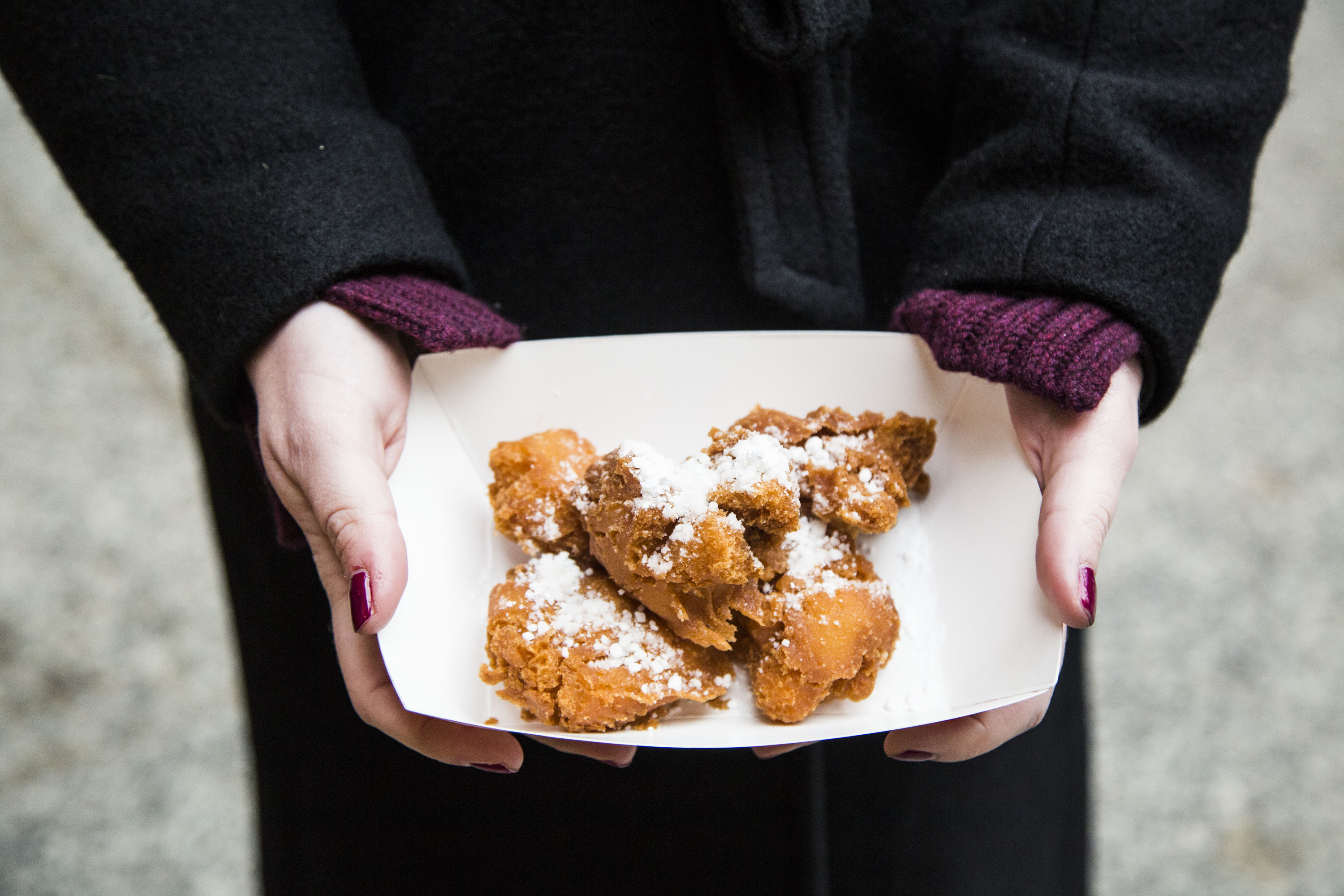 6. Snowballs ($6) from German Grill Company (booths #6, #12 and #13)
On a blustery winter day, nothing warms your soul quite like fried dough, which is exactly why we grabbed a serving of powdered-sugar–dusted Snowballs as soon as we arrived at Christkindlmarket.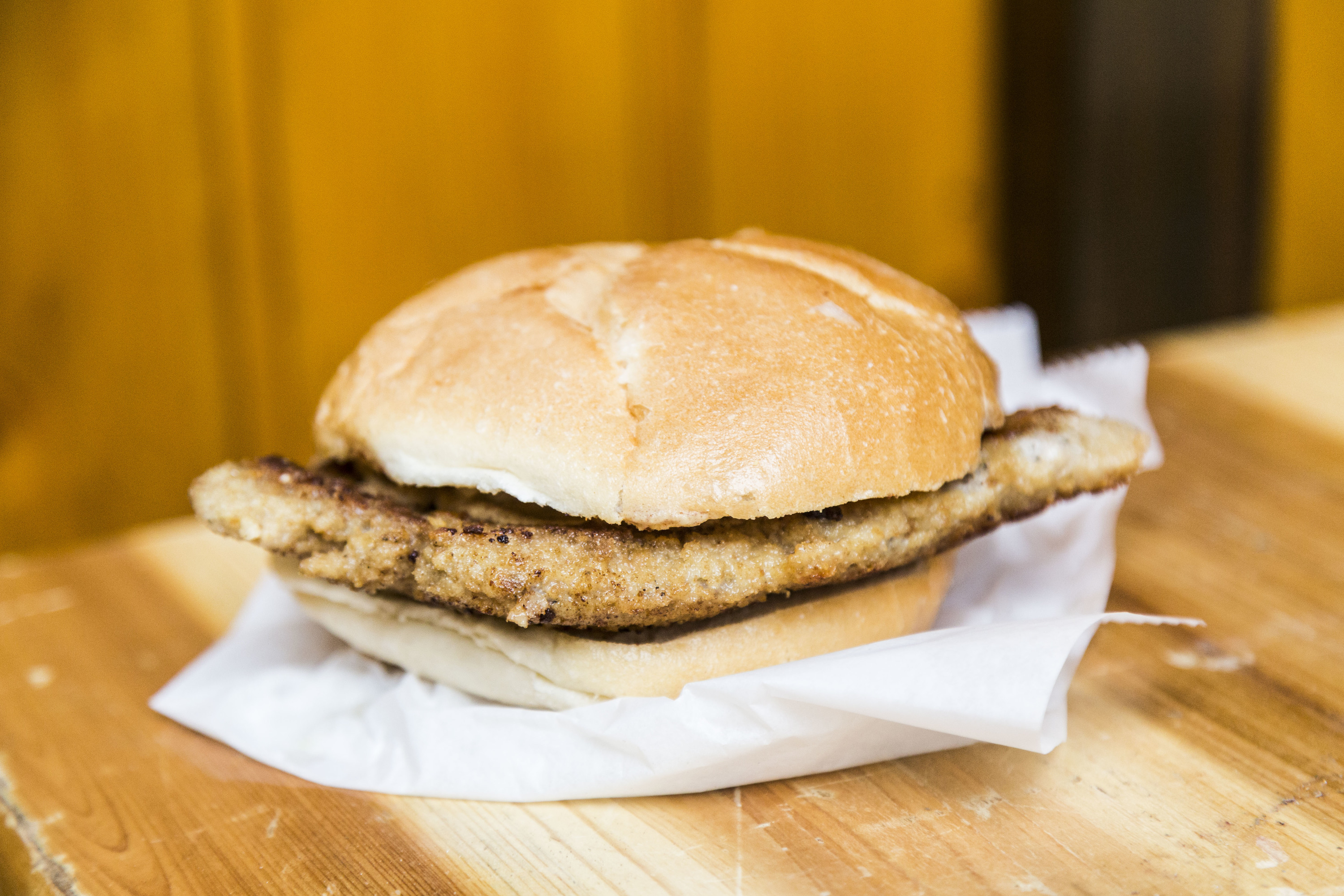 7. Wiener schnitzel sandwich ($9) from the Schnitzel and Potato Pancake House (booth #29)
A thin veal cutlet is breaded and fried, topped with onions and mustard and packed inside a crusty bun for a bite that will instantly transport you to a busy market in Western Europe.
8. Slipper socks ($18) from Otavalo Inka (booth #48)
How will you survive winter in Chicago? Two words: Slipper socks—specifically these ones, which are lined with fleece and available in several colors and designs. They're the perfect accessory for a good old-fashioned Netflix binge.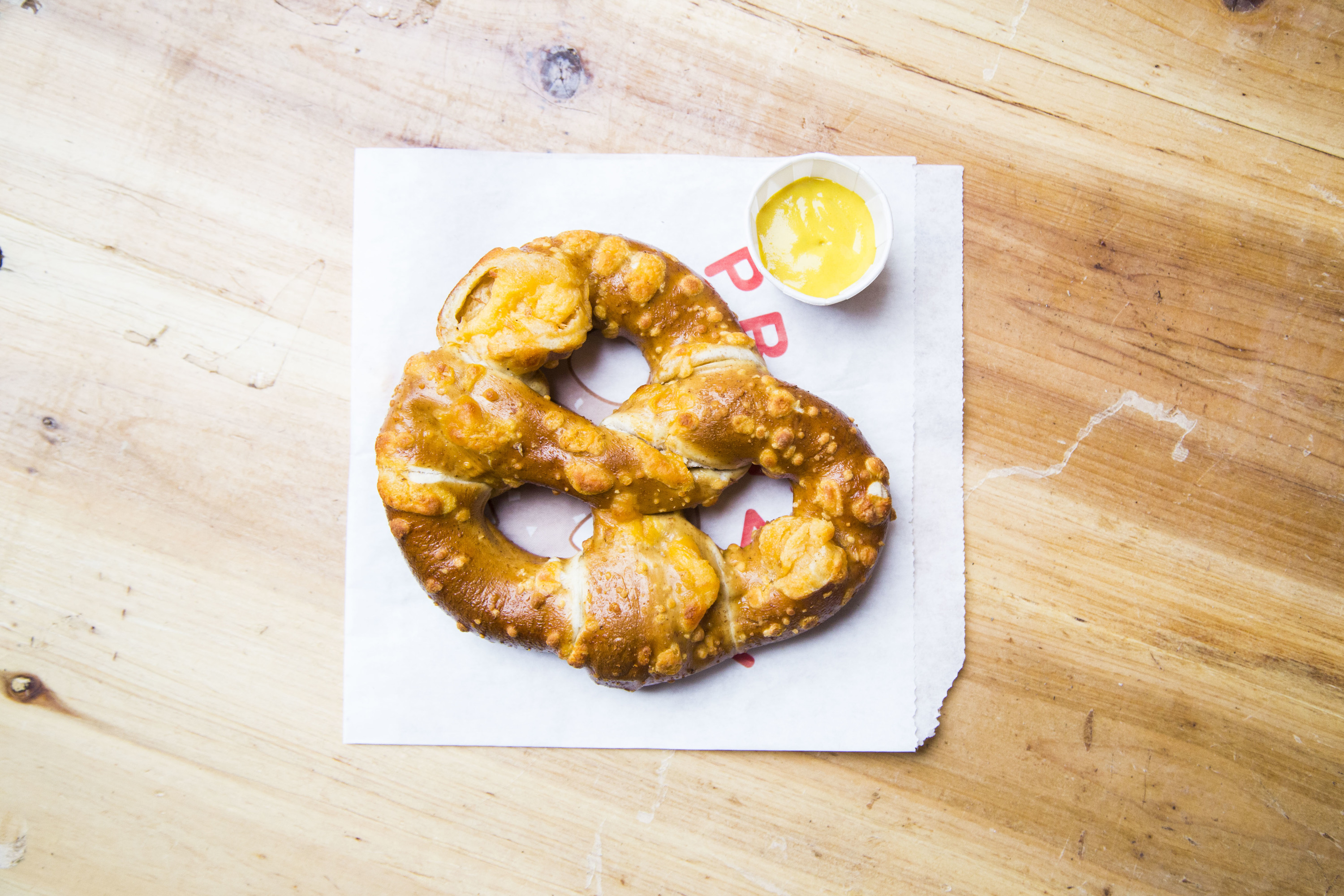 9. Grilled cheese pretzel ($5) from Stuffed Gourmet Pretzels (booth #2)
Served warm and packed with toasty cheese, this sizable soft pretzel pairs perfectly with a glass of German beer. Now, if they only served it with a side of tomato soup.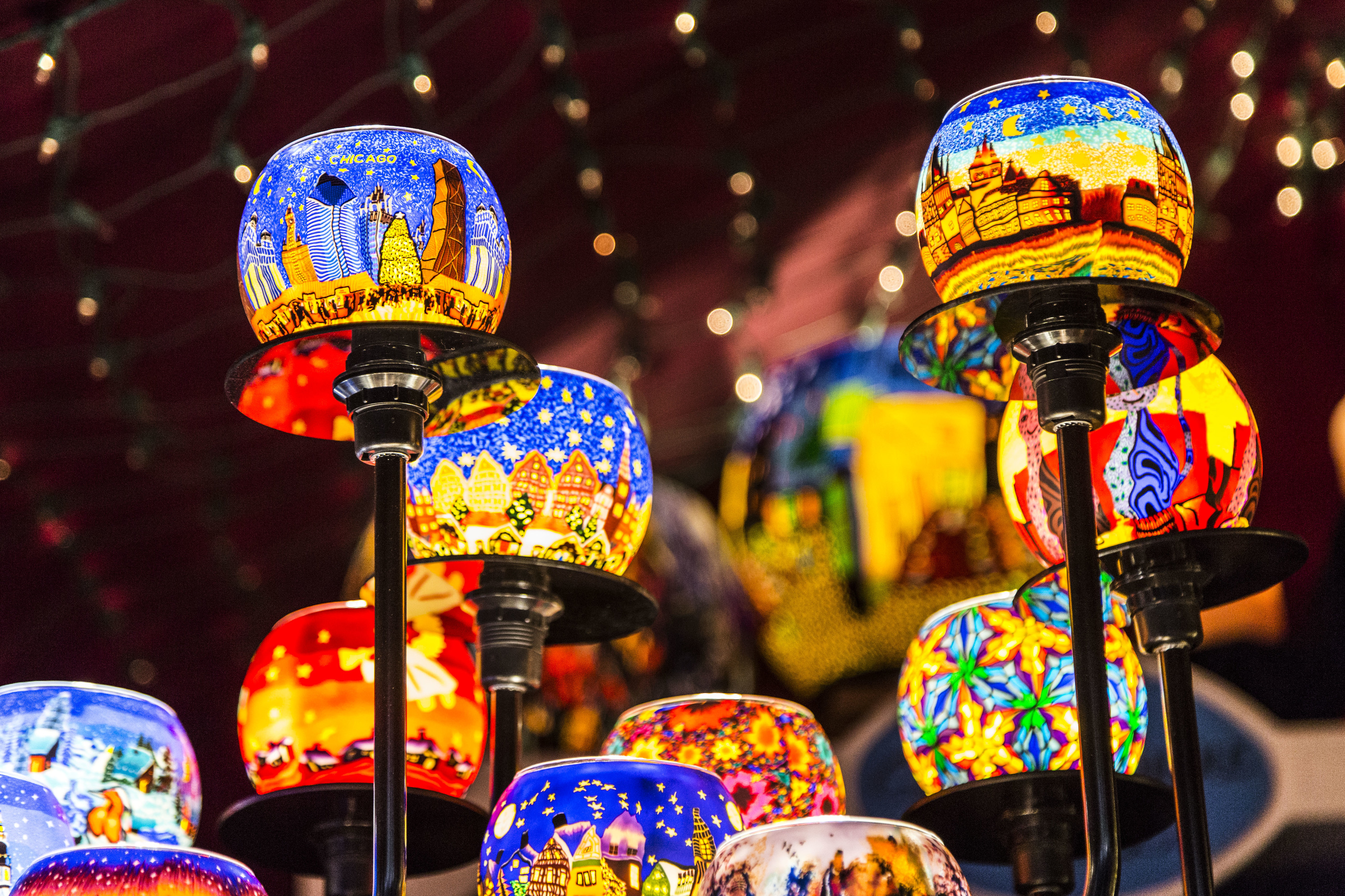 10. Le Vitrage ($16.95) from Gift & Candle Palace (booth #21)
Add some color and light your apartment with these stunning glass orbs. We're especially fond of the one that feature the Chicago skyline, complete with the city's magnificent Christmas tree.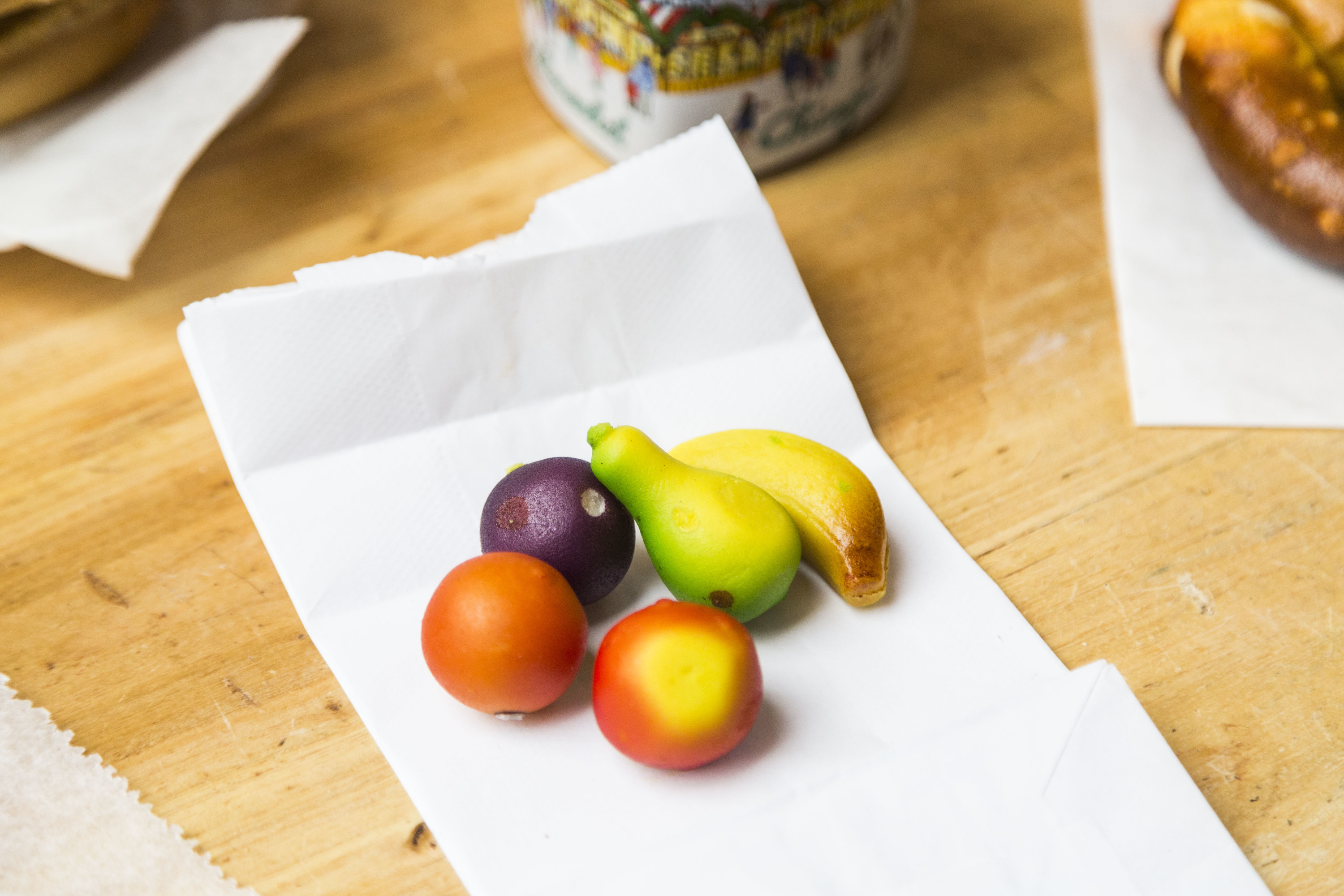 11. Marzipan fruit ($5) from Chocolate Covered Treats & Baked Apples (booth #20)
Chocolate, shmocolate: We're here for these beautifully intricate fruit-shaped marzipan candies, which are crafted with sugar and almond meal.
12. Jabon Cru Raclette ($13) from Baked Cheese Haus (booth #15)
When you reach the east end of the market, you'll start to smell something funky. Follow that smell until you happen upon the Bake Cheese Haus, which specializes in raclette, a traditional Alpine cheese that's melted and scraped into baguettes. This particular version gets some help from slices of cured ham, spring onions, baby gherkins and dijon mustard.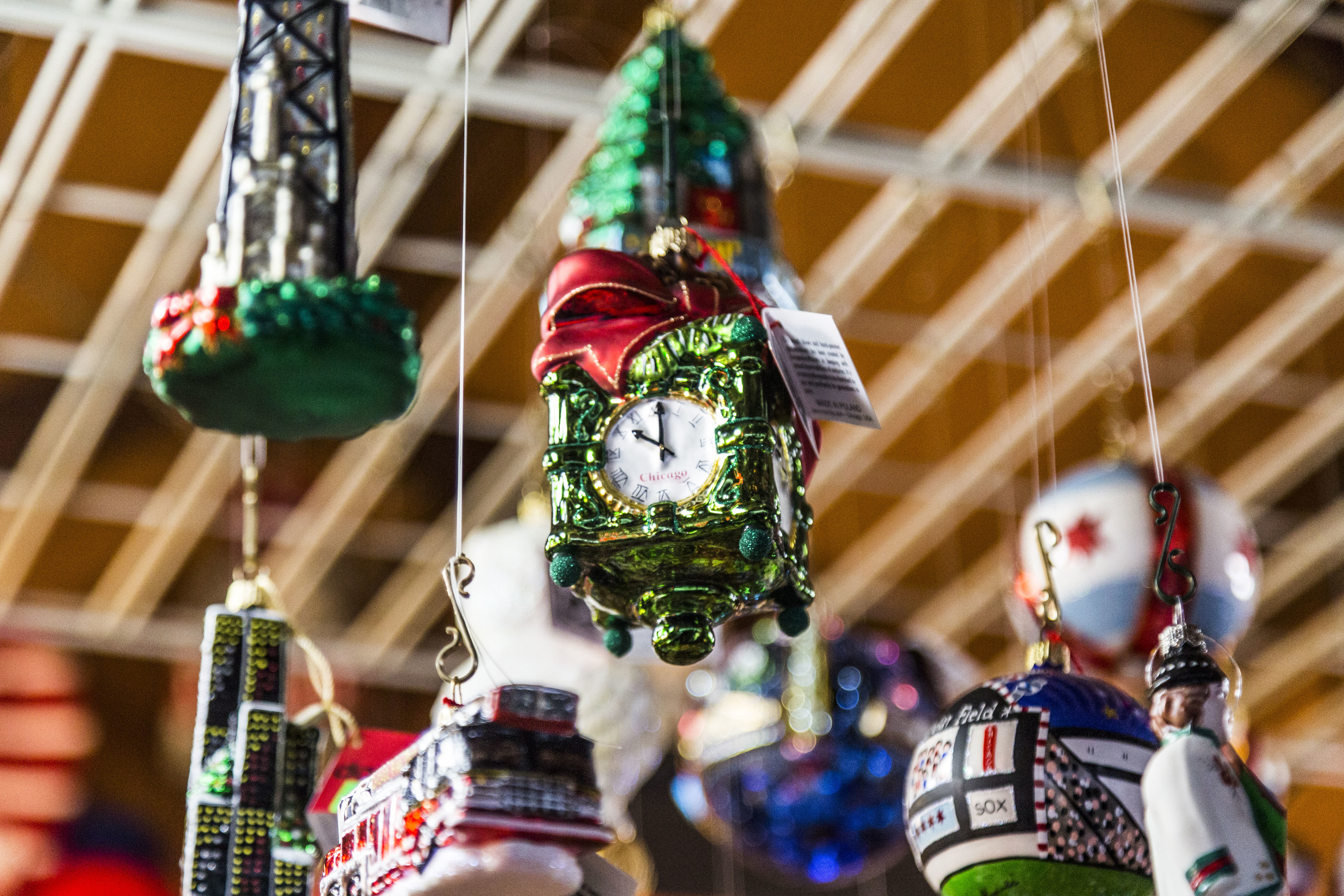 13. Macy's clock ornament ($40) from DOM ITP LTD (booth #47)
Want to hang a piece of Chicago on your Christmas tree this year? Look no further. This emerald-green ornament depicts one of Macy's massive Great Clocks, which are situated on the department store's exterior and have become a party of the city's rich architectural history.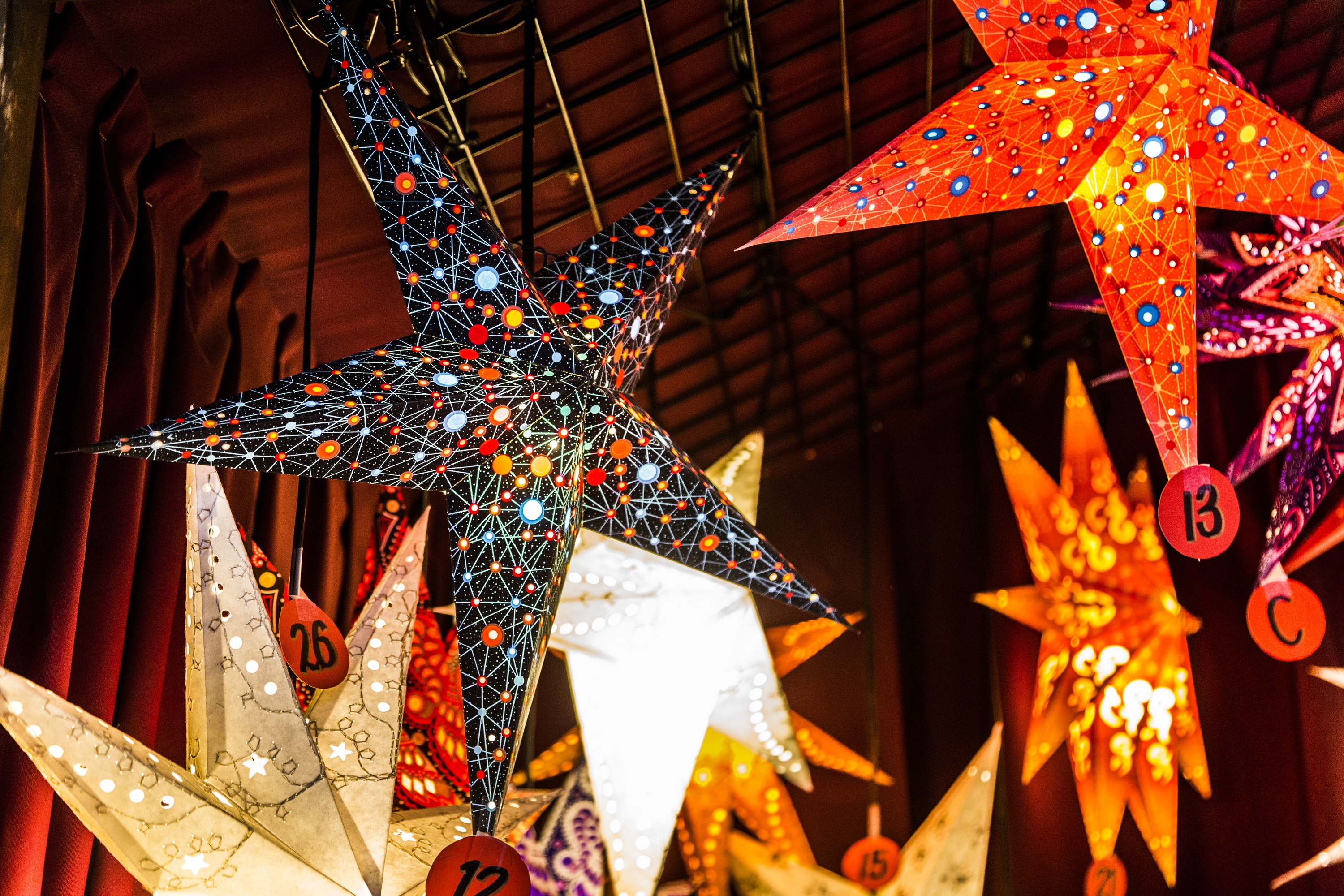 14. Star lantern ($12.95) from Gift & Candle Palace (booth #21)
After the sun goes down, this stall glows from within thanks to its collection of beautiful paper lanterns. Whether you're looking for something big or small, colorful or simple, there's a luminous star for you.