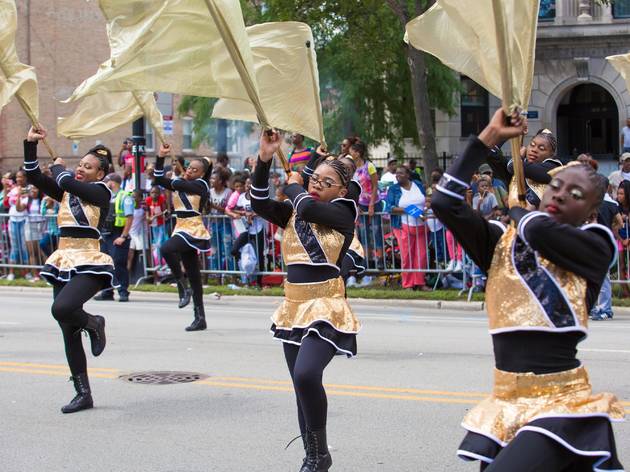 The Bud Billiken Parade won't march through Chicago in August
The largest African-American parade in the U.S. has postponed its 2020 edition and will air a television special in its place.
Posted: Monday June 29 2020, 3:24pm
Like most summer events, the annual Bud Billiken Parade is taking a year off in 2020, marking the first time in it's 91-year history that the procession won't march down Martin Luther King Jr. Drive. The cancelation was confirmed by ABC 7, which will air the a special called Bud Billiken: Celebrating 91 Years in place of it traditional live broadcast of the parade on August 8.
Founded in 1929 by Robert S. Abbott, the publisher of the Chicago Defender newspaper, the Bud Billiken Parade has traditionally celebrated Chicago's African-American community and the beginning of the school year in the city. Hundreds of thousands of spectators line the streets in Bronzeville and Washington Park to see the procession, which features intricate floats, marching bands, dance squads and drill teams made up of young Chicagoans.
Taking place on the second Saturday in August, the event has grown into the largest African-American parade in the United States, attracting everyone from local politicians to well-known musicians, actors and celebrities. Chance the Rapper famously served as the parade's Grand Marshall in 2017, following in the line of past honorees like Barack Obama, Vic Mensa, Deon Cole and Chaka Khan.
Those who can't imagine an August without amazing drill team routines can tune into ABC 7's Bud Billiken: Celebrating 91 Years special on August 8 at 1pm.
Most popular on Time Out
- These notable Chicago restaurants and bars have now permanently closed
- Here's what will reopen when Chicago moves into Phase 4
- Where to find drive-in movie theaters near Chicago
- Lost Lake's Chick-Feel-Gay pop-up will sell 'hate-free' chicken sandwiches
- Supporting Chicago's Black-owned restaurants is a lifelong commitment
Share the story