Waiting until the last possible minute to make your Halloween weekend plans? Still cobbling together a costume from the depths of your closet? Lucky for you, there are plenty of spooky, festive spots in Chicago to eat, drink and be scary, from movie and TV-inspired pop-ups with creative cocktails to karaoke costume contests to a restaurant dressing up as an iconic chain breakfast spot. Take a look through our roundup and prepare for a hauntingly good time this weekend.
RECOMMENDED: The best Halloween events and costume parties in Chicago
Erin Hayes (formerly of the dearly departed Lost Lake) and Kelsey Ramage bring their immersive pop-up homage to all things horror, The Black Lagoon, to River West cocktail bar The Dandy Crown through October 31. Enjoy macabre bites like the "Sacrificial Lamb" (a lamb tartare with a vividly bloody beet mayo) alongside spooky sippers like the Closed Casket (Bruichladdich Classic, miso falernum, passionfruit syrup) and the smoky mezcal Blood Rage, all served in seasonally fitting glassware. Explore the spooky decorations inside or fight the chill by getting cozy by the fire pit. Reserve on Tock.
Celebrate Halloween New Orleans style as Ina Mae transforms into the Voodoo Lounge through October 31. The whole week of Halloween is packed with events, including a Friday happy hour with a Jazz Funeral presented by Four Star Brass Band, and a Blues Brunch where you can indulge in Chef Brian Jupiter's takes on classics like shrimp and grits and po'boys as well as festive cocktails like the citrus-forward Zombie's Blood draft punch. The lounge becomes more family-friendly on the night of Halloween with goodie bags, cookie decorating and a chicken tendies special, plus free hot chocolate for the kiddos. Reserve here.
Restaurants dressing up as other iconic establishments has been something of a Chicago Halloween trend, from Lula Café's now-defunct tradition to The Wiener Circle's homage to McDowell's from Coming to America. This Halloween weekend, Lou's Backyard is joining in the festive fun with a tribute to an American chain classic (and inclement weather predictor) they're calling, uh, Waffle Home. Tuck into a nostalgic feast of classic egg-bacon-toast breakfast platters and tempting spins like poutine-style smothered hash browns and hot chicken with cheddar waffles. The pop-up runs October 28-31 from 6pm-12:45am. Reserve on Tock.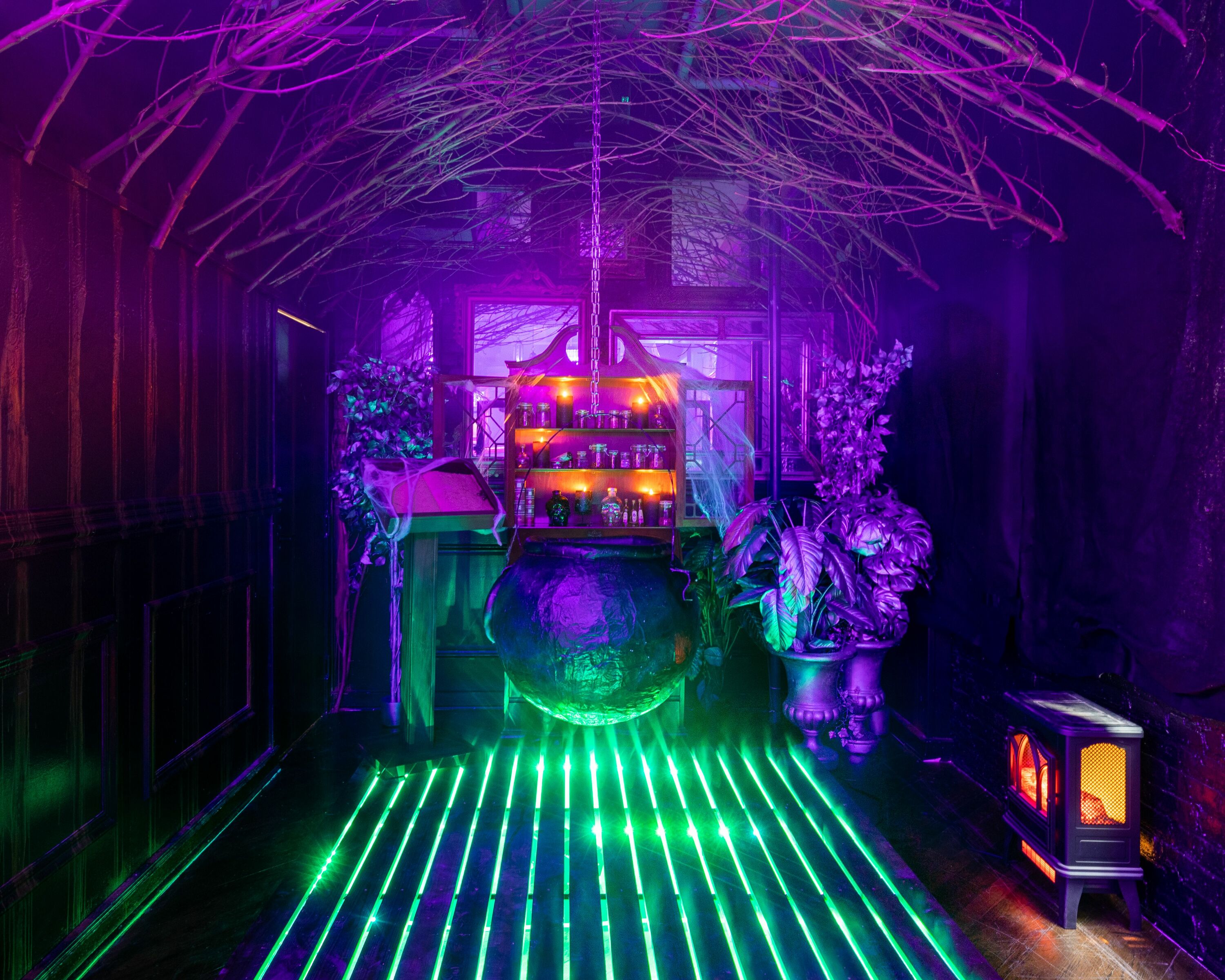 If you find yourself running amok (amok, amok, amok, amok) in River North on Halloween weekend, Hubbard Inn's Witches Brew pop-up is the perfect place for some nostalgic fun. On Saturday, October 29, the upstairs club space transforms into a celebration of the 1993 spooky season classic, Hocus Pocus, complete with a recreation of the Sanderson Sisters' cauldron setup. Come for the ambiance, stay for the themed cocktails and spellbinding burlesque and drag performances. Just don't light the black flame candle. Details here.
Shake, shake, shake, Senora! Through October 31, The Raven Room at Ravenswood's Redline VR transforms into a celebration of the Halloween classic Beetlejuice with its "pop-up bar for the recently deceased." Summon spirits—by which we mean themed cocktails—served up by Beetlejuice himself, and then try your hand shooting some zombies on the state-of-the-art VR consoles. On the night of October 29, the venue hosts live music and a karaoke costume contest, with $500 in prizes up for grabs. Buy VIP tickets here.
Another detail-heavy, fandom-courting, pop culture pop-up from Replay? It's more likely than you think! The barcade juggernaut has not one, but two seasonal pop-ups running through October 31—the Stranger Things-celebrating Stranger Bar and Treehouse of Gore, a celebration of The Simpsons' long-running Halloween-special series, Treehouse of Horror—both with themed cocktails and plenty of photo ops ripe for the 'Gram. In addition to bingo and a costume contest, stop in on October 27 for a Duff Beer tasting or October 30 for a special screening of the new Simpsons Halloween special. Reserve on Tock.
Grab your dice set, hop on your bikes and queue up the Kate Bush—the luxe lounge at the Langham is transporting guests to Hawkins, Indiana with Stranger Things-themed specials through November 2. Choose your own adventure with creative themed cocktails, including a Hennessy-bourbon milk punch served on a lunch tray with Dungeons & Dragons dice, an Eleven-inspired cocktail dusted with cinnamon and maple sugar powder and adorned with a cute li'l mini waffle, and the "D. Gorgan," garnished with a hibiscus flower resembling the gaping maw of the iconic monster. And superfans of the show can stop in the night of October 29 for an open-to-the-public Halloween celebration to eat, drink and take in some excellent river views amidst the themed décor. Details here.