Whether you learned to bake sourdough bread or tried out a few TikTok recipes during last year's lockdown, many folks used their newfound free time to experiment in the kitchen. But Chicagoans Phillipe Sobon and Cynthia Orobio took their culinary experimentation one step further, developing a fusion of Polish and Colombian cuisine and founding a food hall concept (appropriately dubbed "Polombia") to share their creations with hungry diners.
After meeting at a Friendsgiving celebration in November 2019, Sobon and Orobio had only been dating for a few months when the world shut down and their respective careers took a turn. Sobon had been working as a private chef, cooking meals for clients and gaining enough acclaim to land a spot on an episode of the Food Network show Supermarket Stakeout. Orobio worked in the nutritional consulting industry, meeting with clients at their offices in the Loop—but she was laid off shortly after the pandemic began, as the demand for in-person consultations suddenly disappeared.
"I'm from a Colombian background and Phil is Polish, and after seeing so many TikTok trends and Instagram things to eat, we just decided to create our own dishes," Orobio says. "One night we were preparing dishes and fusing our two cultures together, and that's when we realized that Poland and Colombia have a lot in common."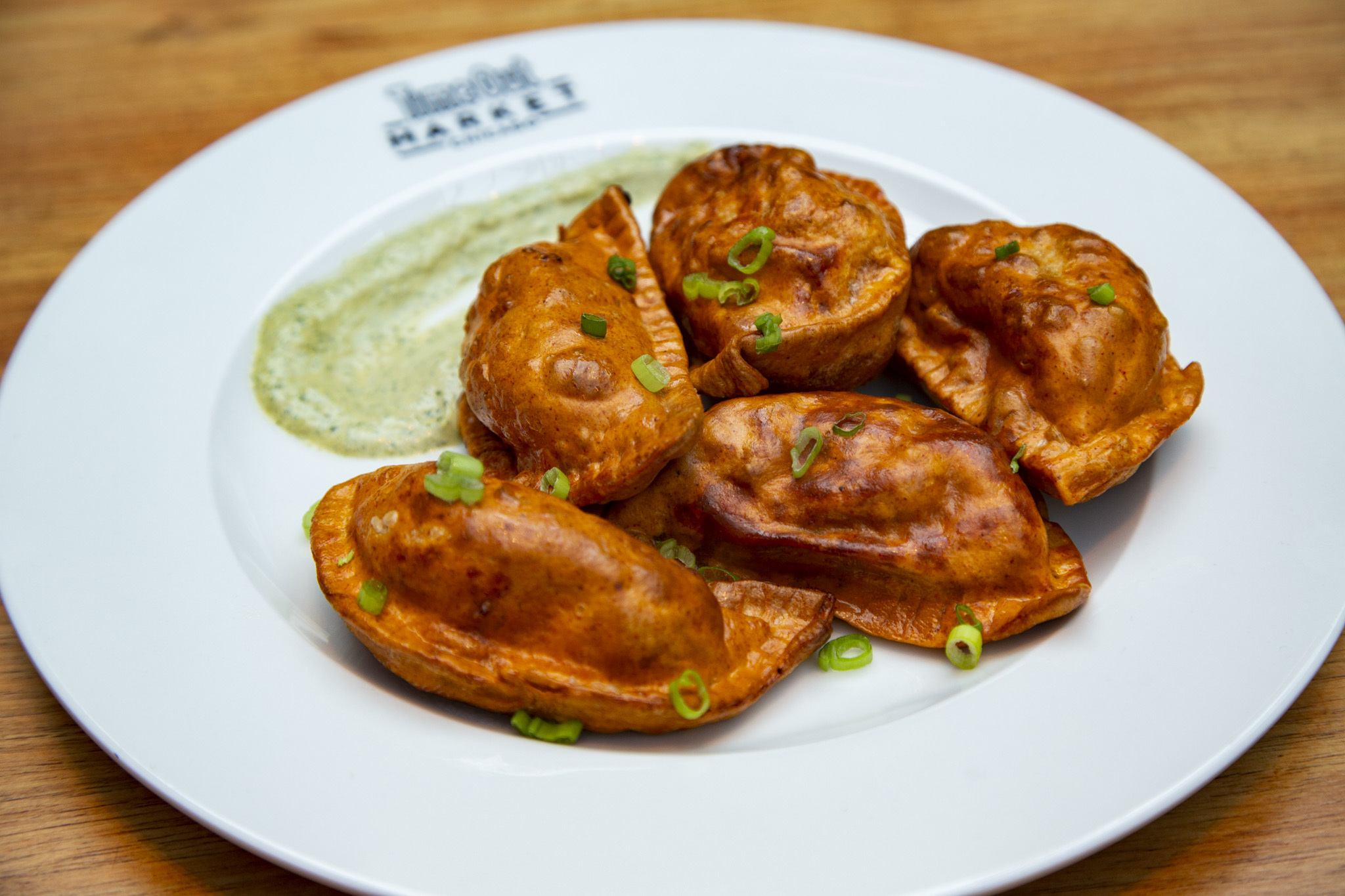 Mashing up Polish pierogi with Colombian empanadas and topping a kielbasa sausage with a pineapple glaze (a popular hot dog condiment in Colombia), Sobon and Orobio developed an array of dishes inspired by family recipes and a bit of online research. Sobon had been thinking about opening his own restaurant for a while, so Orobio encouraged him to pursue the Polombia concept and offered to help him run the kitchen. Eventually, the pair landed in the West Loop's Politan Row food hall in September 2020—but just one-and-a-half months later, the food hall shut down as city restrictions on indoor dining were reintroduced.
"We came to the realization that we're creating something that is unique, but at the same time delicious and people are craving us," Orobio says. "We knew that we wanted to continue making the cuisine, because in the month and a half that we were at the food hall it brought a lot of people who were either coworker, best friends or couples that were Polish and Colombian."
Thanks to a fortuitous Facebook interaction, Polombia quickly transitioned to a ghost kitchen concept, working out of the kitchen at Outpost Mexican Eatery in the West Loop on Saturdays and Sundays. Sobon and Orobio were still cooking the majority of the food themselves, collaborating in the kitchen and relying on their individual strengths. Orobio, who primarily eats a plant-based diet, decided to handle the preparation of Polombia's vegetarian items, making the pickled beet, cabbage, carrot slaw; the arepas; and the lentils that are used as a protein substitute in many dishes.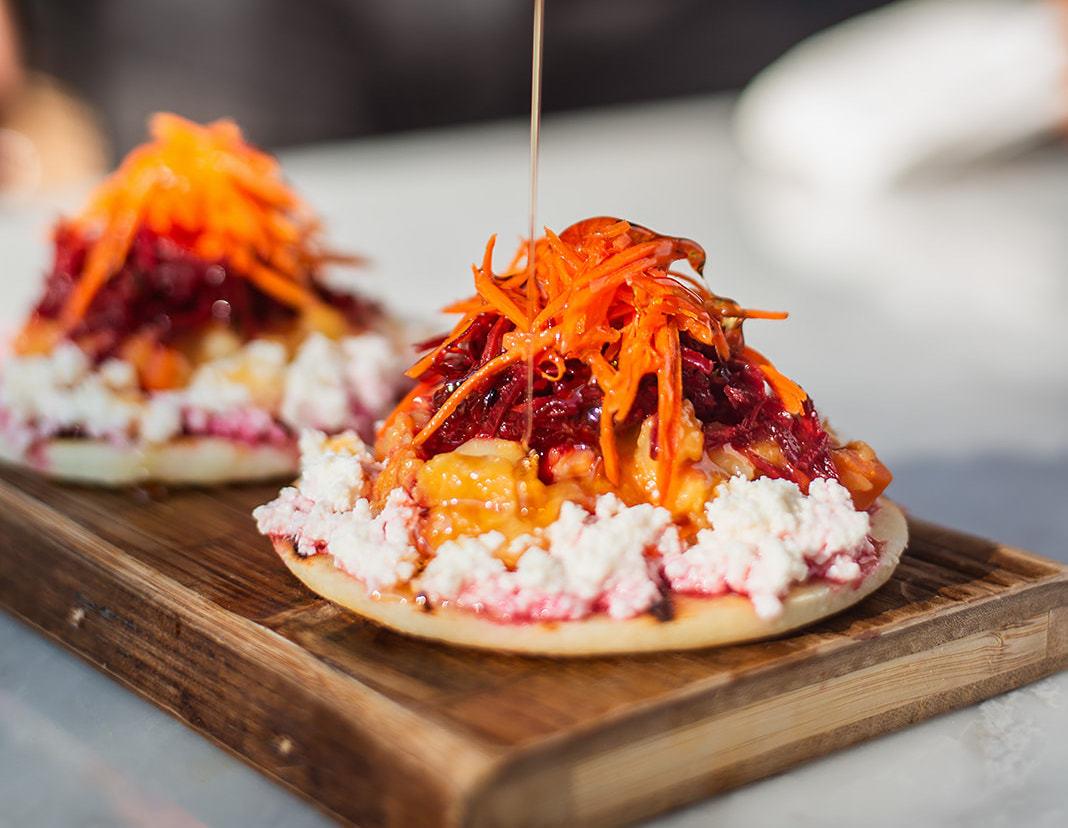 Even though she'd never worked in a commercial kitchen before, Orobio quickly became comfortable in the setting with the help of Sobon. "Phil likes to be creative in the kitchen and I like to be creative with people, I like to host people and interact with people," Orobio says.
A few months ago, Polombia moved into a kitchen at Time Out Market Chicago bringing dishes like the arepa-ski—a cornmeal patty piled with beef, chicken, pickled beets and honey ricotta cheese that's inspired by the towering Andes Mountains—to Fulton Market. Thus far, the concept has been a success, attracting diners that are curious about the unfamiliar pairing of Polish and Colombian flavors.
"I think it's a great concept to be around other places, where not only your cuisine is there, but so many others are," Orobio says, explaining why Polombia has gravitated to food halls.
The couple's plans for the future of Polombia include an eventual brick-and-mortar location, which could take shape in Chicago or in Orobio's hometown of Houston, Texas. But Sobon and Orobio have some even bigger projects in their immediate future—the couple is engaged to be married and they're expecting a baby in the coming months. Naturally, Orobio is already referring to their soon-to-be-born child as "a Polombian."
Stop by Polombia at Time Out Market, open Wednesday through Sunday.