Heads up! We're working hard to be accurate – but these are unusual times, so please always check before heading out.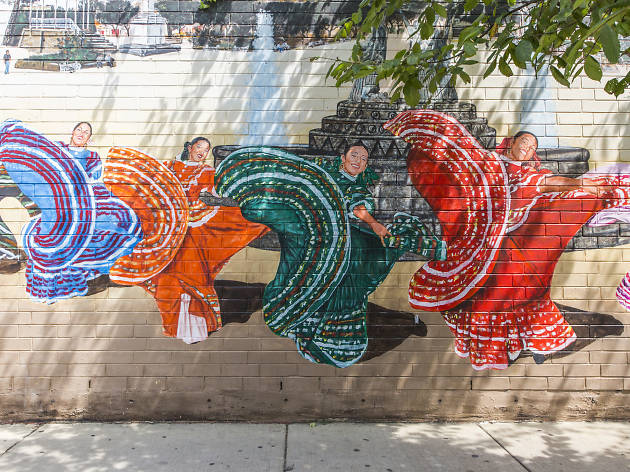 The best things to do in Pilsen, Chicago
Explore the Southwest Side neighborhood with our guide to Pilsen's best restaurants, bars and things to do
Though it's best known as a destination for some of Chicago's best tacos and one of the city's largest collections of vibrant murals, there's even more to explore throughout the neighborhood of Pilsen. Celebrate the area's Latinx community with a visit to the National Museum of Mexican Art (one of our favorite museums in Chicago) or by purchasing some tasty baked goods at a panadería. You'll also find some great Chicago record stores, a historic music venue, a variety of vintage shops and a vibrant community of artists inhabiting a series of studios and galleries in the Chicago Arts District on Pilsen's east side. Hop off the Pink Line and discover some of the best things to do in Pilsen.
RECOMMENDED: Read more Chicago neighborhood guides
Things to do in Pilsen
Housed in a historic bohemian public hall that dates back to 1892, Thalia Hall reopened in 2014 as a music venue with the help of the team behind local rock club the Empty Bottle. Bookings at the Pilsen concert hall range from Americana to psych-rock bands, all presented in a room that retains its character (chipping paint on the walls, original molding around the stage) and sounds excellent. The expansive building also houses a Michelin-starred restaurant (Dusek's), a subterranean cocktail bar (Punch House), a piano bar (Tack Room) and a small grocery store with a deli counter (Paulette's).
Head to Harrison Park to visit one of the largest Latino cultural organizations in the U.S., where Mexican artists from both sides of the border are represented hroughout a series of galleries. The "Nuestras Historias" exhibit showcases works from the museum's 10,000-piece permanent collection, while traveling exhibitions bring photography, paintings, sculptures, textiles and other pieces to the museum's walls. Admission is always free and regular programming (including an annual Día de Muertos celebration) provides great reasons for a return visit.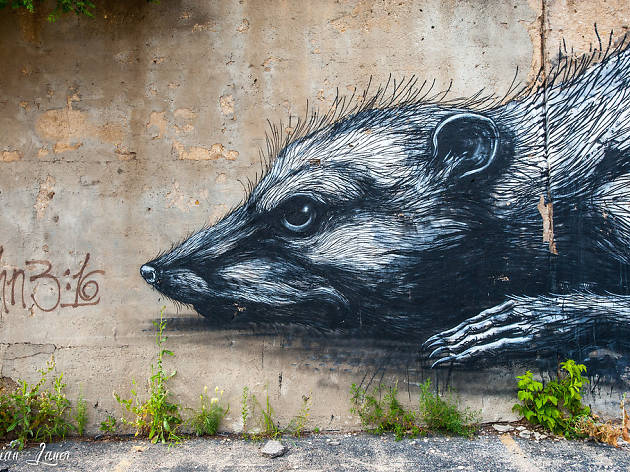 Photograph: CC/Flickr/Brian Lauer
Stretching from the Chicago River to Western Avenue, the walls of an old railroad embankment host a vibrant and evolving outdoor gallery of murals by prominent and emerging artists. Take a stroll along 16th Street to spot murals by revered local artists like JC Rivera and Hebru Brantley, as well as an infamous painting of a severed possum by Belgian street artist ROA.
Just steps away from the 18th Street Pink Line station, Pinwheel Records was the first contemporary record store to open in Pilsen. The interior of the shop looks a bit like the living room of your dreams, boasting a couch, coffee table and an arcade cabinet. Of course, there are plenty of records (and turntables to listen to them on) neatly arranged throughout the brightly colored space. Ask the friendly staff to recommend a new release or go digging through the selection of used LPs to find something worth spinning.
This Memphis-style dry-rubbed barbecue joint has more than some of the best pulled pork around. Honky Tonk also serves up a hearty lineup of live music each week, so you can enjoy some of the city's top musicians while digging into a delicious meal. Enjoy performances from local string bands, jazz trios, swing bands, blues and R&B artists who frequent Honky Tonk for a night of good eats and toe-tapping tunes.
Tired of traveling from Brighton Park to the North Side for cool, thrifty finds, Trent Marinelli and Carlos Lourenco took matters into their own hands by opening this vintage shop in nearby Pilsen in 2008. The store specializes in fashion-forward vintage clothing and accessories from the '80s and '90s, as well as harder to find gems from the 1920s–1950s. On a typical day, you'll find collectors and folks looking for some sartorial flair browsing the racks of T-shirts, denim, workwear, dresses and other timeless garments.
Founded in a garage by two tech industry professional-turned-brewers, Lo Rez puts funky twists on Belgian beer styles such as lagers, witbiers and Berliner weisses. Sit down in the taproom—a no-fuss warehouse space that boasts wooden beams, brick walls and picnic tables—and order from the small but mighty list of brews. There's no kitchen, but visitors are encouraged to bring their own food to enjoy while playing an assortment board games or testing their skills on the dart board (dogs and kids are also welcome).
Located directly next to the National Museum of Mexican Art, this park features a fieldhouse with a gymnastics center, indoor swimming pool and community meeting rooms. Head outside and you'll find tennis courts, basketball courts, baseball fields, an artificial turf field and lots of additional space for seasonal events that routinely take over portions of this neighborhood green space.
Encompassing several blocks of Halsted Street, the Chicago Arts District is home to a variety of galleries, studios and exhibitions spaces where local artists develop and display their work. The public can step inside some of these spaces during the months 2nd Fridays Gallery Night, embarking on a self-guided tour of the receptions and exhibits being presented throughout the neighborhood. Stop by the Chicago Arts District information center at 1945 S Halsted Street to grab a map before you set out on your journey.
Named for its founder's French Bulldog, this Pilsen market and juice bar is one of the best spots in the neighborhood for finding vegetarian-friendly goods produced by local farmers using sustainable practices. If you like to drink your fruits and veggies, grab a cold-pressed juice (1- to 5-day juice cleanses are also available) or a smoothie made with coconut milk. Those looking for something more substantial can pursue Belli's menu of bowls, sandwiches, toasts and veggie burgers—dishes that taste just as good as they'll make you feel.
Located directly across the street from Thalia Hall, Dusek's and Punch House, this Pilsen record store focuses on vinyl from small, international labels like Blackest Ever Black (London) and Exiles (Buenos Aires) as well as albums released by local purveyors like Thrill Jockey, International Anthem and Numero. Stop by the slickly designed space on the weekends to catch an impromptu DJ set or simply browse the selection of turntables, slipmats and other record supplies.
Browse vintage clothing, accessories, records, furniture and home decor at this small but mighty shop. Since Pilsen is among the city's best neighborhoods for vintage shopping, the stock here changes over quite frequently, with a steady stream of new items being added to the floor. That only gives shoppers a more reasons to check back frequently—from an antique nightstand to shorts from the '80s that are (finally) back in style.
A towering warehouse has been transformed into a campus for artists, with studios, exhibition spaces, classrooms, a library and a cafe housed within its walls. Mana Contemporary hosts a variety of events, including a quarterly open house that invites guests to walk through the entire facility, visit artists' studios, experience creative programming and take in exhibition from emerging creators.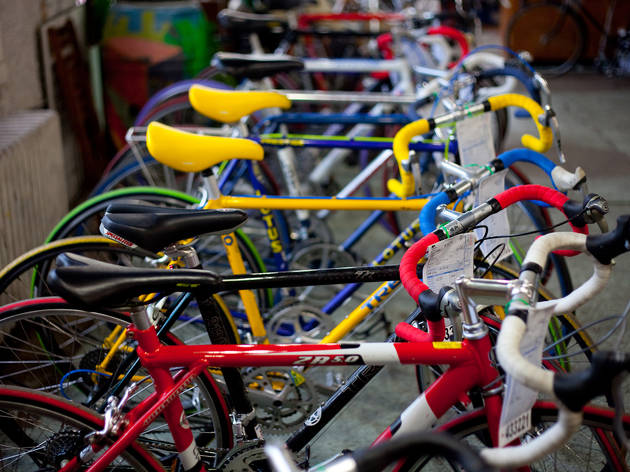 Buy a bike from this Pilsen shop and you'll be contributing to a good cause. The organization behind this storefront rescues and refurbishes bikes to distribute them to people in need all over the world. Within the shop you'll find a range of styles and brands (Schwinn, Diamondback), along with new and used accessories, hard-to-find parts and gear.
Named for noted Czech composer Anton Dvorak when Pilsen was home to come of the city's largest Bohemian communities, this small but might park has become a popular spot for recreation and relaxation. The centerpiece of the space is a red Prairie-style fieldhouse, which contains and auditorium, gymnasiums and a community art center. Elsewhere in the park, you'll find an outdoor pool, athletic fields and soccer fields.
More things to do in Pilsen