24 new dishes to eat at Taste of Chicago 2016, ranked from worst to best
This year's new Taste of Chicago offerings include sausages, Mexican food, doughnuts and lots of lobster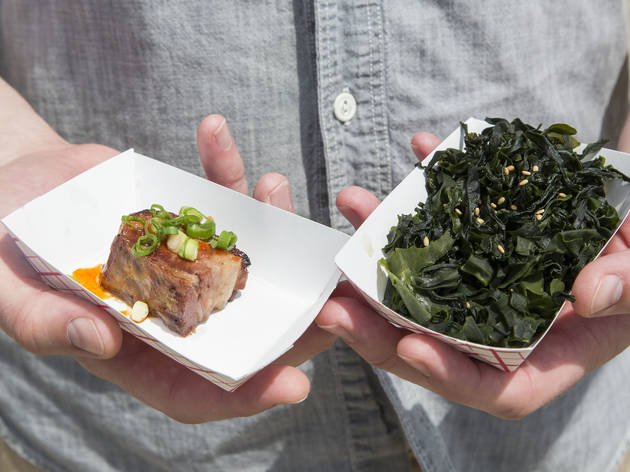 There are definitely vendors you can count on at Taste of Chicago—like Eli's Cheesecake and Billy Goat Tavern—but there's always a good amount of new ones that regulars to Taste of Chicago want to try out. We tried all of the "taste portions" from the new vendors, food trucks and pop-up shops, which ranged from three–five tickets each (from $2.50–$3.50). Here's a tip: Bring a bottle of water (or two), because they're going for a whopping seven tickets (for anyone doing the math, that's nearly $5). Stay hydrated, Chicago. This is our ranking of the new dishes from worst to best.
If it's your first time out to Taste of Chicago, a lot of the vendors haven't changed their menus, and we've been ranking them since 2010. Here are our food reviews from 2015, 2014, 2013, 2012, 2011 and 2010.
RECOMMENDED: Our guide to Taste of Chicago
24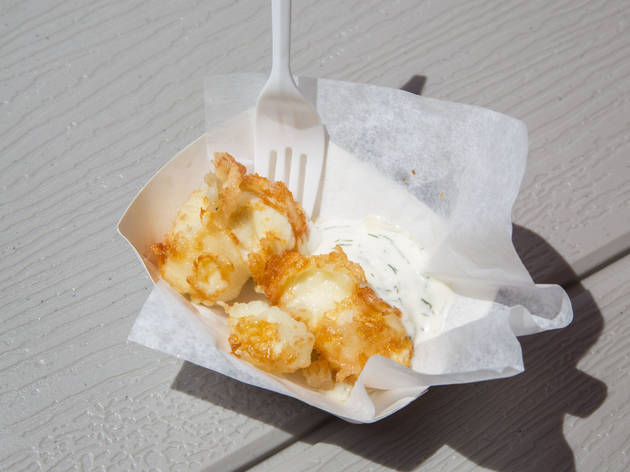 Fried Wisconsin Cheese Curds in Beer Batter with Dill Creme Fraiche from Pastoral Artisan Cheese, Bread & Wine
Cheese curds are supposed to be two things: Squeaky when you bite into them and have a nice crunchy breading. These lackluster curds possess neither of those traits—we had such high hopes for you, cheese curds.
23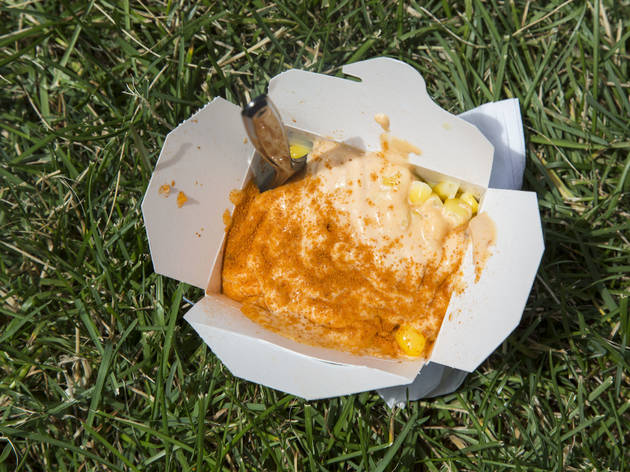 Esquites from Rojo Gusano
If canned corn topped with semi–spicy mayonnaise is one of your favorite snacks, then this one's for you. If not, just skip it. That being said, it is a generous portion of corn.
22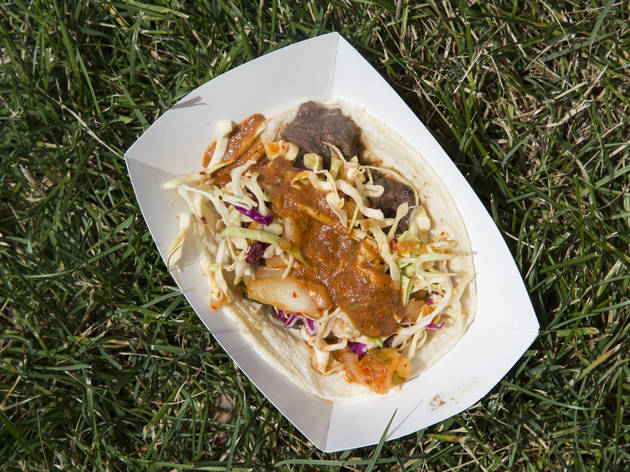 Korean BBQ Taco from Rojo Gusano
The spices are almost there, but the sub-par meat is gristly and fatty, making this Korean taco a no-go for us.
21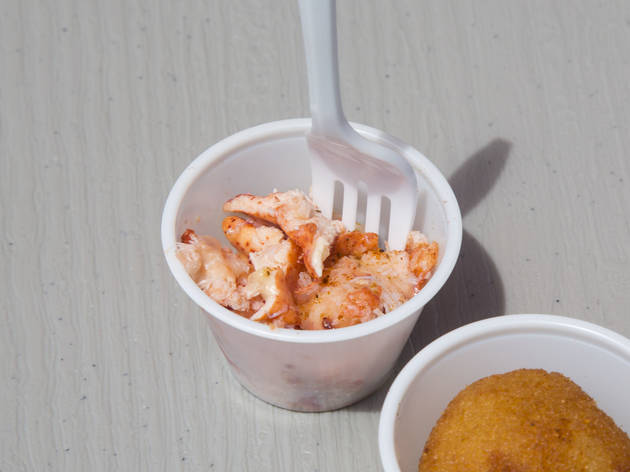 Taste of Happy Lobster from the Happy Lobster Truck
This is the lobster meat that Happy Lobster uses in their lobster rolls, which is great, except for five tickets, we'd rather spend our money on something tha we could take more than two bites of.
20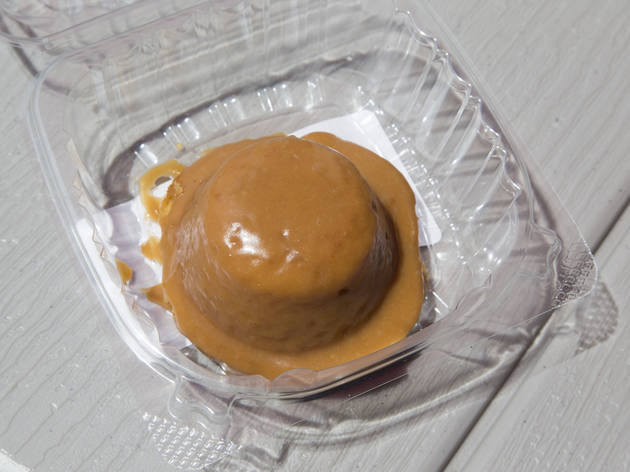 Uncle Villy's Upside Down Caramel Cupcake from Abundance Bakery
Bakeries are out in full force this year at Taste of Chicago. This caramel cupcake is cloyingly sweet, very rich and buttery with hints of citrus. We're doubtful we could take more than a few bites, especially since it's drenched in caramel sauce.
19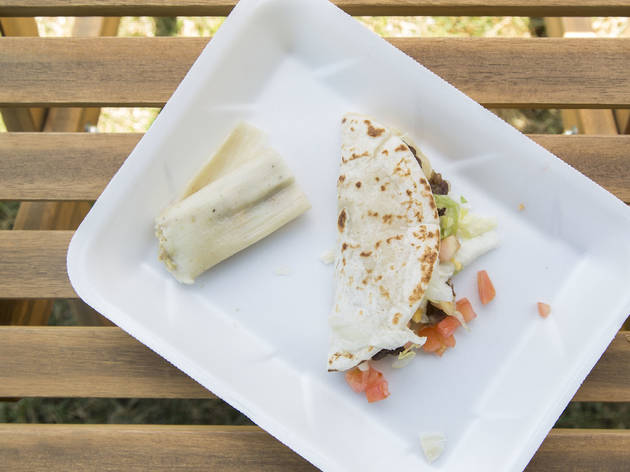 Mini Tamal from La Jefa
This tiny tamal tastes perfectly fine, it's just very small.
18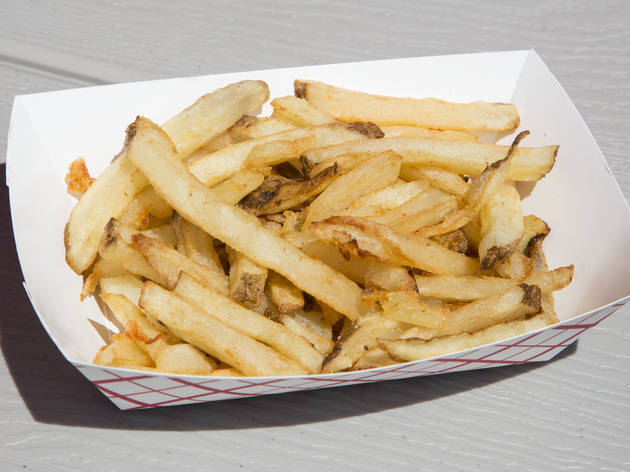 French Fries from Frannie's Cafe Inc.
These French fries are perfectly fine (we'd prefer them to be a bit crispier), but there are far more interesting things to grab while you're at Taste of Chicago.
17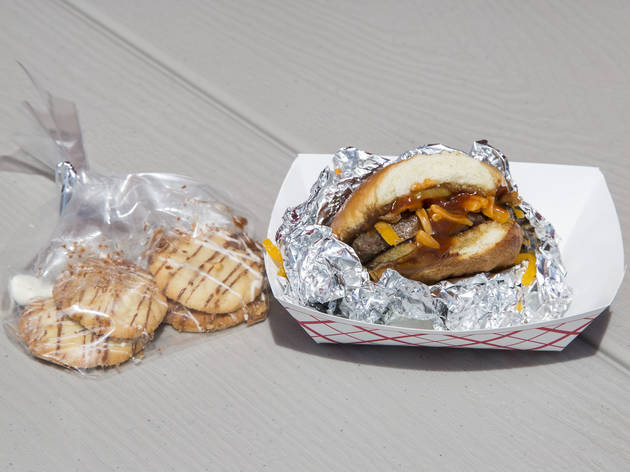 Easy Rider from BRGRBELLY
This mini burger is super pickle-y and drenched with barbecue sauce, making for an overall satisfying burger. But we're still a little confused about how the cheese that's used doesn't seem to melt.
16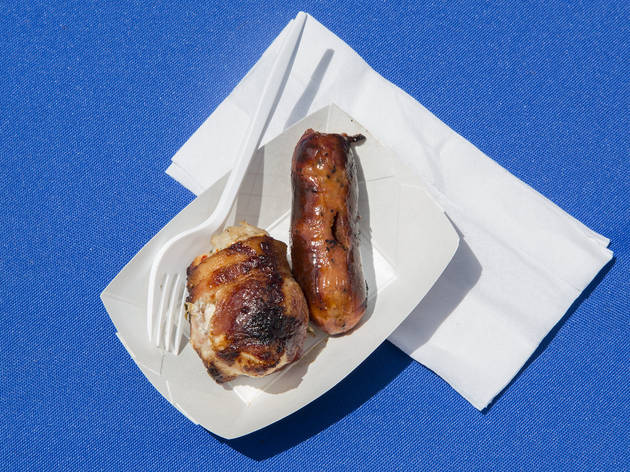 Chicken Wrapped in Bacon from Texas de Brazil
For a hunk of meat wrapped in more meat, this one does the trick. The bacon is nice and chewy, just like something we'd expect to eat straight off the grill.
15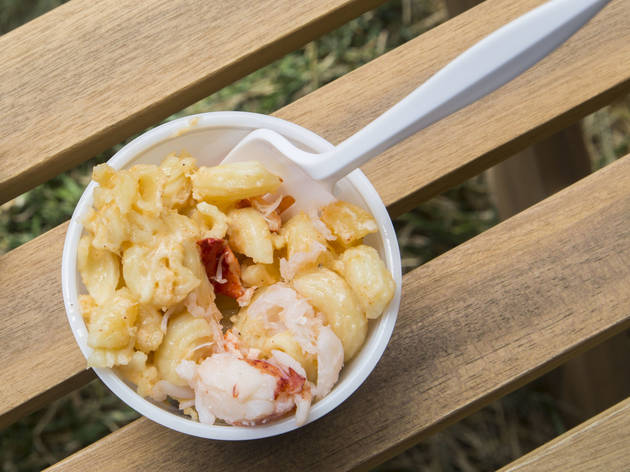 Lobster Mac & Cheese from Da Lobsta
This small serving of lobster macaroni and cheese is quite tasty, with buttery noodles and well-done lobster. We'd eat a full portion.
14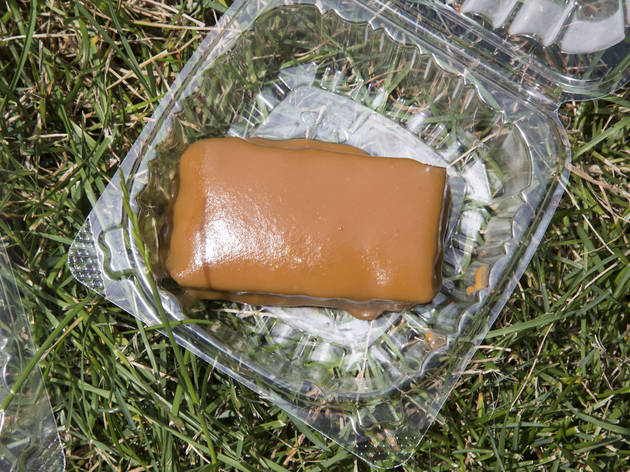 Caramel Brownie from Abundance Bakery
The brownie is packed with nuts and on the lighter side, which we're actually fans of. We'd be okay with a little less caramel, but overall, this hefty brownie hits the spot.
13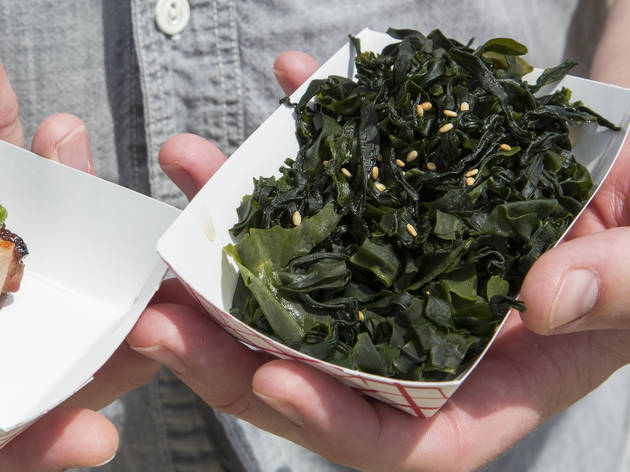 Seaweed Salad from Arami
This salty seaweed salad isn't much to look at, but it was one of the only new green options available. What it lacks in beauty, it makes up for by being a refreshing and relatively healthy option.
12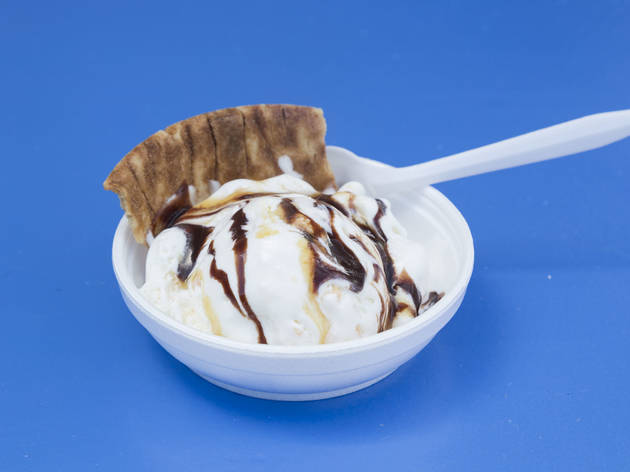 Aged Gouda Ice Cream with Chocolate and Caramel Sauce and Waffle Cone Pieces from Pastoral Artisan Cheese, Bread and Wine
What a bold move to serve scoops of ice cream in this heat. This aged gouda ice cream doesn't have a whole lot of cheesy notes (we thought it tasted like vanilla), but was a refreshingly cold snack among these meat-laden tastes.
11
Chocolate Iced from Firecakes Donuts
So the icing on this dish may have melted quickly in the beating sun, but we can't complain about a flaky doughnut topped with delicious chocolate.
10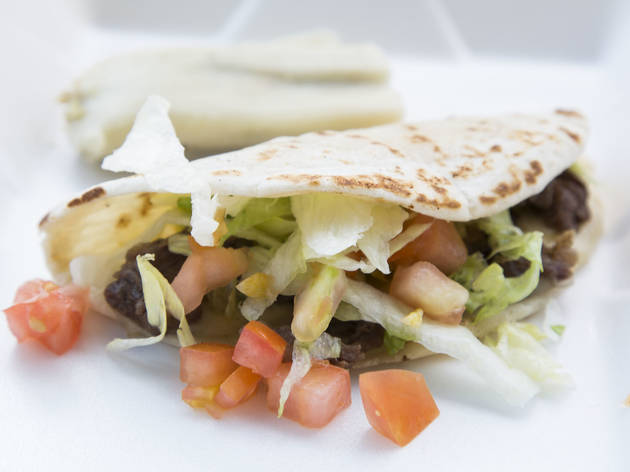 Mini Steak Quesadilla from La Jefa
The line at La Jefa may have been a challenge, but once we got through it, we were surprised at the size of this steak quesadilla, which definitely could have worked as a small meal. The steak was nice and juicy and the cheese brought the whole thing together.
9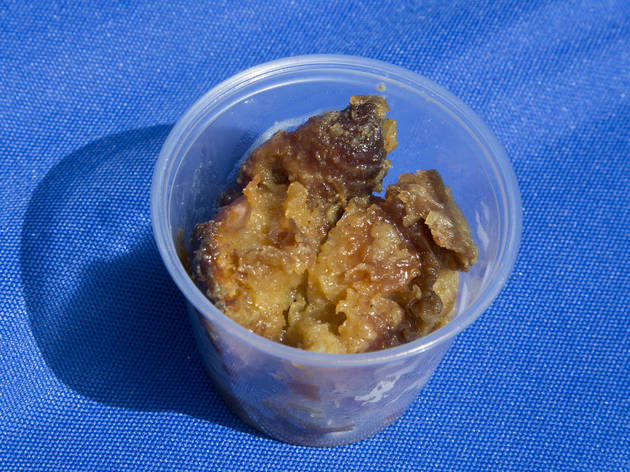 Bread Pudding with Caramel Sauce from Auntie Vee's
Now this is the caramel we were looking for. The bites are big (although you may only get three), but they're great and full of caramel, accompanied by a perfectly chewy bread pudding.
8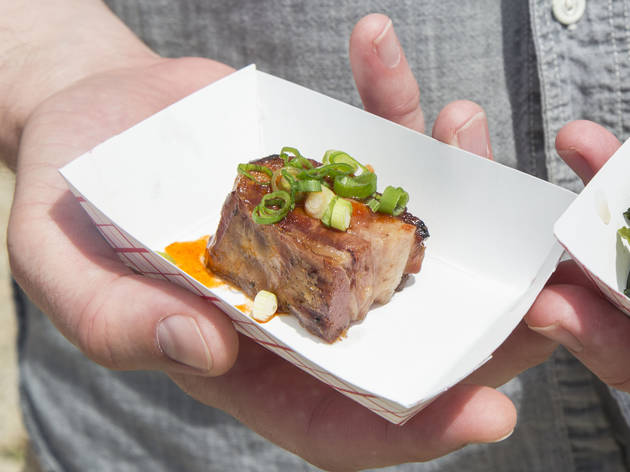 Buta Hara (Grilled Berkshire Pork Belly) from Arami
Good pork belly that doesn't feel super fatty can be very hard to pull off, but Arami does it well, with savory meat that melts in your mouth.
7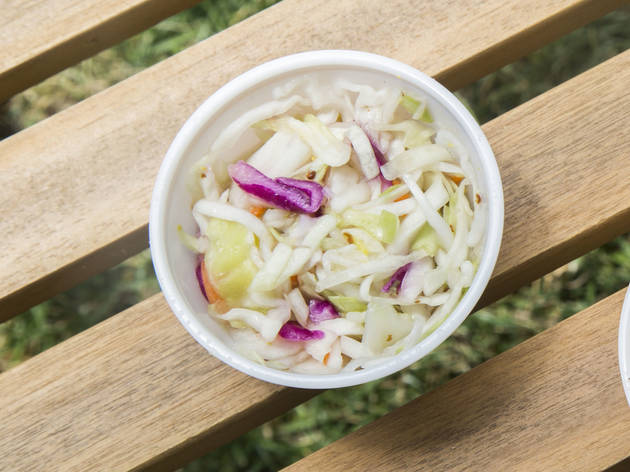 Da Lobsta Signature Coleslaw from Da Lobsta
Da Lobsta churns out vinegar coleslaw that's great and crunchy. It's light and hits the spot to balance out some of the festival's heavier tastes.
6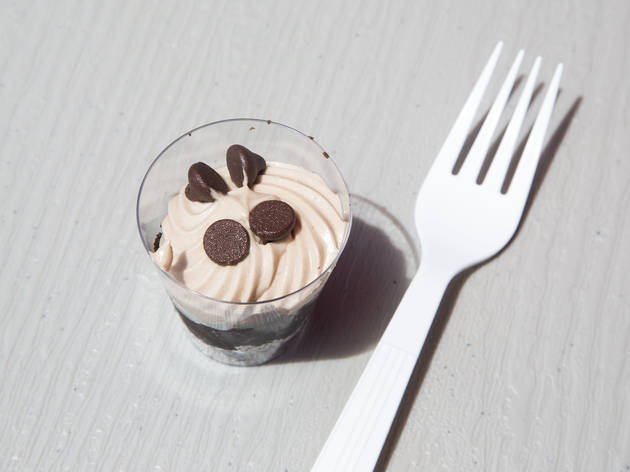 Inside Out Cake from Auntie Vee's
This inside out cake comes in a variety of flavors, but we're a fan of the triple chocolate, which is rich and buttery. It looks adorable and comes in a small container, but if it were any bigger, it may have been a bit too indulgent.
5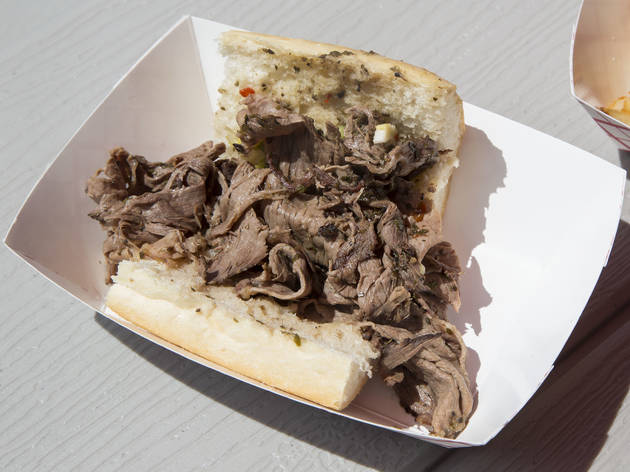 Half Italian Beef Sandwich from Frannie's Cafe Inc.
This beef packs a bit of a punch with some heat, but you'll have a hard time finding more bang for your five tickets at the Taste. It's kind of spicy and we only wished we could get it dipped.
4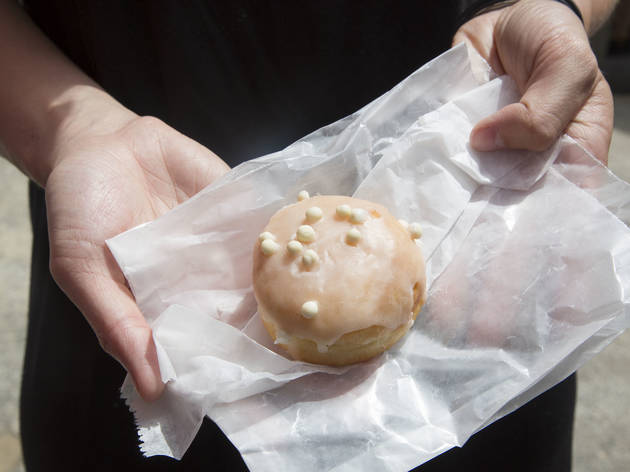 Vanilla Iced from Firecakes Donuts
This oft-Instagrammed doughnut from Firecakes hits the spot, being nice and flaky with just the right amount of vanilla.
3
Almost Famous Butter Cookies from BRGRBELLY
These cookies are better than almost famous—they're buttery, sweet and pretty damn adorable. It's worth visiting BRGRBELLY just to get your hands on these.
2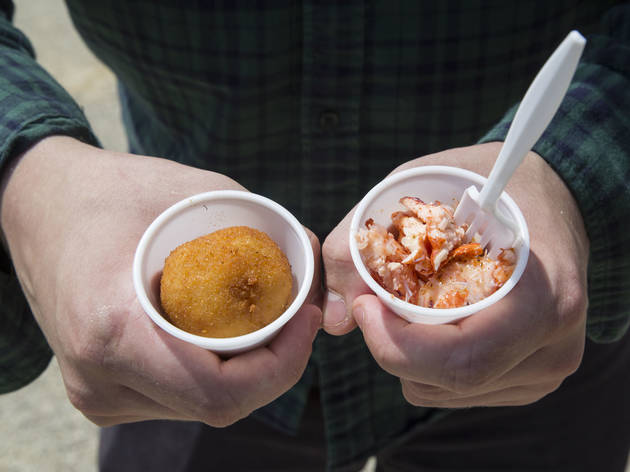 Lobster Mac & Cheese Bites from the Happy Lobster Truck
These bites are crunchy and accompanied by a spicy sauce, which somehow balances the lobster and pasta. You'll be tempted to get a full order after trying this taste.
1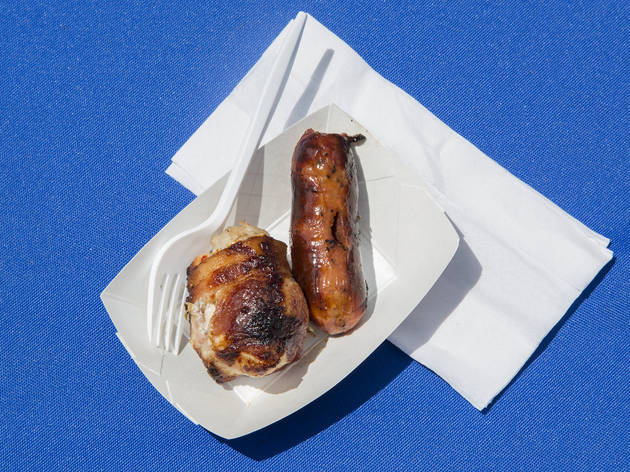 Brazilian Sausage from Texas de Brazil
We took one bite of this sausage and immediately wished we had a bigger portion on a bun with some mustard. At only three tickets, this sausage is a must.