Brunch review: A10
With a creative take on eggs benedict and a spicy Bloody Mary, the Hyde Park restaurant is serving an exceptional brunch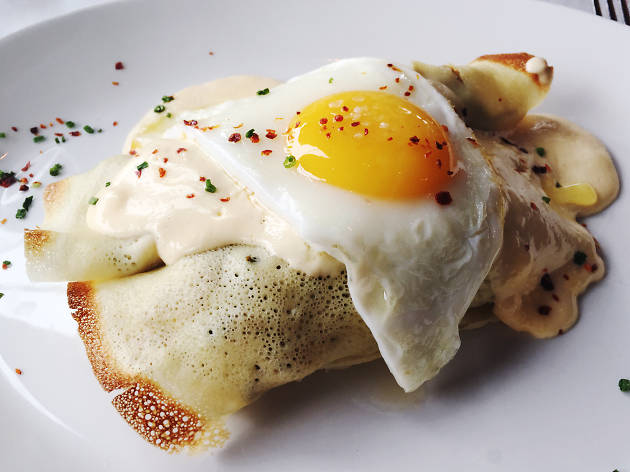 Since I gave A10 4 stars after it opened in winter 2013, I've returned for lunch, but brunch might be my favorite meal at Matthias Merges's Hyde Park restaurant. For starters, there was zero wait for a table on a recent Sunday, which meant the time between sitting down and having a Bloody Mary in hand was approximately 7 minutes.
RECOMMENDED: Full guide to brunch in Chicago
And this Bloody Mary is excellent, which is no surprise, given that it's from Alex Bachman, the talented bartender who handles the beverage programs at Billy Sunday, Yusho and A10. Here, he uses both gin and white whiskey in Bachman's Bloody, a spicy, horseradish-heavy version that's garnished with a cornichon, an olive and a goat cheese–stuffed peppadew pepper.
The French- and Italian-inflected food, from chef John Vermiglio, is also solid. A thin crepe stuffed with broccoli and mushrooms is quite hearty, thanks to a creamy cheddar sauce and a fried egg, while the pork belly crumpet benedict is lighter than you'd expect, with chunks of pork and poached eggs balanced with lots of pickles and a tangy Dijon hollandaise. A side dish of crushed fingerling potatoes, sprinkled with sea salt and sauce gribiche (something like a French tartar sauce), is a worthy upgrade on breakfast potatoes, while A10's very good burger, with salty pork jowl bacon, melted taleggio, pickles and mustard jam, is also available for brunch.
But it's a muffin-size pistachio coffee cake that I've continued thinking about since my visit—the nutty, oat-topped cake is drizzled with warm, sweet icing, and it's an ideal start to one of the best new brunches in town.
A10's brunch menu is available Sundays from 10am–2pm.
Read more about A10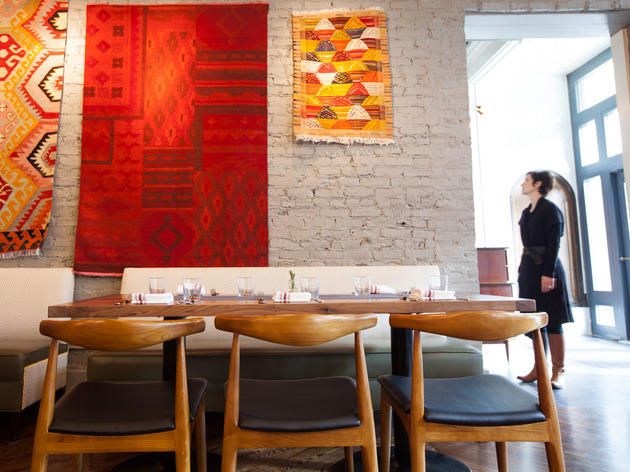 The restaurant, which is named for a road that runs through France and Italy, straddles the cuisine of the two countries. "The concept is roughly based on our experiences traveling through those areas," Merges told us. "We've been traveling off and on through those areas since, I would say, 1995 or so. I've been maybe six to eight times." That inspiration results in a menu that's available at both the bar, which is warm and cozy and has a casual neighborhood atmosphere, and the main dining room, where colorful tapestries hang on the white brick walls, Francoise Hardy plays and the tables are mostly filled with dates.