Food crawl through California and Augusta in Humboldt Park
Chicago's best food new corner is Humboldt Park's California and Augusta, with pie, burgers and more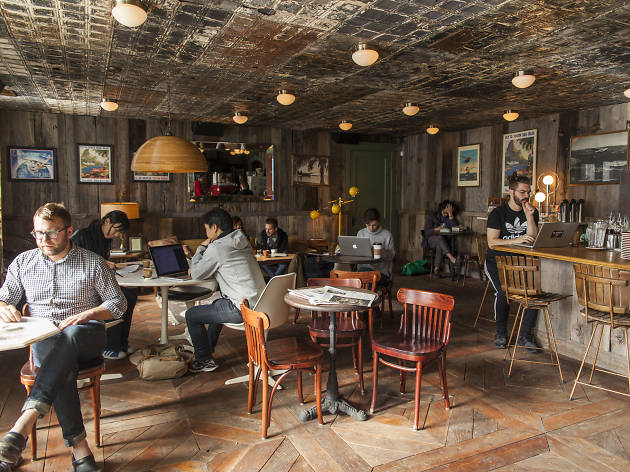 if you haven't checked out the California and Augusta intersection in Humboldt Park lately, clear your schedule, pull on your loosest-fitting jeans and prepare to embark on one of Chicago's most epic food crawls. Over the past year, a new dessert spot (with some of the best pies in the city), a revamped cocktail bar, a coffee shop and two restaurants joined stalwart Rootstock, turning the area into one of the most delicious neighborhoods in the city.
Start with breakfast and ease into cocktail hour at Brendan Sodikoff's '70s-style coffee bar, which features Doughnut Vault treats and espresso, Rare Tea Cellar teas, and spiked steamed milk drinks and cigars.
Read more
Sodikoff took over the '30s-era cocktail bar last year, and it's still wonderfully low-key with live music, a jukebox and glowing red lights—but now with better drinks. Try the elegant gin and raspberry Clover Club.
Read more
With a long bar, beautiful moulded ceiling and low lighting, Haywood Tavern feels like a place to relax after a long day at work. The excellent food, including gnocchi, roast chicken and a burger, is just another reason to want to hang out there.
Read more
The cozy wine and beer haven has anchored the intersection since 2009 with an impressive-yet-approachable booze selection and daily-changing small plates like pastas and charcuterie from chef Jeff Eichem.
Read more
The spinning stools lend a retro feel, but the flavors here aren't stuck in time. Enjoy house-made sodas like a floral lavender grape and pies like blueberry-rose or key- lime-hibiscus.
Read more
Coming soon!
The newest—and at press, unnamed—spot in the intersection is an all-day café from chef Mike Simmons (Rootstock, Lula Cafe) and partners. While daytime offerings skew toward American diner fare, the dinner vibe is more of a wine bar. Bonus: Grab snacks and booze from the deli case and cooler to take home.