The best ice cream at Chicago restaurants
Ice cream shops aren't the only ones serving up frozen treats. These 8 restaurants in Chicago are making terrific housemade ice cream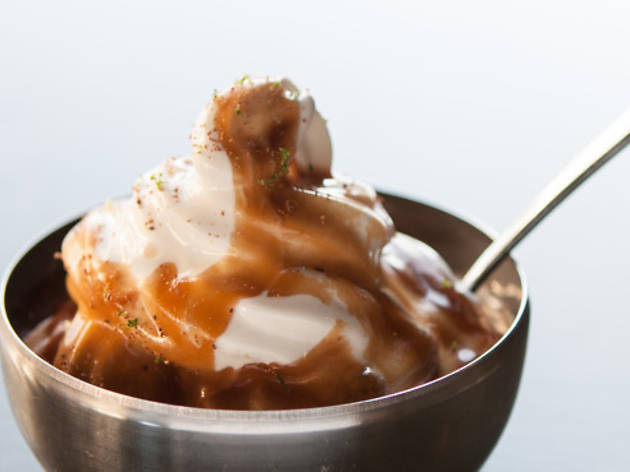 These aren't ice cream shops, but rather, restaurants that know how important it is to end a meal with a frozen treat. These spots get creative with kid-friendly peanut butter and jelly soft serve, or go for the classics in the form of creamy frozen custard and gelato.
Bill Kim's restaurant has a rotating selection of soft-serve sundaes. The best is cult-favorite Vietnamese cinnamon caramel, a simple yet utterly delicious combination.
Read more
Pastry chef Dana Cree, known for her upscale desserts at Blackbird, also makes Hello Ice Cream, a line of pints in flavors like raspberry buttermilk. At Blackbird, try her frozen treats in desserts like roasted apricot sorbet with fudge, sesame and cilantro.
Book now
Read more
You can build a huge burger at Butcher & the Burger, but leave room for the frozen custard. It comes in vanilla, chocolate and a weekly flavor, and no matter what you choose, it's creamy and some of the best custard around.
Book now
Read more
The burger spot makes its own ice cream in a variety of seasonal flavors. Get it plain or turn it into a milkshake or hot fudge or caramel sundae. Or: Get it on top of a slice of pie.
Read more
Pastry chef Amanda Rockman is turning out a variety of gelato and sorbetto, like lemon poppyseed, hazelnut toasted oat and cardamom sweet cream. As a bonus, some are available in affogatos, with everything from espresso to prosecco poured over them.
Book now
Read more
The PB&J soft serve is on the kids' menu at the newly relocated Urban Belly. But don't let that stop you from demolishing the dish of vanilla soft serve topped with huckleberry jelly and crispy peanut butter bits—it definitely didn't stop us.
Read more