Things to do during the 2016 NFL Draft
Celebrate the 2016 NFL Draft in Chicago with a trip to NFL Draft Town or at some of the city's best sports bars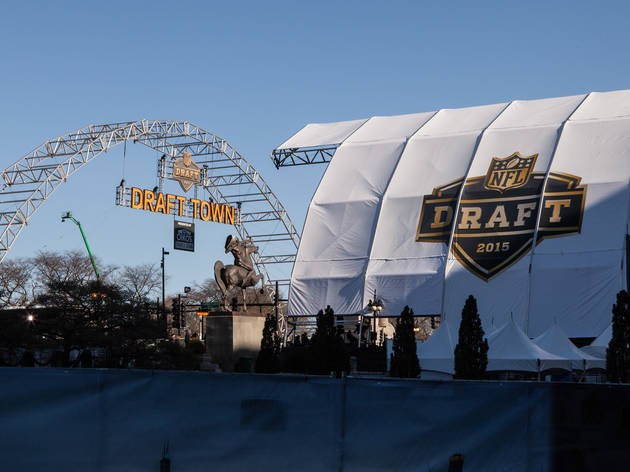 Football fans from around the country will descend on Chicago for the NFL Draft 2016, marking only the second time in 50 years that the annual event will happen outside of New York. It's one of the biggest spring events in the city, and Chicago bars and restaurants and downtown Chicago hotels will be clogged with NFL fanatics. Here's your guide to things to do in Chicago during the draft, including the top sports bars, how to get tickets and more. And, hey, Chicago Bears fans, maybe this is the year we'll draft a decent quarterback. Eh, probably not.
When is the NFL Draft?
The NFL Draft occurs April 28–30, 2016.
Where does the NFL Draft take place?
The NFL Draft will once again take up residence in the Auditorium Theatre, located at 50 E Congress Parkway.
What is NFL Draft Town?
NFL Draft Town is a free fan festival in Grant Park that runs in tandem with the NFL Draft, offering a place to watch the draft as it happens as well as activities, refreshments and exclusive merchendise. Fans can vistit from on April 28 and 29 from noon–10pm and April 30 from 10am–6pm.
Things to do during the 2016 NFL Draft