Heads up! We're working hard to be accurate – but these are unusual times, so please always check before heading out.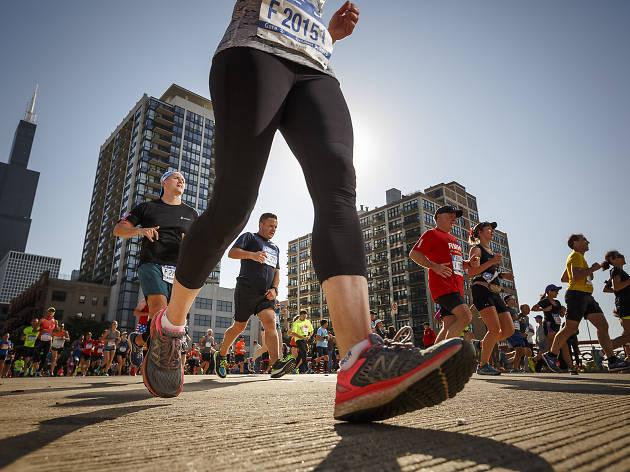 Top running clubs in Chicago
Whether you're training for a marathon or just in it for finish-line beers, join up for encouragement and camaraderie
Every week, dozens of running groups and runners' shops host free (or inexpensive) fun runs. At some, participants stick around afterward to eat and drink; at others, they get wacky with theme nights and prizes. But whether you run a five-minute mile or chug along at a turtle's pace, these runs are an opportunity to keep exercising and maybe pick up a few running buddies. Be sure to check in advance to confirm run start times and meeting spots.
Chicago area running clubs
Chicago Area Runners Association
The big momma of local running, CARA marks its 40th anniversary in 2018 with more than 9,000 members. The club has offerings for every ability level, from marathon training to beginners' groups that promise to build you up to your first 5K. There's even the CARA Stars! youth club for kids ages 6 to 15. CARAruns.org
After 20 years as a runners' retailer in Lakeview, Universal Sole's owners closed the store in 2017 to focus on the events side of its business, including monthly Tap Room fun runs (beginning and ending at brewery outposts like Begyle, Half Acre and Dovetail), a fall trail-run series and the longstanding annual Burgers & Beer 5K. universalsole.com
If you jog along the lakefront on Saturday mornings in the summertime and fall, you've undoubtedly seen these massive, smiling herds of runners making their way up and down the path. Many participants are athletic beginners looking for help and guidance in completing their first half or full-distance marathon. chicagoendurancesports.com
There are no dues, but members plunk down $6 each run for postjog refreshments (true to the team's motto, "a drinking club with a running problem"). The famous post-run ritual? "Hashes," or postrun parties, happen at watering holes all over town. Runs typically take place on Monday and Thursday nights. chicagohash.com
The three– to six-mile runs organized by this local retail chain tend to attract suburbanites looking to squeeze in a jog before hitting the highway, and neighborhood residents. Folks looking for coaching and an official uniform to wear in races should up the ante with a year membership with the Fleet Feet Nike Racing Team ($85). If you're not looking for commitment, try the fun runs that depart from all six store locations at 6:30pm every Monday; each store also has a weekly ladies-only run. fleetfeetchicago.com
This crew is nearly 200 runners strong with members of all ages and abilities, from newbies to ultramarathoners. The Pacers run a water stand at the Chicago Marathon each year to cheer on teammates and other runners. Five milers begin on Saturdays at 8am, rain or shine. Meet at the CARA notice board at Diversey Ave and the lakeside running path in Lincoln Park.
Frontrunners/Frontwalkers
Most of the 250 members of this running club—the Chicago chapter of an organization with 65 groups in the U.S. and 30 overseas—are LGBTQ, but straight allies are also welcome. They get together twice weekly for a one– to two-mile walk or a three– to five-mile run. The group also has a full calendar of social events, like anniversary picnics, a volunteer-run water station at the Chicago Marathon and a Labor Day get-together with other Midwest chapters. Meet at the totem pole at Addison Street and the lakefront path (Saturdays 9am and Tuesdays 6:30pm). frfwchicago.org