1/10
Photograph: Michael Brosilow
The Christians at Steppenwolf Theatre Company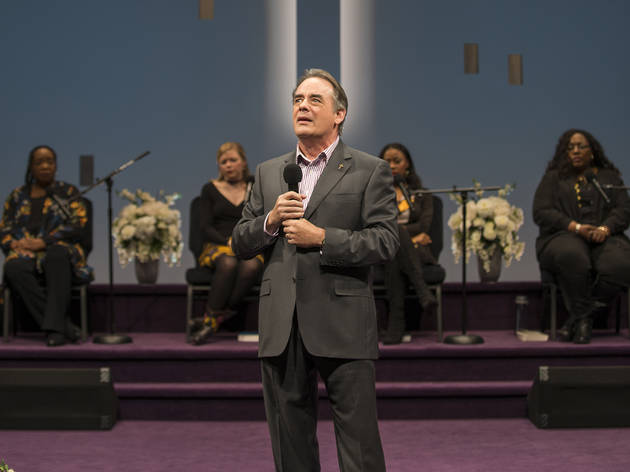 2/10
Photograph: Michael Brosilow
The Christians at Steppenwolf Theatre Company
3/10
Photograph: Michael Brosilow
The Christians at Steppenwolf Theatre Company
4/10
Photograph: Michael Brosilow
The Christians at Steppenwolf Theatre Company
5/10
Photograph: Michael Brosilow
The Christians at Steppenwolf Theatre Company
6/10
Photograph: Michael Brosilow
The Christians at Steppenwolf Theatre Company
7/10
Photograph: Michael Brosilow
The Christians at Steppenwolf Theatre Company
8/10
Photograph: Michael Brosilow
The Christians at Steppenwolf Theatre Company
9/10
Photograph: Michael Brosilow
The Christians at Steppenwolf Theatre Company
10/10
Photograph: Michael Brosilow
The Christians at Steppenwolf Theatre Company
Playwright Lucas Hnath takes us to church in a provocative consideration of religious life, individual and organizational.
Playwright Lucas Hnath is not one for conventional theatrics. His play Isaac's Eye (seen here at Writers Theatre), is part historical lecture, part whole-cloth fiction about Isaac Newton. Hillary and Clinton, which premiered last spring at Victory Gardens, peeks in on an alternate-universe version of the presidential candidate during the 2008 race. Hnath's upcoming Broadway debut is an unauthorized Ibsen sequel titled A Doll's House, Part 2.
The Christians, receiving a thoughtful Chicago premiere at Steppenwolf, is no exception. The 80-minute play takes the form of a service at an evangelical megachurch, complete with praise music (it's well worth arriving early for the choir's preshow warmup) and a central sermon from the church's leader, Pastor Paul (an appreciably direct Tom Irwin, acing the cadence and character of contemporary preaching).
Paul's sermon presents his congregation with a theological conundrum: The pastor has ceased to believe in a literal Hell, and unilaterally declares this church he founded no longer believes in Hell, either. But Paul chose not to consult with anyone else before making this proclamation from the pulpit, and not everyone who hears it is ready for such a radical change.
Contemporary American culture, whether theater, film, television or literature, sometimes treats characters and concerns like these with low esteem, or betrays a clear sense of which side the author considers right. Not so here; every character—including a dissenting associate pastor (Glenn Davis), the leader of the board of elders (Robert Breuler), the pastor's wife (Shannon Cochran) and a conflicted parishioner (a terrific Jacqueline Williams)—is depicted with nuance and compassion, and the philosophical rift that develops among them treated with serious consideration.
It's not hard to see parallels with more secular types of "congregations," actually—say, institutional theaters. Listen to longtime ensemble member Irwin relating the church's growth from storefront to sanctuary, with all the competing interests and fiduciary concerns inherent therein, and you could imagine The Christians as a parable for Steppenwolf itself. Hnath's use of worship-service tropes may turn off some congregants—if real-life church makes you itchy, K. Todd Freeman's faithful staging might provoke a similar reaction. But it's a serious and stimulating engagement with a corner of American life the theater rarely takes on.
Steppenwolf Theatre Company. By Lucas Hnath. Directed by K. Todd Freeman. With Tom Irwin, Glenn Davis, Robert Breuler, Jacqueline Williams, Shannon Cochran. Running time: 1hr 20mins; no intermission.
Average User Rating
3.5 / 5
Rating Breakdown
5 star:

1

4 star:

0

3 star:

0

2 star:

1

1 star:

0
The play - The Christians - not sure what the reviews said, but this was the first time I've been disappointed in a Steppenwolf production. Usually I leave feeling like they hit the nail right on the head. With this one, it felt stale and lame. The core issue was whether believers accepted that maybe hell wasn't real and could still be involved in a religious community. The play's answer seemed to be no. The playwright seemed to think either you believe in hell and continue, or you fold up shop. There was plenty of emotion and drama with that, but it all seemed contrived and like made up dialogue. No minister is going to wait to discuss that he no longer believes in hell with his wife until long after that has been announced to the congregation, and half the congregation has left. It also bothered me that the play did not talk about the fact that millennials are leaving in droves. Very few of the teens involved in churches in the later 1990's and teens up until now, are still involved and active in churches. Most of those who came of age from about 1996 to now have walked away. They consider themselves atheists, spiritual but not religious, socially active but culturally Christian - most do not think of themselves as either, "Practicing Catholics," or "Born Again Believers." The challenge the church faces is how to bring millennials back when the arguments they insist on having are about abortion and gay marriage. Most millennials look at that and walk away. Overall the Christians - not terrible, but also not good. I would give it two stars.
I went in expecting a parody. Steppenwolf, with their reputation for titillating irreverence, producing a play called the Christians?! I was looking forward to some satirical perspective on fundamentalist christianity. HOWEVER, I was met with an honest and sincere look at conflict of belief within the church. I walked out completely touched and provoked. I had to see it a second time.
Lucas Hnath's script, and the acting by Shannon Cochran, Glenn Davis (boy does he have a powerful "scene!"), Jacqueline WIlliams, and, my favorite, Tom Irwin make the 80-minute production an edge-of-your-seat experience.
I wish I could see it a third, forth time.