15 historic homes near Chicago that you can rent on Airbnb
Marvel at the architecture, old-school details and quirky charm of these historic homes for rent on Airbnb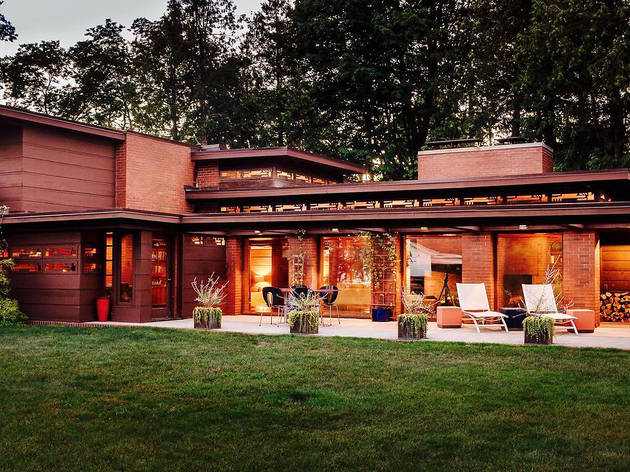 Some people look for giant king beds and room service in a place to stay; others get their kicks from original light fixtures and turn-of-the-century crown molding. If you fall into the latter category, consider one of these historic homes near Chicago for your next weekend getaway. You'll find mid-century modern marvels, renovated mansions, 19th-century Victorians and converted Amish barns all within a few hours' drive of the city. Whether you're looking for hiking near Chicago or Airbnb cabin rentals, this list of historic homes for rent has something for every sensibility and budget. While we could never tire of the most beautiful buildings in Chicago, a change of scenery every now and then never hurt.
Historic homes near Chicago on Airbnb
Photograph: Courtesy Airbnb
Plum Hill in Lewistown, IL
Discover the simple life (Paris Hilton reference very much intended) at this Amish-built home near a wildlife preserve. In the summer, sunbathe on the large outdoor patio or build a fire in the backyard. If you're planning a winter getaway, stay nice and cozy inside with the pinball machine and built-in bar. Two nearby wineries and a microbrewery will certainly keep you entertained. From $130 per night
Photograph: Courtesy Airbnb
Historic Brewery in Galena, IL
Venture into the basement of this 1840s home and you'll discover a secret: In a previous life, it once served as the Illinois Brewery and tavern. The limestone fermenting cellar, Southern pine wood floors on the second floor and hitching post outside are all original, though the rest of the two-bedroom home has been meticulously updated. The hosts also own the Galena Brewing Company on Main Street, in case you're hankering for a local brew to drink in the old fermenting cellar. From $105 per night
Photograph: Courtesy Airbnb
The Historic Florsheim Mansion in Chicago
Don't let the modern furnishings fool you: This residence dates back to 1938, when shoe empire heiress Lillian Florsheim commissioned architect Andrew Rebori to design it. It's actually two buildings—the main home and Florsheim's sculptors studio—that were later connected by a black fiberglass galley kitchen. Check out the curved glass panels on the front of the home that give it such an intriguing shape and don't miss the garden and koi pond in the center of the structure. From $300 per night
Photograph: Courtesy Airbnb
The Castle on Roanoke in Peoria, IL
Located in the Randolph-Roanoke Historic District of Peoria, this regal structure stands out among a sea of classic Victorians. The stone exterior and prominent turret give way to an updated interior with two bedrooms, two bathrooms and a fully equipped kitchen. Plus, it's usefully located only a short distance from some major attractions, including Peoria Civic Center, the riverfront and the warehouse district. From $59 per night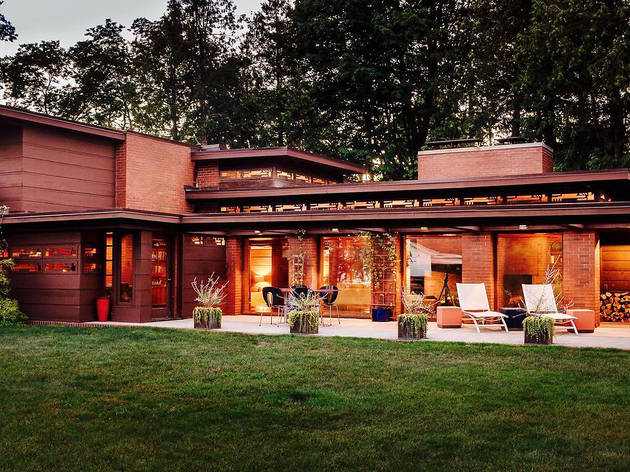 Photograph: Courtesy Airbnb
Frank Lloyd Wright's Schwartz House in Two Rivers, WI
Legendary architect Frank Lloyd Wright originally designed this home for a LIFE magazine feature in 1938. Wisconsin businessman Bernard Schwartz was so taken with the plan that he built it for his family in Two Rivers, even visiting Wright's studio in Arizona to have him make a few modifications. Visitors can still read a book in the 63-foot library, cozy up in front of the two original fireplaces and fish from the private dock. From $375 per night
Photograph: Courtesy Airbnb
Historic House on the Fox River in Little Chute, WI
In the 1800s, the Fox River used a hand-operated lock system to move boats through canals. This historic home in Little Chute was the lockmaster's house and has since been refurbished and filled with period furniture from the 1930s. Since it's listed on the register of historic places, the home can't be updated with air conditioning, TV or WiFi. No matter: The nifty refrigerator, push-button light switches and record player add more than enough charm to make up for it. From $100 per night
Photograph: Courtesy Airbnb
The Pullman Train Car Constitution in Plano, IL
If the fact that this Airbnb is an 180,000-pound antique train car doesn't convince you to make a reservation, consider this: It might be your only chance to sleep in the same room as two U.S. presidents. The train car Constitution served as the 1900s version of Air Force One for Presidents Warren G. Harding and Woodrow Wilson. The carefully renovated car includes the original four staterooms, an observation deck, a dining room and a galley, plus a master bedroom, a bathroom and two large living rooms with fireplaces that were added later. From $189 per night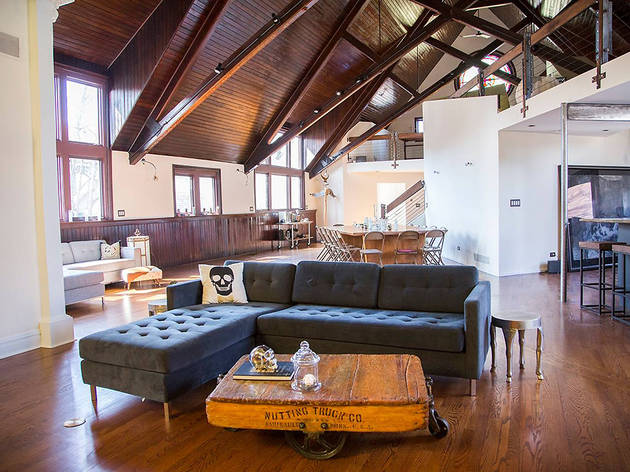 Photograph: Courtesy Airbnb
Historic Church Home in Logan Square
After taking in the lofted ceilings, arched doorways and belltower of this home, it's no surprise to learn it was converted from a church built in 1888. The expansive space can sleep up to 13 people and features intriguing details like inlaid wooden crosses, antique typewriters and stunning religious murals. From $950 per night
Photograph: Courtesy Airbnb
Warm Cozy Family Home Near Lake Michigan in Kenosha, WI
Want modern comforts and old fashioned charm? This Victorian home was built in 1907, but renovated in 2015. (It even has central air conditioning!) The gorgeous exterior, arched doorways, pristine built-ins and updated landscaping will certainly make your stay enjoyable. From $210 per night
Photograph: Courtesy Airbnb
Historic Cabin on the Rock River in Oregon, IL
The rustic cabin on this pristine stretch of riverfront property looks much the same as it would have in 1907, though it has been outfitted with electricity, hot water and a working kitchen since then. Still, it's the perfect getaway if you're looking to connect with nature without sleeping in a tent. Whether you hike the nearby Lowden-Miller Forest, kayak the Rock River or just nap in one of the hammocks, you're in for a treat. From $145 per night
Show more
Looking for more getaway ideas?
Located just three hours north of Chicago by car, Madison, Wisconsin, offers football, food tours and music festivals year-round