Free things to do in Chicago in February
Close out winter with a happy wallet by taking advantage of these fantastic free things to do in Chicago in February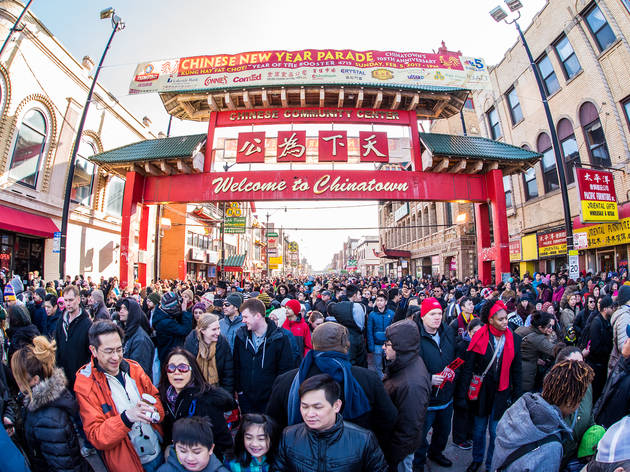 All right, Chicago, this is the tough stretch. It may be the shortest month of the year, but between the "Oh my god, it's still winter?" weather and Valentine's Day, February in Chicago seems to drag on forever. But don't worry! We've assembled this list of the best free things to do in February to keep you sane and happy, without going broke. Take in fantastic Chinese New Year events, check out incredible contemporary up and hit up concerts at the city's best venues, all free of charge. Just because the weather is miserable this month doesn't mean you have to be!
Recommended: Events calendar for February in Chicago
Free things to do in February in Chicago
According to the Chinese calendar, 2018 is the Year of the Dog. Head to Chinatown to celebrate at the area's annual parade, which will feature a marching band, traditional dragon, lion dances and decorative floats.
Read more
The 13th annual Polar Adventure Days on Northerly Island features all sorts of winter activities for the family. Check out birds of prey from the Flint Creek Wildlife Rehabilitation, tour the new Northerly Island Natural Area and see Siberian huskies and wolves. Cocoa, snowshoes and winter crafts all help to make the experience more authentic—even if there's no snow on the ground.
Read more
The McCormick Tribune Ice Rink is open to the public for skating with one of the best views of the downtown skyline. It's open for skating every day, but hours vary slightly from day to day. Admission is free, though skate rental costs $12. Don't forget to take advantage of free skating lessons, which happen every Friday through Sunday one hour before the rink opens.
Read more
Chicago-native artist Barbara Jones-Hogu was a leader of the Black Arts Movement and a founding member of the African Commune of Bad Relevant Artists (AfriCOBRA) who was a contributor to the infamous South Side mural, the Wall of Respect. "Resist, Relate, Unite 1968–1975" is her first museum exhibition, showcasing prints, lithographs and woodcuts that celebrate African-American culture.
Read more
Christopher Piatt hosts this weekly "live magazine," a cavalcade of culture, politics and wit featuring journalists, actors, comedians and musicians offering idiosyncratic reports on the news of the day. Head to Uptown's iconic Green Mill for a Saturday afternoon of drinks, hot takes and laughs.
Read more
Outsider artist Stephen Warde Anderson taught himself how to paint after finishing a stint in the United States Navy, creating works that depict historical figures, film stars, Biblical scenes and aliens. "Attention to Detail" focuses on some of his earliest works, including paintings that utilize pointillist techniques achieved by creating tools from sewing needles and whipped cream containers.
Read more
Here's your game plan: Grab brunch at Bite Café then head next door to the Empty Bottle to shop funky jewelry, clothing, handbags and paper crafts at this monthly fair. The Empty Bottle's bar opens at noon—and shopping with a Bloody Mary in hand never hurt anyone, right?
Read more
Watch some of Chicago's most talented comedians tell the most shameful, humiliating stories in their arsenal at the monthly show, "We Still Like You." Produced by Dan Sheehan, Danii Gallegos, Tyler Snodgras, Shannon Noll and J Michael Osborne, the show focuses on celebrating those shameful moments instead of shoving them aside. And what's more ripe for comedy than sheer, unbridled embarrassment?
Buy tickets
Read more
When Egyptians were mummified centuries ago, some were wrapped with paintings of themselves. The Block Museum's new exhibit displays portraits recovered from the ancient city of Tebtunis, exploring how archaeologists and art historians have collaborated to understand the creative custom.
Read more
Show more