Free things to do in Chicago in March
Shopping cart races, leprechauns, dance parties and more free things to do in Chicago in March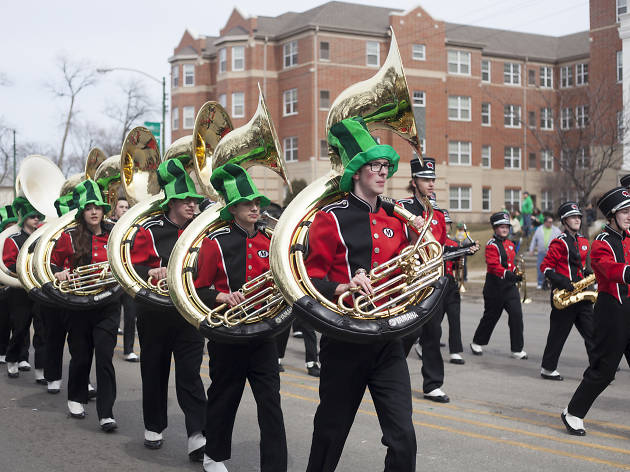 As winter comes to a close, we've spent so much money on delivery that we're a little strapped for cash. No worries, though—March is brimming with awesome free things to do in Chicago. With St. Patrick's Day and the onset of (slightly) warmer temperatures, you don't need to spend a fortune to dig into Chicago this month. The real question, though: Is it time for patio drinking yet? The answer, of course, is probably not.
Recommended: Our complete calendar for March events in Chicago
Free things to do in Chicago in March
The Journeymen Plumber's Local Union 130 has the honor of dyeing the Chicago River before the downtown St. Patrick's Day Parade. Arrive early to get a good view of the urban recreation of the Emerald Isle. Find the best views along the Michigan Avenue bridge's east side, the Columbus Drive bridge's west side or Wacker Drive (upper or lower) between Michigan Avenue and Columbus Drive.
Read more
As the winter comes to a close, you've only got a few finals days to skate at Millennium Park. If you haven't zipped around on the ice under the skyline, the beginning of March is your last chance until November!
Read more
Every Sunday at Navy Pier, Neighborhoods of the World showcases Chicago's most vibrant cultural communities with live music, authentic cuisine, dance performances and art. In March, the event celebrates the cultures of Lithuania, Mexico and Greece.
Read more
On March 4, 1837, Chicago was incorporated as a city. Join the Chicago History Museum as they celebrate the city's 180th birthday with a day of four-star fun. Festivities include music, special remarks, and family-friendly storytelling and crafts. Following a commemorative ceremony, cake will be served and special certificates will be available for individuals born on March 4. Museum admission is free for Illinois residents on this and all Commemorative Days.
Read more
The city's southernmost Irish celebration returns with another liquor-less procession along Western Avenue between 103rd and 115th Streets. In recent years, the event has attempted to shed its boisterous reputation, increasing the fine for open container violations so that families can safely enjoy the floats, bagpipes and marching bands.
Read more
Each year, the Empty Bottle thumbs its numb nose at Jack Frost by throwing a block party in the dead of winter. Considering the mild weather we've had, it could be freezing or the temperatures might be spring-like. Noisy Canadian trio METZ and New Jersey indie rockers Screaming Females headline the outdoor concert, joined by minimalist electronic act Sneaks and local shoegazers Dim. Goose Island will have booze for sale, Dark Matter is bring the coffee and Bite Cafe will warm your belly with chili. Did we mention that admission is totally free?
Read more
The Chicago Cultural Center offers free classical concerts Mondays, Wednesdays and Sundays. You can also schedule a session to record an interview with a family or friend for NPR's StoryCorp that gets archived in the Library of Congress.
Book now
Read more
Handmade Market Chicago returns to beloved Ukie Village club The Empty Bottle for an October–April market. More than 30 sellers will ply their homemade arts and crafts for this monthly celebration of the local and artisanal.
Read more
If you live in Chicago, chances are you've been to Lincoln Park Zoo. But there is so much to do, even if you've already seen all the animals you can stand. Bring a blanket and have a picnic near the front of the park, map out a run through the winding pathways in the zoo or sneak off to the hidden Alfred Caldwell Lily Pool.
Buy tickets
Read more
As one of the largest conservatories in the U.S., the Garfield Park Conservatory is much more than "landscape art under the glass." The living art exhibit inside makes this an oasis that keeps calling you back. You can explore 1.6 acres of plant-scaped wonderland, renowned art installations and even forget that you're in Chicago.
Read more
Yes, you can still ice skate in March! You might be sick of the cold, but maybe now is your chance to finally live out your Blades of Glory fantasy. You've only got one more week to hit up the awesome skating ribbon at Maggie Daley.
Read more