The best Halloween stores in Chicago
The best Halloween stores in Chicago have costumes for kids and adults, plus plenty of creepy decor for your next party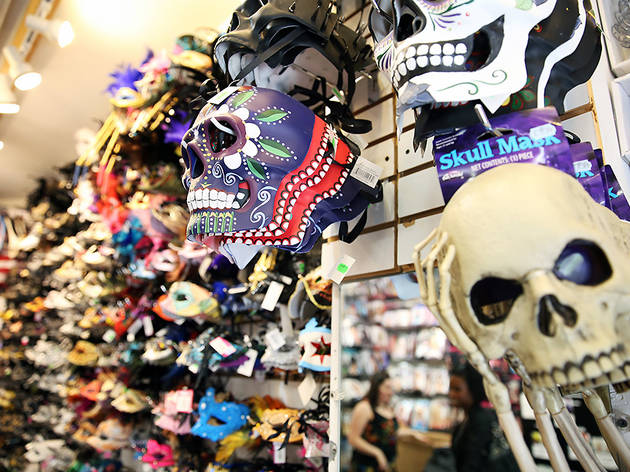 The best Halloween stores are known for killer costumes and unforgettable party decor alike. So this year, you have no excuse for being a hastily thrown together witch, a pathetic hobo or "static cling." Before you head out the door for a party at one of the city's best music venues, cocktail bars or dance clubs, make sure you're in an ensemble no one will soon forget. Check out our guide for the stores that have everything you need and more.
RECOMMENDED: Our complete guide to Halloween in Chicago
Great stores for Halloween in Chicago
1
This year-round shop has plenty for Halloween but also carries a large selection of masquerade masks, plus more than 1,000 rental costumes. Expect to see a Kool-Aid Man costume, Teenage Mutant Ninja Turtles and more, whether you're shopping for a toddler or yourself. Don't miss the large selection of makeup and indoor and outdoor decor, too.
Read more
2
From Batman to Elsa, this costume shop has plenty of choices for kids and kids at heart. Find costumes, accessories, makeup and more. You can even dress up our dog. This is one of the few Halloween shops that is open year-round for all of your frightful or fanciful needs.
Read more
3
Once you get over the initial insanity of Hollywood Mirror, you can really take in the massive store's goodies. The eclectic collection of vintage clothing, toys and accessories includes everything from fleece-lined jean jackets to cowboy boots. Or party like it's 1979 with retro toys like a Wonder Woman dinner set and Moon Explorer dolls. And, obviously, you'll be able to put together a Halloween costume like it's nobody's business.
Read more
4
As soon as September rolls around, we see vacant buildings turn into Halloween superstores. It's no different with Halloween Hallway. Kids will love the selection of costumes and kitschy stuff like giant plastic spiders and bags of bones. The selection of costumes is pretty much endless here.
Read more
5
Since 1969, this costume shop has been providing dress-up apparal that runs the gamut from prehistorical to the roaring '20s to modern movies. Looking just to add some flair to your costume? Makeup, animal noses, masks and wigs can help with that. You'll find a great kids selection here as well.
Read more
7
If you're not ready to commit to buying a costume, rent a theater-worthy outfit from this 30,000-square-foot warehouse, the largest of its kind in the Midwest. Originally founded in the 1880s to supply costumes to the opera, the shop now provides getups to one-night-only gangsters and flappers around town.
Read more
8
Ragstock is a Boystown staple. The thrifters' paradise occupies the second floor and basement of the same building as Hollywood Mirror, making it an excellent two-for-one stop. Ragstock's selection of throwback '80s sweaters, '90s jackets, Hawaiian shirts and other kooky finds make it an excellent destination for a bargain costume-hunter or vintage lover.
Read more
It's true—Chicago is becoming quite the fashion hub, especially for women's clothing stores. From West Loop to Wicker Park, there's no shortage of trendy clothing shops, boutiques and stores for women. Whether you're looking to stay on budget, ready to pull out your black card, or somewhere in between, this is the only shopping list you'll need (well, maybe also bookmark our best thrift stores and best kids' clothing stores).
Read more